My friends and I decided to have another fondue night the other day. We of course picked chocolate so we could dip all of the fun fruit and other goodies in it. I am loving my new fondue pot that I got for Christmas and enjoy using it whenever possible. The chocolate fondue was great and started the night perfectly for us. Enjoy!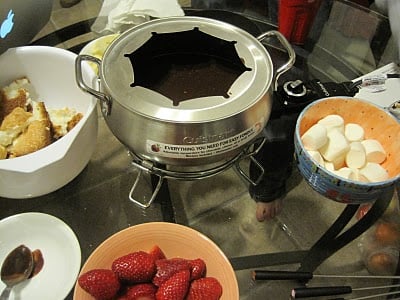 12 ounces of dark or milk chocolate (chips or roughly chopped if from a block)
8 ounces of heavy cream
A pinch of salt
Dippables (we used strawberries, sliced bananas, graham crackers, angel food cakes, marshmallows)
Warm the cream in a pot over moderate heat until tiny bubbles show and begins to lightly and slowly boil. Add the salt and chocolate and whisk until smooth and fully incorporated. Immediately transfer to a fondue pot heated at low or with a low flame (You can also just serve straight from the pot if you don't have a fondue pot). Arrange the dippables on a platter and use a fondue fork to dip the dippables in the chocolate. If the fondue begings to feel a little stiff, add a teaspoon of heavy cream and stir. Mine got a bit too liquidy so I added just a bit of corn starch and it was perfect.