Try a new take on rice crispy treats with these gluten-free tahini brown rice crispy treats! They're marshmallow free and sweetened naturally! An option to make them vegan is also available. One bite and the childhood memories will be flooding back!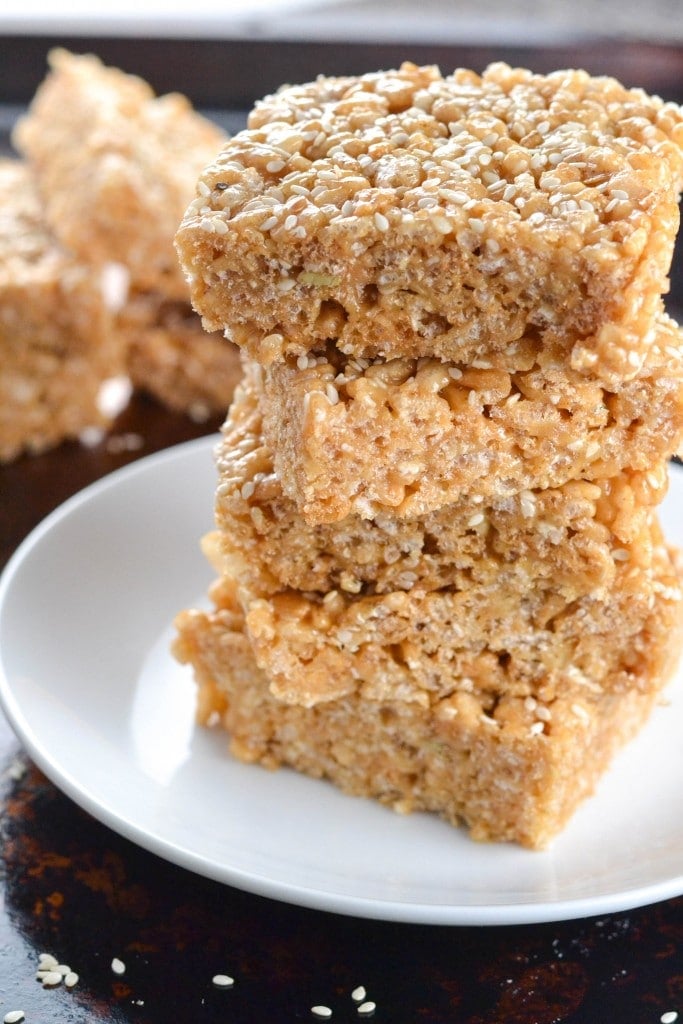 Growing up, Rice Crispy treats were quite the well… a treat. My mom used to make them all the time with a chocolate drizzle on top. I remember not being able to wait until they were fully cooled and I'd be sneaking chunks of warm the cereal marshmallow mixture before anyone noticed (more like before they could stop me). They were ooey gooey and perfectly sweet. It should come as no surprise that I preferred them without the chocolate drizzle since chocolate was never my thing. My how things have changed! But my mom, being the chocolate lover that she is with her favorite saying "It'd taste better if it was chocolate" there was always a chocolate drizzle.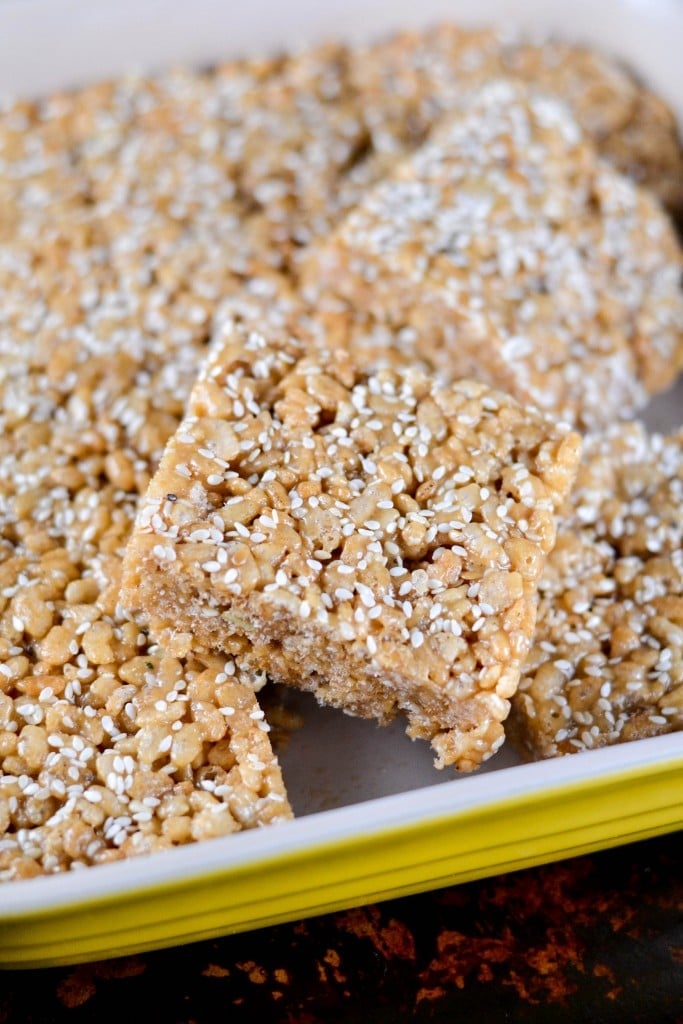 Fast forward many years and here I am, yearning for a childhood favorite. It was no problem when I wanted to make them gluten-free, there are plenty of gluten free brown rice crisp cereals that are gluten-free and Kellogg's themselves have a gluten-free variety. No, the issue was the whole sugar, butter and marshmallow thing. How do I make a rice crispy treat that is refined sugar free and dairy-free? Coconut oil? Brown rice syrup? Refined sugar free marshmallows? What would work? Many, many trials later I think I found a great option! 
My first successful batch ended up being a combination of peanut butter and honey. I adored the flavor and the chewiness was just right! I brought them to work for my coworkers to try and quickly realized the problem. People are accustomed to rice crispy treats to be nut free. Now this wasn't a problem since none of them are allergic to nuts but I didn't want to take any chances. I found myself saying "These contain nuts!" every 2 minutes to anyone who wanted to take one. So, I decided then and there that peanut butter was off the table.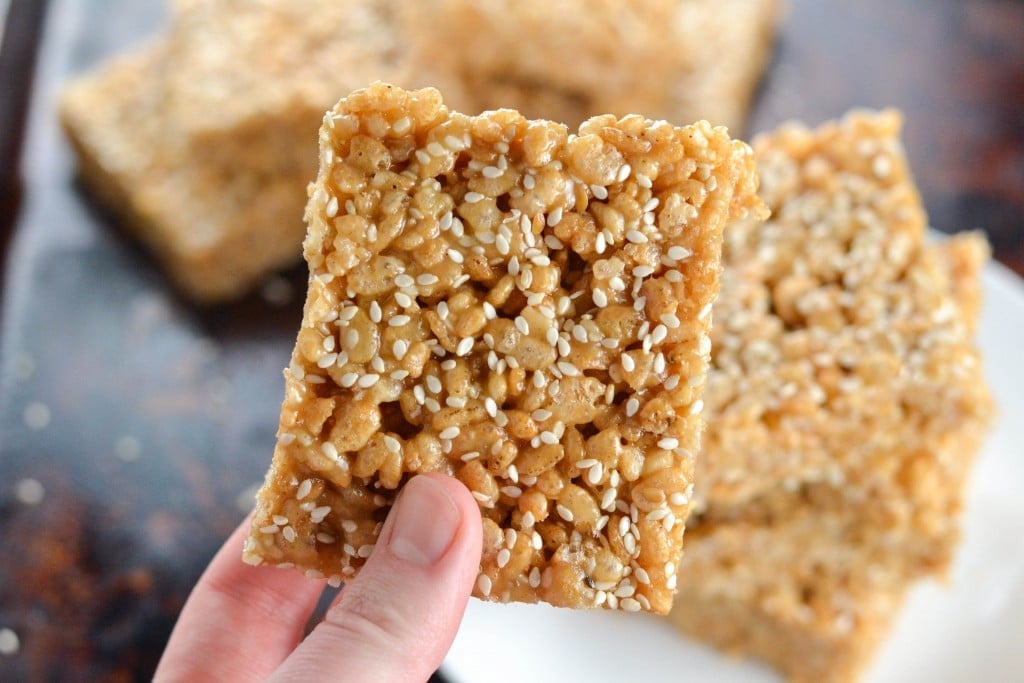 While also testing peanut butter I wanted to test brown rice syrup too for a vegan option. The chewiness was there but the flavor was just a bit milder. If I wanted these to be vegan, I'd definitely use it. I just preferred the honey taste overall.
Next batch was a lower honey batch. I reduced the amount of honey to 1/4 cup to make it lower in sugar. Did it work? Kind of. It held together but was very crunchy and didn't have that classic chew I love so much. So back to the full amount of honey (that's ok, we'll make this a once in awhile treat!).
A few batches later and I spotted the tahini in my refrigerator. Nut-free, as it's made from sesame seeds; Creamy just like natural nut butters; Mild flavor so it wouldn't overtake the treats… Did I find a winner? You bet I did! These treats are sweet and have an interesting flavor from the tahini. You won't be able to quite place the flavor but I think that's what makes these treats so delicious! While mixing these together, at the last minute I decided to throw in some sesame seeds and I'm so glad I did! They added a little bit of crunch and made the dessert look so pretty!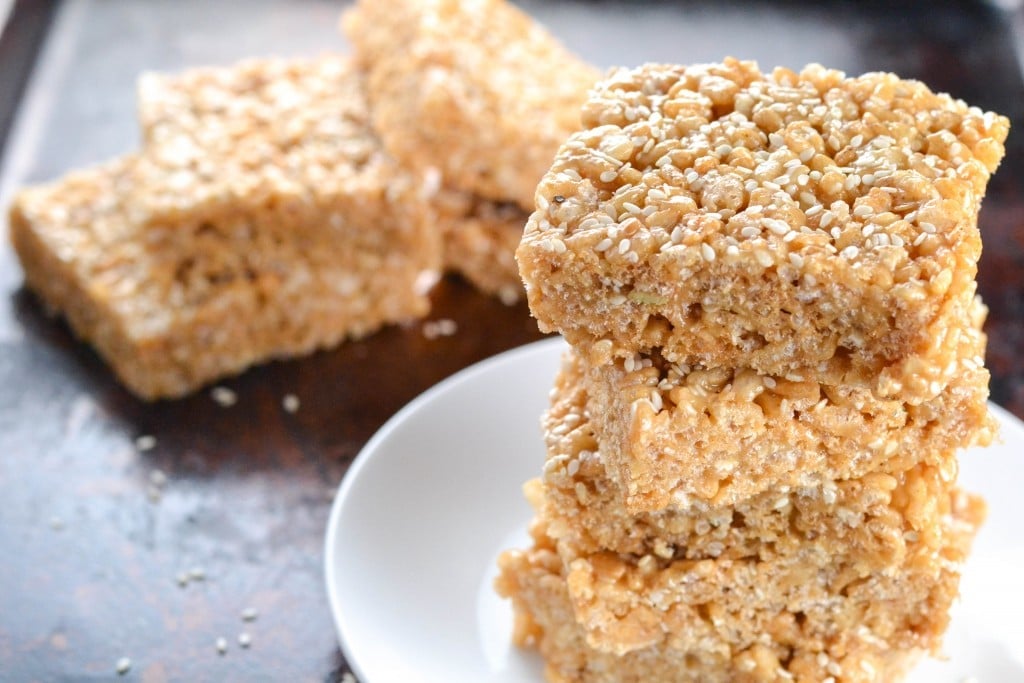 Tahini Brown Rice Crispy Treats
Prep time:
Cook time:
Total time:
Ingredients
3 cups gluten-free brown rice crispy cereal (not rice puffs)
½ cup tahini
½ cup honey (or brown rice syrup if vegan)
1 tsp pure vanila
1 tsp sea salt
¼ cup sesame seeds
Instructions
In a small pot over medium heat, combine tahini, honey, vanilla and sea salt. Cook for 5 minutes, stirring occasionally, until the mixture is warm and thinned.
Pour mixture over brown rice crispy cereal and sesame seeds. With a spatula, carefully stir until the cereal is completely covered. Spoon into an 8x8 inch baking dish. Place in the refrigerator to set for at least 30 minutes.
Slice into 9 pieces to serve.