Last Updated on
No-bake peanut butter chocolate bars require only 5 ingredients and are super easy to make! They're gluten-free, dairy-free, refined sugar-free and vegan!
These no bake peanut butter chocolate bars were born out of desperation for chocolate at 11pm, a hankering for a dessert my mom used to make growing up, and whatever ingredients I had in my pantry.
Lately, I've just been craving chocolate and peanut butter like no other. My normal go to, which I learned from my mom at an early age, is a spoonful of peanut butter with a few chocolate chips pressed into the top. Quick. Simple. Delicious.
But sometimes, adding just a few more ingredients can turn into something ridiculously amazing and just as easy.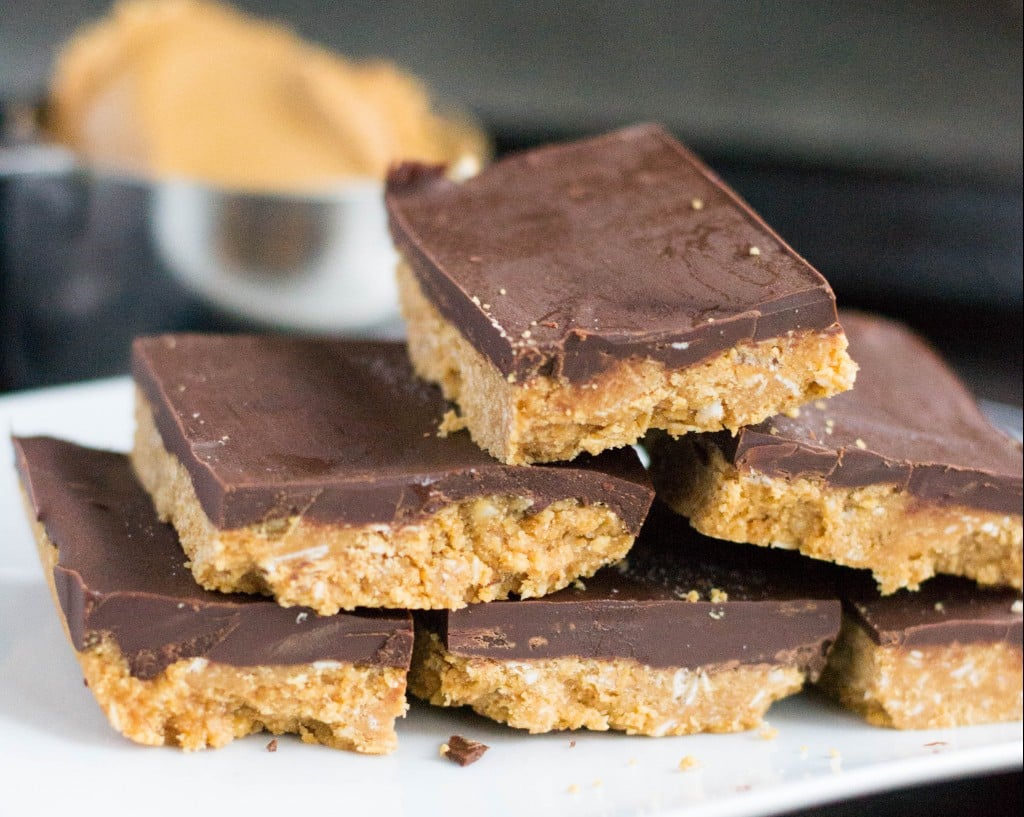 Growing up, my mom made these peanut butter bars that were combined with graham crackers and powdered sugar and then topped with this delicious chocolate layer. She still makes them now and brings them to parties, I just don't eat them anymore because of my food restrictions.
Since my mom has a few friends that are gluten-free, she now tries to bring gluten-free desserts to her parties so that her friends have something to eat too. She knows how hard it is for me to go to parties without a treat, so she just likes to take care of her gluten-free friends too. She's a nice lady.
So I'm killing two birds with one stone here. I was craving those peanut butter chocolate bars hard really late at night and I figured if I came up with a good recipe she could share it with some of her friends.
Bonus points that this recipe takes literally 5 minutes to whip up and they're ready to eat in 20-30 minutes.
So what's in my version of my mom's peanut butter chocolate bars? Well.. peanut butter and chocolate of course! As well as unsweetened coconut, pure maple syrup (or honey if you please), and brown rice crisp cereal.
These bars were so easy to whip up and I got so excited as I anxiously awaited them to set in the freezer. I mean, how could they not be good when all the ingredients taste amazing on their own, right? Well, they did not disappoint one bit. What came out was a cross between a rice krispie treat and my mom's peanut butter chocolate bars.
They're smooth but have a little bit of crispy texture, which if you know me.. you know I love different textures. They're rich, chocolatey, slightly sweet and just the perfect indulgence. Whether you need a sweet treat for a party or the chocolate hunger strike hits you at 11pm, these no bake peanut butter chocolate bars sure are a winner!
Love Peanut Butter and Chocolate? Try These Recipes!
You really can't go wrong with chocolate and peanut butter together. Especially when it's in a hot mug of hot chocolate! Simple and easy, this vegan peanut butter hot chocolate is so simple to throw together when the craving strikes.
If you're a brownie lover, these keto peanut butter brownies look so decadent, yet they're gluten-free and low carb! My gluten-free vegan chocolate peanut butter banana muffins are a great option if you're looking for a quick snack on the go!
**This post contains affiliate links for products that I use and love. I may receive a small commission from any purchases you make through that link. There will be no additional cost to you. Thanks for supporting A Dash of Megnut!**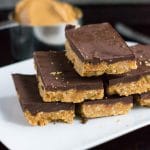 Print Recipe
No Bake Peanut Butter Chocolate Bars
Learn to make these no bake peanut butter chocolate bars with this simple recipe. This quick dessert is ready in under an hour, making it ideal for entertaining. Gluten-free, dairy-free, vegan and refined sugar-free.
Ingredients
For the Peanut Butter Layer:
1

cup

peanut butter

melted

2

cups

brown rice crisp cereal

gluten-free - I used Erewhon Crispy Brown Rice

1

cup

unsweetened coconut flakes

1/4

cup

pure maple syrup
For the Chocolate Topping:
1

cup

chocolate chips

dairy-free - I used Guittard Dark Chocolate Chips

1/2

cup

peanut butter
Instructions
Line an 8x8 inch baking dish with parchment paper.

In a food processor, combine peanut butter, brown rice crisp cereal, unsweetened coconut and maple syrup. Process until combined and cereal is crushed.

Spoon into the baking dish and press down with slightly wet hands to create an even layer.

In a bowl, microwave chocolate in 30 second increments until melted. You can also do this in a double boiler over the stove. Stir in the peanut butter until completely melted and combined. Spoon over the peanut butter layer and smooth with a knife.

Place in the freezer or refrigerator for 20-30 minutes, or until set. Cut into 12 bars.
Nutrition
Calories:
341
kcal
|
Carbohydrates:
25
g
|
Protein:
9
g
|
Fat:
24
g
|
Saturated Fat:
9
g
|
Cholesterol:
2
mg
|
Sodium:
161
mg
|
Potassium:
266
mg
|
Fiber:
3
g
|
Sugar:
16
g
|
Vitamin A:
35
IU
|
Vitamin C:
0.2
mg
|
Calcium:
40
mg
|
Iron:
1.1
mg