Iced good milk is super simple to make and filled with good for you ingredients, like turmeric. Gluten-free, dairy-free and vegan.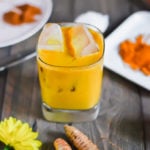 This iced golden milk latte is filled almond, milk, turmeric, maple syrup, and spices. Served over ice, this morning beverage is gluten-free, dairy-free and vegan!
I'm a non-caffeine drinker of 8 years (I know, it sounds crazy), and I'm okay with it. People have a hard time believing I haven't had caffeine since I was 20. Then I ask them.. do you really think I need caffeine?
And they quickly agree that I don't. I'm a morning person through and through and I just don't need caffeine to wake me up. Honestly, it makes me a bit jittery. Instead, I'll take my herbal teas, lemon waters and golden milks anyday!
Golden Milk. Turmeric Milk. Turmeric Latte. Deliciousness in a Cup.
Whatever you want to call it, it all means one thing. Oh, just the best little yellow drink that is delicious and good for you too! Yup, I'm talking about TURMERIC. In my drink.
On our trip to San Diego, as I've mentioned many, many times, the highlight food-wise for me was visiting Cafe Gratitude. Gluten-free, dairy-free, egg-free options galore!
Every time we went, I had this golden latte – filled with turmeric, almond milk, honey, and essential oil of black pepper.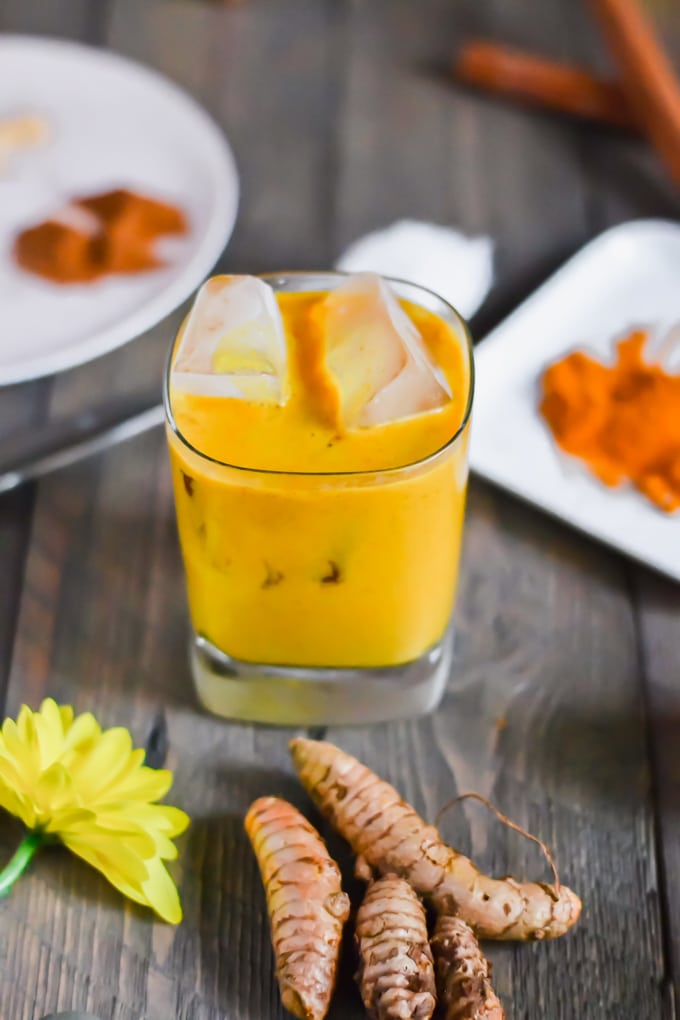 Naturally, I had to make my own. I filled mine with almond milk, turmeric (both ground and fresh depending on my laziness factor for the day), ginger, cinnamon, vanilla, coconut oil, maple syrup and a sprinkle of black pepper. Talk about coziness in a cup!
Well recently, it's been getting quite warm here in Chicago, so I decided to spruce up my normal golden milk recipe and make an iced version for summer!
This golden milk comes with a myriad of health benefits, such as anti-inflammatory properties and aids in digestion.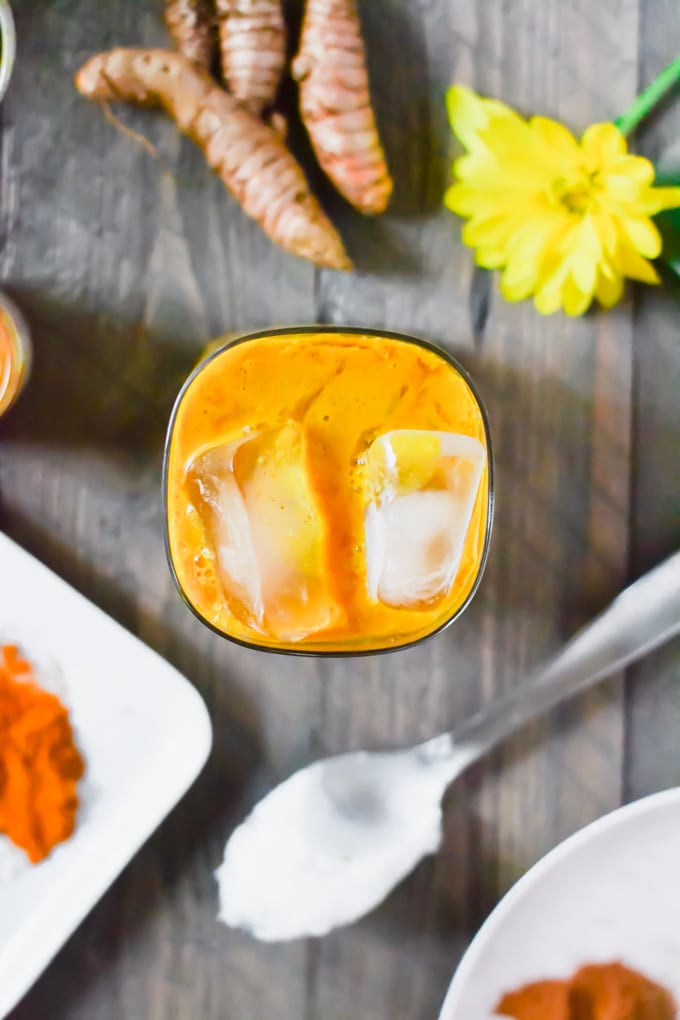 While I really know nothing about that.. I do know that it is super delicious and makes my stomach feel awesome!
Whether you like it iced or hot (since I'm nice, I'll include directions for both), golden milk is going to be your new favorite drink.. I can feel it!
Just don't make me ever have to pronounce the word "turmeric" because it doesn't go well. Or "auxiliary". But that's a different story.
Iced Golden Milk
Iced good milk is super simple to make and filled with good for you ingredients, like turmeric. Gluten-free, dairy-free and vegan.
Print
Pin
Rate
Ingredients
2

cups

unsweetened almond milk

1

tsp

ground tumeric or 1 tbsp fresh tumeric

1/2

tsp

ground cinnamon

1/4

tsp

ground ginger

1/2

tsp

vanilla extract

1

tsp

coconut oil

1-2

tsp

maple syrup

ice cubes

(for serving)

ground cinnamon for serving

(to taste)

black pepper for serving.

(to taste)
Instructions
In a pot, heat almond mik, tumeric, cinnamon, ginger, vanilla, cococnut oil and maple syrup until it comes to a boil.

Let simmer for 2-3 minutes. Remove from heat. You can now drink it as is or you can continue for the iced version.

Refrigerator for a few hours or overnight. Mix well.

Pour over a glass of ice and top with ground cinnamon and black pepper.
Notes
*If you are using fresh turmeric or ginger, you may want to strain those out so you dont have a gritty drink.
**Stir the drink occasionally as you drink it so all the sediment does not float to the bottom. Otherwise, it makes for a nasty last sip.
Nutrition
Calories:
48
kcal
|
Carbohydrates:
3
g
|
Fat:
3
g
|
Saturated Fat:
1
g
|
Sodium:
217
mg
|
Potassium:
18
mg
|
Sugar:
1
g
|
Calcium:
204
mg
|
Iron:
0.3
mg