Last Updated on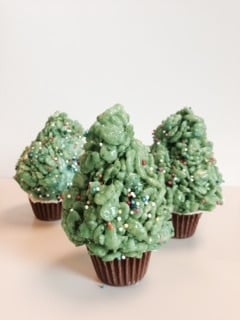 Since gluten-free baking with flours is still mildly terrifying to me, I've been concentrating on making desserts that don't require gluten whatsoever… peanut butter cups, macarons, buckeyes, etc. My grandma stopped over at our house a few days after Thanksgiving she brought me her Family Circle magazine to show us a buckeye recipe since she knew it was gluten free. Glancing through the magazine, I found another recipe that was calling for a gluten-free transformation. Rice krispie treats. But not just any rice krispie treats… christmas tree shaped treats. I knew I had seen gluten-free rice krispies at the store before so it was absolutely perfect since nothing else in the recipe was unfamiliar to me. And besides, I knew these would be just perfect for my cookie exchange at work!
Let me tell you, these little treats were so simple to make, I was able to do a double batch and get about 40 made in under an hour. Talk about efficient and adorable. However, the recipe from the magazine that I followed left out some key steps and wanted me to microwave the butter and marshmallows together, which just wasn't working for me. So I decided to just follow the way my mom has always made them and they turned out perfect!
My coworker Jen and I were really proud of the way the pictures turned out. I of course stayed up late making these for the cookie exchange at work the next day. I didn't even have the peanut butter trunks attached to the trees when I arrived at work. So, we took a few minutes in the morning to do some attaching with the frosting at her desk. I originally hadn't planned on taking a picture, but we decided that they were so cute that I had to blog about them. So as any good food blogger would do, I set up a little studio at the office to take a picture of the treats. Jen held up a piece of white paper behind the trees while I took a picture with my iPhone. And voila.. you have cell phone pictures of my trees on Jen's desk in the middle of the work day. If that's not art, I don't know what is!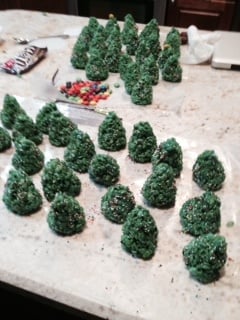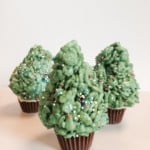 Print Recipe
Gluten Free Rice Krispies Christmas Trees
These gluten free rice krispies Christmas trees are so adorable and so fun to make! They're a great treat for holiday cookie exchanges and kids will love helping out with these in the kitchen!
Ingredients
3

tbsp

butter

unsalted

10

oz.

bag of mini marshmallows

6

cups

gluten free crisp rice cereal

green food coloring

3

tbsp

sprinkles

18

mini peanut butter cups

3-4

tbsp.

frosting

for adhesive (I used a can of Duncan Hines - look to see if it's gluten-free.. mine was!)
Instructions
In a large pot, melt the butter over low to medium-low heat.

Add in the marshmallows and mix until combined.

Add in a few drops of green food coloring and mix until you get the desired color. You may want to use a combination of blues, greens, and yellows to achieve the right color.

Pour in the rice cereal. Mix until combined.

Take the pot off the heat. Let cool for a few minutes as it will be easier to work with.

Take 1/3 cup of the rice krispies and with your hands form into a cone shape. Place on a piece of parchment paper and with your finger dab a few sprinkles in key areas to make it look like ornaments.

Leave to dry and repeat with remaining rice krispies until you have about 18 trees.

Once the trees are a little harder take a peanut butter cup and attach it to the cone shape with the frosting.

Let dry for awhile and then place in tupperware or cover with plastic wrap so they don't dry out.
Nutrition
Calories:
144
kcal
|
Carbohydrates:
25
g
|
Protein:
1
g
|
Fat:
4
g
|
Saturated Fat:
2
g
|
Cholesterol:
5
mg
|
Sodium:
59
mg
|
Potassium:
31
mg
|
Sugar:
15
g
|
Vitamin A:
65
IU
|
Calcium:
7
mg
|
Iron:
0.3
mg