Gluten-Free Cheese Fondue
Gruyère and Emmental cheeses come together in this gluten-free cheese fondue recipe for an interactive and velvety cheese appetizer that is sure to be a crowd-pleaser. It comes together in just about 10 minutes and is so easy to make. Serve with gluten-free bread, blanched veggies, and tart apples to complement the cheese. It's sure to be a hit at your next party!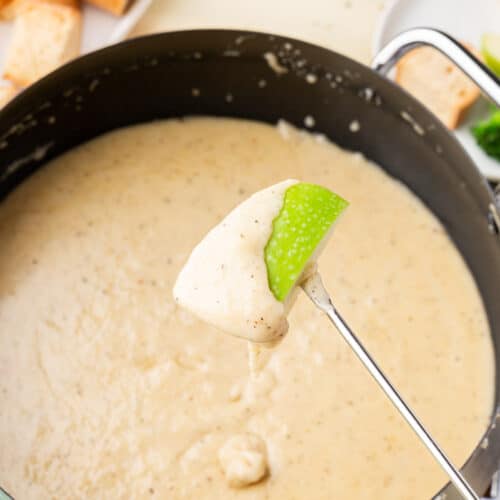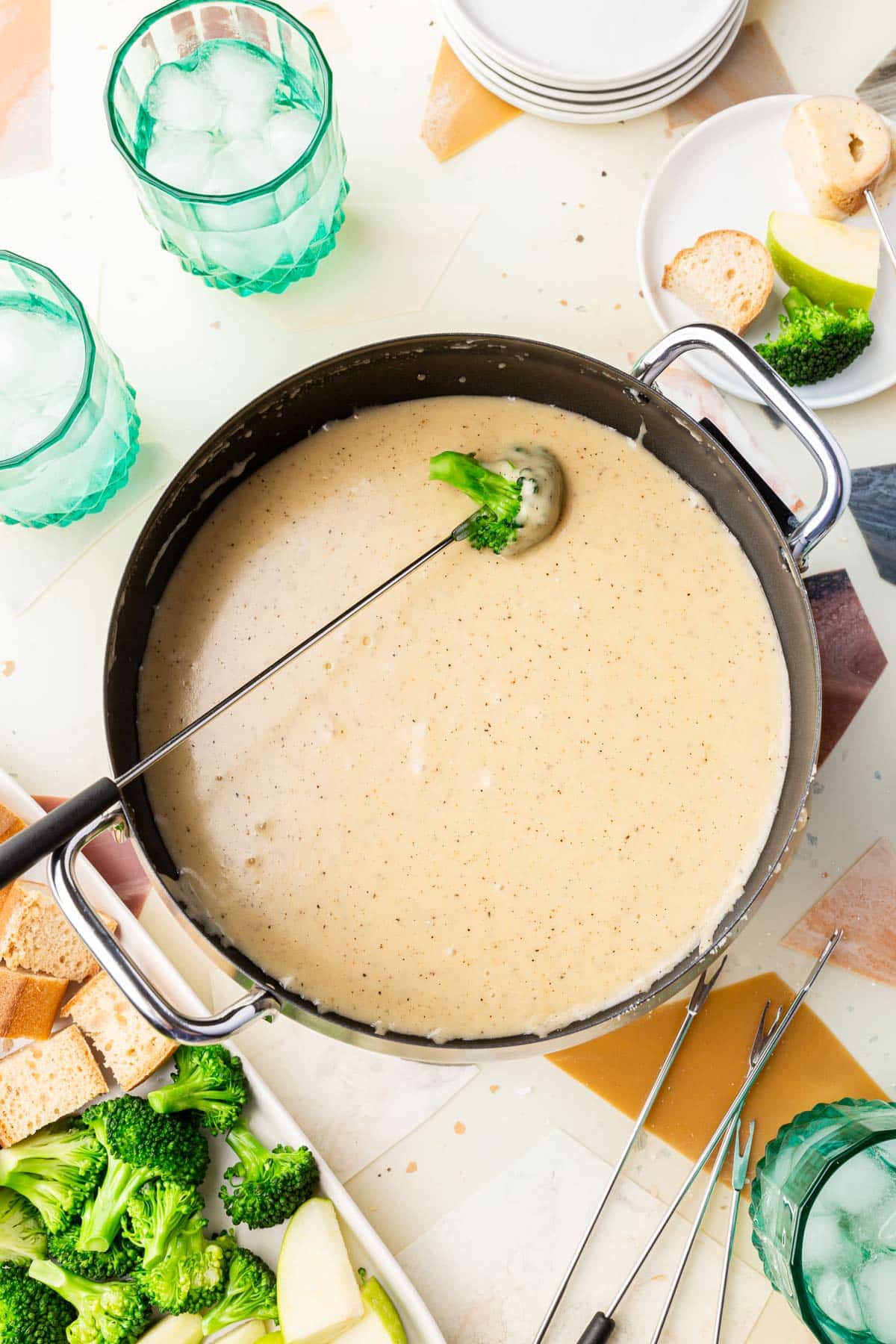 Growing up my family occasionally had fondue nights for special occasions like birthdays or around the Christmas holidays. When I was diagnosed with celiac disease, I thought those days were over.
This recipe is from an old hand-written recipe from one of my mom's cookbooks, but I've adapted it to be completely gluten-free. Let me tell you, this gluten-free cheese fondue recipe is just as good as I remember…. but without any of the gluten!
This gluten-free cheese fondue is rich, creamy and savory. The cheese is melted and combined with other ingredients like wine, garlic and spices to create a smooth and velvety texture that is delicious when served with gluten-free dippers.
If you haven't had cheese fondue at a party before, you're in for a treat because it's a fun and delicious communal experience. Dip your favorite gluten-free foods, like gluten-free bread, broccoli and tart apples into the luscious cheese fondue.
This is a great recipe that only takes about 10 minutes to make. It's such a fun activity for parties and always a crowd pleaser! If you have a special event like a birthday or a family holiday party for Christmas, this fondue will be
You'll love this recipe because:
Ingredients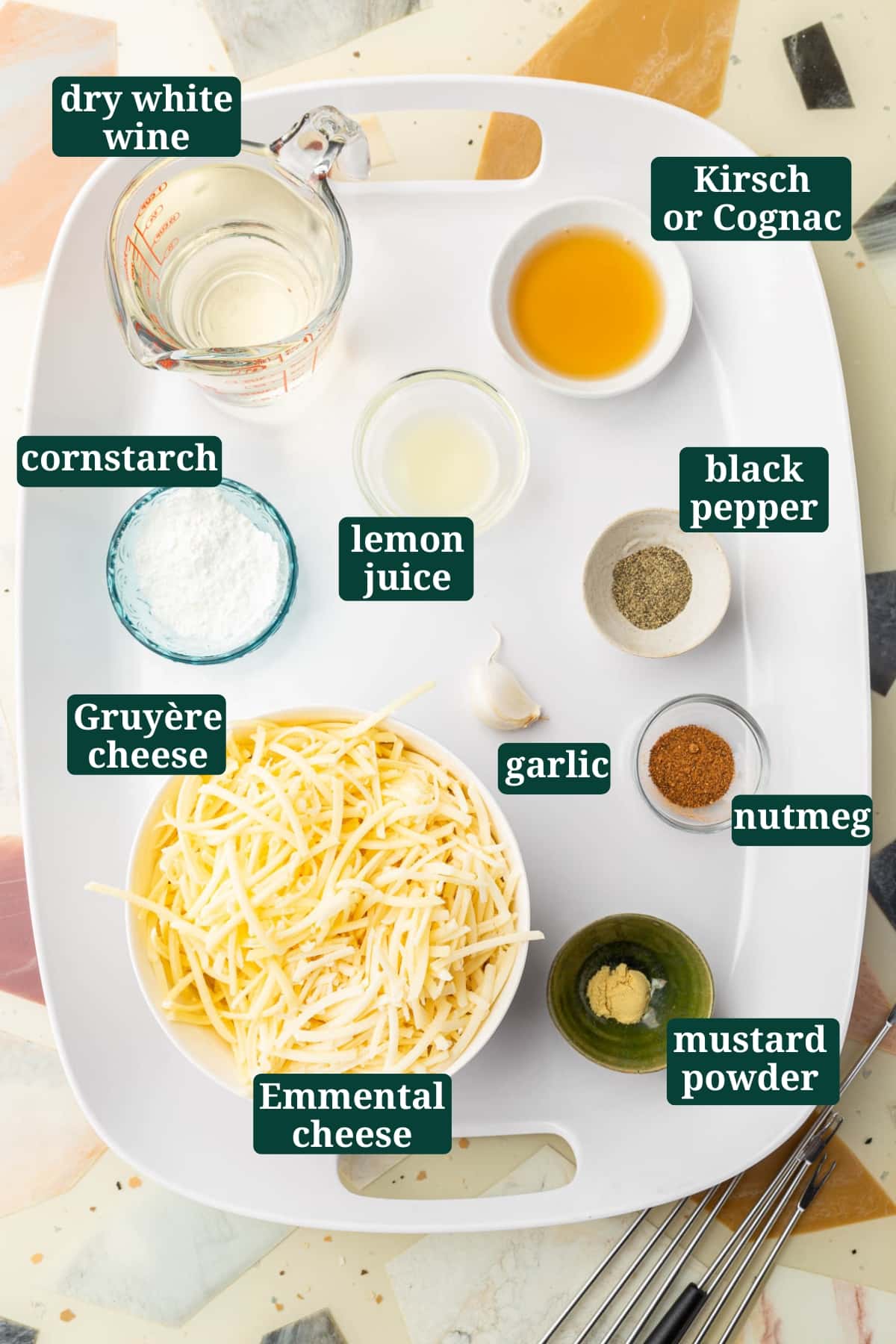 Ingredient Notes
Gruyère cheese – Gruyère cheese is a semi-hard cheese made from cow's milk. It has a pale yellow color and a dense texture. The cheese has a distinct nutty and sweet flavor, which intensifies as it ages. Look for authentic Gruyère cheese from Switzerland or reputable cheesemakers to ensure the best quality and taste.
Emmental cheese – This cheese is also known as Emmenthal or Emmentaler cheese. It's a Swiss cheese and is a popular choice for cheese fondue due to its smooth and nutty flavor and excellent melting properties. If you can't find Emmental cheese, you can use more Gruyère cheese or change it up by using Jarlsberg cheese or Gouda cheese instead.
Cornstarch – Cornstarch is naturally gluten-free and used as a thickening agent in cheese fondue. It helps to stabilize the cheese mixture and prevent it from separating. Mix the cornstarch with the shredded cheese thoroughly before adding it to the fondue pot of simmering wine.
White wine – Use a dry white wine, like sauvignon blanc, for the cheese fondue. You don't need to buy an expensive white wine for this as it just lightly flavors the fondue and the naturally-occuring tartaric acid from the wine will keep the cheese from clumping up and becoming stringy.
Garlic cloves – A fresh garlic clove is rubbed on the interior of the part to impart the cheese fondue with a subtle garlic flavor. Use a fresh garlic clove and cut it in half so that the freshly cut side of the garlic is what you rub all over the fondue pot.
Lemon juice – The lemon juice provides some brightness that cuts through the richness of the cheese. It also has naturally-occurring citric acid that like the wine, will help keep the cheese from clumping up.
Ground nutmeg – Ground nutmeg complements the nuttiness and richness of the cheese and adds depth to the overall taste profile. A little bit of nutmeg adds the perfect amount of spice and warmth to the fondue recipe.
Ground mustard – Ground mustard, also known as mustard powder, adds a tangy and slightly spicy flavor to the cheese fondue. It helps to balance the richness of the cheese and enhances the overall taste.
Black pepper – Black pepper adds a touch of spiciness. Adjust the amount of black pepper according to personal taste.
Kirsch – Kirsch is a brandy distilled from sour cherries that is commonly added to cheese fondue, especially in Swiss cuisine. It adds a unique fruity flavor and aroma to the fondue. I didn't have Kirsch on hand, so I used Cognac instead. You can use any kind of brandy or Sherry if you prefer. Just be sure that they are pure distilled and that no gluten-containing flavorings have been added after the distillation process.
A Dash of Megnut is a participant in the Amazon Services LLC Associates Program, an affiliate advertising program designed to provide a means for us to earn fees by linking to Amazon.com and affiliated sites.
In addition to the above ingredients, you'll also need a fondue pot. I used this Cuisinart electric fondue pot (affiliate link) for this recipe. I've had this fondue pot for over 10 years and it works amazingly for cheese fondue, chocolate fondue, or broth fondue. It's versatile and keeps the contents warm and evenly heated.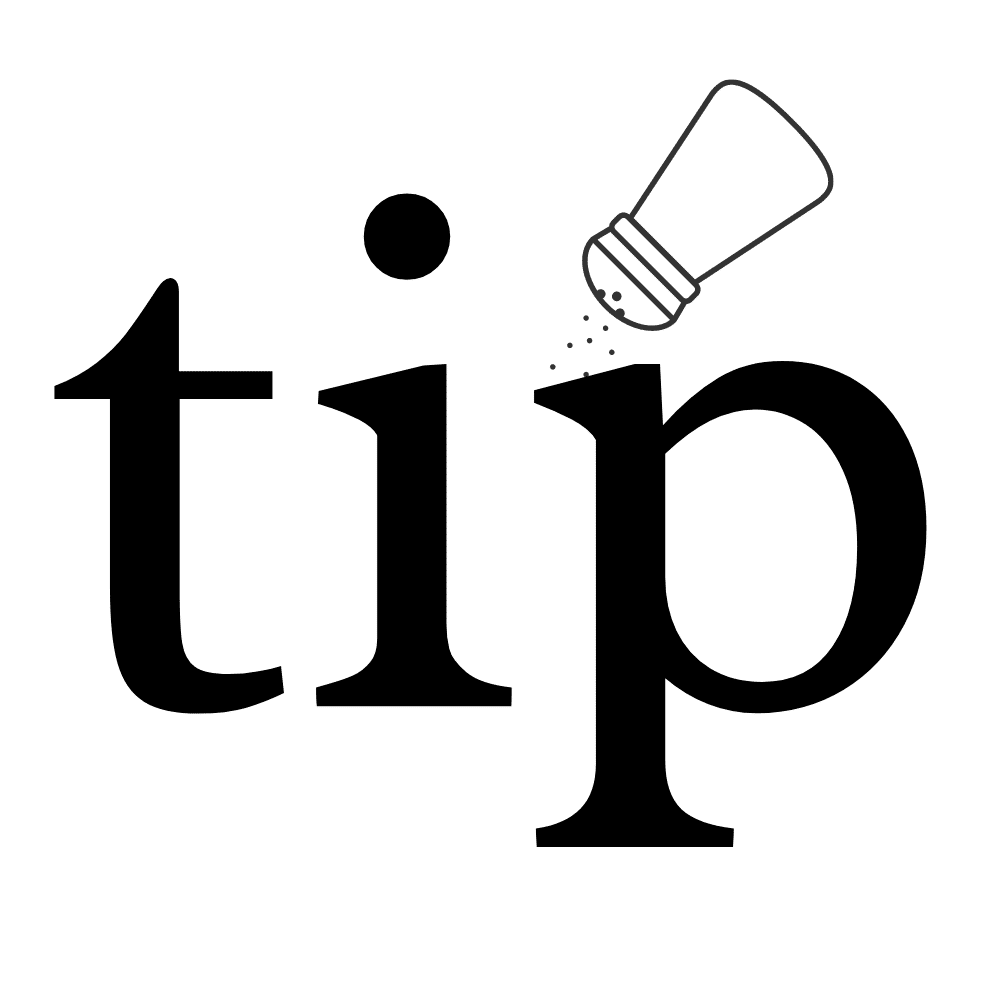 Opt for a block or wheel of cheese rather than pre-shredded or sliced versions. Pre-shredded cheese often contains anti-caking agents and additives to prevent clumping and maintain its texture. However, these additives can prevent the cheese from melting smoothly and evenly. Shredding your own cheese ensures a fresher texture and allows for better melting in recipes like fondue.

Step-by-Step instructions
It's very simple to make cheese fondue at home! It's such a fun experience and it can be ready in just about 15 minutes! The below photos and matching steps are not fully inclusive, but are meant to help you see the recipe at various stages to help you make it perfectly every time.
Pay special attention to the shred on the cheeses, the way the garlic is sliced to rub the surface area all over the fondue pot, the amount of cheese to add at a time, and the texture of the cheese fondue after melting.
For the ingredient list with measurements, full instructions, printable recipe, and additional notes, please scroll down to the recipe card.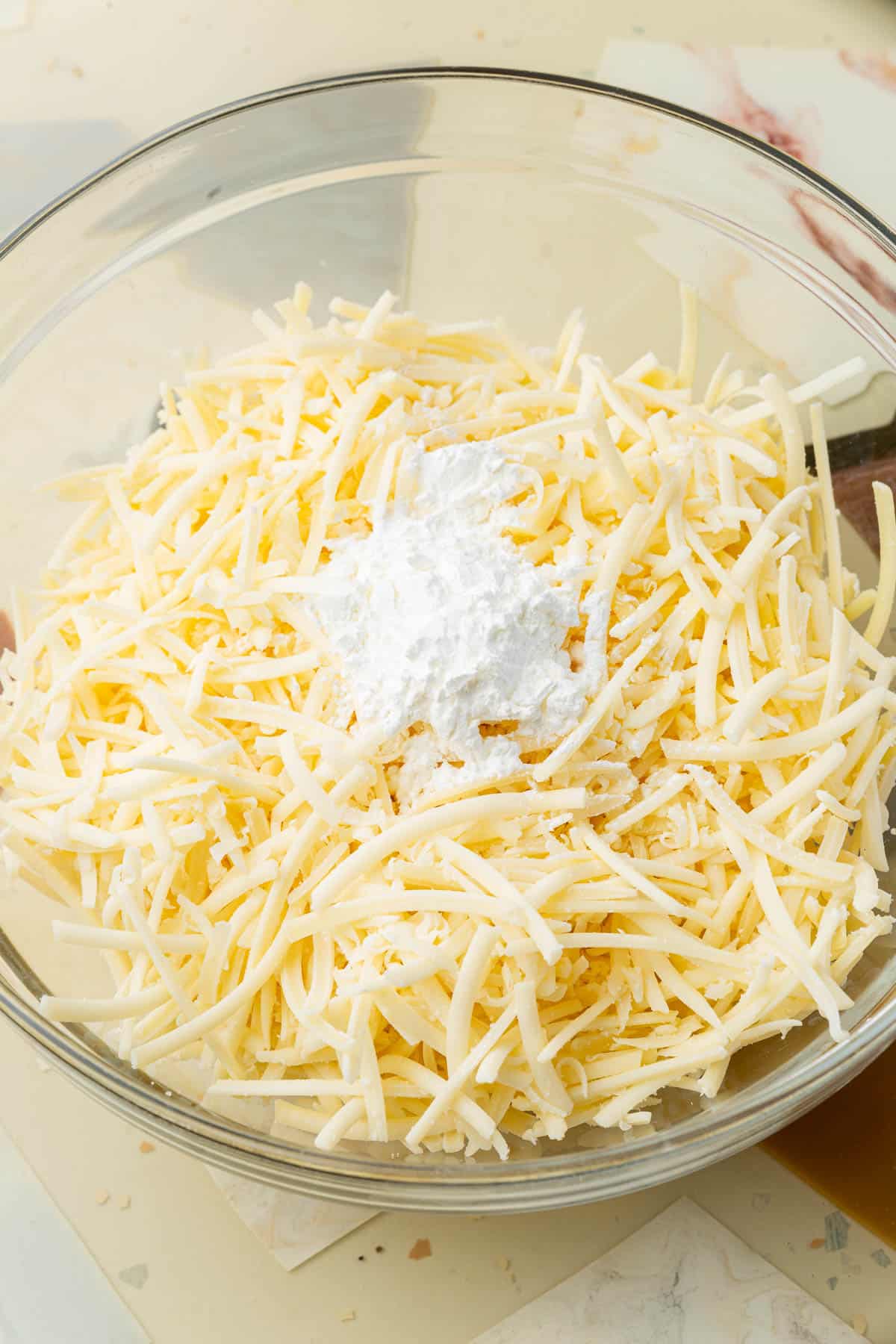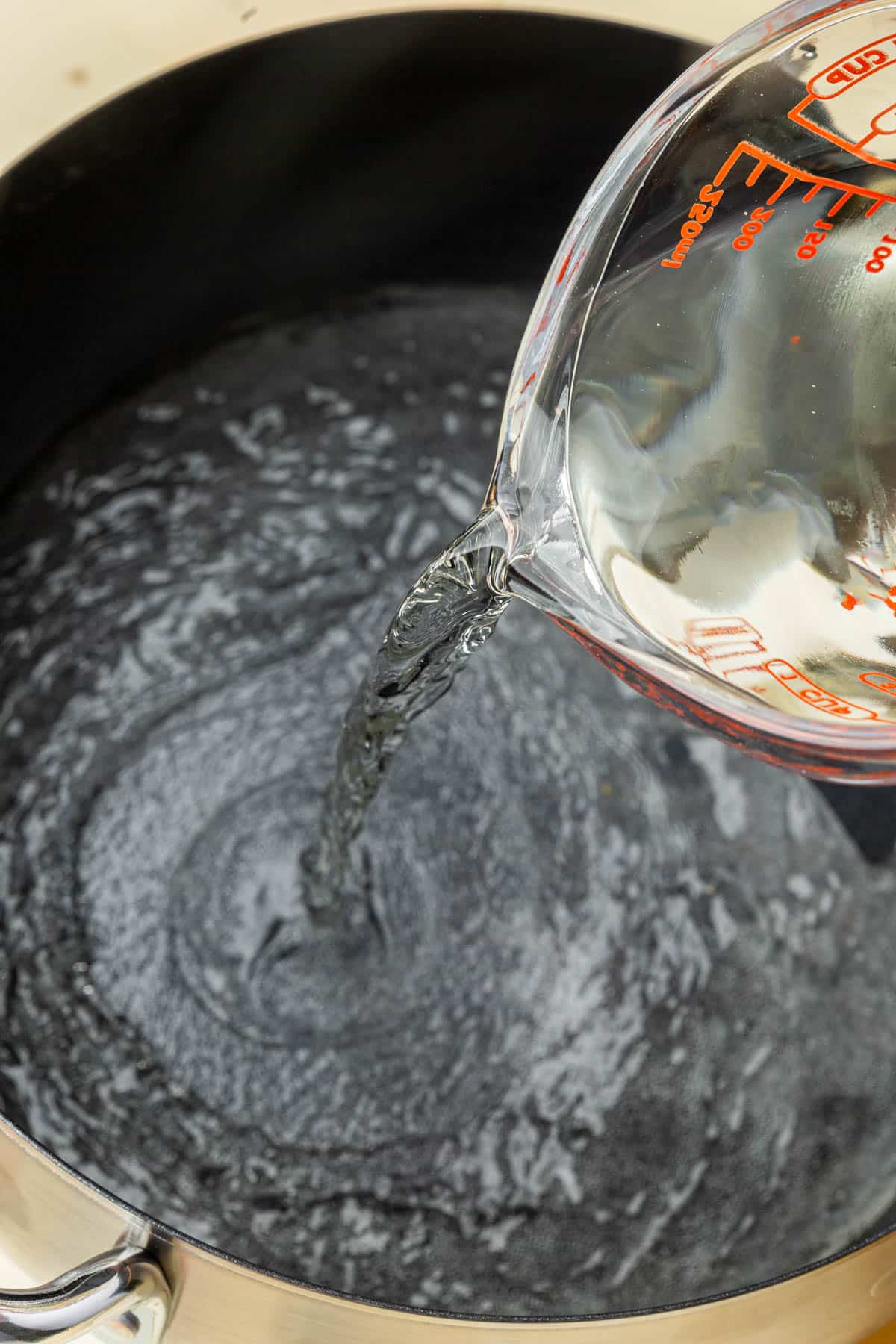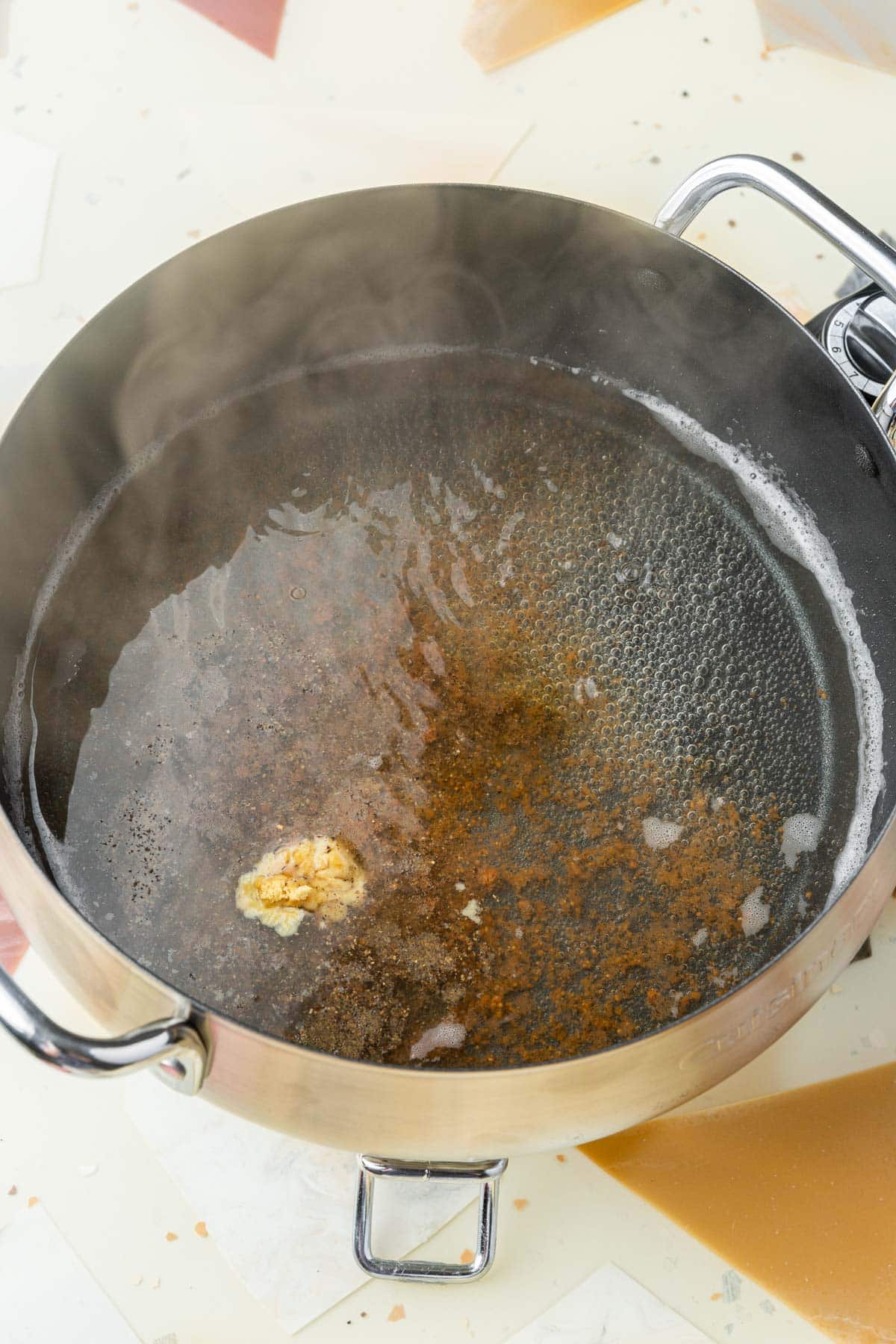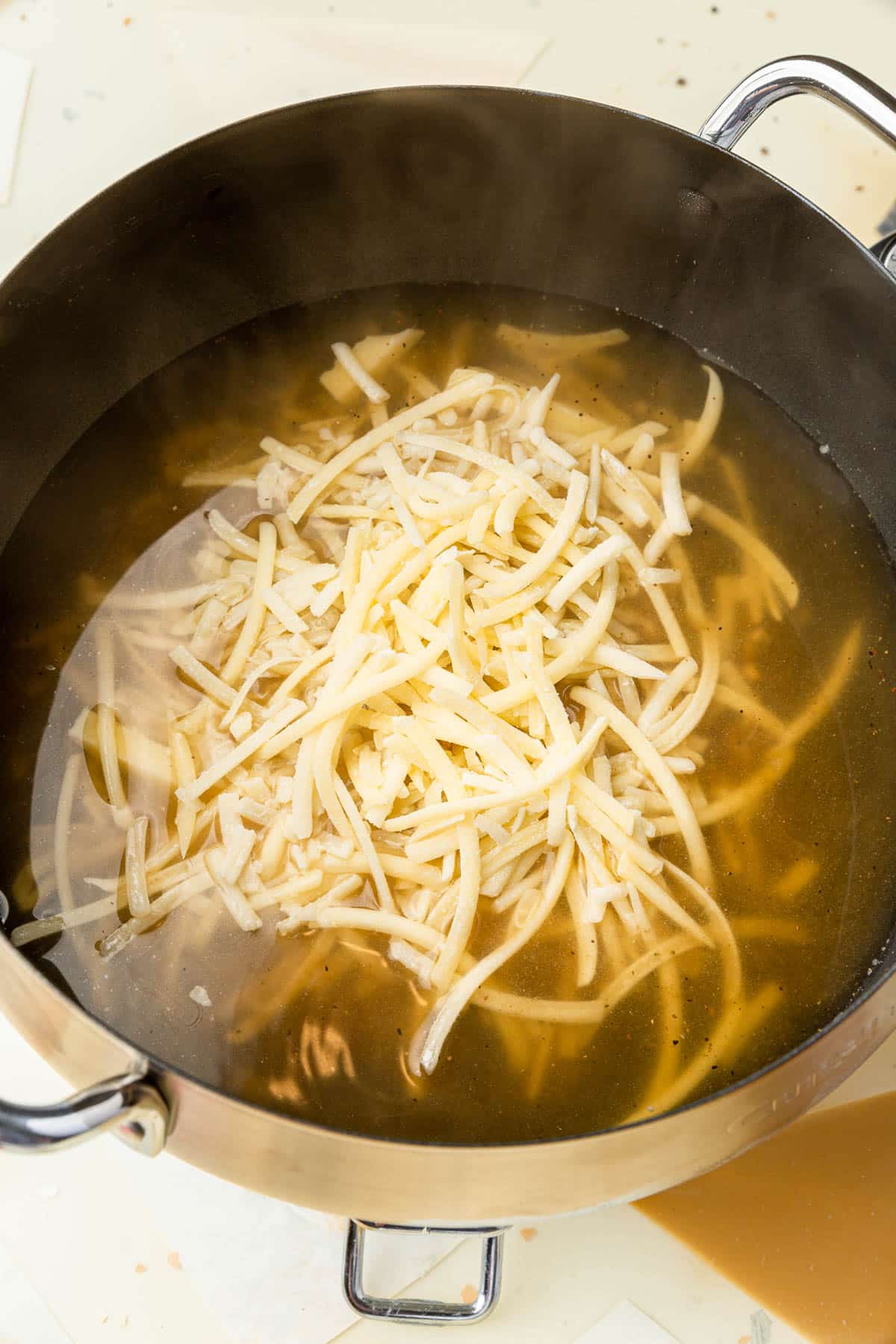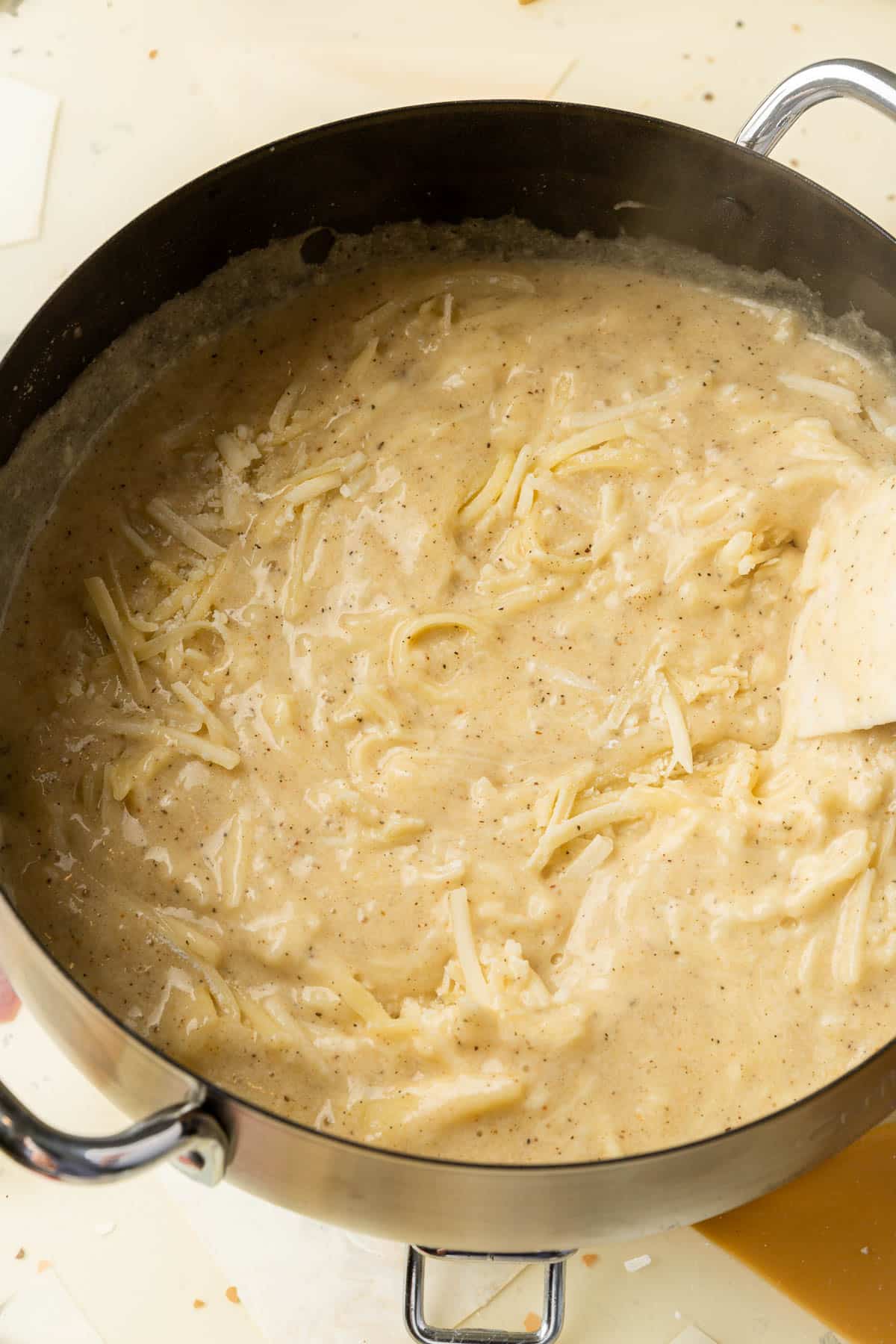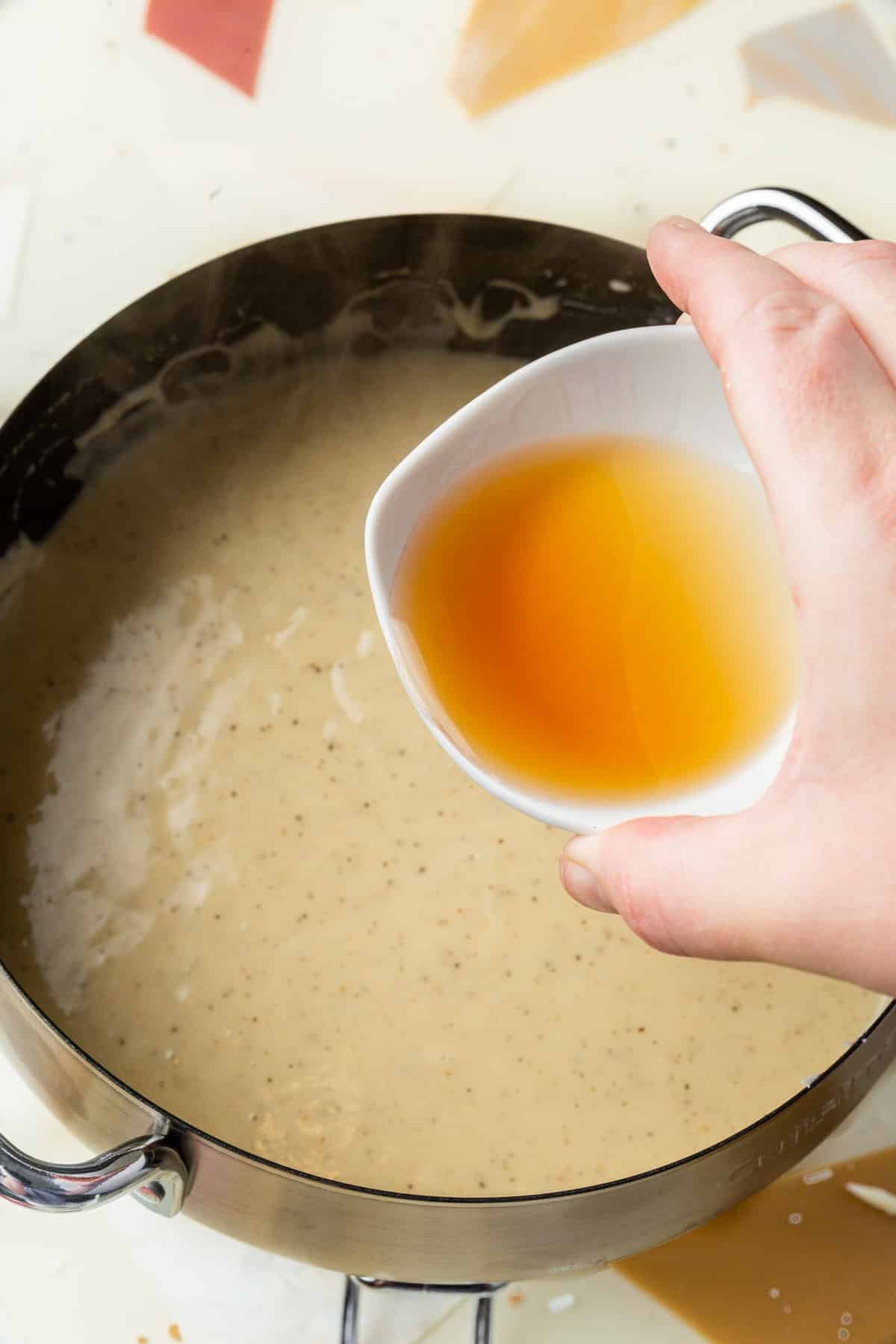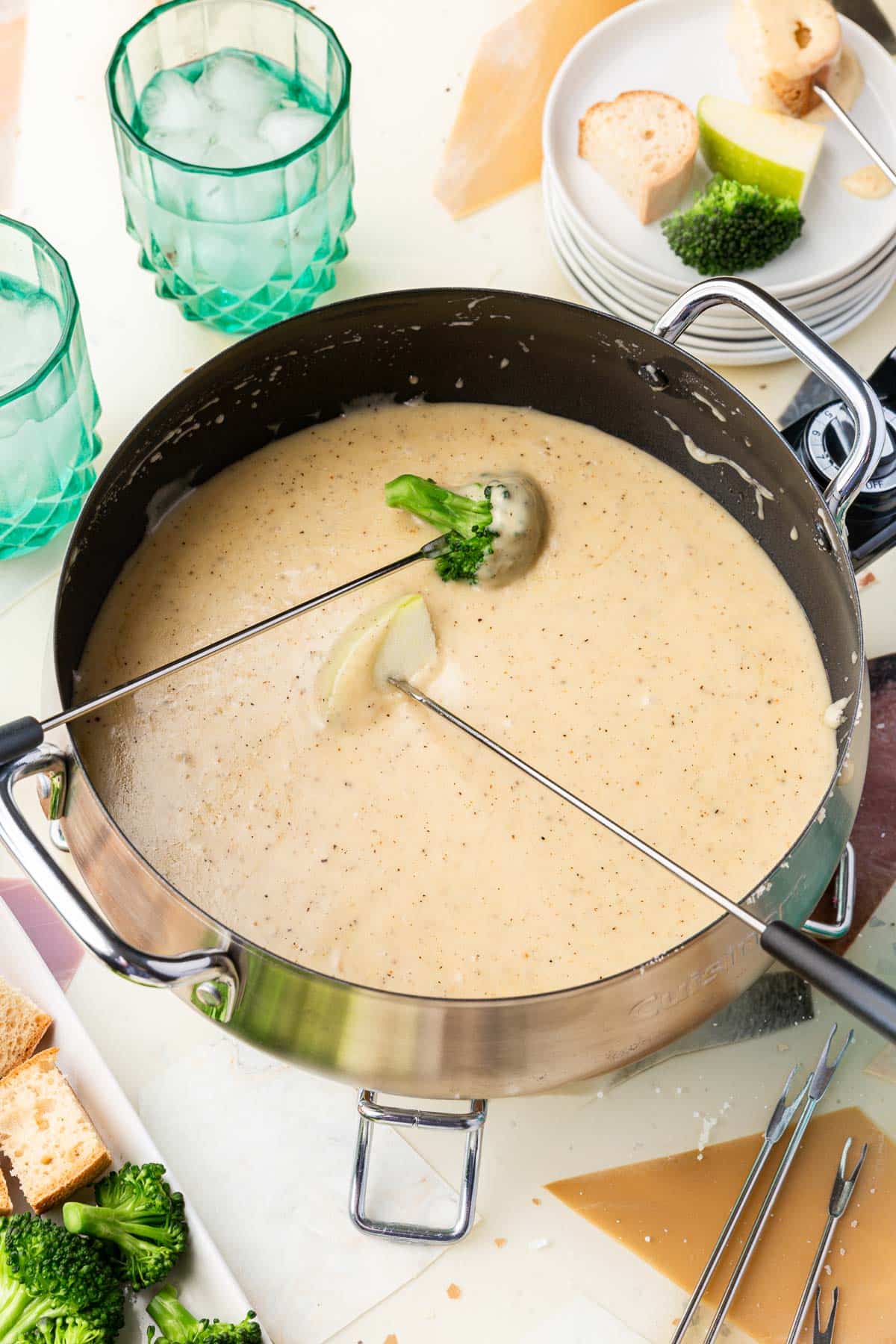 Recipe FAQs
What type of fondue pot should I use?
Fondue pots come in various materials such as ceramic, stainless steel, or cast iron. Some are electric (like mine) that you just plug in for the heat source and others will require a separate heat source, like Sterno fuel. I personally prefer electric fondue pots because they are more consistent and are easier to regulate the temperature as needed.
Is cheese fondue gluten-free?
Cheese fondue can sometimes be made with a roux made with all-purpose flour making it not gluten-free. Further, gluten-containing food is dipped into the cheese fondue, which will make it not acceptable to eat for those with celiac disease. However, this recipe is made using cornstarch to thicken the fondue and uses gluten-free accompaniments to dip into the cheese.
Is white wine gluten-free?
In general, white wine is considered gluten-free. Wine is made from fermented grapes, and grapes do not contain gluten. However, it's essential to check specific brands and varieties to ensure that no gluten-containing ingredients or processes were used during production.
Is brandy gluten-free?
Pure brandy made from distilled grapes or other gluten-free sources is generally considered gluten-free. However, some brandies may use additives or flavorings that could contain gluten. It's crucial to check the specific brand and inquire about its gluten-free status to ensure it meets your dietary needs.
What type of cheese is best for fondue?
The traditional Swiss cheeses for cheese fondue are Gruyère and Emmental. However, you can experiment with other cheeses like Fontina, Gouda, Jarlsberg or Raclette. Combining different cheeses can also create unique flavors for your cheese fondue.
What can I use instead of flour in fondue?
This gluten-free cheese fondue uses cornstarch as a thickening agent instead of all-purpose flour. This will help achieve a similar consistency to flour without introducing gluten into the recipe.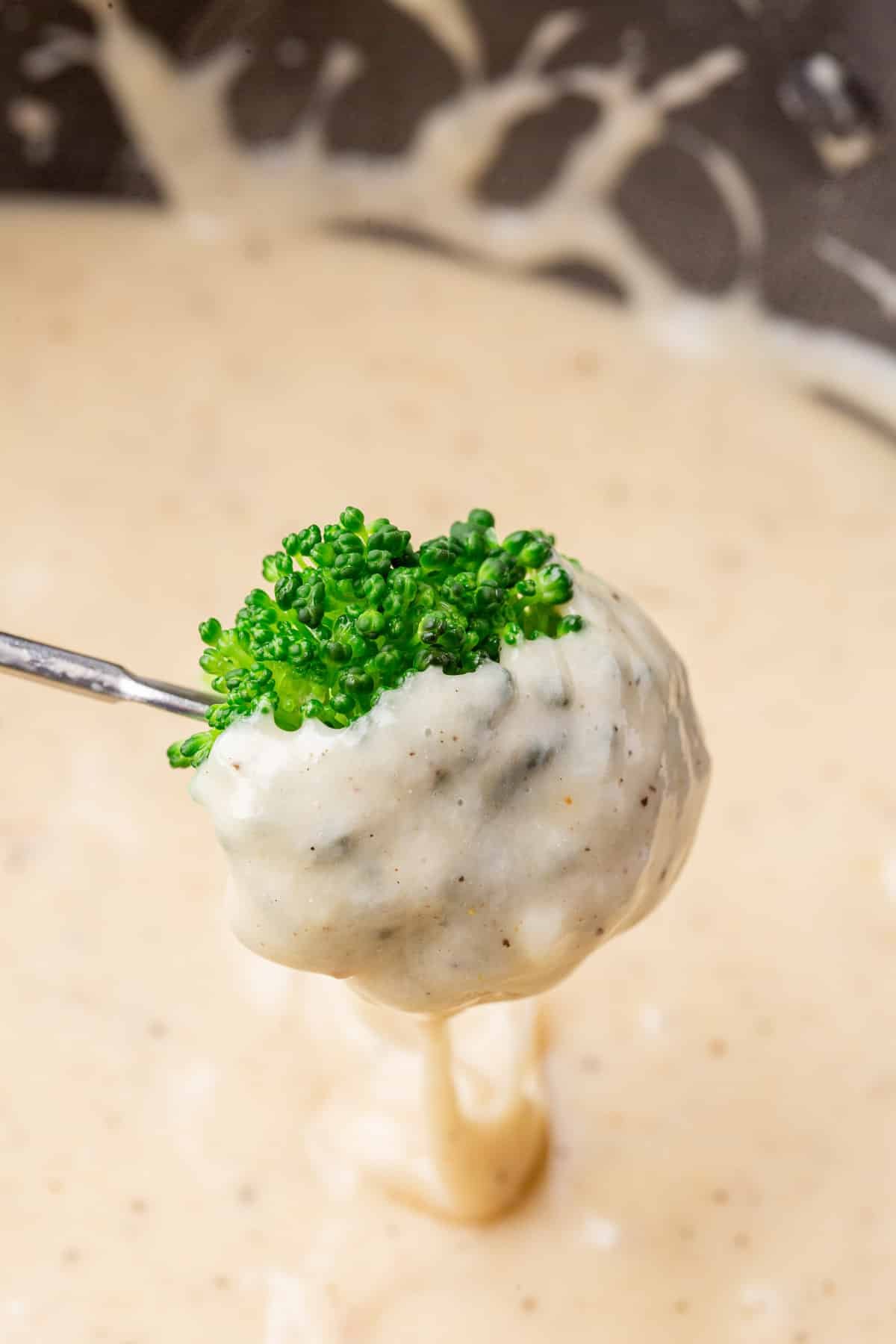 Storage instructions
Storage: Store leftover fondue in an airtight container in the refrigerator. Cheese fondue can typically be stored for up to 3-4 days.
Reheat: To reheat fondue, place it in a saucepan or a fondue pot and gently warm it over low heat, stirring constantly until it reaches the desired temperature. Add a small amount of wine if needed to restore the desired consistency.
Fondue rules and etiquette
Cheese fondue is a communal experience that can really be a lot of fun. However, there a few important things to remember before sharing fondue:
Do not double dip or re-dip food back into the fondue pot.
Do not eat directly from the fondue fork. Instead transfer the dipped food onto your plant for eating with a different fork.
The fondue pot will be hot, so be careful not to burn yourself when dipping into the cheese fondue.
What to dip in a cheese fondue
There are so many different gluten-free foods that you can dip into your cheese fondue. Here are some of my favorite things to dip in cheese fondue:
Gluten-free baguette cubed into 1-inch pieces – I used store-bought Schar gluten-free baguettes in these photos
Gluten-free pita bread or pita chips
Raw carrots, snap peas, cauliflower, or bell peppers
Cubed green apples or honeycrisp apples
Blanched broccoli or asparagus
Roasted brussels sprouts
Gluten-free pretzels
Potato chips
Roasted or steamed baby potatoes
Cooked steak bites, chorizo brats, or sausage bites
Cured salami, prosciutto or other cured meat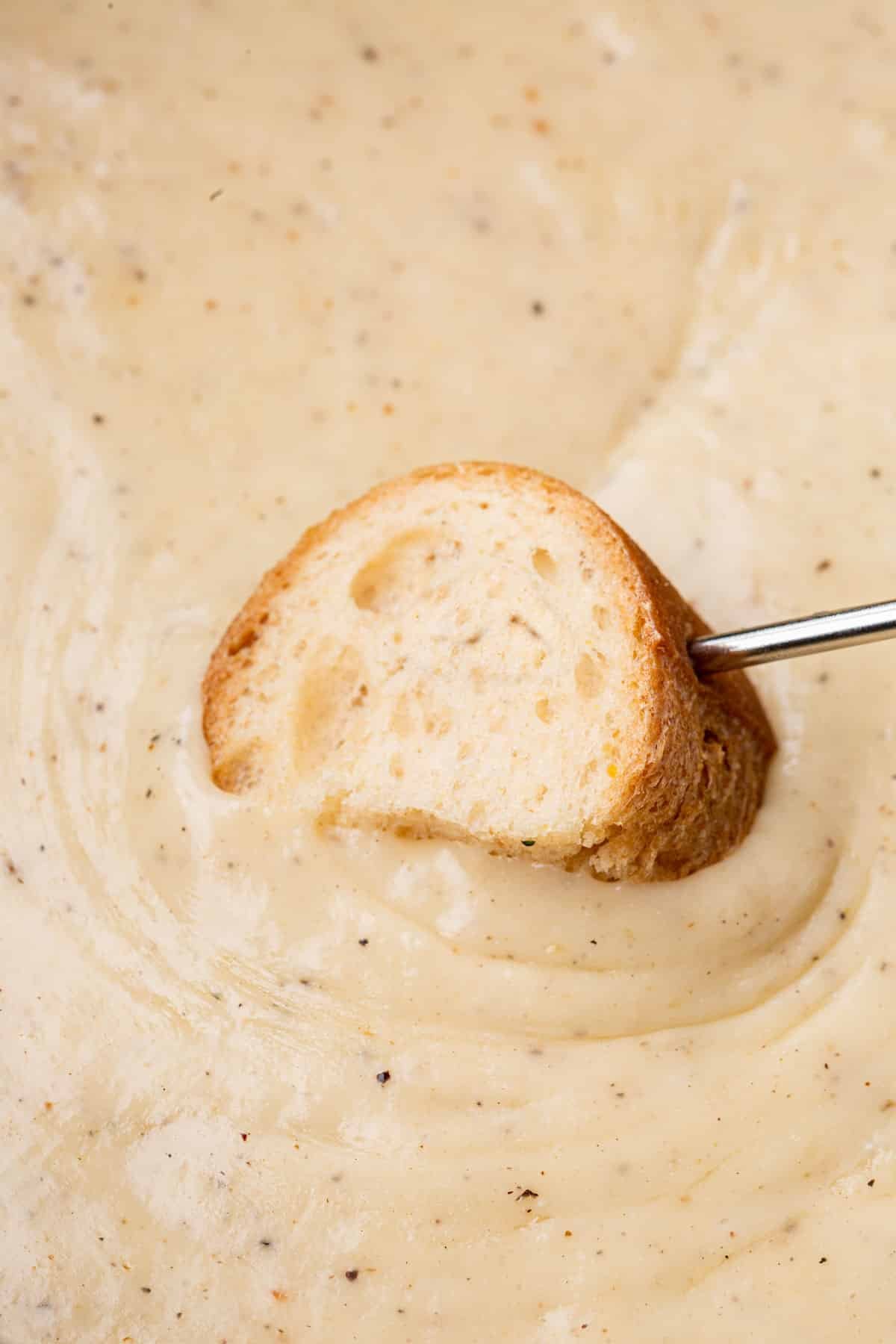 More gluten-free appetizers to try
Did you make this recipe?
I'd love to know! Please rate it and leave a comment below. You can also share your pictures and tag @adashofmegnut on Instagram.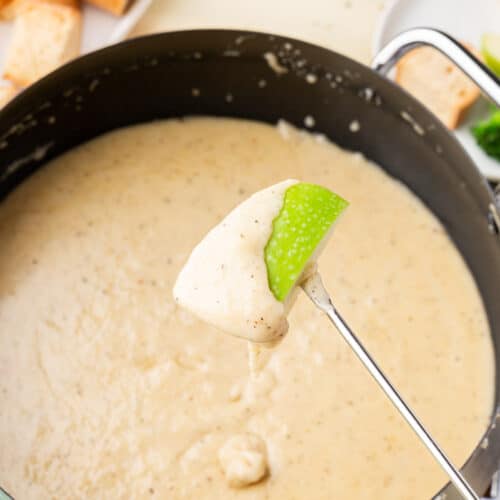 Gluten-Free Cheese Fondue
Gruyère and Emmental cheeses come together in this gluten-free cheese fondue recipe for an interactive and velvety cheese appetizer that is sure to be a crowd-pleaser. It comes together in just about 10 minutes and is so easy to make. Serve with gluten-free bread, blanched veggies, and tart apples to complement the cheese. It's sure to be a hit at your next party!
Print
Pin
Rate
Ingredients
8

oz

Gruyère cheese

(shredded (226g))

8

oz

Emmental cheese

(shredded (226g))

2

tablespoons

cornstarch

(30g)

1

clove

garlic

(cut in half)

8

oz

dry white white

(like Sauvignon Blanc)

1

tablespoon

lemon juice

1/2

teaspoon

ground mustard

1/2

teaspoon

ground nutmeg

1/2

teaspoon

ground black pepper

2

tablespoons

Brandy

(or Kirsch or Sherry)
Instructions
In a mixing bowl, combine the Gruyère cheese and Emmental cheese. Add the cornstarch and toss the shredded cheese until it's completely coated with the cornstarch. Set aside.

Rub the inside of an electric fondue pot with the garlic clove halves.

Then, add the wine to the fondue pot. Turn the heat to medium and cook for 2-3 minutes, until the wine simmers.

Reduce the heat of the fondue pot to low after the wine comes to a simmer. Stir in the lemon juice, ground mustard, nutmeg and black pepper.

Gradually add the shredded cheese mixture to the pot handfuls at a time and stir with a rubber spatula. Continue until the cheese is all melted and smooth. This will take about 4-5 minutes.

Add the Kirsch or Cognac to the cheese fondue and stir to combine.

Leave the heat on low to serve the cheese fondue, stirring occasionally so that a film does not form on top of the cheese.

Serve with your favorite gluten-free dippers, like gluten-free bread, blanched broccoli, and tart green apples. Enjoy!
Notes
If you have celiac disease or are gluten-free for other reasons, but sure to double check all of your ingredients are gluten-free.

I served my cheese fondue with a gluten-free baguette I cut into 1-inch cubes, broccoli that I blanched for 1 minute until just tender, and tart granny smith apples that I cut into 1 inch pieces. For the baguette, I used a Schar gluten-free french baguette.

The nutritional information below is an estimate and does not include the dipping ingredients since that will vary based on what you choose.
Nutrition
Calories:
271
kcal
|
Carbohydrates:
4
g
|
Protein:
16
g
|
Fat:
18
g
|
Saturated Fat:
11
g
|
Polyunsaturated Fat:
1
g
|
Monounsaturated Fat:
5
g
|
Cholesterol:
58
mg
|
Sodium:
257
mg
|
Potassium:
70
mg
|
Fiber:
0.1
g
|
Sugar:
0.5
g
|
Vitamin A:
505
IU
|
Vitamin C:
1
mg
|
Calcium:
543
mg
|
Iron:
0.2
mg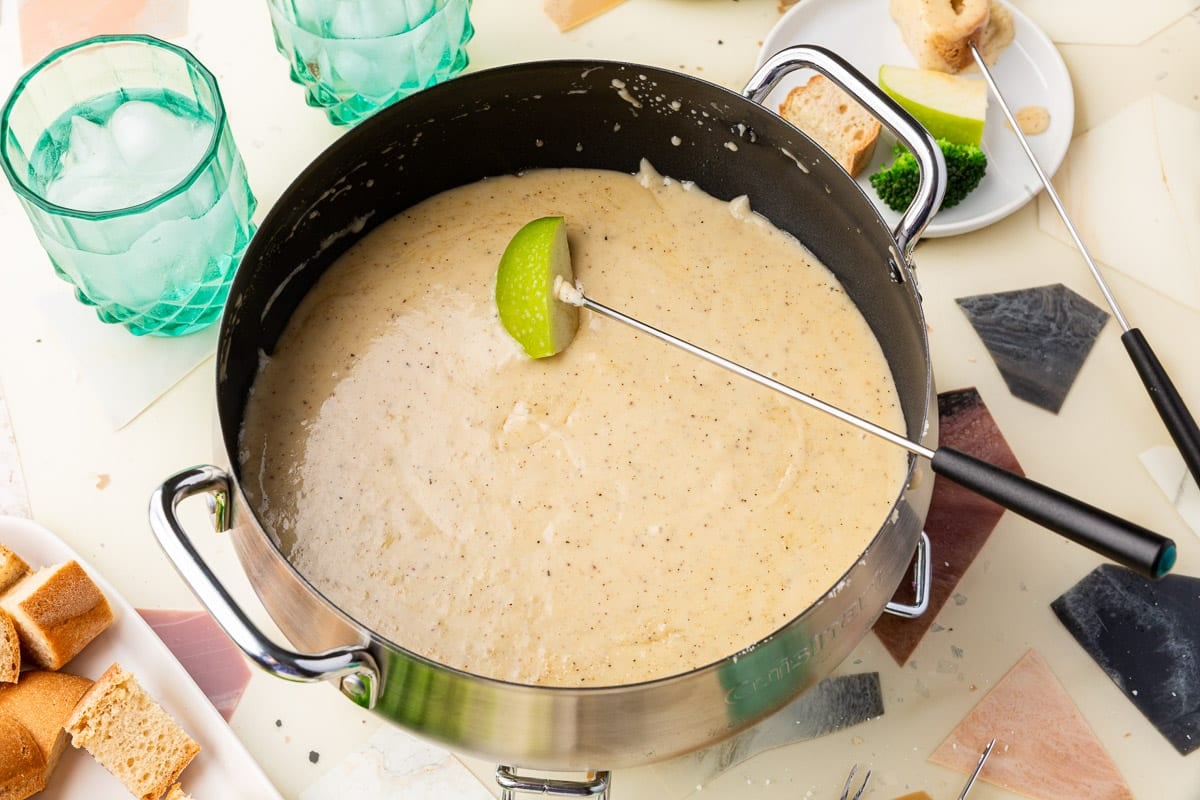 I'm Megan
A gluten-free food blogger from Chicago and lover of all things food, showing you gluten-free can be easy and delicious, too. Let's make gluten-free stress free together! Read more…