Snow Globe Ornament Sugar Cookies
These gluten free snow globe sugar cookies are so adorable for winter celebrations. Follow these easy steps to make these sugar cookies with royal icing.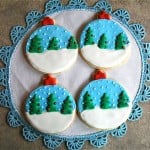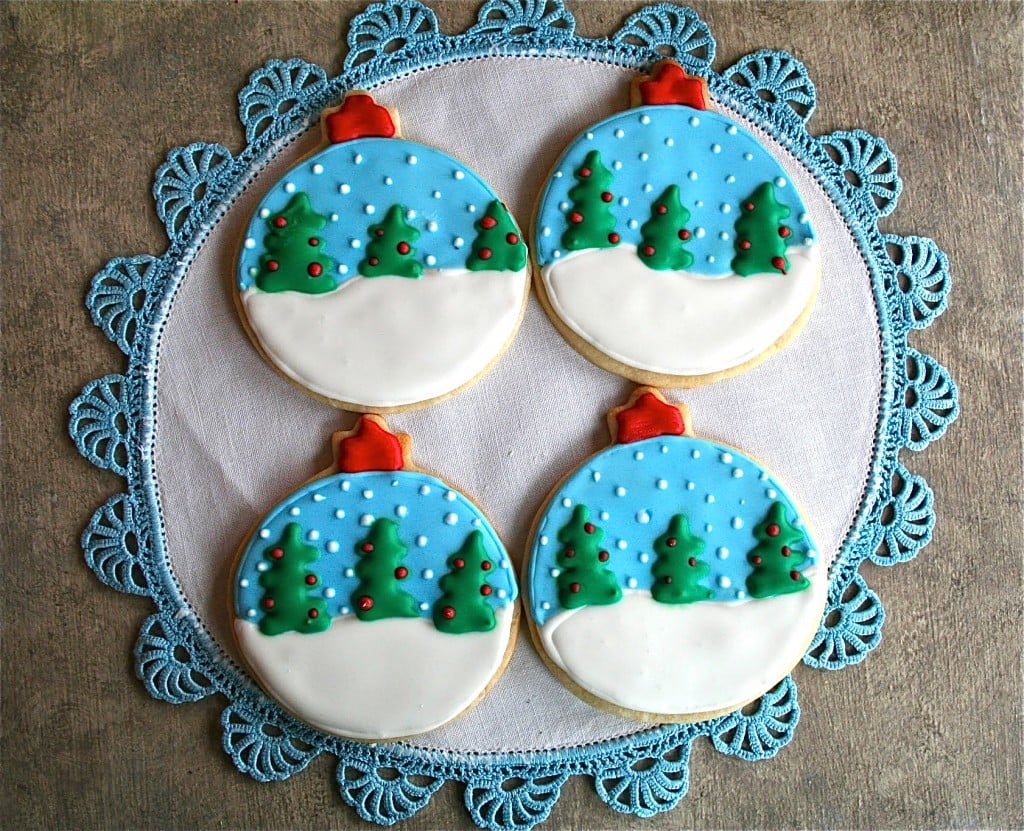 Tis' the season… to eat cookies that is! Oh dear people. I have more than a few cookie recipes to share with you this week. It's going to be mighty caloric and delicious all at the same time.
We're starting with my favorite – the sugar cookie! Last week I was less than productive. Like I'm talking I had no groceries for two weeks so I ate my roommate's bacon for dinner one night. Yeah. Five strips of bacon and I call that dinner.
The grocery store is four blocks away. Sigh. Well to make up for that I went into uber productive mode on Saturday. We were celebrating my grandma's birthday at my parent's house on Sunday so I told my mom that I would cover all of the desserts.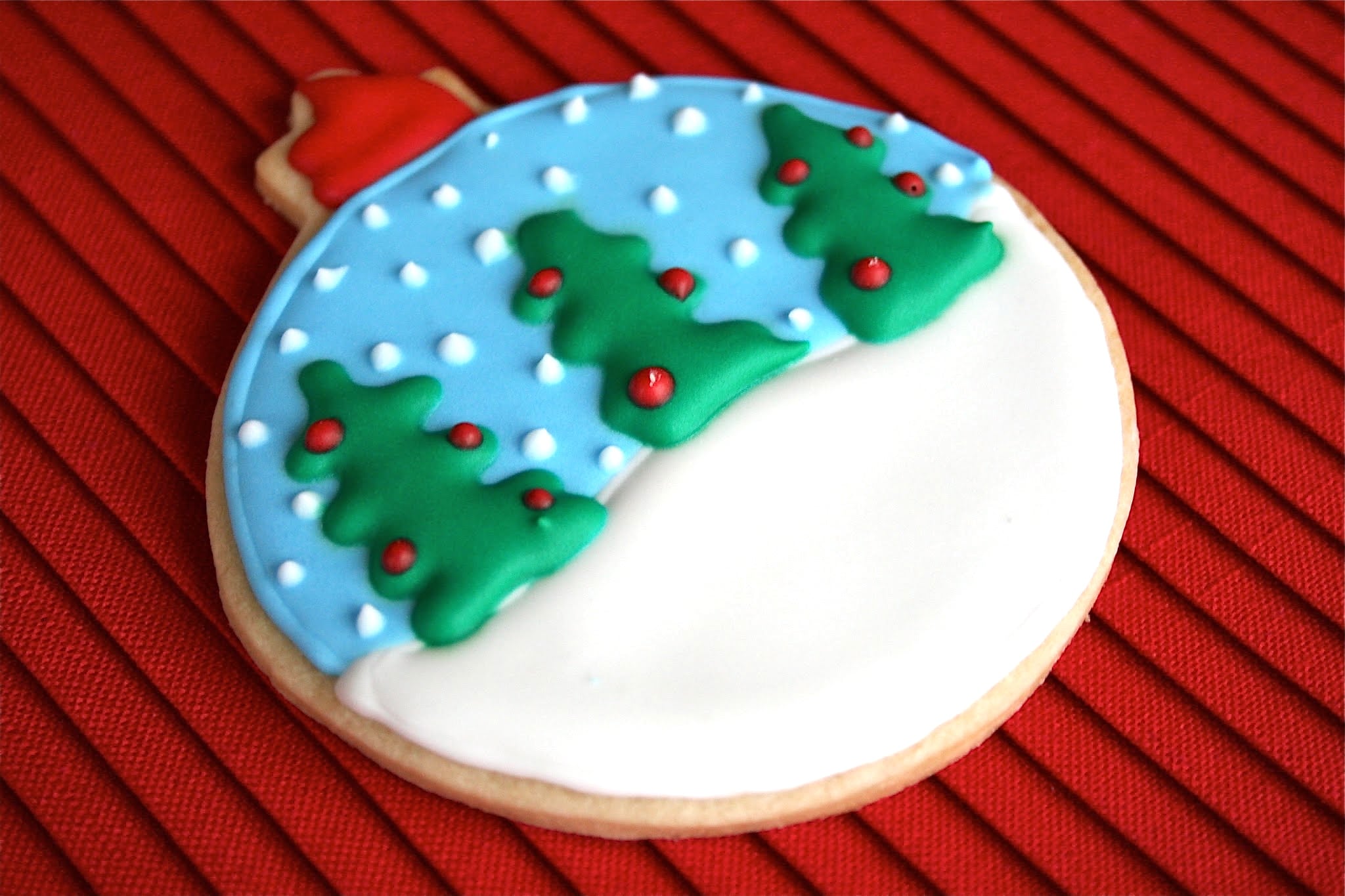 I made a cake, some peppermint white chocolate oreos, and these sugar cookies. I was baking and cooking from 3pm to 1am and let me tell you, it was awesome. I put on Love Actually and decorated cookies right in front of the TV.
I had the Christmas tree lit, the wreath was twinkling, and a cup of hot cocoa in my hand. Then I fell asleep watching a horrific Lifetime Christmas movie. If that doesn't scream Christmas time to you, I don't know what does.
Oh, and I'm obsessed with the way these cookies turned out. No joke. By far my favorites that I've made to date.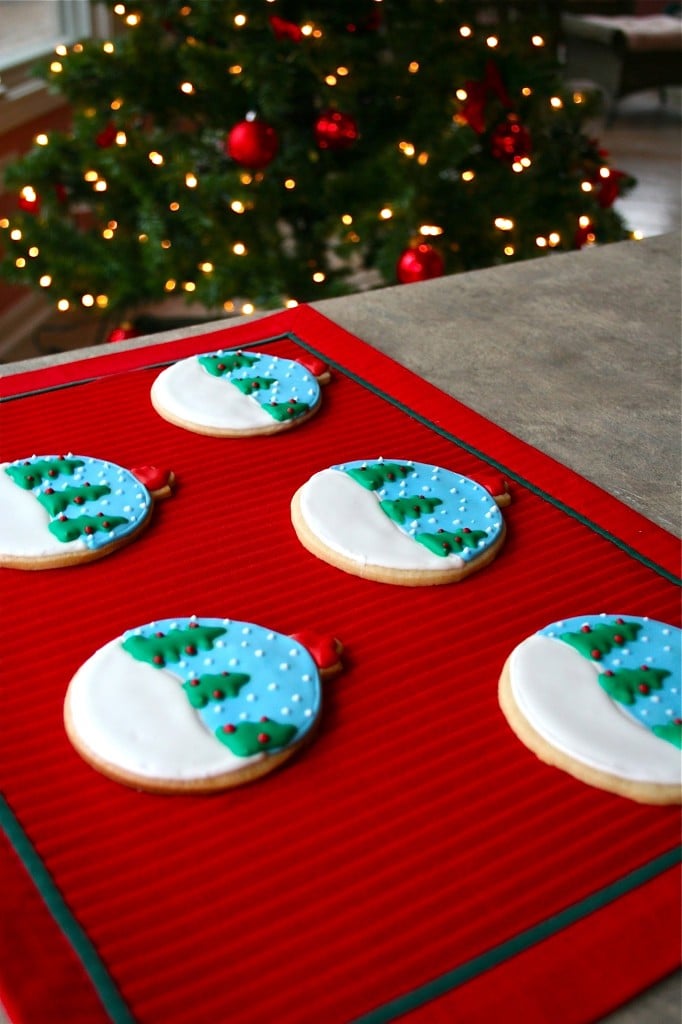 Gluten Free Snow Globe Sugar Cookies
These gluten free snow globe sugar cookies are so adorable for winter celebrations. Follow these easy steps to make these sugar cookies with royal icing.
Print
Pin
Rate
Ingredients
For the Sugar Cookies:
2 1/2

cups

gluten free flour blend

1 1/2

tsp

xanthan gum

(if your blend doesn't already contain it)

1

cup

butter

(softened)

1

cup

powdered sugar

2

tsp

almond extract

1

tsp

vanilla

1

tsp

salt

1

egg
For the Royal Icing:
4

cups

powdered sugar

(sifted)

2

tbsp

meringue powder

5

tbsp

water

1

tsp

vanilla

(or almond extract)
Instructions
For the Cookies:
In a medium bowl, whisk together gluten free flour blend and xanthan gum (if using). Set aside.

Cream butter and powdered sugar in a large bowl with an electric mixer.

Mix in egg, vanilla, almond extract and salt and beat until mixed well.

Gradually add in flour blend (1/2 cup at a time) and mix after each addition. Be sure not to over mix. I use the electric mixer for the first 2 cups of flour and then hand mix the last 1/2 cup.

Put dough in the refrigerator for an hour or so, or until the dough firms up. You can also put it in the freezer but I would only do that for 20-30 minutes otherwise it's very difficult to roll out.

Sprinkle your work surface and rolling pin with powdered sugar.

Roll the dough out to a 1/4 inch thickness.

Cut with cookie cutters.

Place on a greased cookie sheet and put back in the freezer for 10-15 minutes.

Then, bake in the oven at 375 degrees Fahrenheit for 8-10 minutes or until cookie all the way through. The cookie should not brown, but the edges can be slightly browned (that's a good indication it's done). Cool on a wire rack.
For the Royal Icing:
In a bowl of an electric mixer fitted with the whisk attachment, combine the powdered sugar, meringue powder and water.

Mix for 7-10 minutes, until the ingredients are well blended and the icing has a matte finish. This is the base consistency. I usually add about 1 tsp more of water for a good outline icing (I use a 10 second rule) and add more water until I reach a 4-second icing for flood icing. This means that when you drizzle icing over the bowl of royal icing then the icing will flow back in with the rest of the icing in 4 seconds (10 second icing is the same but it will sink back in with the rest of the icing in 10 seconds). If you need to thin it out more then add more water. If you need to thicken it add more powdered sugar.
To Decorate:
Outline half of the circle with the white icing and then run a squiggly line through the middle of the cookie to finish the outline.

This will make the slopes of the hill. Continue until you have finished all of your cookies. Then, with the blue icing, just complete the rest of the circle with the outline.

You don't have to outline the center of the cookie with blue since the white will act as a barrier for the blue flood icing. Continue with all of your cookies.

Then, put the white flood icing in a squeeze bottle. Squeeze a dollop of white icing in the middle of the white outline.

With a toothpick, drag the icing to the edge of the outline. Continue with all of the cookies.

Now repeat, with the blue icing. Let all of the cookies dry before you continue.

Using a pastry bag with a number 3 tip (or use the squeeze bottle if the hole is small enough and you think you can be precise) and make three trees. To do this, I concentrated on just making horizontal lines back and forth, making sure that the bottom one was large than the top ones. Let dry completely.

With a pastry bag filled with the number 1 (or 2) tip, make ornaments with the red frosting.

Then, make the snow with the white frosting. To do this, just squeeze a little bit on the pastry bag and then pick up real fast so that there is no tail on the ornament or snow flake. If I see that I'm about to make a tail, I circle the pastry bag so that the tail wraps around the snowflake or ornament as I release pressure and then the tail becomes part of the circle instead of a nasty line that ruins your picture.

Let dry for a few hours or overnight and then store in an airtight container at room temperature. Enjoy!
Nutrition
Calories:
282
kcal
|
Carbohydrates:
45
g
|
Protein:
2
g
|
Fat:
11
g
|
Saturated Fat:
6
g
|
Cholesterol:
36
mg
|
Sodium:
230
mg
|
Potassium:
6
mg
|
Fiber:
1
g
|
Sugar:
33
g
|
Vitamin A:
330
IU
|
Calcium:
15
mg
|
Iron:
0.7
mg