These gluten free snowflake sugar cookies are so simple but so stunning for winter celebrations. Make them for birthday parties or Christmas gatherings!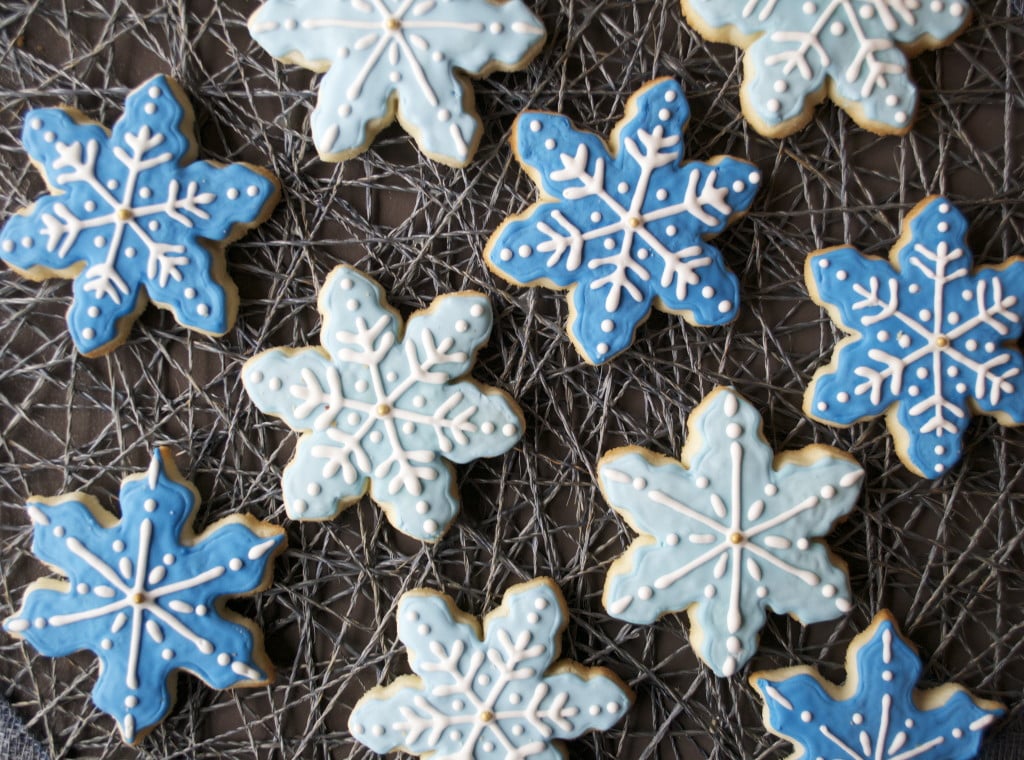 Oh the weather outside is frightful! Oh wait? It's not?
Seriously. It was 50 degrees last Friday. IN CHICAGO! What!
We took advantage of the weather and walked to the Lincoln Park Zoo to see the Zoo Lights (basically the whole zoo is covered in Christmas lights and you can see some of the animals, although most were sleeping). It was unseasonably warm out so naturally the zoo was packed with people. I mean what else could we expect on a Friday night, the day after Christmas? We still had fun and then walked to get some sushi. Sushi is my new go-to dinner indulgence since I typically don't have any issues with my food intolerances as long as they can make the sushi gluten-free which this place does for me every time I go there (yay!). But all fun things aside, it just doesn't seem right to have such nice weather at the end of December in Chicago. Where's the mounds of snow? Where's the polar vortex? (Wait, no. Nevermind, I don't want that either!) To help with my winter identity crisis, I decided some snowflake sugar cookies were in order.
I made these gluten-free, but they obviously will hold up beautifully with my regular recipe too. I loved how this design turned out. Perfect for any holiday party or just a night when you were wishing to see some snow! I brought them to my uncle's house for Christmas Eve and although I wasn't able to eat them because of the sugar, dairy and eggs, my cousin who is gluten intolerant was able to enjoy them. Everyone else enjoyed them too without even realizing they were gluten-free! Enjoy this winter wonderland without all the shoveling!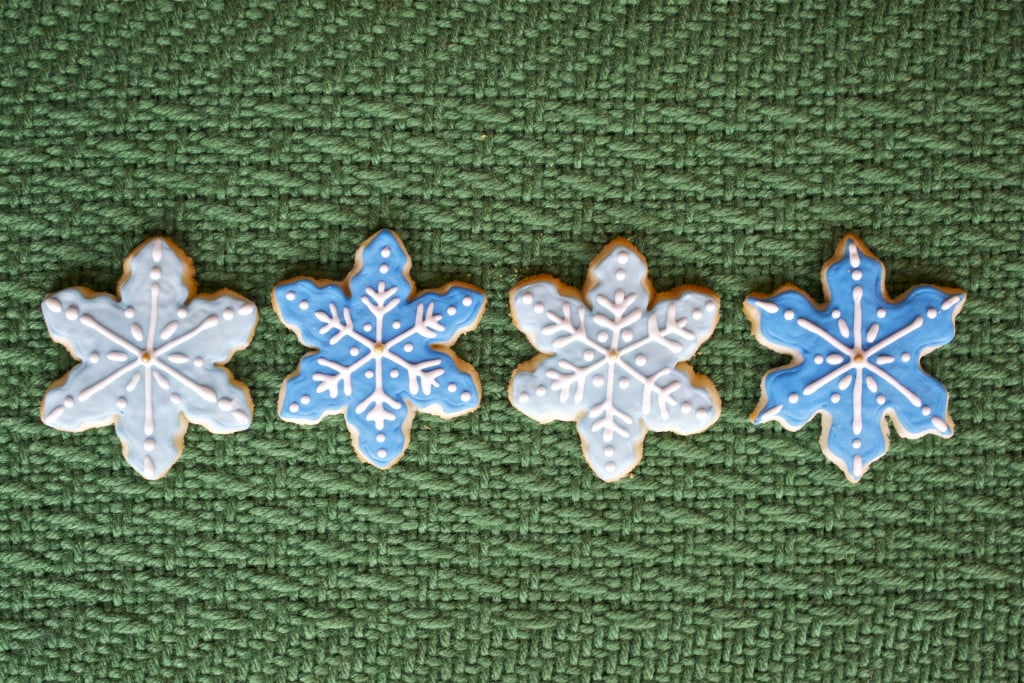 More Gluten Free Holiday Sugar Cookie Designs
Gluten Free Snowflake Cookies
These gluten free snowflake sugar cookies are so simple but so stunning for winter celebrations. Make them for birthday parties or Christmas gatherings!
Print
Pin
Rate
Ingredients
For the Sugar Cookies:
2 1/2

cups

gluten free flour blend

1 1/2

tsp

xanthan gum

(if your blend doesn't already contain it)

1

cup

butter

(softened)

1

cup

powdered sugar

2

tsp

almond extract

1

tsp

vanilla

1

tsp

salt

1

egg
For the Royal Icing:
4

cups

powdered sugar

(sifted)

2

tbsp

meringue powder

5

tbsp

water

1

tsp

vanilla

(or almond extract)
Instructions
For the Cookies:
In a medium bowl, whisk together gluten free flour blend and xanthan gum (if using). Set aside.

Cream butter and powdered sugar in a large bowl with an electric mixer.

Mix in egg, vanilla, almond extract and salt and beat until mixed well.

Gradually add in flour blend (1/2 cup at a time) and mix after each addition. Be sure not to over mix. I use the electric mixer for the first 2 cups of flour and then hand mix the last 1/2 cup.

Put dough in the refrigerator for an hour or so, or until the dough firms up. You can also put it in the freezer but I would only do that for 20-30 minutes otherwise it's very difficult to roll out.

Sprinkle your work surface and rolling pin with powdered sugar.

Roll the dough out to a 1/4 inch thickness.

Cut with cookie cutters.

Place on a greased cookie sheet and put back in the freezer for 10-15 minutes.

Then, bake in the oven at 375 degrees Fahrenheit for 8-10 minutes or until cookie all the way through. The cookie should not brown, but the edges can be slightly browned (that's a good indication it's done). Cool on a wire rack.
For the Royal Icing:
In a bowl of an electric mixer fitted with the whisk attachment, combine the powdered sugar, meringue powder and water.

Mix for 7-10 minutes, until the ingredients are well blended and the icing has a matte finish. This is the base consistency. I usually add about 1 tsp more of water for a good outline icing (I use a 10 second rule) and add more water until I reach a 4-second icing for flood icing. This means that when you drizzle icing over the bowl of royal icing then the icing will flow back in with the rest of the icing in 4 seconds (10 second icing is the same but it will sink back in with the rest of the icing in 10 seconds). If you need to thin it out more then add more water. If you need to thicken it add more powdered sugar.
To Decorate:
To decorate the cookie, I used a two different snowflake cookie cutters.

Outline the cookie using one of the blue icings (10 second icing).

Flood with thinned out brown icing (4 second icing). Leave the cookies to dry.

Then, using white icing in a pastry bag fitted with a number 2 tip, pipe the snowflake designs. Allow to dry.
Nutrition
Calories:
211
kcal
|
Carbohydrates:
34
g
|
Protein:
1
g
|
Fat:
8
g
|
Saturated Fat:
4
g
|
Cholesterol:
27
mg
|
Sodium:
173
mg
|
Potassium:
4
mg
|
Fiber:
1
g
|
Sugar:
24
g
|
Vitamin A:
245
IU
|
Calcium:
12
mg
|
Iron:
0.5
mg