Chocolate Christmas Tree Sugar Cookies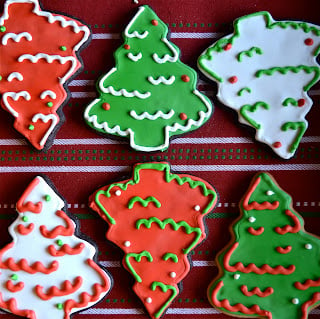 Merry Christmas everyone! I hope you all are having a wonderful holiday weekend. I finally got home from school yesterday just in time to finish (start) my Christmas shopping. It was absolutely awful. Parking lots are nuts and everything's so picked over. I always go in with ideas in my head and can NEVER find what I'm looking for. It's so discouraging. But, after a few hours of sheer frustration, I got all of my shopping done and the presents are all wrapped. Today, I went to mass with my family and then over to my uncles house to celebrate with my mom's side of the family. Tomorrow, my dad will cook breakfast and then we'll go over to my grandparents' house to celebrate with my dad's side of the family. Then, we'll come back to watch the Bears/Packers game, which I don't have high hopes for. Hopefully, my friends will be nice and will keep the Packers text messages to a minimum. So we have a big family weekend planned. I was told I had to make sugar cookies for the get togethers this weekend and you all know how my mom always complains about me not having enough chocolate in my desserts, so I decided on a chocolate sugar cookie. These cookies are like a brownie cookie crossed with a chocolate wafer. I personally still prefer the traditional sugar cookies but my mom absolutely loved them. I also really like how the icing looks on the dark background. I'll probably continue making these in the future to mix things up every once in awhile. I hope you enjoy them and that you all have a lovely holiday weekend!
Ingredients:
2 3/4 cups all-purpose flour
3/4 cups unsweetened dutch processed cocoa powder
1/2 tsp salt
1 tsp baking powder
1 cup unsalted butter, at room temperature
1 3/4 cups granulated sugar
2 eggs
2 tsp vanilla extract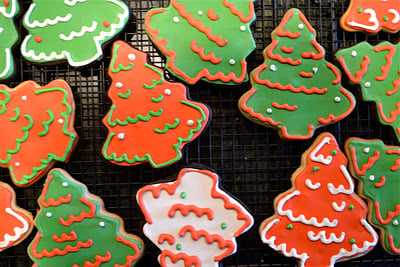 Directions:
In a medium bowl, whisk together flour, cocoa powder, salt and baking powder. Set aside. In the bowl of a stand mixer, cream together the butter and sugar, approximately 3 minutes. Add in the eggs and vanilla extract and beat until combined. Add in the flour mixture and beat until incorporated. Scoop the dough out onto plastic wrap and shape into a large ball. Wrap in the plastic and place in the refrigerator for an hour, or until firm. Preheat oven to 350 degrees Fahrenheit. Flour a rolling pin and a flat surface and roll out dough. Cut with desired cookie cutters. Place cookies on a greased baking sheet. Bake for 10 minutes or until edges are firm. Let cool on the pan for 5 minutes and then place on a wire rack to finish cooling. Frost with royal icing.
Source: Recipe from Joy of Baking