Ugly Christmas Sweater Cookies
Try this easy ugly sweater sugar cookie tutorial and recipe. It's so cute for the holidays and would be great as a part of a cookie plate or box for gift giving!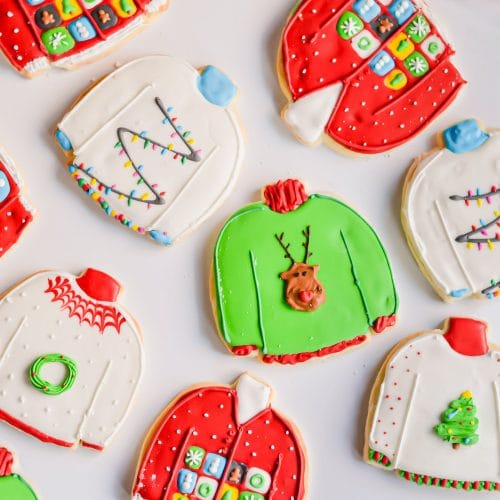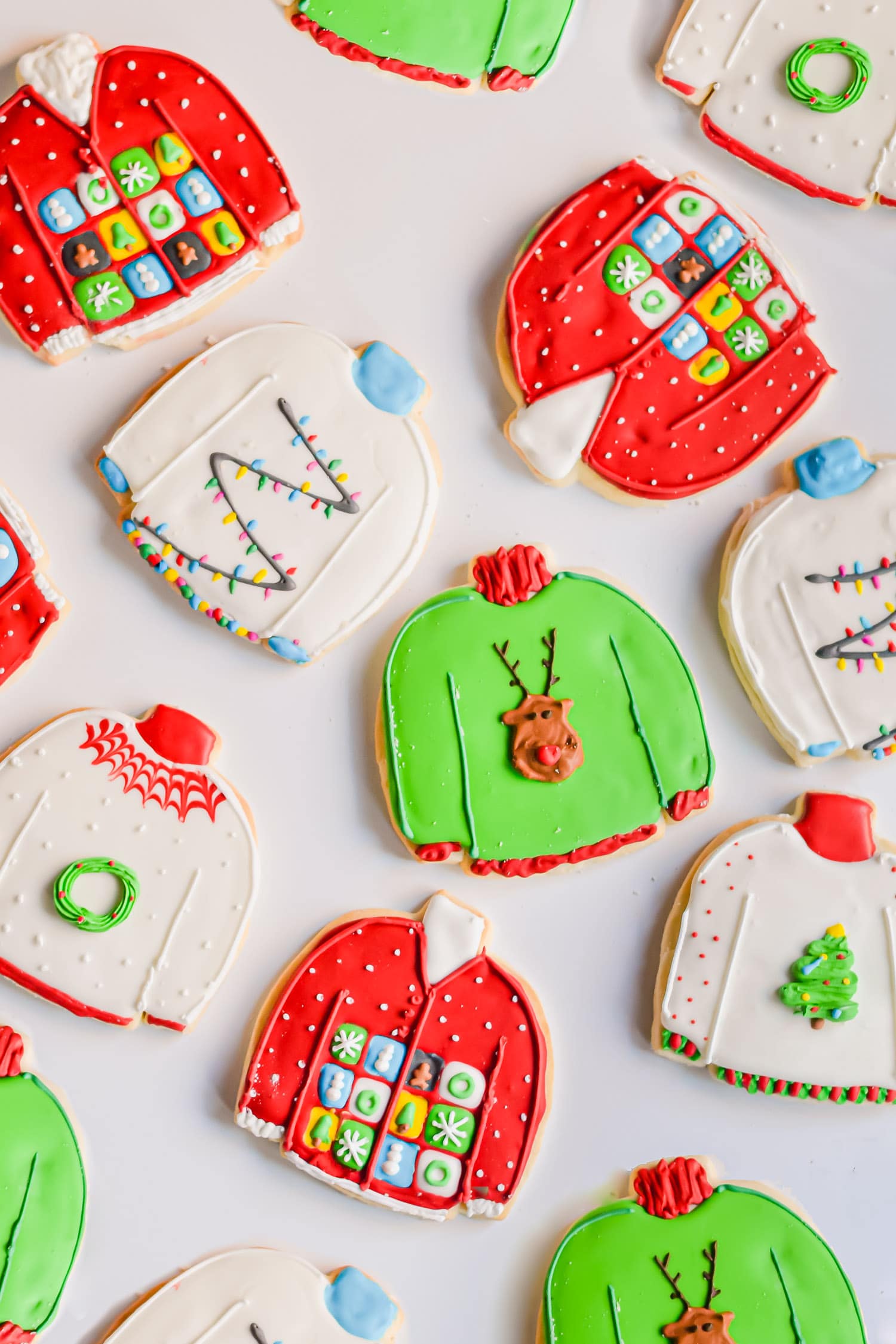 What's better than wearing an ugly sweater around the holidays? Eating ugly sweater sugar cookies, of course! And let's face it… Is it really the holiday season if you don't make sugar cookies? I didn't think so.
These ugly sweater sugar cookies are so cute and perfect for gift giving or holiday parties. Better yet, bake the cookies ahead of time and have an ugly sweater cookie decorating party!
Make these adorable Christmas sugar cookies using my classic gluten-free sugar cookie recipe, or use your favorite roll-out cookie recipe instead!
Here's what you'll need
A Dash of Megnut is a participant in the Amazon Services LLC Associates Program, an affiliate advertising program designed to provide a means for us to earn fees by linking to Amazon.com and affiliated sites.
Equipment:
Sweater Cookie Cutter
Gel Food Coloring
Piping bags – You can use either disposable piping bags or cloth piping bags.
Piping Tips – I don't typically use piping tips for outlining and flooding my sugar cookies, but I do use them for decorating! For ugly sweater cookies, some favorite piping tips are #2 or #3 (small round tips) and #13 or #24 (small open star tips).
Couplers – I don't typically use a coupler but if you're changing between icing tips frequently using the same color frosting, these are great to have!
Hand mixer or stand mixer with whisk attachment – especially important for making the royal icing! It takes awhile for the icing to whip up and you don't want to do that by hand – trust me!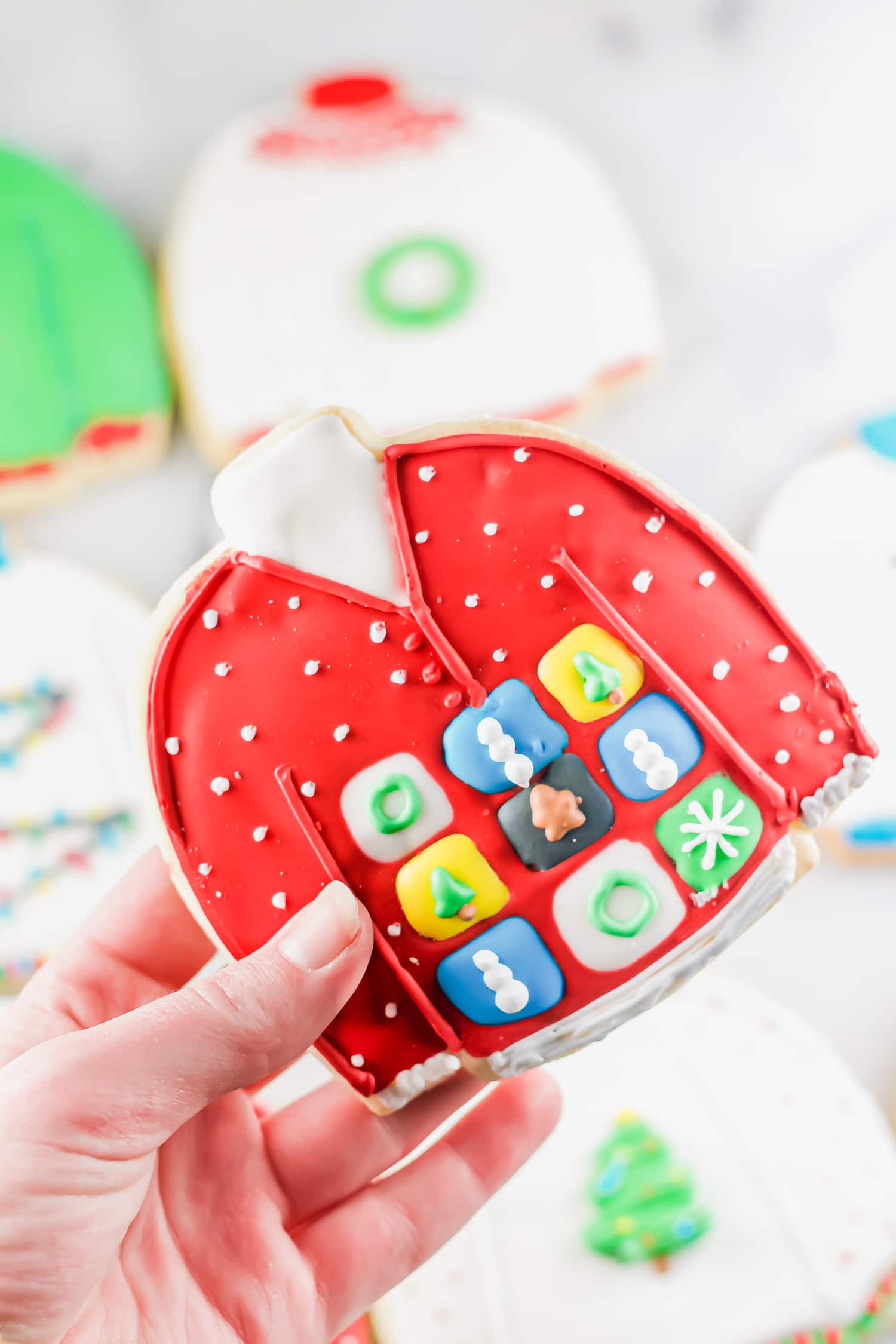 What is royal icing and do I need to use it for these cookies?
Royal icing is an icing made from confectioners' sugar, meringue powder, and water that is commonly used for decorating cookies. It stiffens up as it dries and helps create beautiful sugar cookies!
The royal icing recipe that I use is made with meringue powder, which is made with egg whites. There are some recipes that use raw egg whites, but I prefer this method instead.
You could use a simple glaze made with powdered sugar and water glaze or buttercream instead, but the icing will not dry like royal icing does. I find that the glaze made with powdered sugar and water is not as easy to decorate with and does not look as good as royal icing, but it will work in a pinch.
I often times do decorate with a buttercream or vegan buttercream instead of royal icing depending on who the cookies are for and what look I'm trying to achieve. You won't get a flat surface like you do with royal icing, but sometimes that's just the look I'm going for.
Royal Icing Consistency
To decorate with royal icing, you'll want to be mindful of your icing consistency. I always outline my cookies first to create a dam" and then fill the cookie with icing.
For outline and fill, I use a "10-second icing". What this means is that when you drag a spoon or spatula through the royal icing that the ripple it creates will go fully back into the royal icing in 10 seconds.
If it goes back to normal quicker, you added too much water to your royal icing and need to add more powdered sugar to make it thicker. If it goes back to normal much slower than 10-seconds, then add water one teaspoon at a time until it reaches the correct consistency.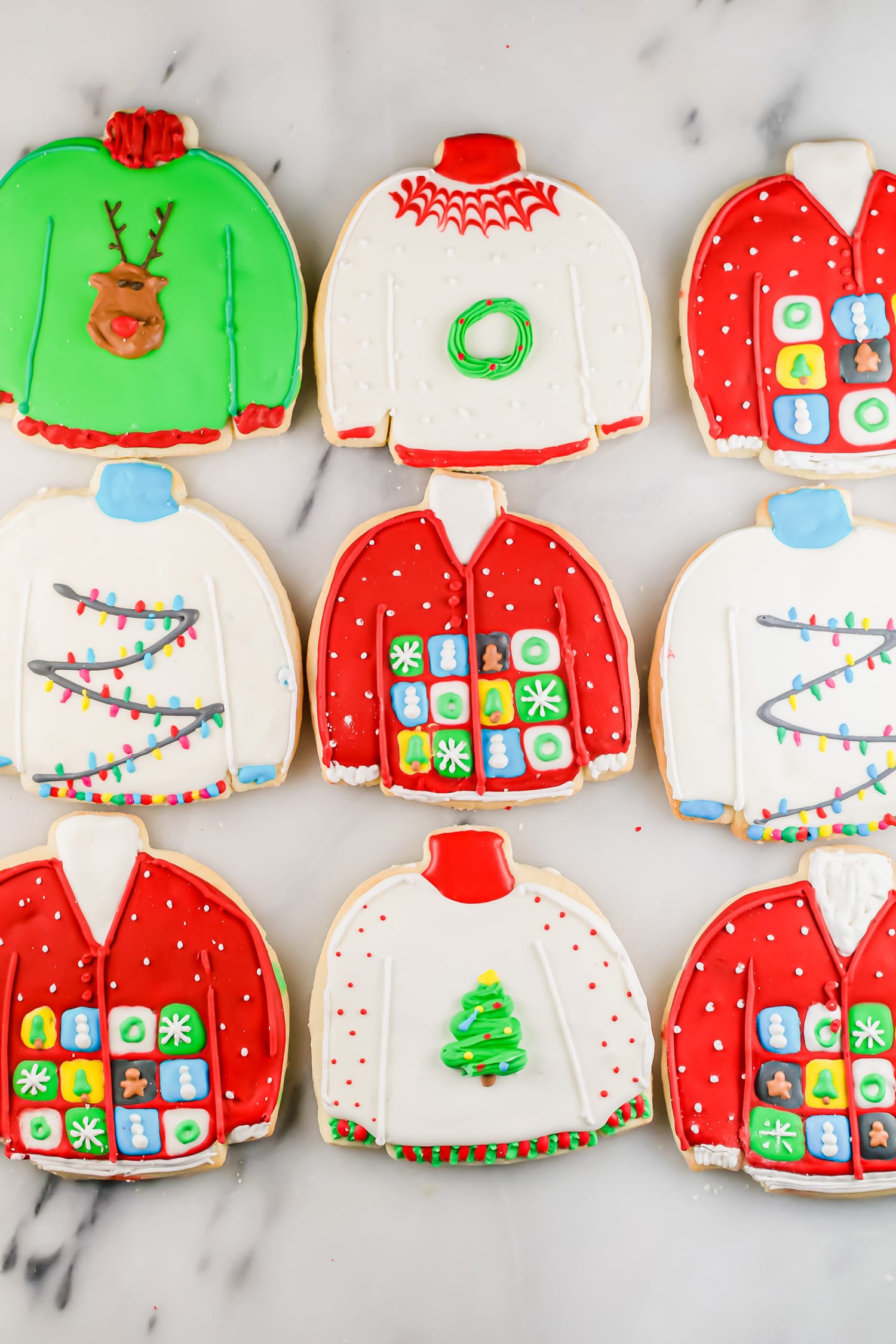 How to Decorate Ugly Sweater Cookies
Bake your cookies and make your royal icing.
Start with 10-second royal icing (as described above) and color it your desired hue using gel food coloring. You only need a little bit of gel food coloring as it is much more concentrated than liquid food coloring.
Add your colored royal icing to a piping bag (if you're using a coupler and piping tip, I recommend a #3 tip for outlining and filling). Outline the sweater cookie with the icing. Let it sit for just a minute and fill the cookie with the remainder of the icing. For the ugly sweater cookies, I recommend leaving some space at the bottom of the sweater and near the wrists so you can make those a different color.
Let the cookies dry for at least an hour before decorating the details on top.
For the wreath and tree ugly sweater cookies, make sure the base is completely dry before decorating. Use a stiff 12-second icing in green with a #13 pastry tip (small open star tip). For the wreath, draw a circle with the icing in the middle of the sweater. For the tree, pipe the frosting back in forth in a triangle on the sweater. Immediately top with some sprinkles to act as ornaments.
Finish the sweaters by using a stiff 12-second icing in color of choice (I like red) to create the hem of the sweater. Either use dots, dashes or squiggle to create the bottom hem and sleeve hem.
Let dry completely before serving!
Sugar Cookie Fast Facts
Outline royal icing consistency = 10-second icing
Fill royal icing consistency = 10-second icing
Decorating royal icing consistency = 12-second icing
Favorite pastry tip for outlining = #3 tip (small round tip)
Favorite pastry tips for decorating = #2 tip (smaller round tip), #13 tip (small open star)
FAQs
Help! My cookies keep spreading too much!
It is key to keep your cut out shapes cold before they go in the oven. If your dough is too warm, the cookies will spread. I like to freeze my cut-out shapes on a baking sheet for 10 minutes before baking for minimal spreading.
Are there any alternatives to using royal icing?
You can use a buttercream to decorate these ugly sweater cookies instead! You won't have as smooth of a surface – and you won't have to pay attention to your consistency as much – but the cookies will still end up so cute!
What kind of gel food coloring should I use?
I like Americolor gel food coloring. The colors are very saturated and come in a squeeze bottle. You do not want to use liquid food coloring that you find at the grocery store. You can find gel food coloring at a craft store or online. Plus, I like that Americolor is gluten-free if that's important to you!
Can I use a reusable pastry bag?
Yes, you can. Reusable pastry bags normally have a larger whole in them already, so you'll need to use a pastry tip. I recommend a #3 tip for this design.
Where can I buy an ugly sweater cookie cutter?
You can find ugly sweater cookie cutters online at Amazon and your local craft store.
Related Recipes
These gluten-free peppermint hot chocolate cookies are topped with a marshmallow, chocolate drizzle and crushed candy canes – the prefect holiday cookie!
For a fun Christmas dessert, try this reindeer poop dessert! Don't be fooled, this reindeer poop recipe is a lot tastier than it looks! Chocolate peanut butter covered cocoa cereal looks just like the real thing!
These strawberry santa hat brownie bites are topped with a strawberry santa hat for an adorable dessert that is delicious, too!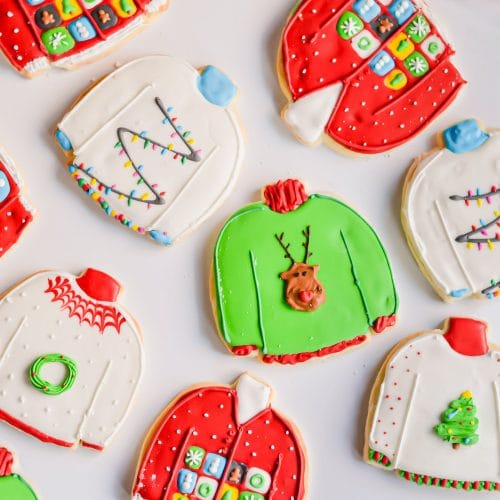 Gluten-Free Ugly Sweater Sugar Cookies
Try this easy ugly sweater sugar cookie tutorial and recipe. It's so cute for the holidays and would be great as a part of a cookie plate or box for gift giving!
Print
Pin
Rate
Ingredients
Sugar Cookie
1

cup

butter

(softened)

1

cup

powdered sugar

2

tsp

almond extract

1

tsp

pure vanilla extract

1

tsp

salt

1

egg

2½

cups

gluten-free flour blend

(I used Bob's Red Mill 1-to-1 Gluten-Free Baking Flour)

1/2

tsp

xanthan gum

( if your blend doesn't already contain it)
Royal Icing:
4

cups

powdered sugar

(sifted)

2

tbsp

meringue powder

5

tbsp

water

1

tsp

vanilla or almond extract

(optional)
Instructions
To Make Cookies
In a medium bowl, whisk together brown rice flour, white rice flour, potato starch, tapioca flour, cornstarch and xanthan gum. Set aside.

Cream butter and powdered sugar in a large bowl with an electric mixer.

Mix in egg, vanilla, almond extract and salt and beat until mixed well.

Gradually add in flour (1/2 cup at a time) and mix after each addition. Be sure not to over mix. I use the electric mixer for the first 2 cups of flour and then hand mix the last 1/2 cup.

Put dough in the refrigerator for about 20 minutes, or until the dough firms up slightly and is easier to roll out. You can also put it in the freezer but I would only do that for 10 minutes otherwise it's very difficult to roll out. Sprinkle your work surface and rolling pin with powdered sugar.

Roll the dough out to a 1/4 inch thickness. Cut with cookie cutters. Place on a greased cookie sheet and put back in the freezer for 10-15 minutes.

Then, bake in the oven at 375 degrees Fahrenheit for 8-10 minutes or until cookie all the way through. The cookie should not brown, but the edges can be slightly browned (that's a good indication it's done). Cool on a wire rack.
To Make Royal Icing
In a bowl of an electric mixer fitted with the whisk attachment, combine the powdered sugar, meringue powder and water.

Mix for 7-10 minutes, until the ingredients are well blended and the icing has a matte finish. This is the base consistency. I usually add about 1 tsp more of water for a good icing consistency (I use a 15 second rule) This means that when you drizzle icing over the bowl of royal icing then the icing will flow back in with the rest of the icing in 15 seconds. If you need to thin it out more then add more water. If you need to thicken it add more powdered sugar.
To Decorate Cookies
To decorate the cookie, I used a sweater cookie cutter.

Outline the cookie using thick icing (10-second icing) in a pastry bag fitted with a number 2 or number 3 tip.

Flood the cookies with icing (10-second icing) and allow to dry completely.

Once the base is dry, decorate the ugly sweaters with stiffer icing (13-second icing) with your color of choice. Allow to dry completely.
Notes
**You can use 2 1/2 cups of all purpose flour instead of the gluten-free flour blend.
Nutrition
Calories:
338
kcal
|
Carbohydrates:
54
g
|
Protein:
2
g
|
Fat:
13
g
|
Saturated Fat:
7
g
|
Cholesterol:
43
mg
|
Sodium:
268
mg
|
Potassium:
7
mg
|
Fiber:
2
g
|
Sugar:
39
g
|
Vitamin A:
395
IU
|
Calcium:
19
mg
|
Iron:
0.8
mg
This recipe was originally posted on December 24, 2012 and updated on December 25, 2020 with new photos, tips and tricks to help you make these gluten-free ugly sweater sugar cookies perfectly every time!
I'm Megan
A gluten-free food blogger from Chicago and lover of all things food, showing you gluten-free can be easy and delicious, too. Let's make gluten-free stress free together! Read more…