Just because you can't eat gluten doesn't mean you have to miss your favorite girl scout cookies anymore! These homemade gluten-free thin mints taste just like the real thing! Only gluten-free, dairy-free and vegan!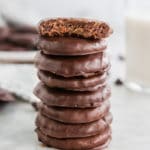 These homemade gluten-free thin mints taste just like the real thing! Only gluten-free, dairy-free and vegan! A crunchy chocolate mint cookie covered in a dark chocolate coating, these cookies are a great treat!
Jump to Recipe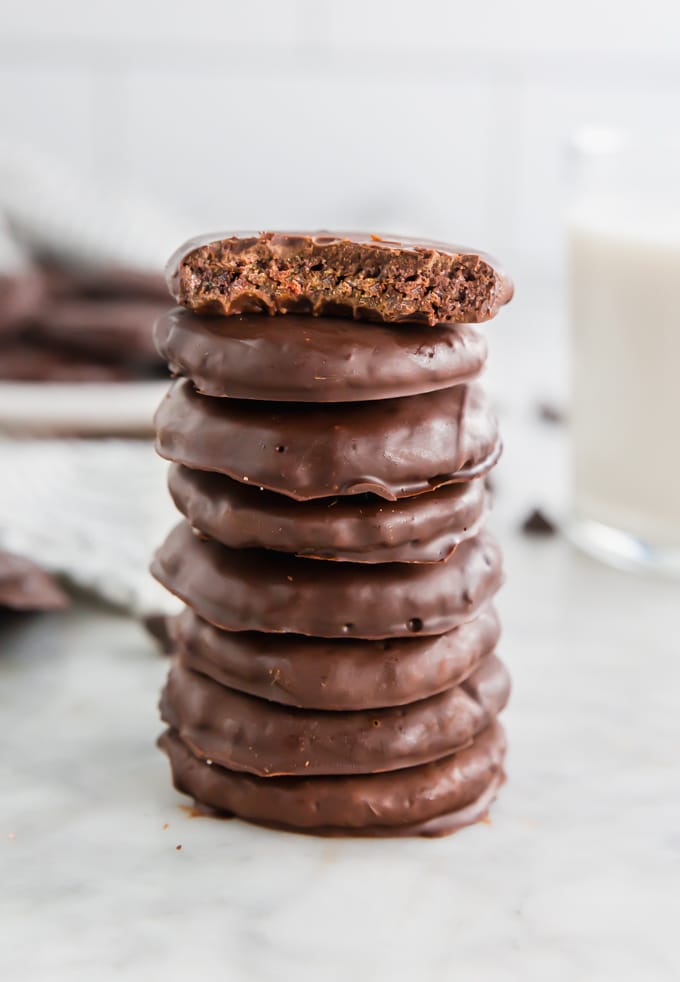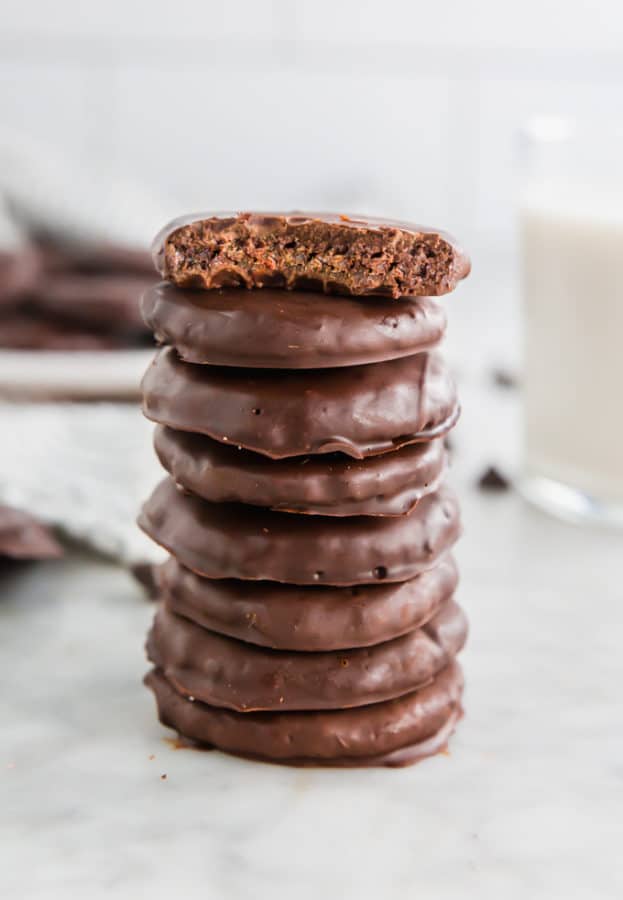 I grew up a girl scout and every year loved selling boxes of those cookies. You could say it even started my entrepreneurial spirit. It was either that, or selling used golf balls on the corner. I was an interesting child to say the least.
Now that I'm gluten-free due to my celiac disease, I've had to figure out a different way to get my girl scout cookies fix… homemade gluten-free thin mints!
I swear, these gluten-free chocolate mint cookies taste just like the real deal. They're crispy, crunchy, chocolatey and minty. What else could you want?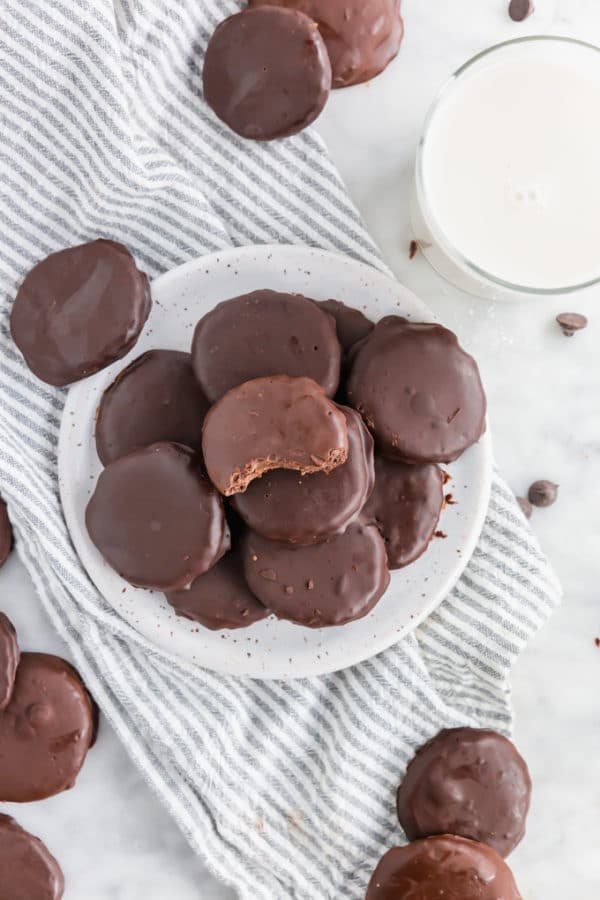 Are Girl Scout cookies gluten-free?
The girl scouts have come out with a variety of gluten-free cookie, but it won't be one of the classics that you remember.
The current gluten-free girl scout cookies are a toffee flavor and a peanut butter chocolate chip flavor. Depending on what area you live in, you'll probably only have one of these available to you.
A Dash of Megnut is a participant in the Amazon Services LLC Associates Program, an affiliate advertising program designed to provide a means for us to earn fees by linking to Amazon.com and affiliated sites.
What makes these thin mints gluten-free?
These chocolate thin mint cookies are made gluten-free by using a gluten-free flour blend.
I love to use Bob's Red Mill 1-to-1 Gluten-Free Baking Flour in this recipe. But, King Arthur Measure for Measure Gluten-Free Flour also works great!
Both of these gluten-free flour blends already contain xanthan gum in them, so you don't need to add it yourself. However, if your gluten-free flour blend does not contain xanthan gum, you'll want to add it as noted in the recipe.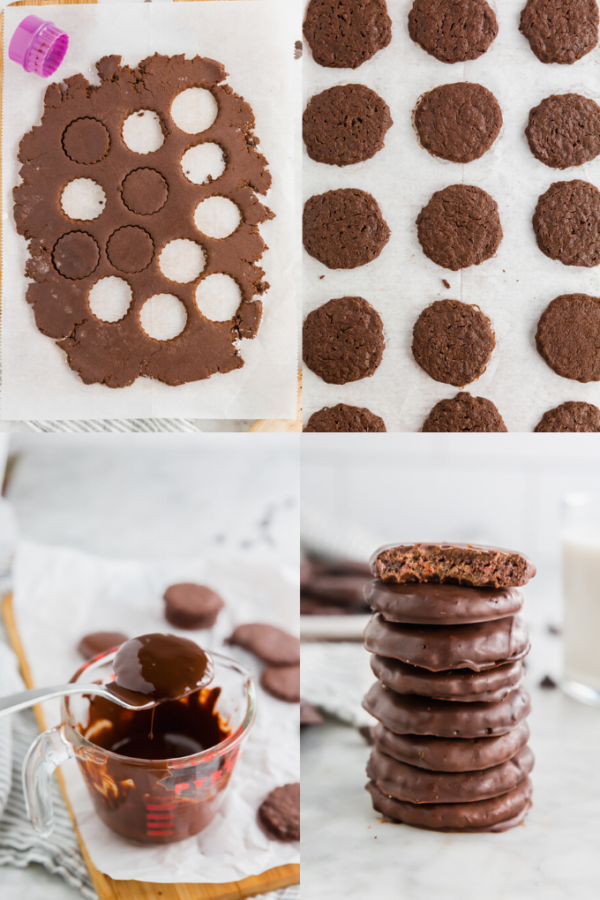 Are these gluten-free chocolate mint cookies also dairy-free and vegan?
These cookies are vegan and dairy-free as long as you use the correct ingredients. I used coconut oil in my cookies as I think it makes a nice, crunchy cookie.
You'll also notice there are no eggs in this recipe! I don't think it's necessary because these cookies don't need to rise much. To add a little moisture, I used a non-dairy milk to help the dough come together.
Some granulated sugars are not vegan because they are processed with bone char. If you are vegan, make sure you use granulated sugar that is vegan. Most organic sugars are vegan.
Use chocolate chips that are both dairy-free and vegan. Enjoy Life Dark Chocolate Morsels are great in this recipe!
Substitutions
Instead of coconut oil, you can use vegan butter or regular butter for this recipe. Use the same amount as called for in this recipe. Be sure that it is softened before mixing with the sugar.
You can use powdered sugar instead of granulated sugar successfully in this recipe. It will be slightly less crispy and will not spread as much as cookies made with granulated sugar.
Do not substitute the peppermint extract for mint extract. Mint extract tastes like toothpaste in my opinion and I (almost) never use it in my kitchen.
Tips and Tricks
You can use a scalloped cookie cutter or a regular round cookie cutter for this recipe. I used a 1.5 inch cutter for this recipe. I recommend using a cutter that is in between 1-2 inches for best results.
I've also successfully made these cookies using a slice and bake method. Just roll the dough into two logs, each 1.5 inch diameter. Chill for an hour in the freezer and then slice into 1/4 inch rounds.
You must chill the dough after cutting into rounds before going in the oven. Otherwise, the cookies will spread.
Let the cookies cool completely before dipping into the melted chocolate.
You can use a double boiler to melt the chocolate or use the microwave method that I describe in the recipe.
Make sure that you use an alcohol-based peppermint extract. If the extract has water as an ingredient, it will make the chocolate seize up.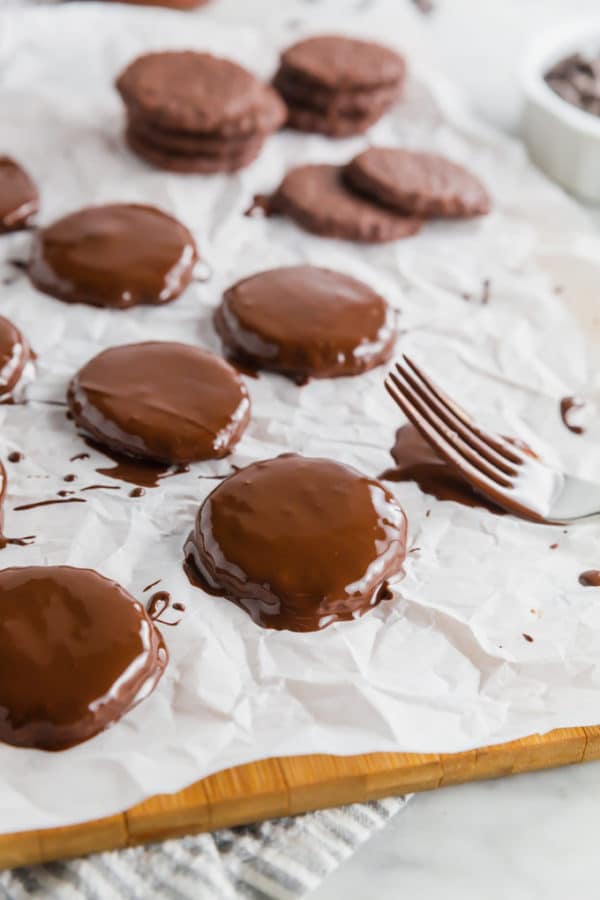 Make Ahead Tips
There are a few ways to make ahead this thin mint girl scouts cookie recipe. The dough can be made ahead and will keep in the refrigerator for up to 2 days. You can also freeze the dough for up to 2 months.
The cookies themselves can be frozen up to 3 months. I like to freeze them on a baking sheet in a single layer for an hour and then transfer them over to a freezer safe container. You can thaw them if you want before serving, but I also enjoy them frozen.
Love chocolate? Try these other gluten-free chocolate desserts!
Gluten-Free Thin Mints Recipe
Gluten-Free Thin Mints
Just because you can't eat gluten doesn't mean you have to miss your favorite girl scout cookies anymore! These homemade gluten-free thin mints taste just like the real thing! Only gluten-free, dairy-free and vegan!
Print
Pin
Rate
Ingredients
Cookie Dough:
1

cup

coconut oil

(solid and softened)

1

cup

granulated sugar

1/2

teaspoon

salt

1/2

teaspoon

peppermint extract

1

teaspoon

vanilla extract

2

tablespoons

almond milk

(or other non-dairy milk of choice)

3/4

cup

cocoa powder

1 1/2

cups

gluten-free flour blend

1/4

teaspoon

xanthan gum

(if your blend does not already contain it)
Chocolate Coating:
3

cup

dark chocolate chips

(dairy-free and vegan if need be)

1

teaspoon

coconut oil

1

teaspoon

peppermint extract

(alcohol based (not water based))
Instructions
In a mixing bowl, cream together coconut oil and granulated sugar for 3-4 minutes, until light and fluffy.

Add salt, peppermint extract, vanilla extract, and almond milk. Mix to combine.

Add cocoa powder and mix until incorporated.

Then, add gluten-free flour blend and xanthan gum (if using), a little at a time, until dough is formed.

Roll the rough out onto a surface or parchment paper lightly dusted with powdered sugar or gluten-free flour. Roll to 1/4 inch thickness.

Cut with 1.5 inch cookie cutter and place on a baking sheet lined with a silpat or parchment paper. I can typically fit 15-18 cookies on a baking sheet.

Freeze the cookie dough rounds on the baking sheet for at least 20 minutes.

Preheat the oven to 350F.

Bake the cookies for about 9-10 minutes, the edges will be set and the cookies baked through.

Let cool for 5 minutes on the pan before transferring to a wire rack to finish cooling.

Once the cookies cool, make the chocolate coating. Add the dark chocolate chips to a microwave safe bowl. Add the teaspoon of coconut oil.

Microwave in 30 second increments, stirring in between, until the chocolate is completely melted. Be sure to not overheat as the chocolate will seize up.

Once the chocolate is melted, stir in the peppermint extract.

Dip the cooled cookies in the melted chocolate, using a fork to remove the cookies from the chocolate and tap off any excess.

Place on a clean baking sheet lined with parchment paper.

Let set in the refrigerator.

Store in the refrigerator or freezer. Chocolate coating will be too soft at room temperature.
Nutrition
Calories:
179
kcal
|
Carbohydrates:
19
g
|
Protein:
2
g
|
Fat:
11
g
|
Saturated Fat:
10
g
|
Cholesterol:
1
mg
|
Sodium:
50
mg
|
Potassium:
122
mg
|
Fiber:
2
g
|
Sugar:
11
g
|
Vitamin A:
2
IU
|
Vitamin C:
1
mg
|
Calcium:
52
mg
|
Iron:
1
mg