Easy Vegan Chocolate Truffles
These easy vegan chocolate truffles are made with just three ingredients and are so creamy and luscious. Gluten-free and dairy-free, too!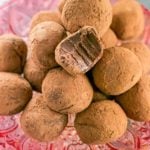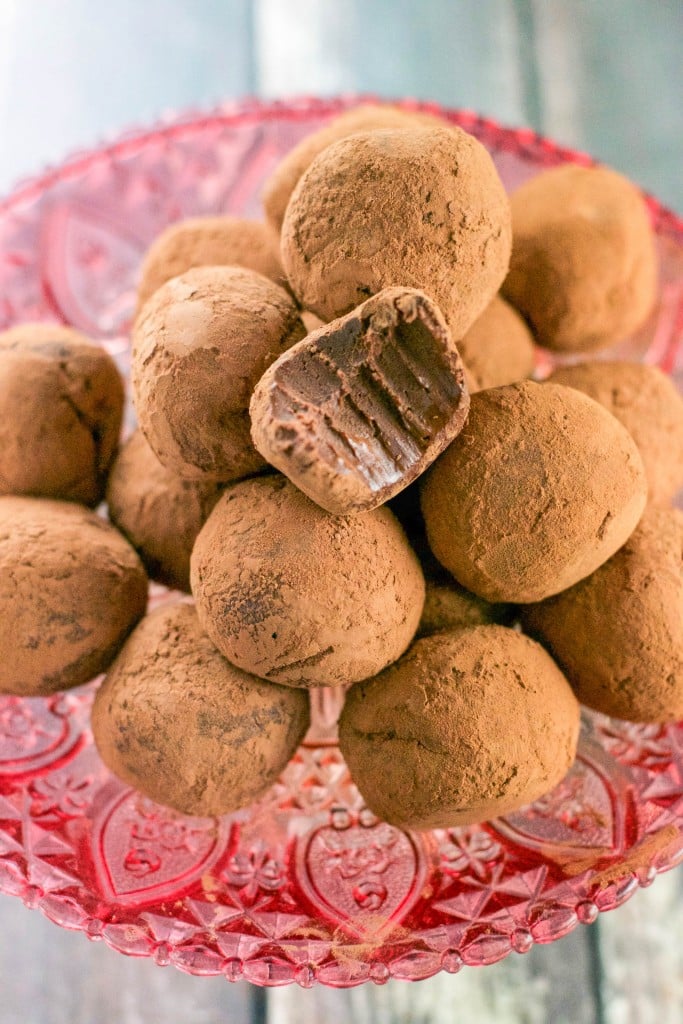 I remember the first time I got sick at college like it was yesterday. It was my freshman year of college and I was maybe two months in. I had a bad stomach ache and just felt absolutely horrible. I remember calling home and begging my mom and dad to come get me.
The first time you're sick and out on your own, it's just not fun. All you want is for your mom and dad to take care of you. Luckily I was only two hours away from home, so my sister, Amy, was nice enough to pick me up. I'm not sure if it was the sinus infection or just anxiety that made me want to go home. But all I wanted was my own room, my own bed and my mom.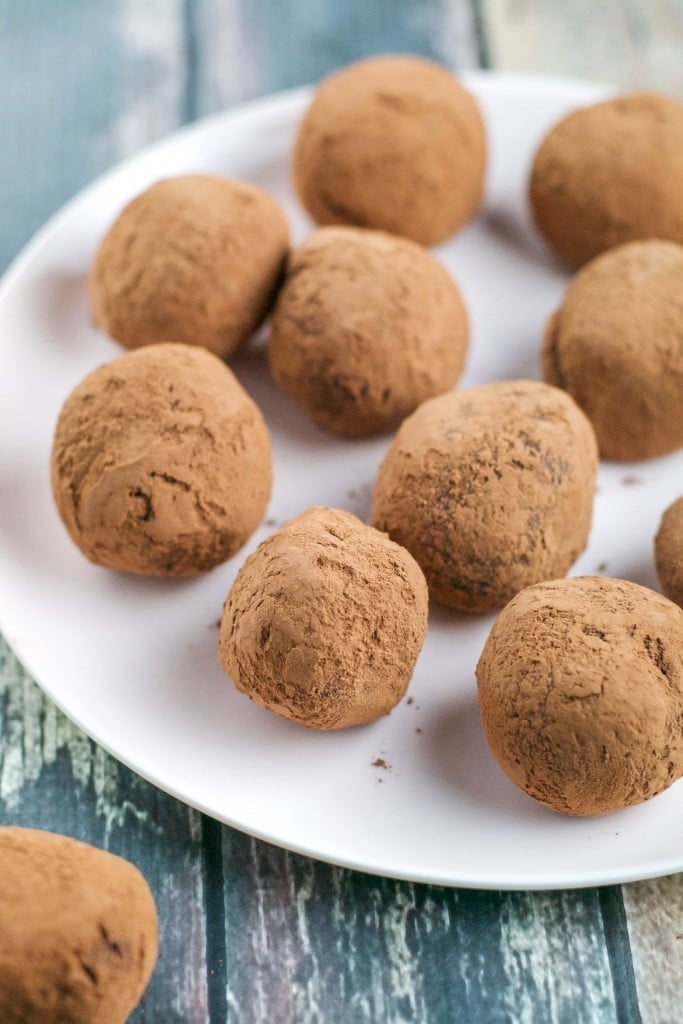 Throughout college, my stomach hurt A LOT. I frequently got sick and when I would get sick the anxiety would kick in. Or when I got anxious, I would feel sick. It was kind of a vicious circle. Who would have thought that if I had only had a doctor that recognized what celiac disease was at the time that I could have been feeling better a whole lot sooner. But I digress.
Needless to say, I only lasted two months at school without my car. I just felt better knowing that I could drive home if I wanted to. I think my sister, Amy, was also appreciative that she wouldn't have to come pick me up anymore, too.
As the only one of my friends with a car at school, I quickly became the source for my friends to go to the mall on the west side of the city which I happily obliged to. We'd hit all of our favorite shops, or catch a flick at the movie theater just to get off of campus for awhile. No visit to the mall was complete, however, without a trip to Godiva.
You see, they had (have?) this club of the month where you could a free piece of chocolate. Chocolate truffles filled with caramel, raspberry creme, vanilla mousse.. You name it, we never missed a month.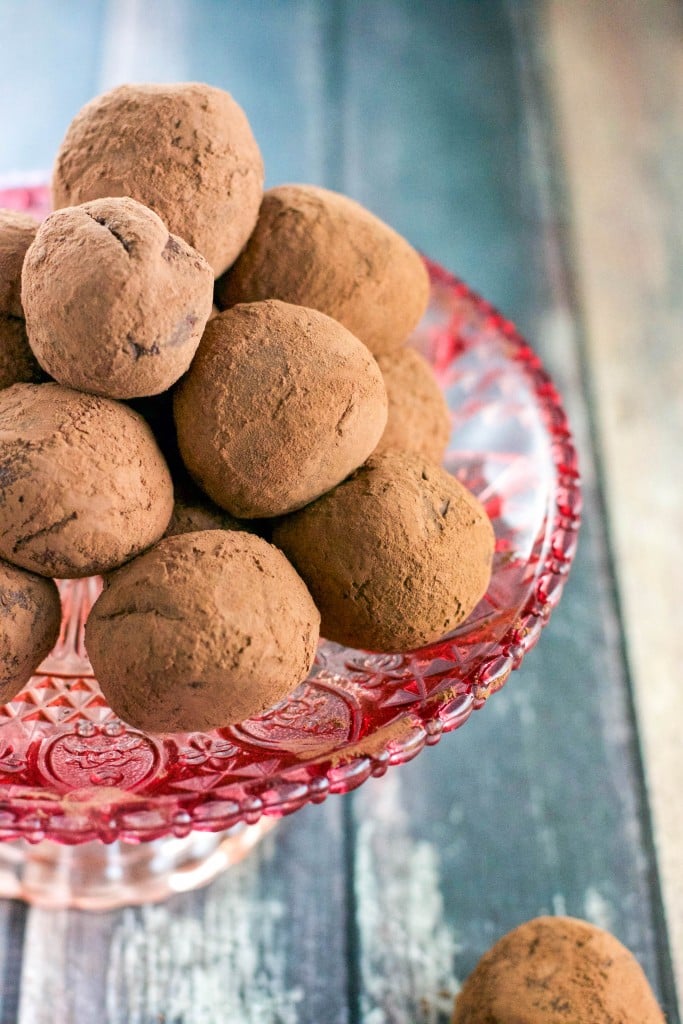 Now that I'm a gluten, dairy, (all the fun stuff) free eater, I feel like I'm missing out on my Godiva fix. That is.. until now. That's right friends, I've created a gluten-free, dairy-free (and vegan!) truffle that will KNOCK. YOUR. SOCKS. OFF.
They also couldn't be easier. Just a few ingredients and you will have the most luscious and decadent dessert. This recipe is all about the method. All you need is a little patience and a watchful eye.
How to Make Vegan Chocolate Truffles
First we heat some full-fat coconut milk until it begins to simmer. You don't want a rolling boil here, just a few bubbles. Then we pour our hot coconut milk over some bittersweet chocolate. Good quality chocolate is a must!
We let the milk sit for a few seconds and then whisk it all together. That's when the real magic begins to happen. A creamy chocolate ganache will appear before your eyes that's thick and all things good.
You could just stop right there and eat it with a spoon. Or even chill it and use it as a filling for cake. ORRR you could let it chill in the refrigerator and roll it into some sinfully delicious truffles. I'll be honest.. I may have done all three…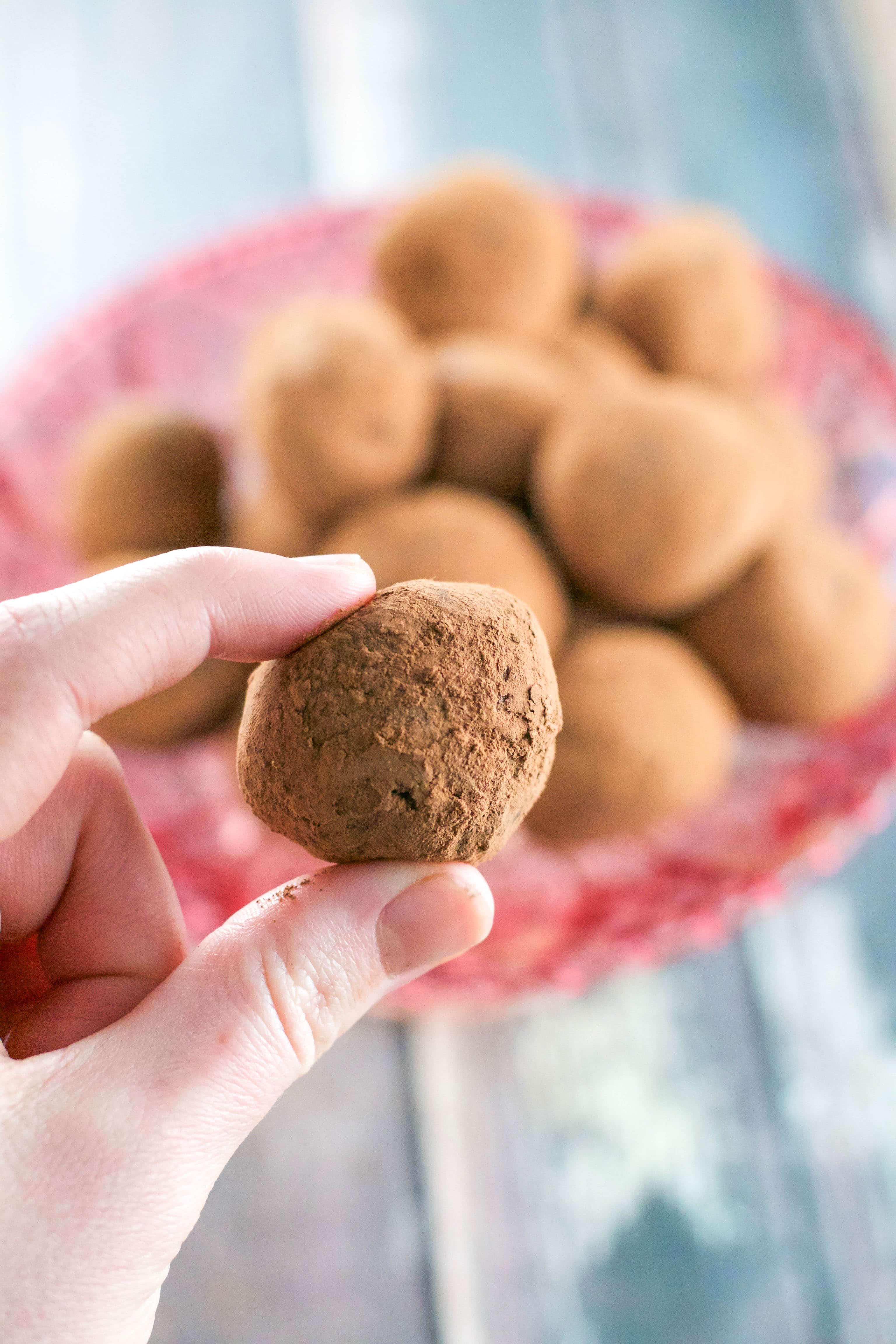 Easy Vegan Chocolate Truffles
These easy vegan chocolate truffles are made with just three ingredients and are so creamy and luscious. Gluten-free and dairy-free, too!
Print
Pin
Rate
Ingredients
8

oz

(1 cup) full fat coconut milk

8

oz

(1 1/3 cup) high quality bittersweet or dark chocolate

(chopped (I used gluten-free and dairy-free chocolate))

2

tbsp

cocoa powder
Instructions
In a small saucepan, heat coconut milk just until it's about to boil.

Pour coconut milk over the chocolate in a medium bowl.

Let sit for 20-30 seconds.

Using a whisk, whisk from the center to the outside (this helps to not splash the milk everywhere), until the mixture becomes a creamy chocolate.

Chill in the refrigerator for at least 2 hours.

Take a tablespoon or cookie scoop and scoop out some of the hardened ganache.

Quickly roll the chocolate into a ball (the heat from your hands will start to melt the chocolate so move fast.

Set on parchment paper.

Roll in the cocoa powder and chill until firm. Keep in the refrigerator until ready to eat.
Nutrition
Calories:
67
kcal
|
Carbohydrates:
6
g
|
Protein:
1
g
|
Fat:
5
g
|
Saturated Fat:
3
g
|
Sodium:
1
mg
|
Potassium:
31
mg
|
Fiber:
1
g
|
Sugar:
4
g
|
Vitamin C:
0.2
mg
|
Calcium:
2
mg
|
Iron:
0.2
mg