Blood orange juice transforms a classic margarita to a seasonal blood orange margarita on the rocks perfect for entertaining guests. With a salted rim and dash of pure vanilla extract, this margarita as tasty as it is gorgeous!
Jump to Recipe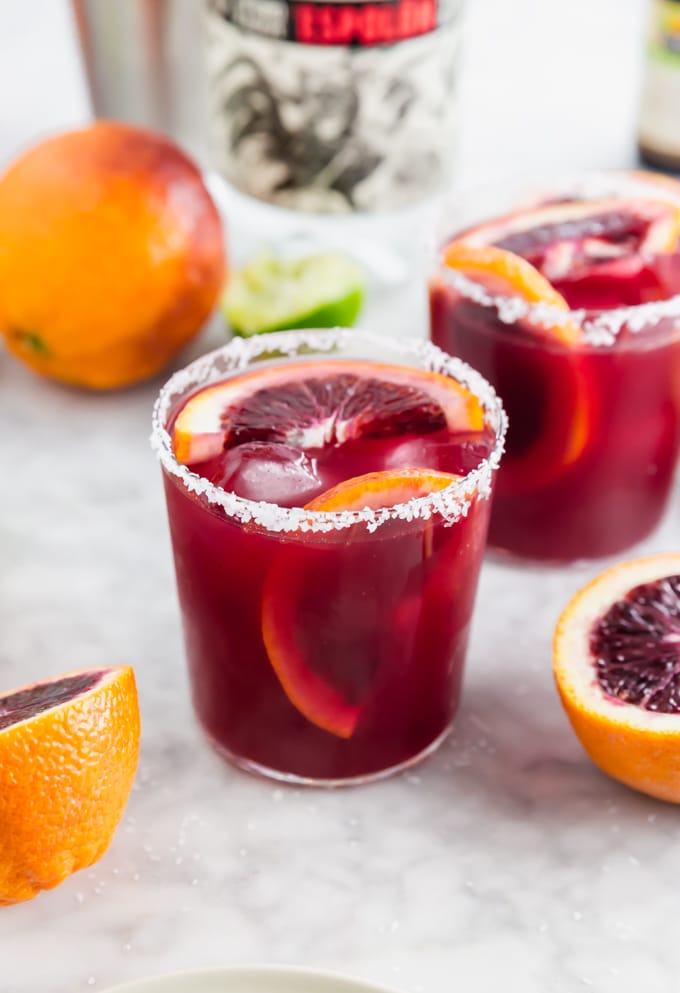 I love blood orange margaritas. They're so beautiful with their crimson red color. They're also a great twist on a classic orange margarita.
With a bite of tequila and fresh blood orange citrus, this cocktail is a crowd pleaser. Serve this margarita on the rocks with a salted rim and sliced blood oranges.
A dash of vanilla pairs extremely well with this winter citrus cocktail. Trust me, this margarita will be the hit of your cocktail party!
What is in a margarita?
A margarita is a cocktail made from tequila, lime juice, and (sometimes) orange liqueur. It can be served shaken with ice or frozen. Margaritas also usually have a salted or sugared rim.
My blood orange margarita is a little different than the norm. Instead of using purely lime juice, we add in some blood orange juice!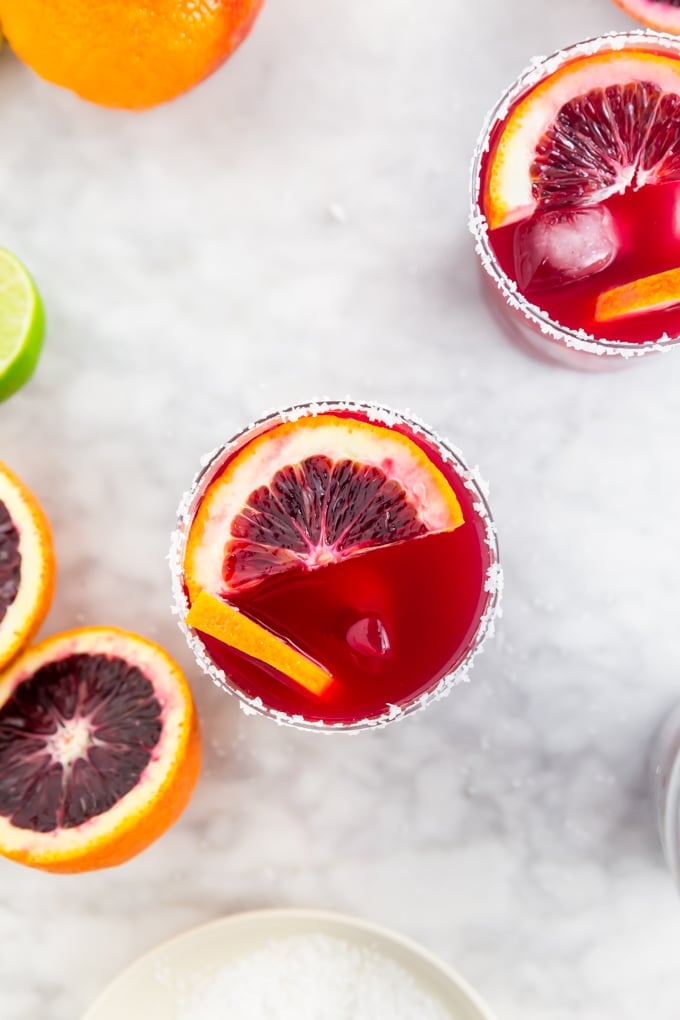 Why orange liqueur isn't necessary
Yep. I said it. I don't use orange liqueur in my margaritas. Ever.
Why? Well I don't think it's necessary for a good margarita. Personally, I want to taste the tequila and orange liqueur covers that up a bit with it's sweet taste. No thanks.
Instead, I rely on the flavors of the fresh juice and good tequila to make my margaritas shine. Try it without the grand marnier or other orange liqueur. I promise you, you won't miss it!
Varieties of blood oranges
There are many types of blood oranges, but the three most popular are the moro, tarocco, and sanguinello. Moro is the most typical type that you'll find in the grocery store.
Blood oranges have a deep red flesh, similar to its namesake. The color is absolutely gorgeous and gives cocktails and baked goods a beautiful, crimson color.
You can also of course eat blood oranges peeled and segmented as a snack. Blood oranges are more expensive than regular oranges, due to their seasonality and rarity in certain areas.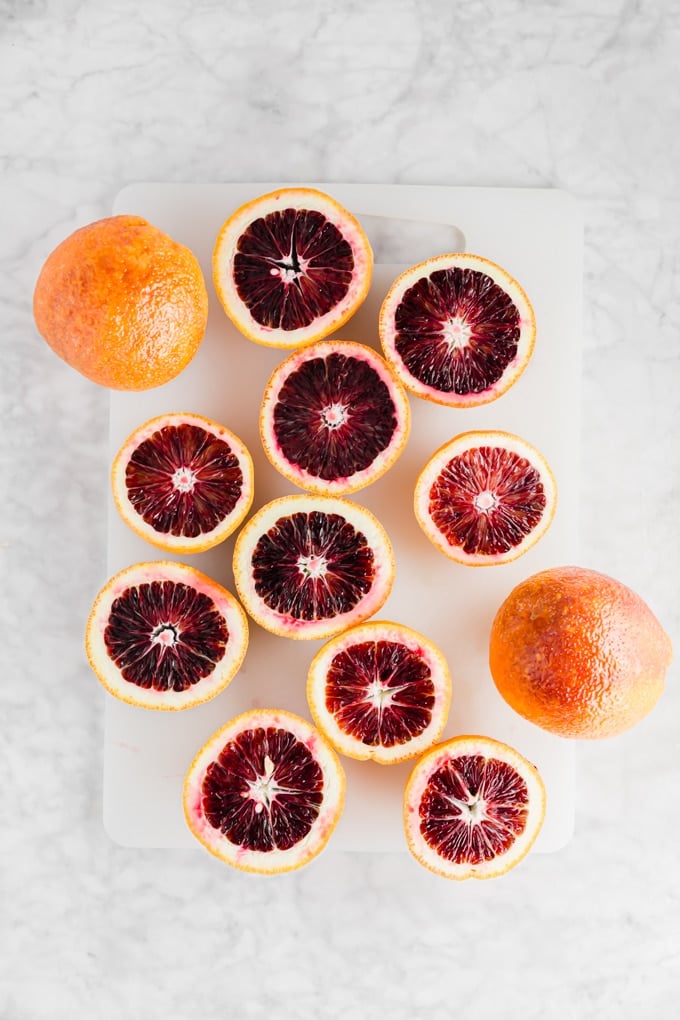 How to Make Blood Orange Margaritas
It's simple to make your own margaritas at home. All you need are a few simple ingredients: tequila, blood oranges, limes, agave nectar, pure vanilla extract, and some ice! It's also very, very helpful to have a cocktail shaker and a citrus juicer.
FAQ, Tips and Tricks
What type of tequila is best to use?
Honestly, just use a tequila that you like to drink. Your margarita will only be as good as the tequila that you use.
Some of my favorite tequila brands are Espolòn, Casa Noble, and 1800 Tequila.
Can you substitute regular oranges for blood oranges in this recipe?
If you can't find blood oranges due to the season you can use regular oranges instead. I really like cara cara oranges in this recipe, but you can also use navel oranges which are easy to find at your local store.
Do I have to salt the rim of my margarita glass?
You don't have to have to salt the rim of your margarita glass if you don't want to.
I personally love the salted rim of a margarita to balance the flavors, but you could forgo the salted rim. You could also dip the rim in sugar if you prefer!
What type of salt is best to rim a margarita glass?
I'm a fan of kosher salt to rim a margarita glass. Kosher salt has a larger grain which makes it ideal.
You can also use sea salt if you'd like. I personally like pink himalayan salt for my margarita. It's beautiful and the flavor is so good!
NEVER use iodized table salt to rim your margarita glass. The grain is too small and the rim will be far too salty. Trust me!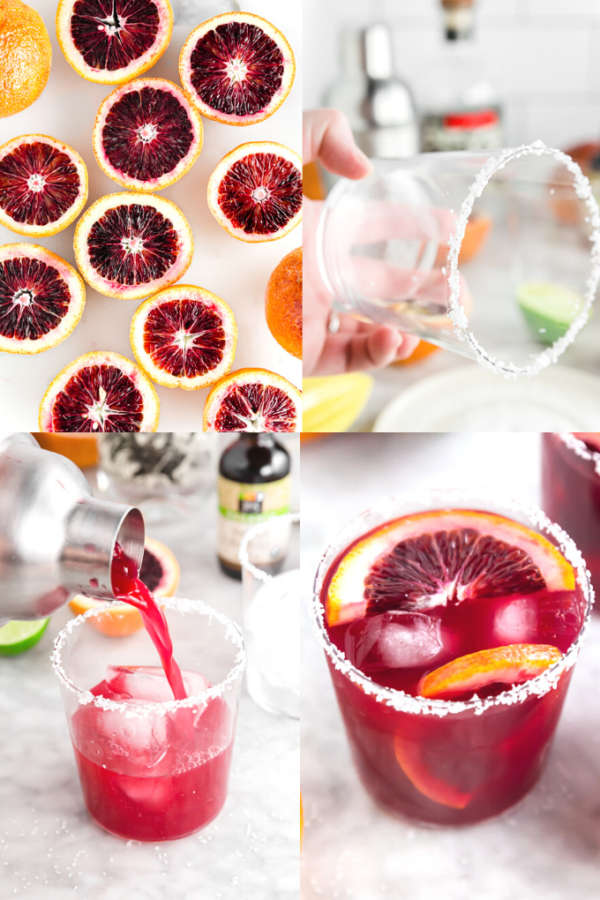 Looking for more cocktail recipes? Try these!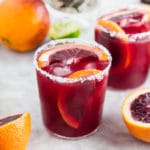 Print Recipe
Blood Orange Margaritas
Blood orange juice transforms a classic margarita to this gorgeous winter blood orange margarita. Fresh blood oranges are mixed with tequila, lime juice, agave and pure vanilla extract for a bright and fresh tequila cocktail.
Ingredients
4

oz

tequila

4.5

oz

blood orange juice

from about 2 medium blood oranges

2

ounces

lime juice

from 1 lime

1

ounce

agave

1/4

teaspoon

vanilla
For Serving:
2

cups

ice cubes

for shaker and margarita glass

2

tablespoons

kosher salt

for rimming the glass

1

lime wedge

for rimming the glass
Instructions
Run a lime wedge around the rim of your margarita glasses

Then, place kosher salt on a small plate a little larger than the diameter of your margarita glass.

Dip the margarita glass in the salt, rolling it until the lime juice catches the salt.

Put a few ice cubes in each glass and set aside.

Juice blood oranges and limes to get enough juice for your cocktail. Use a strainer to remove any seeds.

Fill your cocktail shaker up with ice. Then, add tequila, blood orange juice, lime juice, agave and vanilla to your cocktail shaker.

Shake vigorously for 10-15 seconds and pour into salt-rimmed glasses.

Garnish with additional sliced blood oranges if desired.
Notes
Notes:
This cocktail makes 2 servings, which both fit (just barely) into my cocktail shaker. Depending on the size of your cocktail shaker, you may want to split the recipe in half and shake each half separately. 
You can easily scale this recipe to make more blood orange margaritas if you're serving a crowd. 
I use agave for a sweetener because it is very thin and mixes in easily with the cocktail. Honey is too thick in my opinion. If you have simple syrup on hand, you can definitely use that instead. My rosemary simple syrup recipe will show you how to make it at home easily!
Nutrition
Calories:
215
kcal
|
Carbohydrates:
21
g
|
Protein:
1
g
|
Fat:
1
g
|
Saturated Fat:
1
g
|
Sodium:
305
mg
|
Potassium:
161
mg
|
Fiber:
1
g
|
Sugar:
16
g
|
Vitamin A:
128
IU
|
Vitamin C:
43
mg
|
Calcium:
14
mg
|
Iron:
1
mg
Did you make this recipe?
If you made this recipe, I'd love to know!
Leave a comment below and share a picture on Instagram and tag me!