Meyer Lemon Rosemary Bees Knees Cocktail
This Meyer Lemon Rosemary Bees Knees Cocktail combines gin, fresh meyer lemon juice, honey, and rosemary for a seasonal gin cocktail that is lightly sweet and tangy.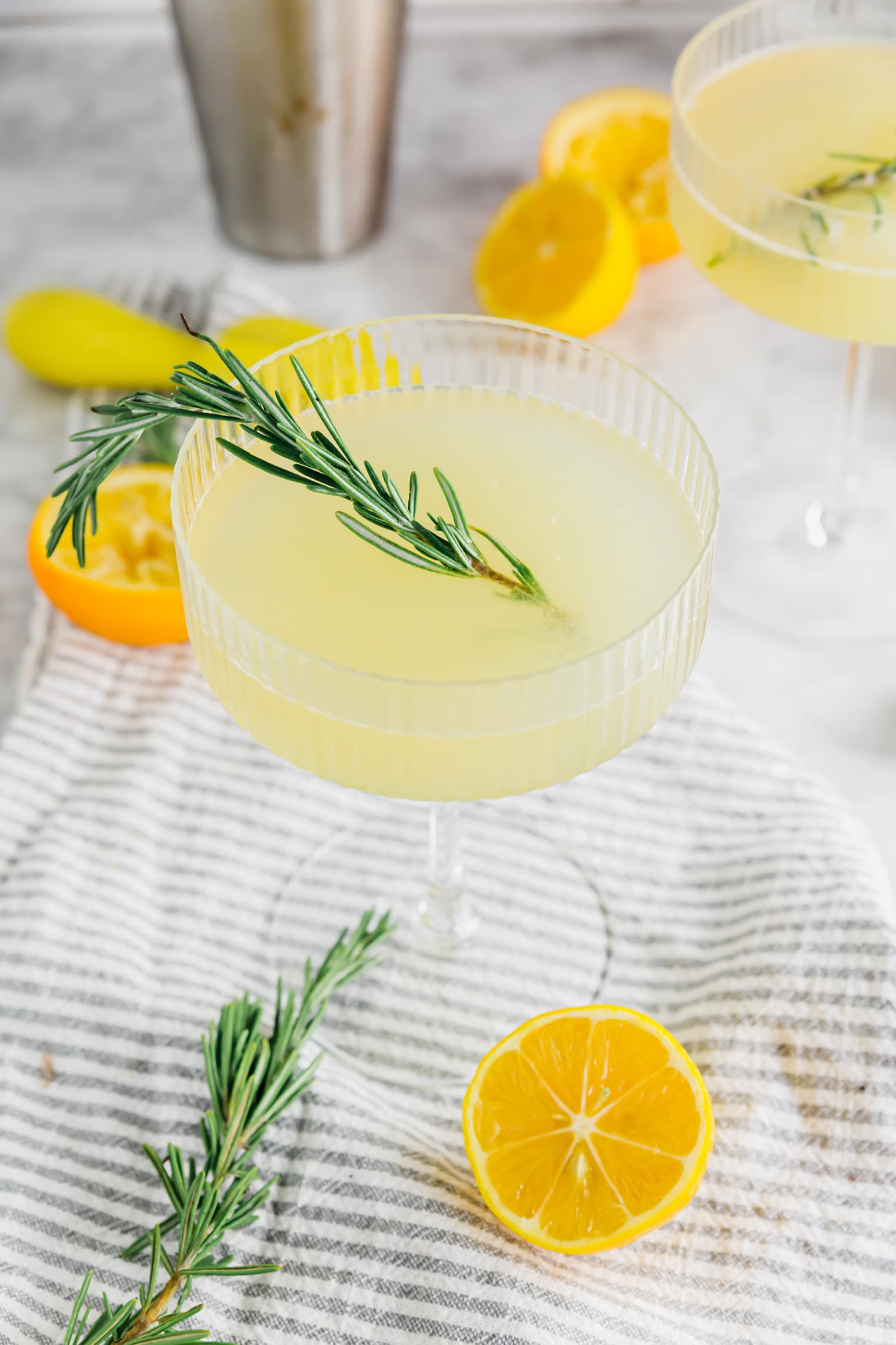 I love a good cocktail like this Meyer Lemon Rosemary Bees Knees Cocktail. It's fresh and light and SO easy to make. Easier than the name is to say, I promise.
With just a few simple ingredients, you can make this easy lemon gin cocktail for parties that guests will rave over. Most of the ingredients can be prepared ahead of time, allowing you to enjoy the party as much as your guests!
What is in a Bees Knees Cocktail?
If you haven't heard of a bees knees cocktail before, it's a cocktail made with:
It's a Prohibition-era cocktail and is served shaken and chilled.
My riff on the bees knees cocktail is a meyer lemon rosemary version that swaps out fresh lemon juice for meyer lemon juice and adds in fresh rosemary for a seasonal gin cocktail.
I love garnishing my cocktail with a sprig of fresh rosemary, but
candied lemon slices
on the rim would also be beautiful and delicious!
What are meyer lemons and what do they taste like?
Meyer lemons are believe to be a cross between lemons and mandarin oranges. They are a little sweeter and less acidic than a traditional lemon, though they still have subtle tart taste.
They are small and round, with a yellow-orange appearance. The peel of the meyer lemon is lightly floral and woodsy smelling.
When are meyer lemons in season?
Generally, you can find meyer lemons at your local grocery store from November to May, but the main season typically ends by March.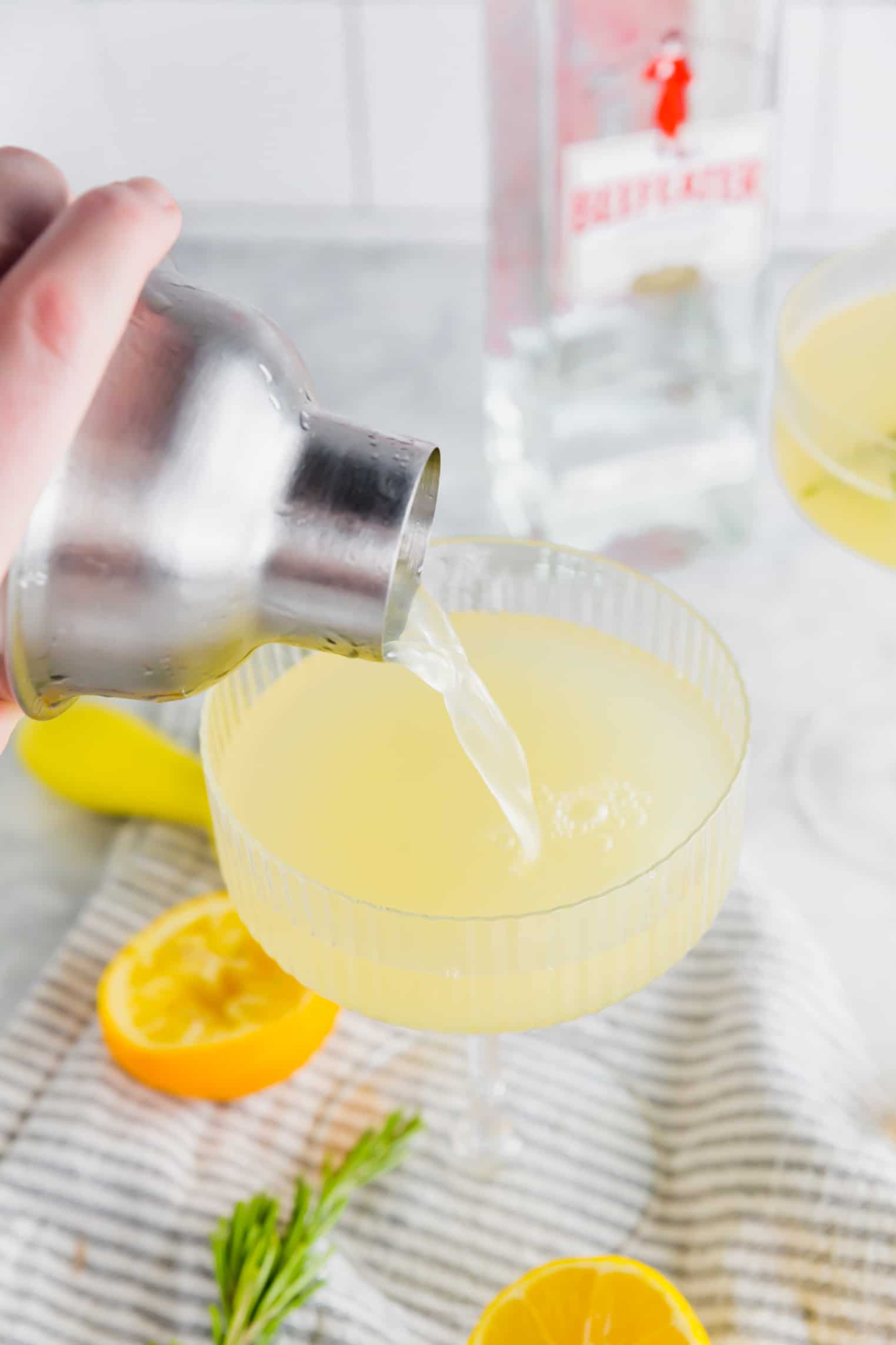 What is the best way to use meyer lemons?
Meyer lemons are great for recipes that you want a light touch of lemon, without the tart and acidic taste. I love using meyer lemons in baked goods and cocktails.
Meyer lemons are great in this bees knees cocktail – they lend a fresh, lemon flavor that is subtly sweet to this lemon gin cocktail!
How To Make Honey Simple Syrup
Honey Simple Syrup is very similar to regular simple syrup which is made from equal parts water and sugar. It's great for sweetening drinks, including cocktails.
Honey simple syrup is made from equal parts water and honey. All you have to do is combine honey and water in a small saucepan and boil until the honey is dissolved into the water.
As the mixture cools, it will become thick and syrupy.
Simple syrup is preferable for sweetening cocktails and beverages because it's in a liquid state. You wouldn't want to add granulated sugar to a cocktail because you will be able to taste the granules and the texture would be unpleasant.
I also am not a fan of adding honey to cocktails because it is too thick and when it's combined with cold elements, like ice, it results in a clumpy mess. However, by making it into a simple syrup first, you can sweeten your drink naturally!
How Long Does Honey Simple Syrup Last?
You can store honey simple syrup in the refrigerator for up to 3 weeks. It's best kept in an airtight container, like a small glass jar.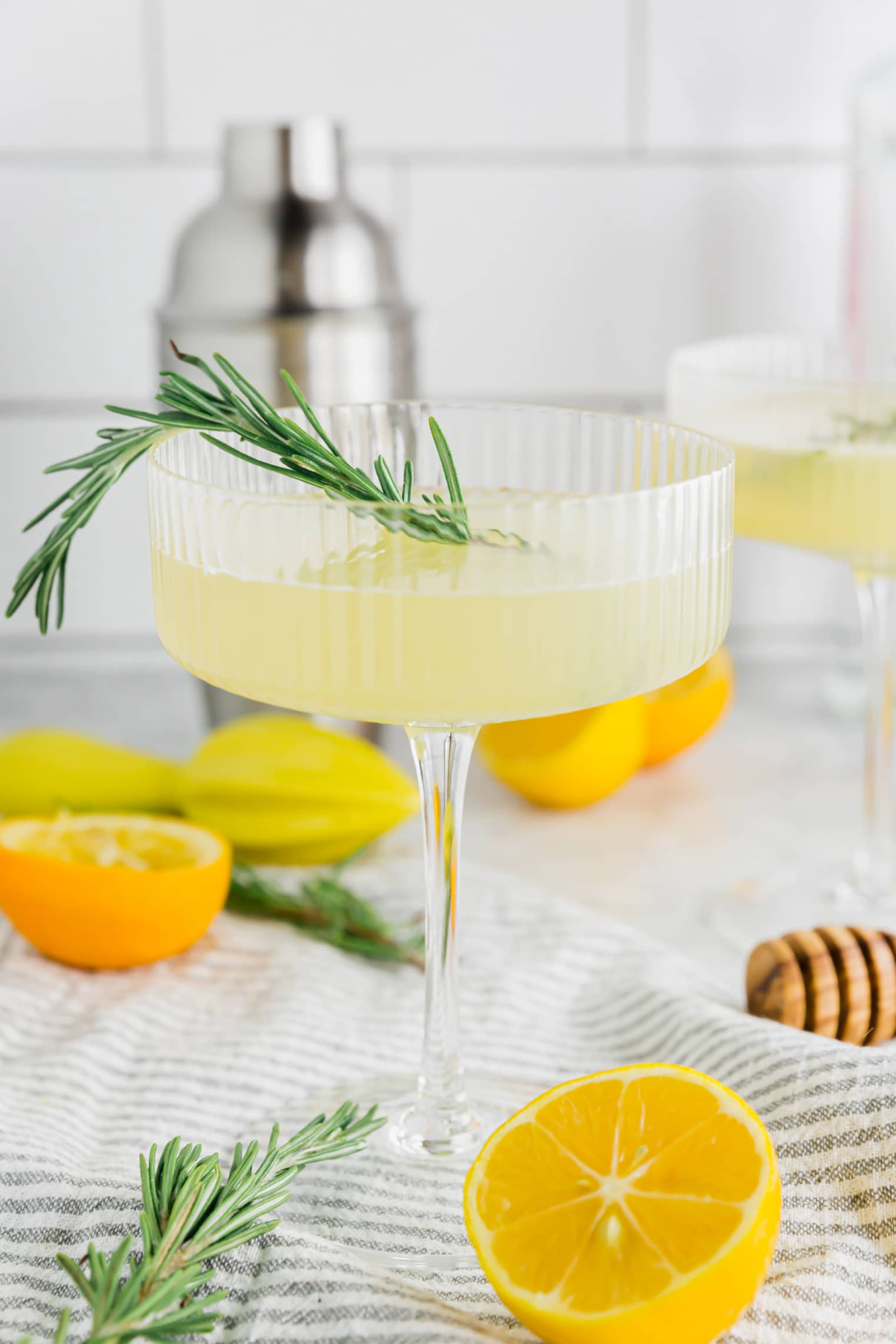 Looking for more cocktail recipes for your next party? Try these!
Lemon Recipes that You'll Go Crazy For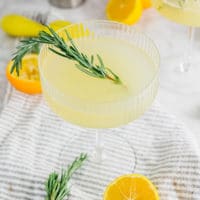 Ingredients
For the Honey Simple Syrup:
1/4

cup

honey

1/4

cup

water

2

sprigs fresh rosemary
For the Cocktail:
2

oz

gin

1

oz

honey simple syrup

(as made above)

2

oz

fresh meyer lemon juice

(if using regular lemon reduce to 1 oz)

1

sprig fresh rosemary
Instructions
For the Honey Simple Syrup:
Add honey and water to a small pot on the stove over medium high heat.

Bring to a boil.

Let simmer for 5 minutes, or until the honey has completely dissolved. Remove the saucepan from the heat.

Add fresh rosemary to the saucepan and let the simple syrup cool for 30 minutes to an hour, until thick and syrupy.

Remove the rosemary sprigs from the pot and pour rosemary simple syrup into a glass jar.
For the Cocktail:
Fill a cocktail shaker with ice.

Add gin, honey simple syrup, and fresh meyer lemon juice to the cocktail shaker.

Shake well.

Strain into a cocktail glass or coupe glass.

Garnish with fresh rosemary sprig.

Enjoy!
Notes
Note: You will have leftover honey simple syrup. The full amount makes enough for multiple drinks.
Nutrition
Calories:
224
kcal
|
Carbohydrates:
25
g
|
Protein:
1
g
|
Fat:
1
g
|
Saturated Fat:
1
g
|
Sodium:
18
mg
|
Potassium:
58
mg
|
Fiber:
1
g
|
Sugar:
22
g
|
Vitamin A:
58
IU
|
Vitamin C:
22
mg
|
Iron:
1
mg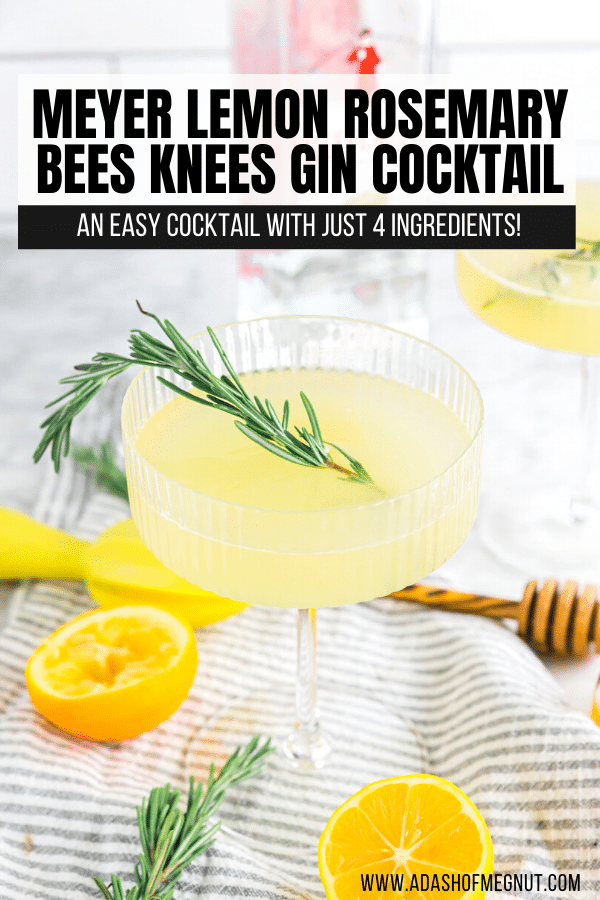 I'm Megan
A gluten-free food blogger from Chicago and lover of all things food, showing you gluten-free can be easy and delicious, too. Let's make gluten-free stress free together! Read more…