Last Updated on
Frozen mango margaritas are a fun and easy cocktail to make this summer. With simple ingredients like tequila, mango, lime and agave, this frozen margarita is great for entertaining or a casual summer day.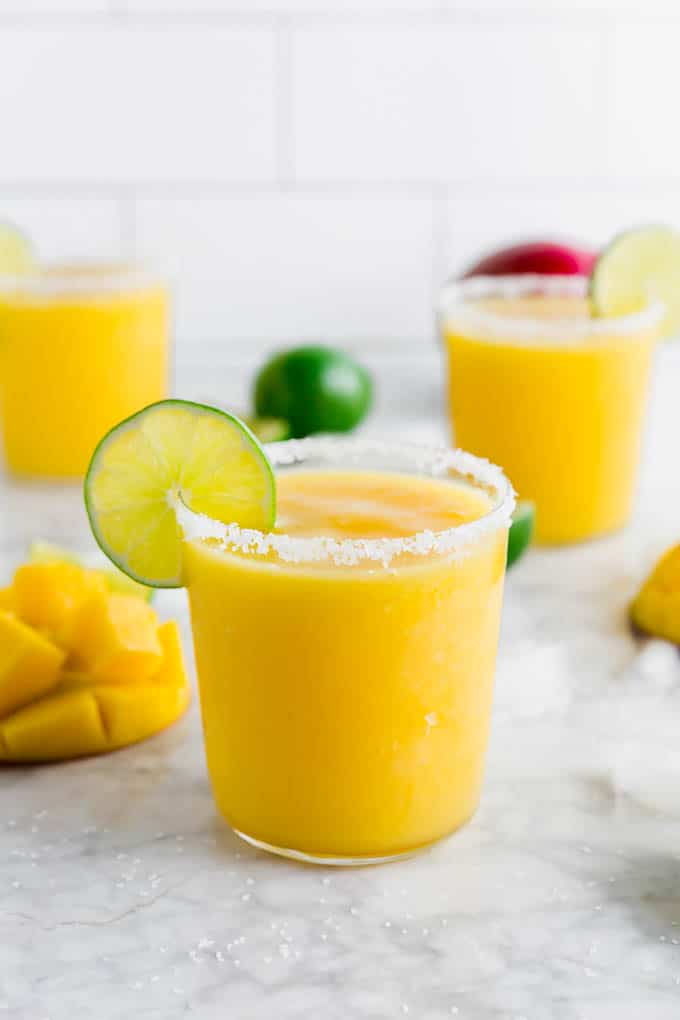 I've been very convinced for the last decade that I don't like margaritas or tequila. So when Michael asked me to make us frozen margaritas awhile back, I was a bit hesitant but agreed to give them a go.
But guess what? I like tequila now. And margaritas. Especially this frozen mango margarita.
Turns out, I thought I didn't like margaritas because I was used to drinking cheap tequila in college!
When it comes to cocktails, be sure you're buying a good tequila. There is a huge difference between a margarita made with cheap tequila and a margarita made with good tequila.
Buy as good of a tequila as you can. Trust me, you'll notice a difference!
Is tequila gluten free?
Tequila is made from the blue agave plant and is naturally gluten free. However, you'll want to make sure that whatever brand you buy says 100% agave in the ingredients.
There are also cheaper tequilas that contain a mixture of agave and other ingredients, which may contain gluten.
When you are purchasing your tequila, be sure it says 100% pure agave on the label to be sure it's gluten free!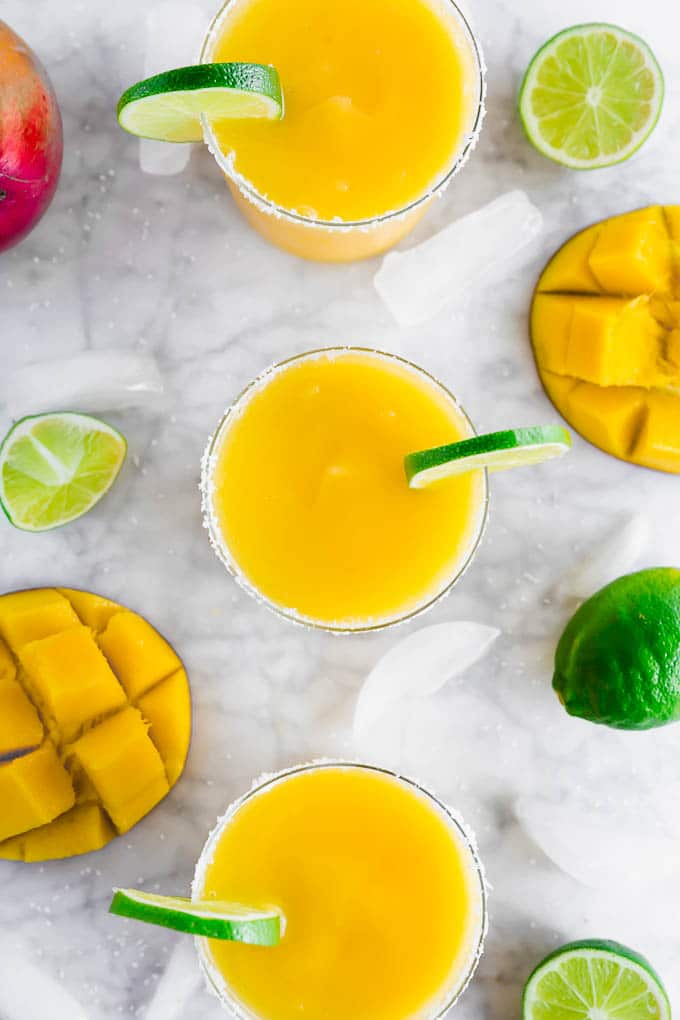 Is Triple Sec necessary for frozen margaritas?
I don't find triple sec, grand marnier, contrieau, or any other orange liqueur to be necessary for frozen margaritas. The purpose of adding orange liqueur to a typical margarita is to balance the tequila.
Personally, I'm all about the margaritas sans triple sec. Bring on the tequila. Especially if it's good tequila. I'm no margarita expert, but the mango seems to do a fine job of balancing the tequila. Plus, the tequila is what we really want to be tasting anyways, right?
Typically for margaritas, I like to use 1 1/2 to 2 ounces of tequila per person. Since we aren't using an orange liqueur in this recipe, I like to keep it on the higher end at 2 ounces per person.
Of course, if you like your mango margaritas on the boozier, side, add a little bit more tequila. Just taste and adjust to your preferences.
Need some food to serve with these margaritas? Try these recipes!
If you're throwing a party and will be serving these frozen mango margaritas, then you probably need some food to go along with it!
For starters, you'll love my Mango Pomegranate Pecan Guacamole. It's simple but a little unexpected. For the main course, go with my Easy Ground Beef Tacos and Blackened Cod with Avocado Corn Salsa.
If you're serving a larger crowd though, you may want to break out the slow cooker and try out my Crockpot Shredded Beef Tacos.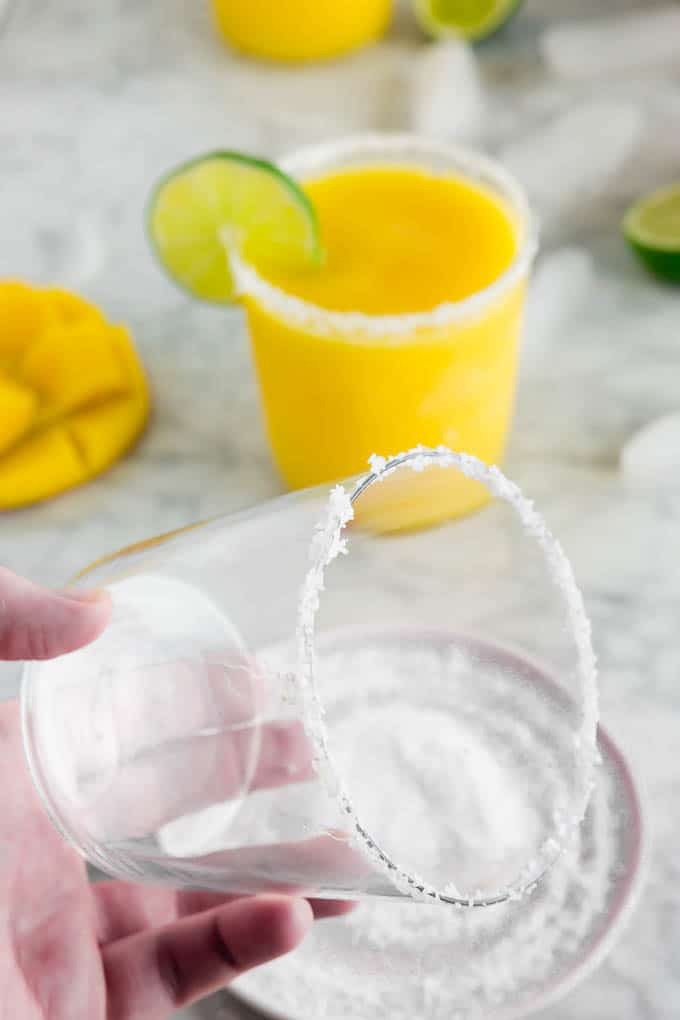 Why do margaritas have a salted rim?
The salt on the rim of a margarita helps to soften the bite from the tequila and balance out any bitterness from the lime. In fact, the salt enhances the flavors of the margarita.
It also looks pretty if you ask me!
Which kind of salt should you use to salt the rim of your margarita glass you ask? Well, there are a few that will work well that I bet you have in your pantry right now.
For starters, DO NOT use table salt for your salted rim. It will be much too salty. Instead, opt for kosher salt, which has a less intense salty flavor and has bigger crystals so you won't have as much on the rim.
I've also tested pink himalayan sea salt and Maldon sea salt, which were both absolutely delightful but also expensive. So those two would not be my main suggestions, but if you have them on hand, give it a go!
Can I use fresh mangos instead of frozen?
Since we're making a frozen margarita, it's best to use frozen mango cubes. You can buy the mangos pre-frozen in the freezer aisle of your grocery store.
If you have fresh mango at home, you can certainly use that, too. If you are able, you can cut the mango into slices or cubes and freeze it for a few hours before using. However, if you're short on time, feel free to use the fresh mango and add more ice to the recipe to create this frozen drink!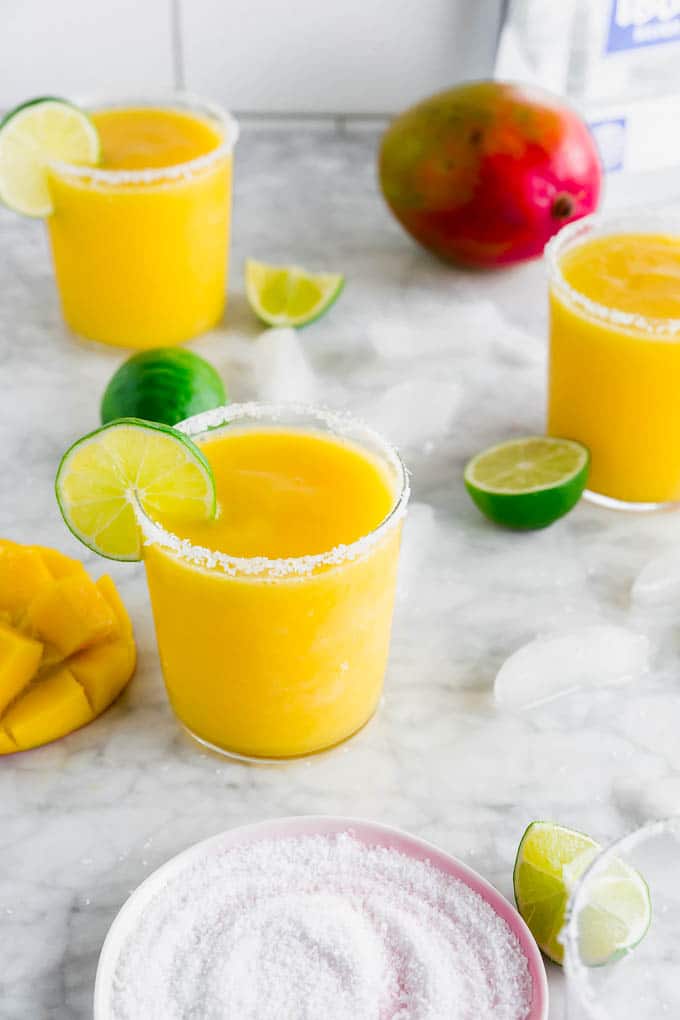 Need more cocktail inspiration? Try these recipes!
Frozen Mango Margaritas
Sweet, sour and a little tangy, these frozen mango margaritas are a great cocktail to cool you down this summer. Perfect for entertaining a crowd or for serving a small group, you can make these margaritas in a matter of minutes. Just a few simple ingredients and a whirl in the blender is all you need!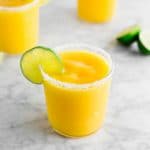 Print Recipe
Frozen Mango Margarita
Frozen mango margaritas are a fun and easy cocktail to make this summer. With simple ingredients like tequila, mango, lime and agave, this frozen margarita is great for entertaining or a casual summer day.
Ingredients
2

cups

ice

3

cups

frozen mango

1/4

cup

fresh lime juice

from approximately 3 limes

8

ounces

pure agave tequila

2

tablespoons

agave

1

lime

for serving

1/2

teaspoon

kosher salt

for serving
Instructions
Add ice, mango, lime juice, tequila and agave to a high powered blender.

Blend until smooth. If necessary, add additional ice or some ice cold water if the mixture is too thick.

To serve, use a lime wedge to go around the rim of the margarita glasses.

Place the kosher salt on a small plate. Turn the lime dipped glasses over onto the plate to cover the rim in salt.

Pour frozen margaritas into glasses and serve.
Nutrition
Calories:
246
kcal
|
Carbohydrates:
29
g
|
Protein:
1
g
|
Sodium:
293
mg
|
Potassium:
242
mg
|
Fiber:
2
g
|
Sugar:
24
g
|
Vitamin A:
1340
IU
|
Vitamin C:
54.5
mg
|
Calcium:
19
mg
|
Iron:
0.3
mg