Last Updated on
Rosemary simple syrup is as simple as it sounds. With just 3 ingredients you can have a flavorful simple syrup that is perfect for flavoring all sorts of drinks, baked goods and more.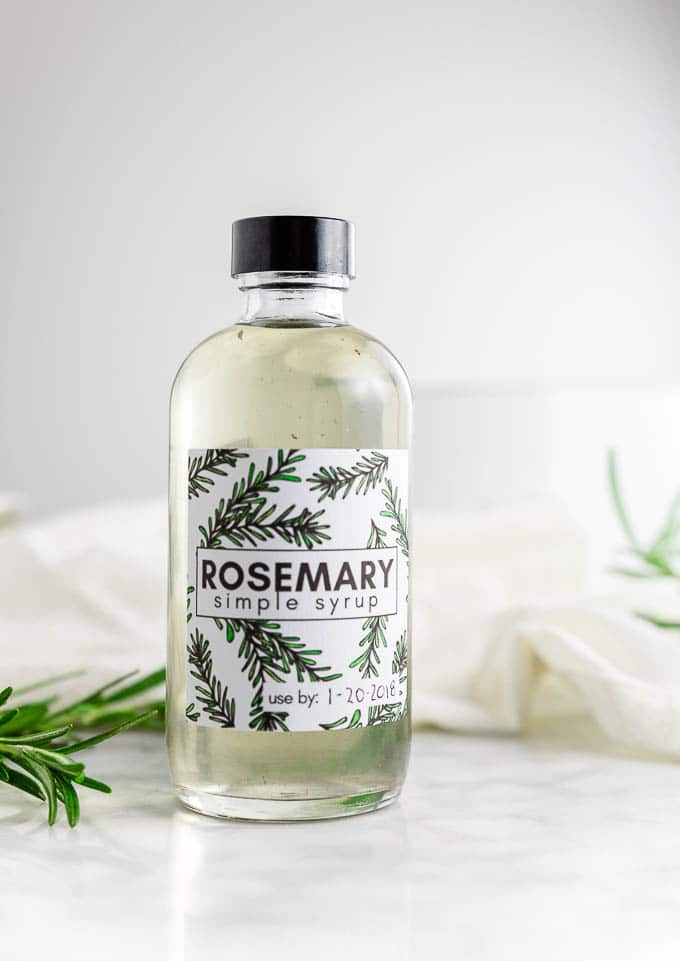 Have you ever made your own simple syrup before? How about an infused one, like rosemary simple syrup?
If you're looking for a cute DIY gift idea for the holidays for your favorite home chef, look no further than this rosemary simple syrup! It's so incredibly easy to make and so festive, too. Rosemary simple syrup can be used for anything from cocktails to dessert.
It looks so impressive in a little jar with a rosemary simple syrup label. And guess what? I'm sharing a FREE printable label for you so you can dress up your rosemary simple syrup – even if you plan on keeping it for yourself. To download the FREE printable click here.
What is Simple Syrup?
Simple syrup is a syrup made from equal parts water and sugar. It requires you to combine water and sugar in a saucepan on the stove and dissolve the sugar into the water. Then you bring to a boil so that the simple syrup thickens slightly. You can easily infuse simple syrups with a variety of flavors.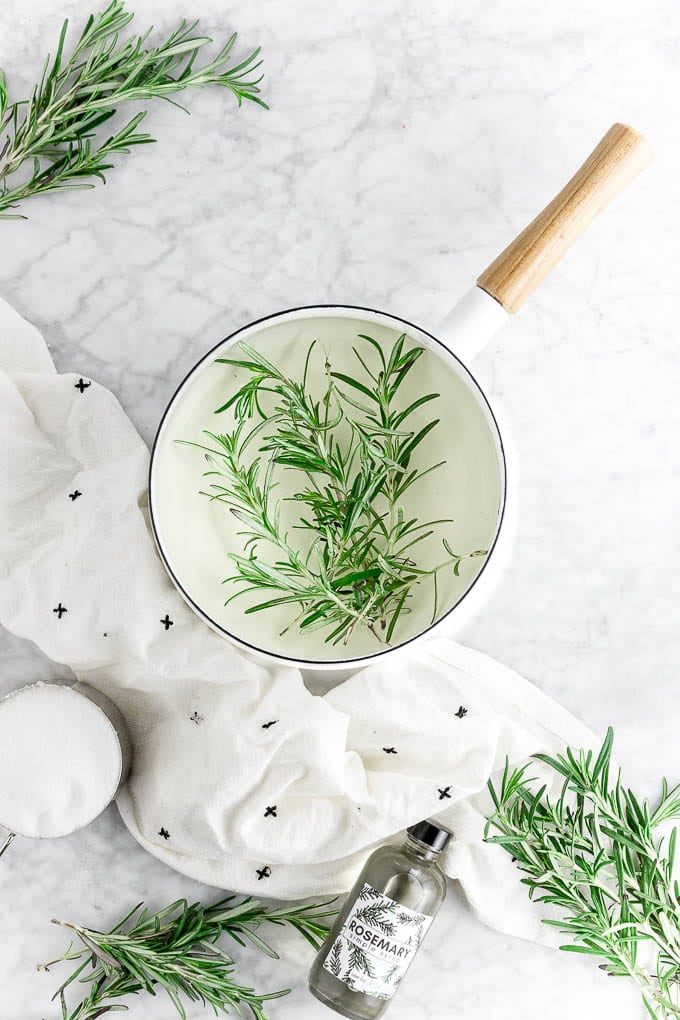 What is Simple Syrup Used For?
Simple Syrup is used for so many uses in the kitchen. From cocktails, to coffee, to even cakes!
Cocktails
It's great for sweetening and flavoring cocktails. Since cocktails are already in liquid form, it makes sense to have a liquid sweetener, like simple syrup, to sweeten the beverage.
If you add straight sugar to a cold cocktail, you run the risk of a gritty drink, which no one wants. Sugar just doesn't combine with cold drinks like it does in hot drinks. Simple syrup is used widely in the cocktail world.
Coffee
Similar to cocktails, simple syrup is amazing in coffee. Many coffee shops will have simple syrup on the coffee bar to sweeten up your hot drink. However, most commonly, coffee shops used flavored simple syrups to give your beverage a ton of flavor. Have you ever ordered a peppermint latte? Yep – that uses a peppermint syrup.
Many times the syrups used at coffee shops are not pure simple syrups, they use some artificial flavorings. So making your own infused simple syrups at home is preferable!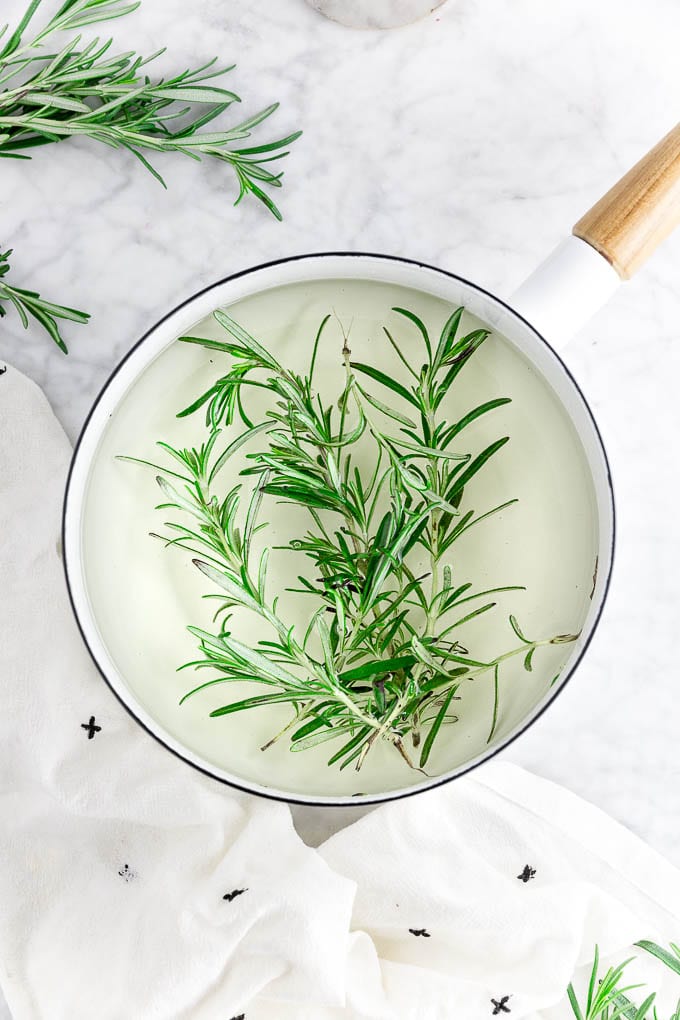 Cakes
Simple syrups can also be used to flavor and moisten cakes and cupcakes. Pastry chefs will brush simple syrups onto cake layers before filling the center with buttercream. It makes for a perfectly moist cake.
More Uses
Flavor shaved ice (or snow-cones), lemonade, iced tea.
Glaze fruit for an epic fruit salad
Candy fruits (like my sugared cranberries)
Churn it with berries to make a berry sorbet
How do you Infuse Simple Syrup with Herbs?
Now that we know that simple syrups are equal parts sugar and water, what's the deal with this rosemary simple syrup? Well, you can flavor your simple syrup with herbs, spices, fruits and more to get a flavorful simple syrup.
It's a very simple process to infuse simple syrups. After the syrups have come to a boil and thickened, add the flavorings (in this case rosemary) to the saucepan. Let sit at least 30 minutes to an hour to let the rosemary infuse into the simple syrup as it cools. Remove the rosemary from the saucepan and bottle up that delicious rosemary simple syrup.
Pro Tip: I like the save the simple syrup covered rosemary sprigs and cover them in sugar for a festive garnish on winter cakes or cocktails.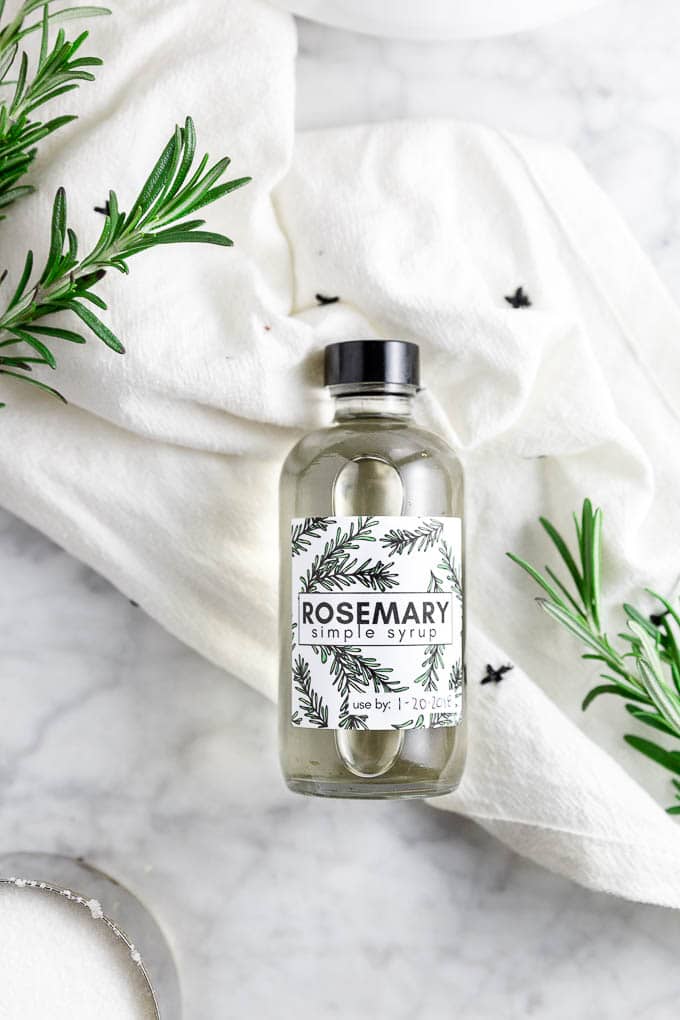 How Long Does Rosemary Simple Syrup Last?
Rosemary simple syrup will last in a covered jar in the refrigerator for about 2 weeks. Around that 2 week mark, always check to make sure there is no mold growing on the simple syrup before using.
Free Printable DIY Rosemary Simple Syrup Labels
I created the cutest rosemary simple syrup labels to place on your jar of rosemary simple syrup. They're easy to print using your printer at home – no need to head to the print shop for this!
You can use label paper, like I did, to get the label to stick to the bottle. I used the Avery Style #22806, which gives you 15 square labels on the paper.
However, if you're more in the DIY spirit and/or don't have this label paper on hand, you can print the labels on to a thicker cardstock and cut them out with scissors.
Then use a hole punch to make a hole in the corner of the label. Tie to the bottle with twine or ribbon. Now you have a custom bottle of rosemary simple syrup perfect for gift giving!
If you want to print out my FREE rosemary simple syrup labels, click HERE!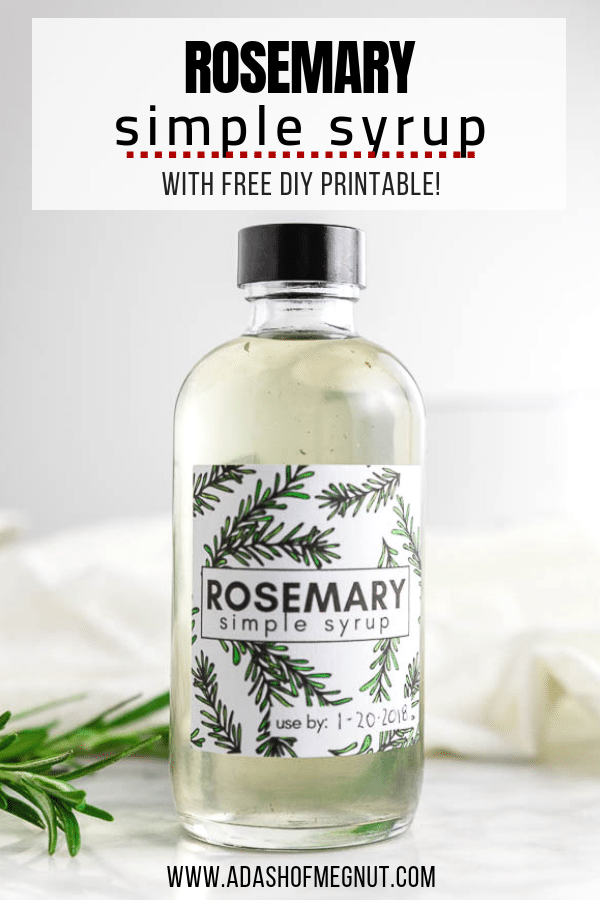 Rosemary Simple Syrup Recipe
Making your own simple syrup at home is so easy and economical, too! You can infuse simple syrups with herbs, such as rosemary for a flavored simple syrup perfect for sweetening cocktails, coffee, cakes and more. Package it up in a bottle and use my free printable label to create a unique gift idea for the holidays.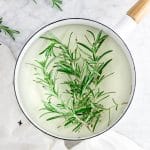 Print Recipe
Rosemary Simple Syrup
Rosemary simple syrup is as simple as it sounds. With just 3 ingredients you can have a flavorful simple syrup that is perfect for flavoring all sorts of drinks, baked goods and more.
Ingredients
1

cups

water

1

cups

sugar

4

fresh rosemary sprigs
Instructions
Combine water and sugar in a small saucepan. Heat over medium high heat and bring to a boil, whisking occasionally until sugar dissolves.

Let simmer for a few minutes until liquid is completely clear. Remove the saucepan from the heat.

Add fresh rosemary to the saucepan and let the simple syrup cool for 30 minutes to an hour, until thick and syrupy.

Remove the rosemary sprigs from the pot. Pour rosemary simple syrup into a glass jar. Add rosemary simple syrup printable label to the jar if using.

Keep in the refrigerator until ready to use. Keeps for 2 weeks.
Nutrition
Calories:
48
kcal
|
Carbohydrates:
12
g
|
Sugar:
12
g
|
Vitamin A:
5
IU
|
Vitamin C:
0.1
mg
|
Calcium:
1
mg