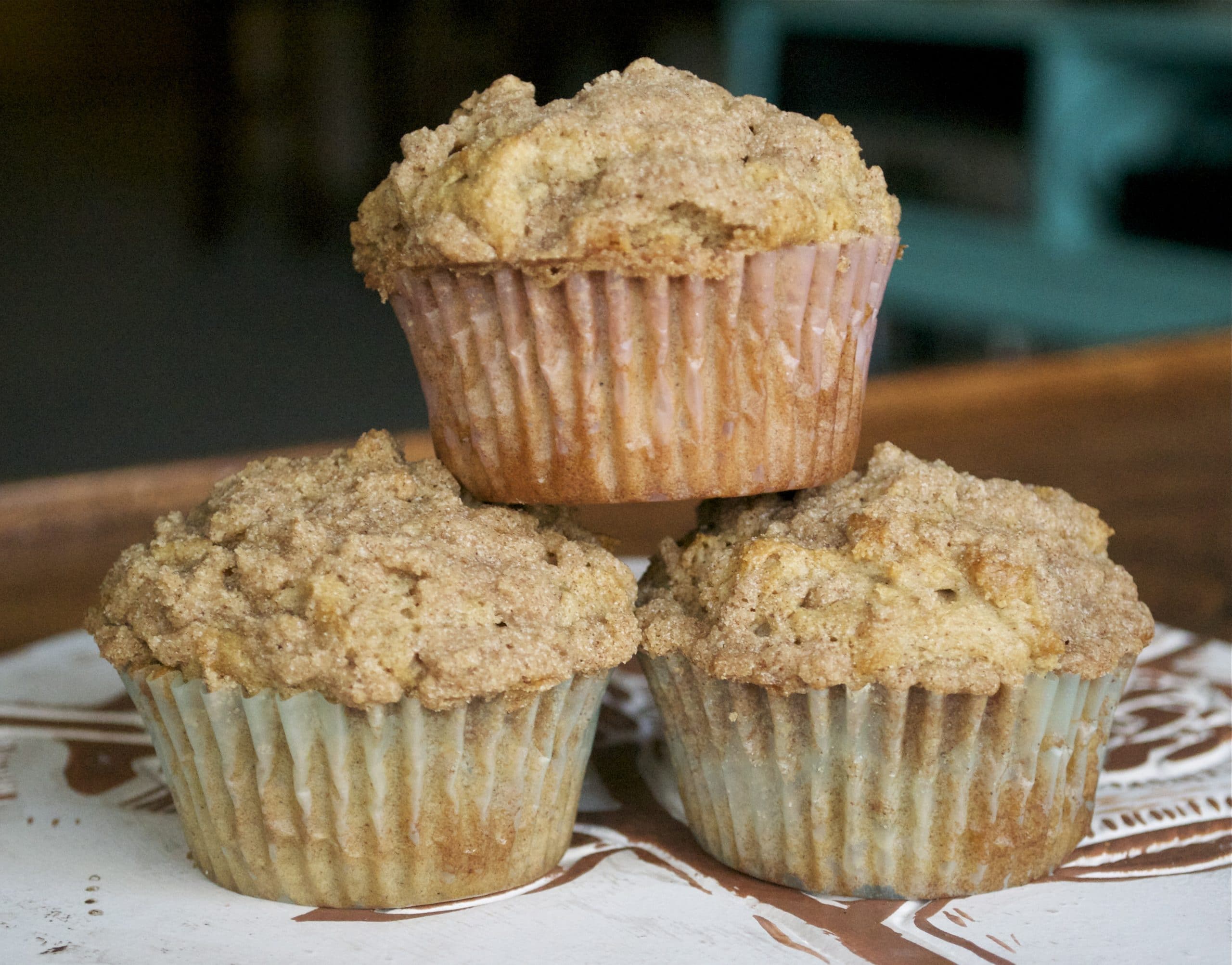 I love muffins. I mean really, they are just such a portable breakfast. I'f I'm being honest with you, I probably eat muffins a little too often… Like almost every day. I really like Udi's double chocolate chip muffins and blueberry muffins. I keep them in my freezer and warm them up for a few seconds in the microwave when I'm ready to eat them. The issue is the price – I pay $6 for 4 muffins which in reality isn't the worst thing in the world but I know I can make my own muffins that are just as tasty and half the price. So, I decided to make these cinnamon streusel muffins for my breakfasts this week. I'm even experimenting with freezing a few of them for breakfast in a few weeks so we'll see how that goes. My only worry is how the streusel topping will hold up. But we shall see! These muffins are literally so good. They are light and airy, have that nice warm cinnamon taste and a crunchy streusel topping. Absolute heaven. My boyfriend and friend had a few and didn't even realize they were gluten-free until they saw me eating one too! I'd love to experiment with different gluten-free flours for this recipe or see how it works with all-purpose flour, so if you make them be sure to let me know your flour variations in the comments section!
Ingredients:
For the Muffins:
2 1/2 cups flour (I used Namaste gluten-free flour blend)
2 tsp baking powder
1/2 tsp baking soda
1/2 tsp salt
2 tsp cinnamon
1 tsp nutmeg
1/2 cup granulated sugar
1/4 cup brown sugar
1 cup milk
2 eggs
1 stick butter, melted
1 tsp vanilla
For the Streusel Topping
1/4 cup flour (I used Namaste gluten-free flour blend)
1/3 cup brown sugar
1 tsp cinnamon
3 tbsp cold butter
Directions:
Preheat your oven to 350F. In a large bowl, mix together the flour, baking powder, baking soda, salt, cinnamon and nutmeg. Set aside. In a medium bowl, whisk together the sugars, milk, egg, butter and vanilla. Add the wet ingredients to the dry ingredients. Pour the batter into 12 muffin cups almost all the way to the top. Then, to prepare the streusel, mix together the flour, brown sugar and cinnamon. Then cut the butter into the flour mixture until it resembles wet sand. Then generously sprinkle the streusel topping over the muffin batter. Bake at 350F for 15-18 minutes or until a toothpick comes out clean when inserted into the muffin. Store in an airtight container.
Makes 12 muffins.