Chewy Ginger Molasses Cookies – Gluten-Free and Vegan
Chewy ginger molasses cookies are a holiday classic! You'll love this gluten-free vegan spin on the traditional cookie that is so soft and chewy, you seriously won't believe it until you take a bite. Perfect for easy gluten-free holiday baking and entertaining!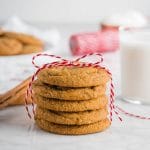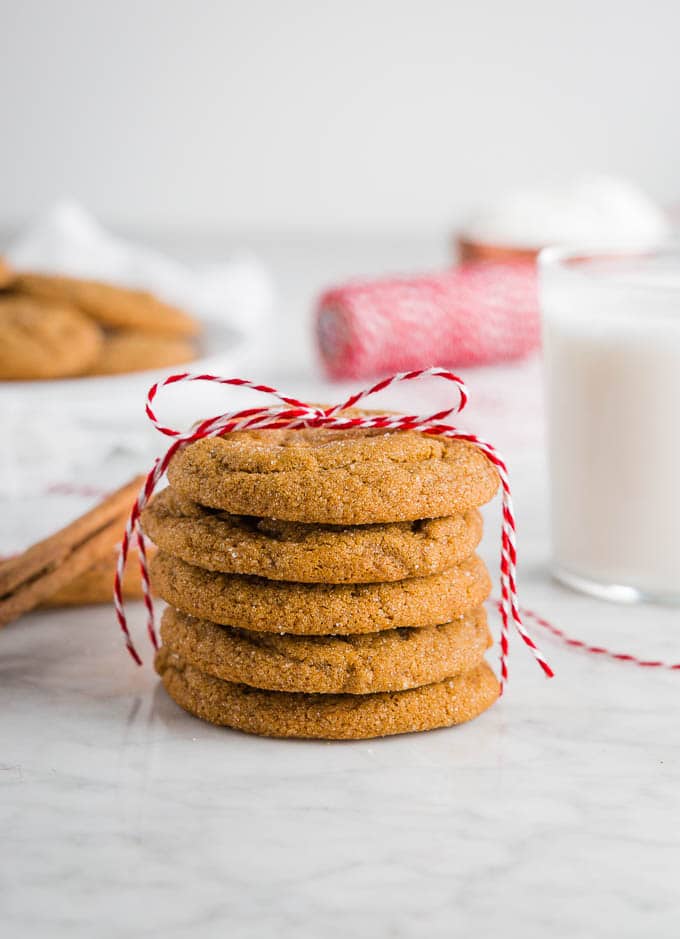 Growing up, my favorite holiday cookie was always the molasses cookie. Soft, chewy, crackled tops, perfectly spiced with cinnamon, cloves, ginger and molasses… All the good stuff.
These chewy ginger molasses cookies are gluten-free, dairy-free, vegan and SO easy to make! I can't even begin to describe how soft and chewy these cookies are.
In fact, this recipe went through quite a few test rounds to get that perfect soft and chewy texture. Don't get me wrong, the first 5 versions were good… they just weren't perfect. They were very soft but they didn't have that chew that I was looking for. Every time another batch came out of the oven I had my boyfriend try them and he would say "They're chewy."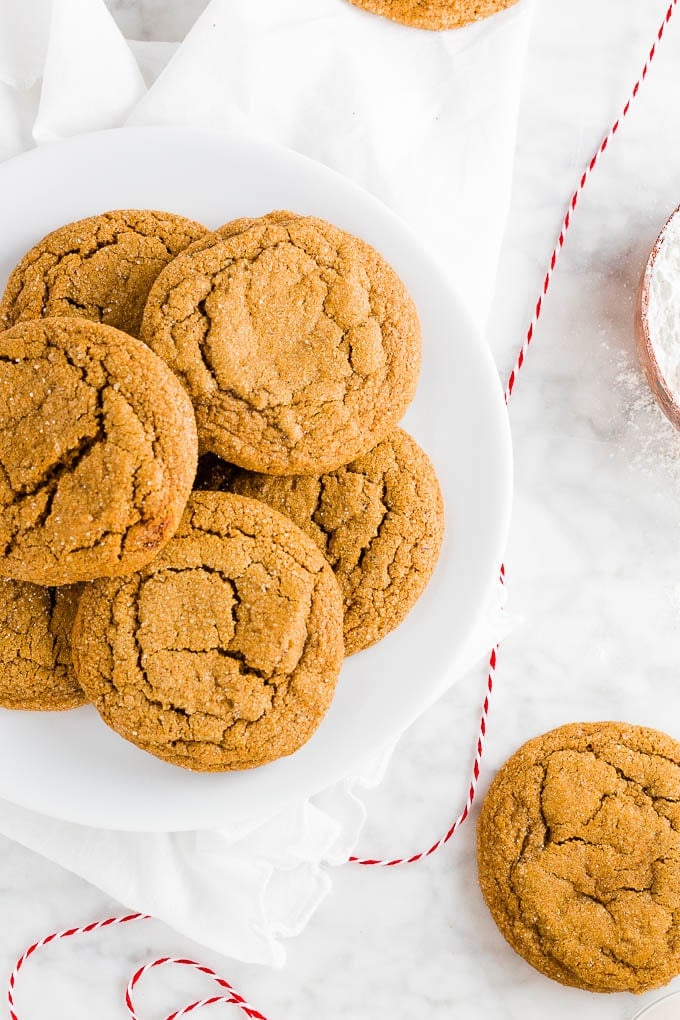 I would take a bite, but NOPE, not the chewy factor I was looking for. On the final batch, he took a bite and said "Oooooh I get it. Now I know what you mean!" YES! CHEW FACTOR CERTIFIED.
These chewy vegan gingerbread cookies are bakery-style soft and every bite has a slight chewiness you'd expect from molasses cookies. Whether you're making them for a holiday party, a cookie exchange, or just to make as a sweet treat for yourself, these chewy ginger molasses cookies are the perfect cookie this holiday season.
Difference between Ginger Molasses Cookies and Gingersnaps
We're calling these cookies chewy ginger molasses cookies because it felt right to me. Ginger molasses cookies… gingersnaps… gingerbread cookies… What's the difference? Honestly, I didn't really know so I did a little research to find out!
Typically molasses cookies are soft and chewy, which is what really differentiates them from gingersnaps. Gingersnaps tend to be crispier than molasses cookies.
Gingerbread cookies on the other hand are crispier than molasses cookies but not as crispy as gingersnaps. They have a slightly soft bite, similar to rolled sugar cookies. Gingerbread cookies are also typically rolled out and cut into shapes instead of scooped and baked like gingersnaps and molasses cookies.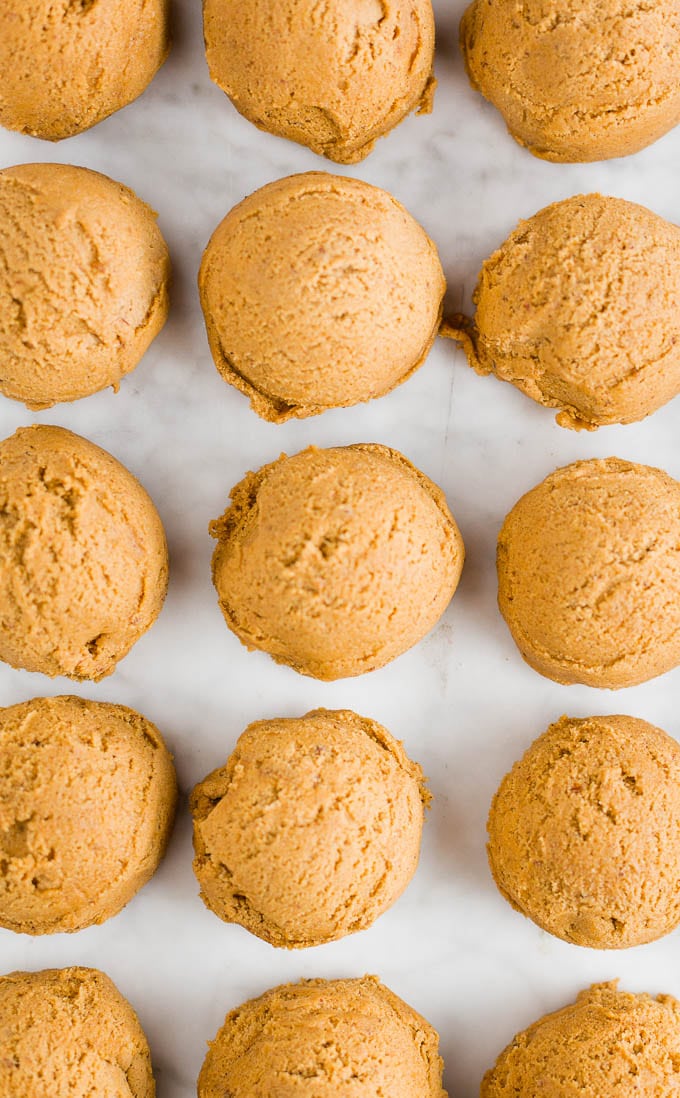 What Makes These Cookies Vegan?
These cookies are not only gluten-free, but they're also dairy-free, egg-free and vegan!
Instead of using dairy butter, we're using a vegan butter, such as Earth Balance, for these cookies. Though I have not tried it, you could potentially use shortening, such as Nutiva. However, I like the buttery taste from the Earth Balance so that's my recommendation.
To replace the eggs, we're using a flax egg made from water and ground flaxmeal. If you haven't made a flax egg before, it's super simple to do. All you have to do is stir together 2.5 tablespoons of water with 1 tablespoon of flaxmeal in a small bowl. Let it sit for 5-10 minutes before you need to use it. The mixture will get thick and a little goopy, which means it's ready to use!
Sugar is also a consideration when baking vegan. If you are strictly vegan, you want to take a look at the types of sugar you are using. Many brands of cane sugar are not vegan because they use bone char as a decolorizing filter to get that super white color. Beet sugar is vegan and there are some brands of cane sugar that are vegan, too. Just be sure to check.
Tips for Making Soft and Chewy Ginger Molasses Cookies
Chill The Dough
I know, I know. You're baking cookies and the last thing you want to do is wait while the dough is chilling, but I promise you it's SO worth it!
This dough is super sticky and if you don't chill it, it's a little hard to work with to shape it into a ball. Plus, chilling the dough helps keep the cookies nice and thick while baking instead of spreading too thin. No one wants a thin cookie!
Cool the Cookies Before Eating
These cookies taste best after they are completely cooled. In fact, they tend to taste even better the day after baking.
Straight from the oven, they just taste soft. The molasses flavor only really shines through after cooling.
General Baking Tips
Spray your measuring cup with cooking spray so the molasses easily comes out of the measuring cup! This also works great for anything sticky, like honey or peanut butter.
Use a cookie scoop to get perfectly sized cookies every time. I have different sized cookie scoops so that I can make uniform sized cookies whether small or large. If you don't have one you can use a tablespoon, but I highly recommend a cookie scoop for easier baking.
If you're baking gluten-free, make sure you do not use cooking spray that has flour added to it. Many times it's called baking spray and is not gluten-free.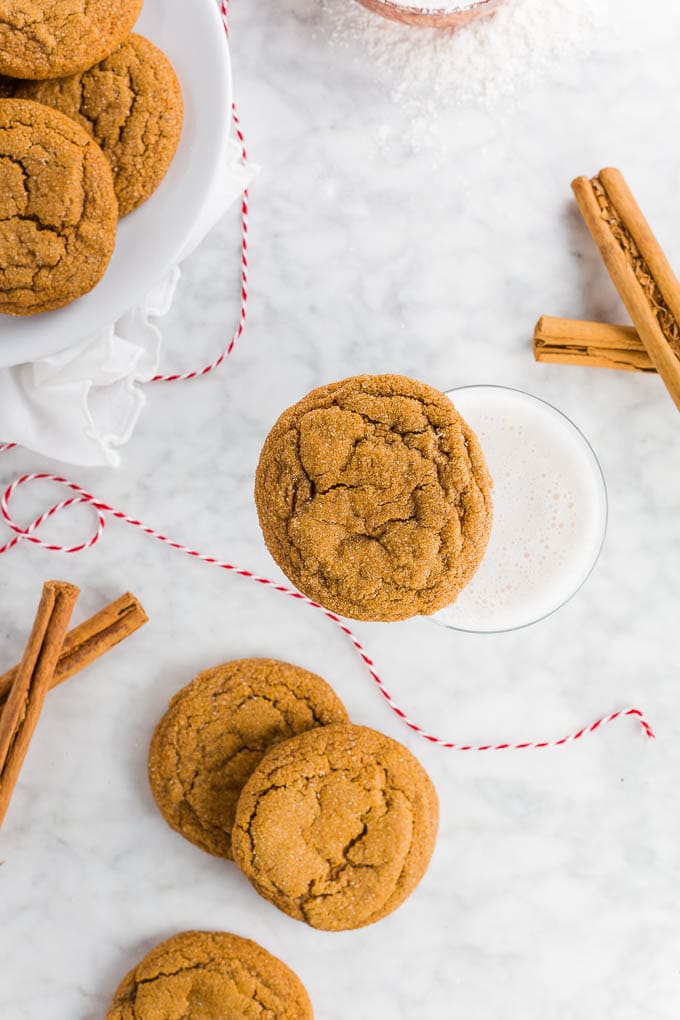 How to Store Ginger Molasses Cookies
In the freezer
I personally love to freeze baked cookies so that I can have a sweet treat whenever the need strikes. Baked ginger molasses cookies will keep in the freezer for 2-3 months when they're properly stored, but mine always get eaten within a month.
Wrap well in plastic wrap and place inside a freezer safe bag or containers. To serve, let sit at room temperature until soft.
You can also freeze cookie dough for months before baking. To freeze cookie dough, portion it out into balls and place on a baking sheet and freeze until firm. Once firm, put the frozen cookie dough balls in a freezer safe bag for storage.
At room temperature
Baked chewy ginger molasses cookies stay nice and chewy at room temperature for about 3-4 days. They will start to get a little harder after that, but are still good to eat for another 3-4 days.
Love cookies? Try these other gluten-free cookie recipes!
These Paleo chocolate chip cookies are a delicious take on the classic that will not disappoint!
If chocolate is your thing, try these Gluten-Free Peppermint Hot Chocolate Cookies. They are topped with a marshmallow and candy cane for a festive treat!
Short on time? These 3-Ingredient Flourless Peanut Butter Cookies are for you!
Preparing for the holidays in advance? Slice and bake cookies may be just what you need! Try these Gluten-Free Cranberry Pistachio Icebox Cookies. They're vegan, too!

Gluten-Free Vegan Chewy Ginger Molasses Cookies Recipe
Chewy Ginger Molasses Cookies - Gluten-Free and Vegan
Chewy ginger molasses cookies are a holiday classic! You'll love this gluten-free vegan spin on the traditional cookie that is so soft and chewy, you seriously won't believe it until you take a bite. Perfect for easy gluten-free holiday baking and entertaining!
Print
Pin
Rate
Ingredients
For the Flax Egg:
2.5

tablespoons

water

1

tablespoon

ground flax meal
For the Cookies:
3/4

cup

dairy-free butter

(I used Earth Balance)

1/2

cup

granulated sugar

1/2

cup

brown sugar

1/3

cup

molasses

1

flax egg

(see recipe above)

1

teaspoon

pure vanilla extract

2 1/2

cups

gluten-free flour blend

(of choice)

2

teaspoons

xanthan gum

(if your blend does not already contain it)

1/2

teaspoon

salt

1

teaspoon

baking soda

1

teaspoon

baking powder

2

teaspoons

ground cinnamon

1

teaspoon

ground ginger

1/2

teaspoon

cloves

1/4

cup

granulated sugar

(for rolling cookie dough)
Instructions
Combine water and flax meal in a small bowl. Mix well. Let sit for 5-10 minutes, until consistency is thick and gel-like.

Cream together vegan butter, brown sugar and granulated sugar about 1-2 minutes, until light and fluffy. Add the flax egg, molasses, and vanilla and mix until combined.

In a medium bowl, whisk together gluten-free flour blend, xanthan gum (if using), salt, baking soda, baking powder, cinnamon, ginger and gloves. Gradually add the flour mixture to the wet ingredients and mix until combined.

Chill the dough in the refrigerator or freezer at least an hour, until completely firm. Dough should not be sticky.

Scoop out in 1 inch balls and roll in granulated sugar before placing on a baking sheet lined with parchment paper. Bake at 350F for 10-12 minutes, until edges are set.

Remove from oven and let sit for 5 minutes before moving to a cooling rack to finish cooling. Cookies will get chewier the longer that they sit.
Nutrition
Calories:
200
kcal
|
Carbohydrates:
32
g
|
Protein:
1
g
|
Fat:
8
g
|
Saturated Fat:
1
g
|
Sodium:
197
mg
|
Potassium:
129
mg
|
Fiber:
2
g
|
Sugar:
19
g
|
Calcium:
43
mg
|
Iron:
1.1
mg