These gluten-free vegan lemon poppy seed muffins are so easy to prepare and make a great breakfast treat. Top them with this simple lemon glaze to take them to the next level!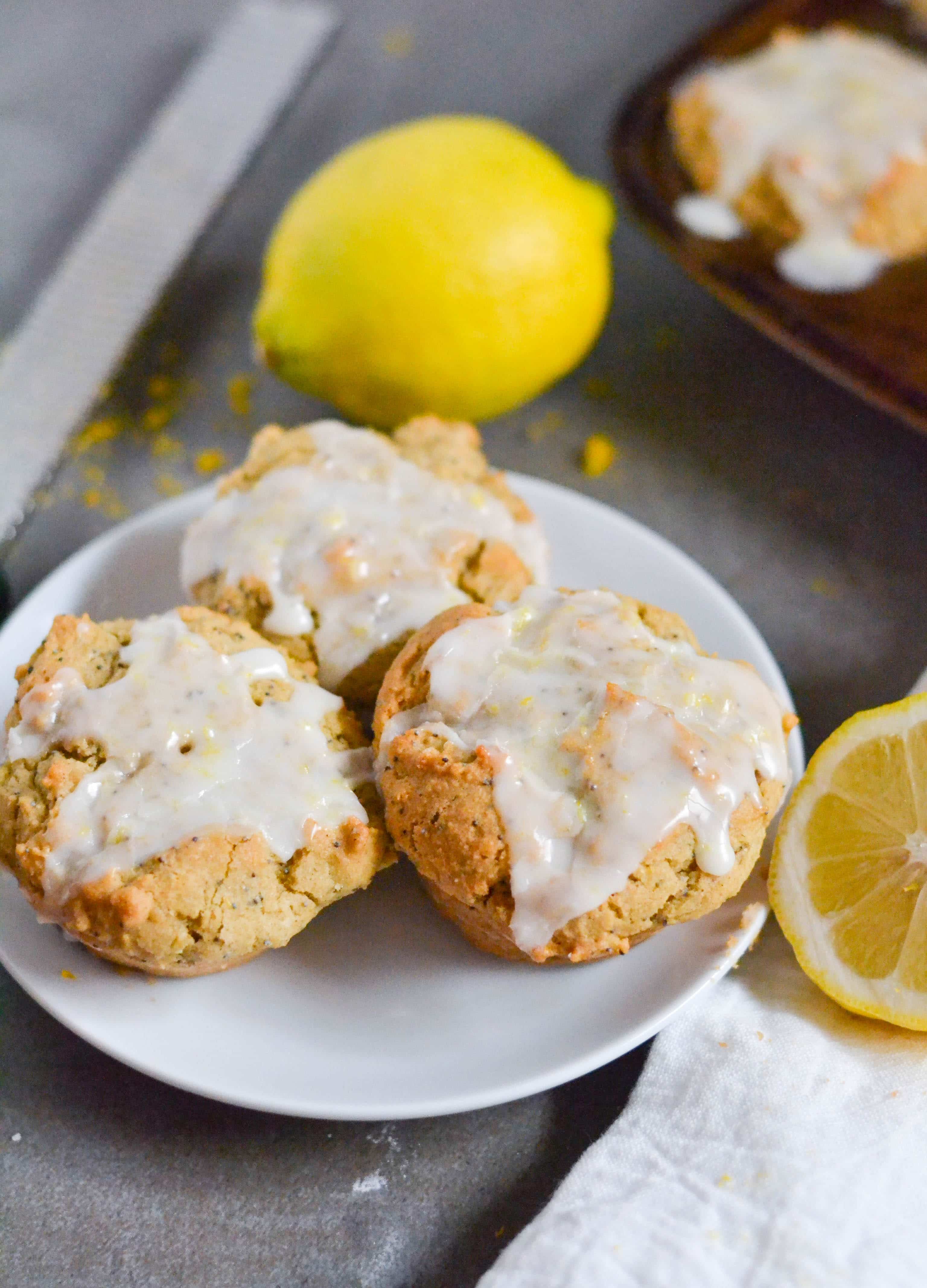 If you know me, you know how much I love lemon. Give me a lemon dessert and I'll be a happy girl. Now give me a lemon breakfast… and I'll be an even happier girl. That's where these gluten-free vegan lemon poppyseed muffins fit in. They're kind of dessert since they have a glaze on them but they're called muffins which make them totally appropriate for breakfast.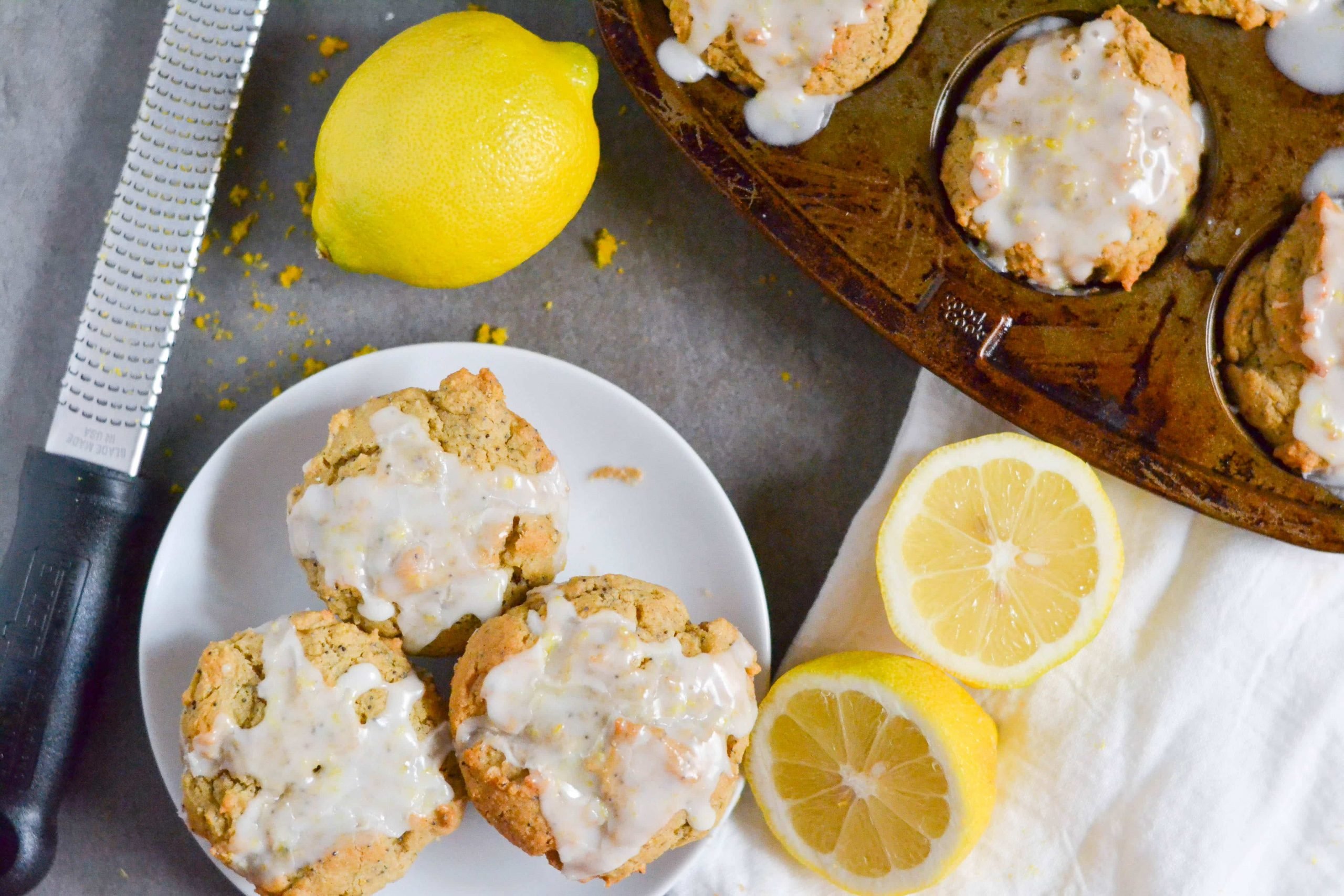 Is that a cupcake? No! No! It's a muffin. So I'm allowed to eat it at breakfast without your judging eyes. Please and thank you. 
I legit replayed that scenario in my head on my drive to work with my lemon poppyseed muffins at least twenty times. You know, for practice in case it came up while I was eating my breakfast… because I'm crazy like that. Was it necessary? Of course not! All that anyone said was… Wow! Those look like a delicious breakfast! Moral of the story is put as much glaze on your muffins as you want and call it breakfast. And then 12 hours later, eat another one and call it dessert. No judgment here. 
These muffins were born out of a donut recipe. I was making lemon donuts for brunch at my house and the fluffy, pillowy donuts that resulted from my experimentation reminded me and my boyfriend of muffins. I mean they were also great donuts but I like my donuts a little on the denser side and these most definitely were not dense. They were nice and light and airy which you normally wouldn't expect from a gluten-free and vegan recipe. The next day I decided that I needed to try out my new recipe in muffin tins, of course adding some poppy seeds and a lemony glaze for good measure. The results were exactly what I hoped they'd be! A delicious, lightly sweet lemon muffin that was soft and tender and rose beautifully. Top it with some sweet and tangy lemon glaze and we have a found breakfast jackpot, my friends. While the glaze isn't technically necessary, I feel like it is not to be skipped. The muffin itself isn't terribly sweet so the glaze provides a nice touch of sweetness from the powdered sugar. Plus who wouldn't want some extra lemon flavor? 
This recipe as written makes 12 regular sized muffins, but I think for a brunch making mini muffins would be so cute! How would you make these gluten-free vegan lemon poppy seed muffins – regular sized? or cute little minis? Tell me in the comments below!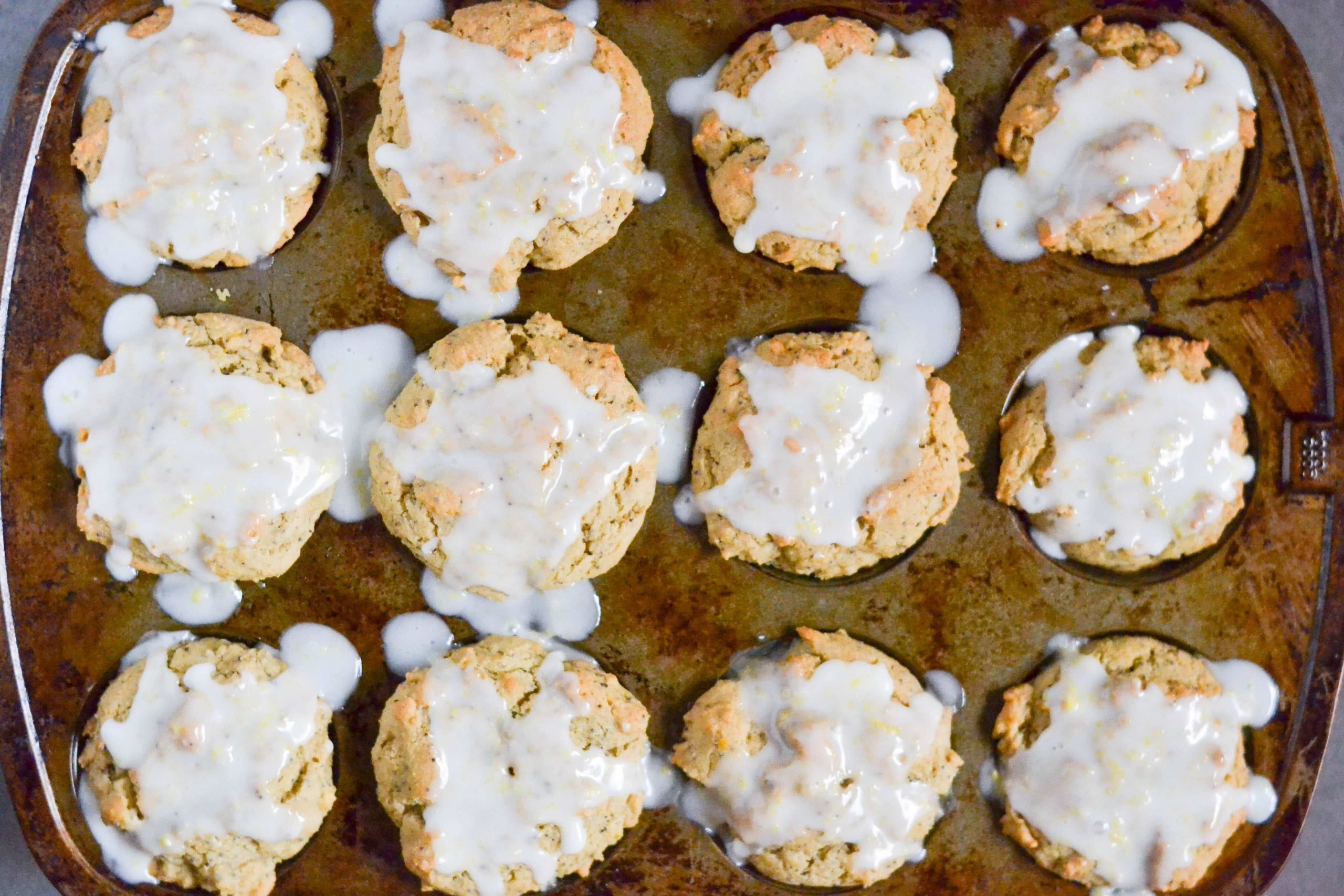 Gluten-Free Vegan Lemon Poppy Seed Muffins
Prep time:
Cook time:
Total time:
Ingredients
For the muffin:
⅔ cup granulated sugar
zest of 2 lemons
3 cups gluten-free flour blend
1½ tsp baking powder
1½ tsp baking soda
1 tsp salt
2 tbsp poppy seeds
6 tbsp fresh lemon juice (from 2 medium lemons)
1¾ cup almond milk
1 tbsp apple cider vinegar
½ cup vegetable oil
1 tsp vanilla
For the glaze:
¾ cup powdered sugar
1 lemon, zested and juiced
Instructions
Combine the granulated sugar and lemon zest. Rub the zest into the sugar for a few minutes until the sugar is very fragrant.
Combine lemon sugar with the gluten-free flour, baking powder, baking soda, salt, and poppyseeds. Stir to combine.
In a medium bowl, combine lemon juice, almond milk, apple cider vinegar, vegetable oil and vanilla and whisk to combine. Pour the wet ingredients into the dry ingredients and stir until combined.
Spray muffin tins with either cooking spray (not the baking kind which is not gluten-free) or paper muffin cups.
Fill muffin cups with batter.
Bake at 375F for 26-30 minutes. Makes 12 large muffins.