This 4-ingredient guacamole is a quick and easy recipe that requires only a handful of simple ingredients. It's a perfect combination of creamy avocado, tangy lime, flavorful red onion, and a bit of kosher salt. It's so easy to make at home, you'll never need to buy it at the store again.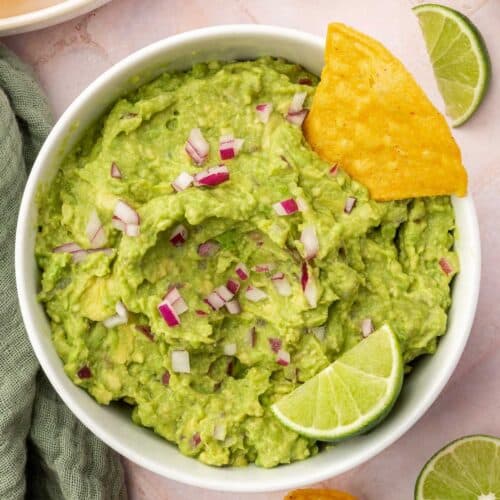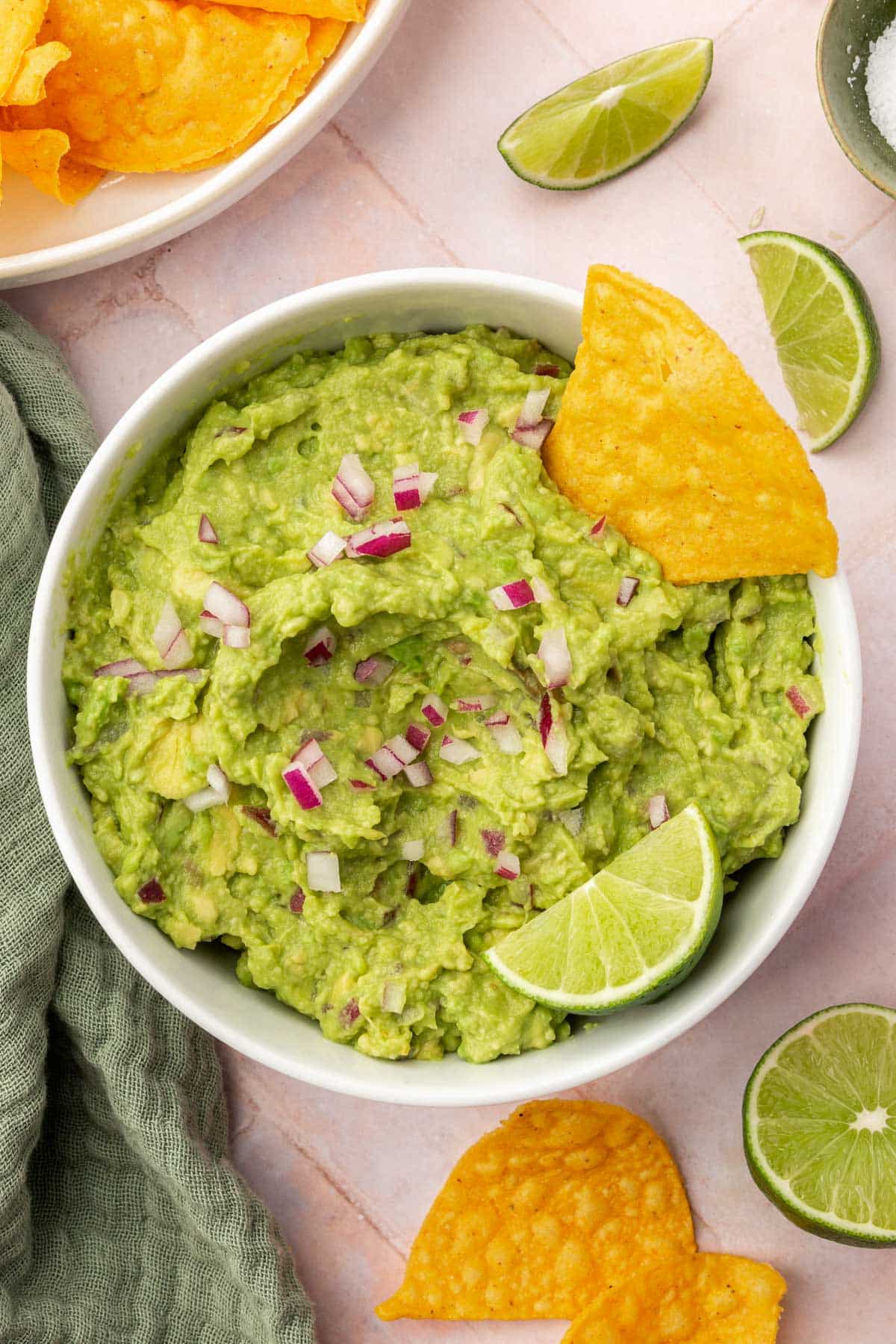 Why this recipe works
If you're a fan of guacamole, but find yourself intimidated by the long list of ingredients and in most recipes, you're in luck. This simple 4-ingredient guacamole recipe uses only the basics to make this creamy dip that is big in flavor.
Everyone has their own version of guacamole and what they must have in it, whether it be jalapeño, tomatoes, cilantro, lemon juice, or red onion. While all of these versions are delicious in their own right, I stripped down my guacamole to just the essentials so that you can make guacamole any time.
All you need are some ripe hass avocados, red onion, lime juice, and salt for this basic guacamole recipe. The simplicity of this recipe really lets the avocados shine! This is the perfect recipe if you want to keep it simple, don't like cilantro or other add-ins, or are limited on ingredients in your pantry.
You'll love this recipe because:
Ingredients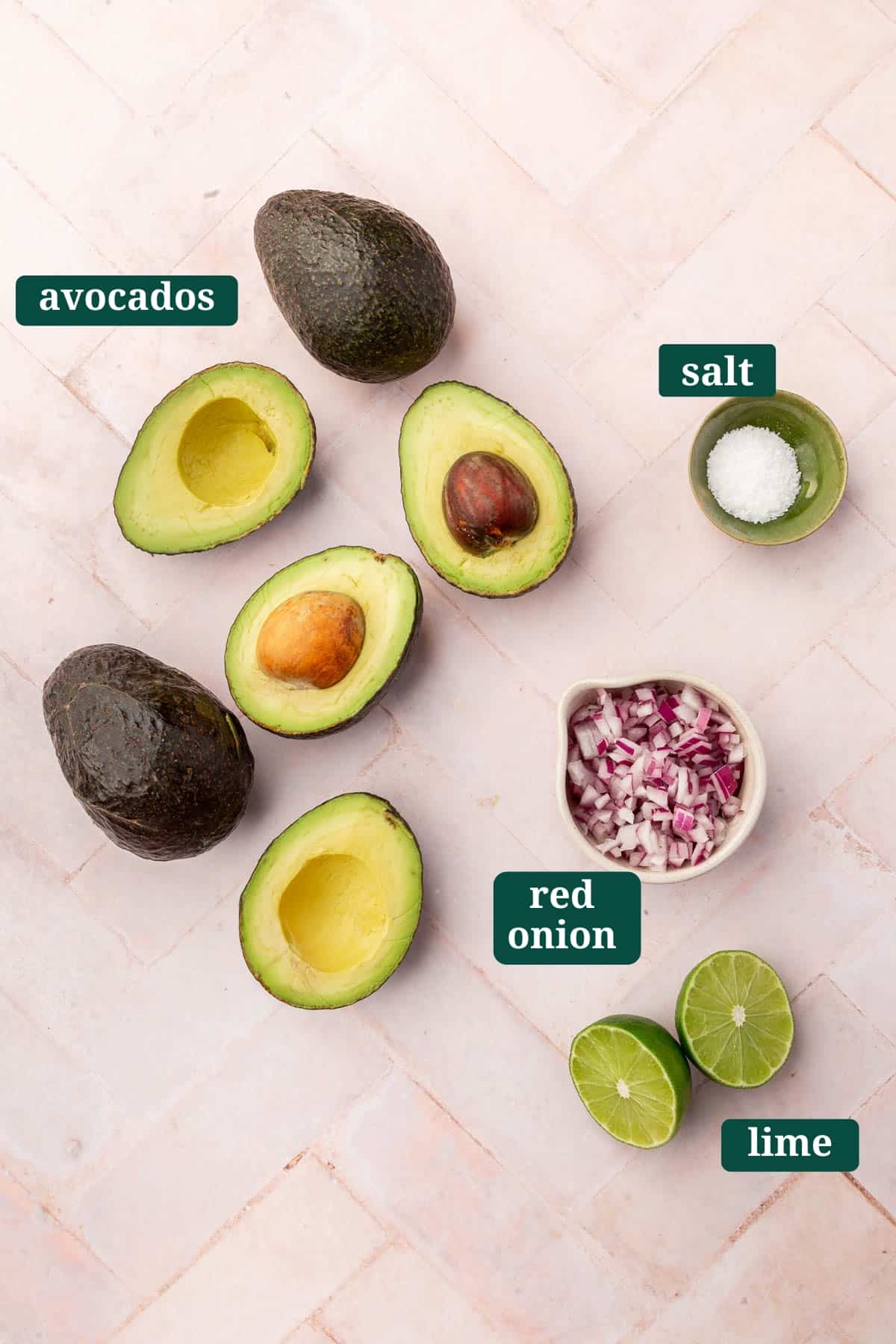 Ingredient Notes
Avocados – Delicious guacamole starts with creamy avocados. Select ripe avocados that are slightly soft to the touch, but not too mushy. To test for ripeness, gently press the skin near the stem to see if it gives slightly. If it's too hard, it's not ripe enough, and if it's too mushy, it's overripe and will be brown on the inside.
Lime juice – Use fresh lime juice for the best flavor. If you don't have lime juice, you can also use lemon juice.
Salt – Use a good quality salt, like kosher salt or sea salt. Start with the amount listed in the recipe card and then taste with a tortilla chip to see if you need to add additional salt.
Red onion – Chop the red onion finely, so that you don't get big chunks of onion in your bite of guacamole. If you don't love the flavor of raw red onion, you can also soak the onion in cold water for 10 minutes to reduce the sharpness of the flavor. White onion would also work well in this recipe.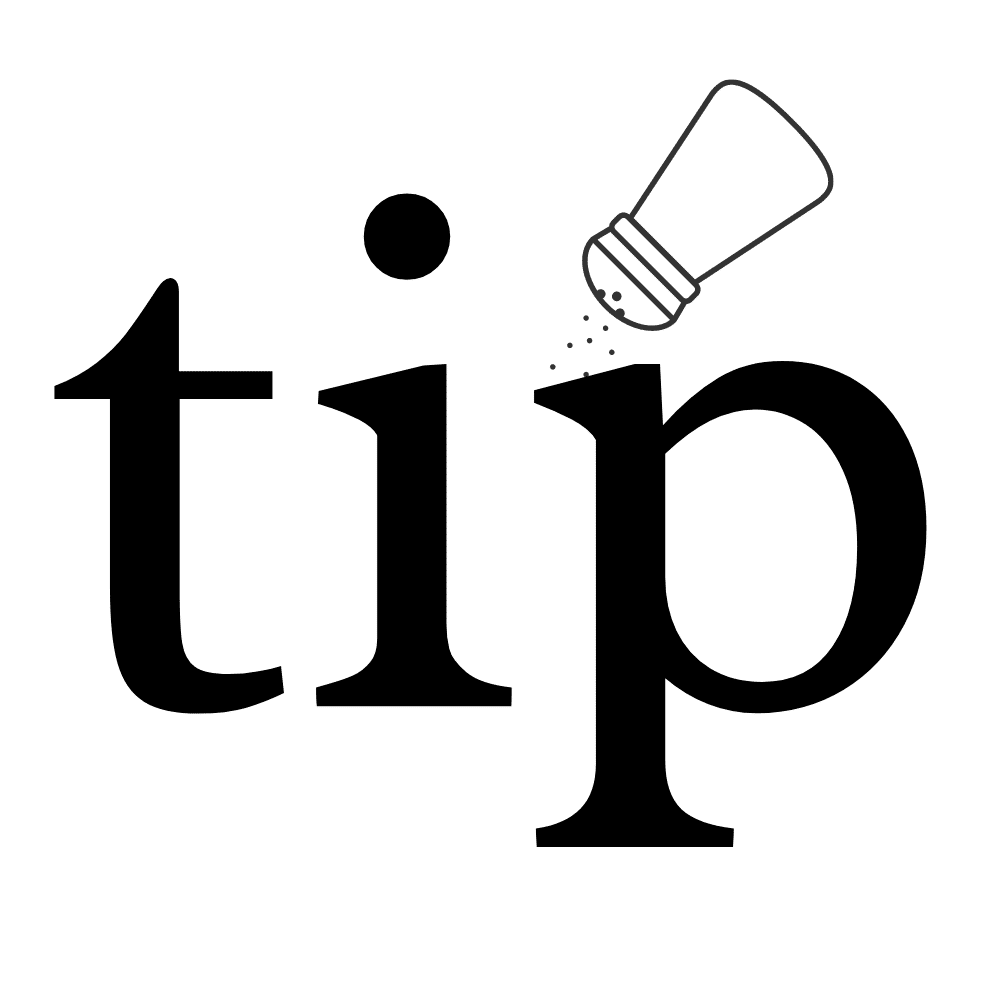 Since you'll need a few avocados for this recipe, you'll want to buy avocados that are all at the same level of firmness when you're at the store so they ripen at the same time. If you buy a few that have more give than others, those will ripen more quickly making it difficult to make your guacamole.

Step-by-Step instructions
Did you know you can make guacamole at home with only 4 ingredients? I'm going to show you how in this easy recipe. You seriously won't believe how much flavor you can get with just a few simple ingredients.
The below step-by-step photos and instructions are meant to show you how the recipe looks at various stages and not a complete recipe (scroll down to the recipe card for ingredient amounts). Place special attention to how chunky I leave the avocados when I'm mashing them!
For the ingredient list with measurements, full instructions, printable recipe, and additional notes, please scroll down to the recipe card.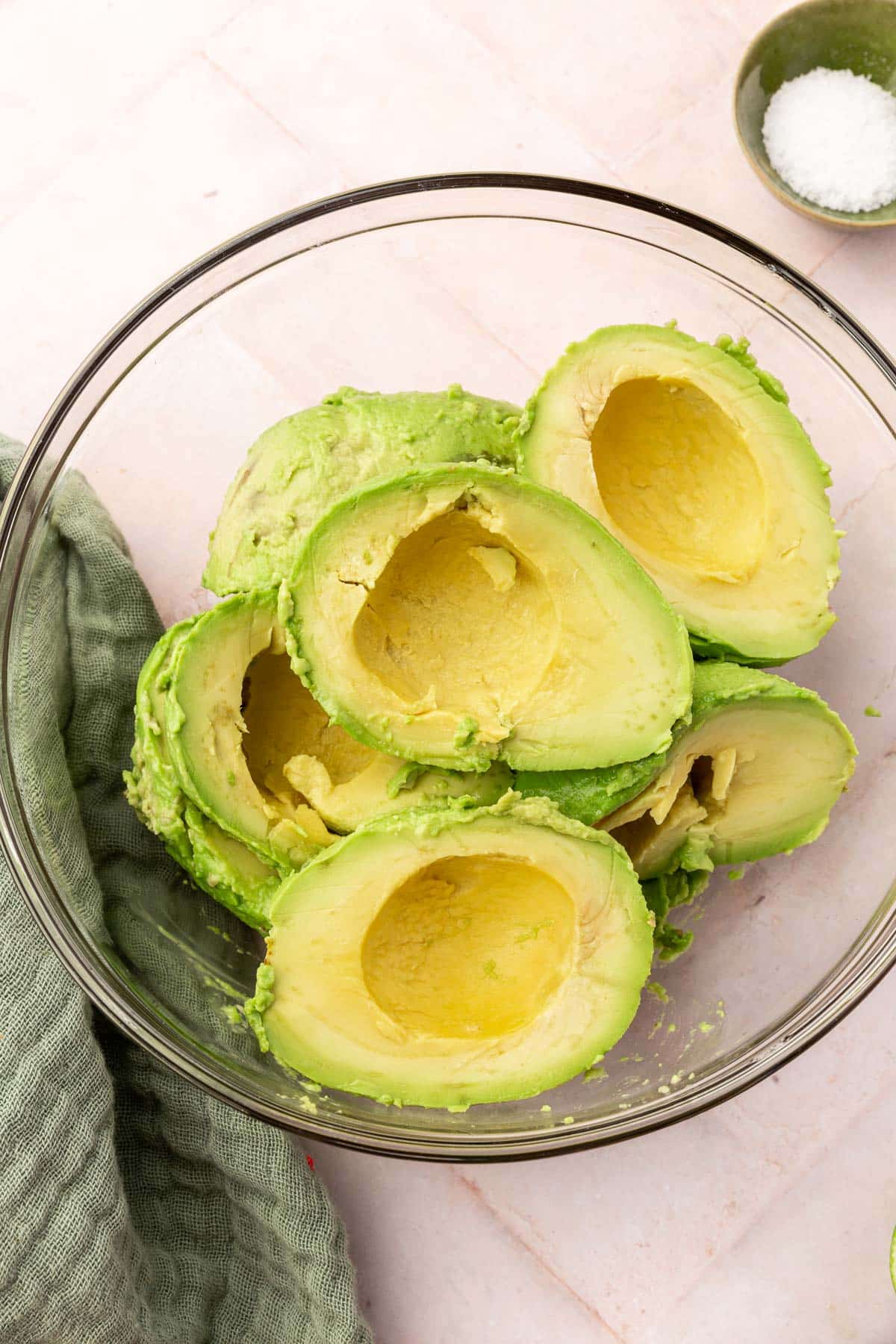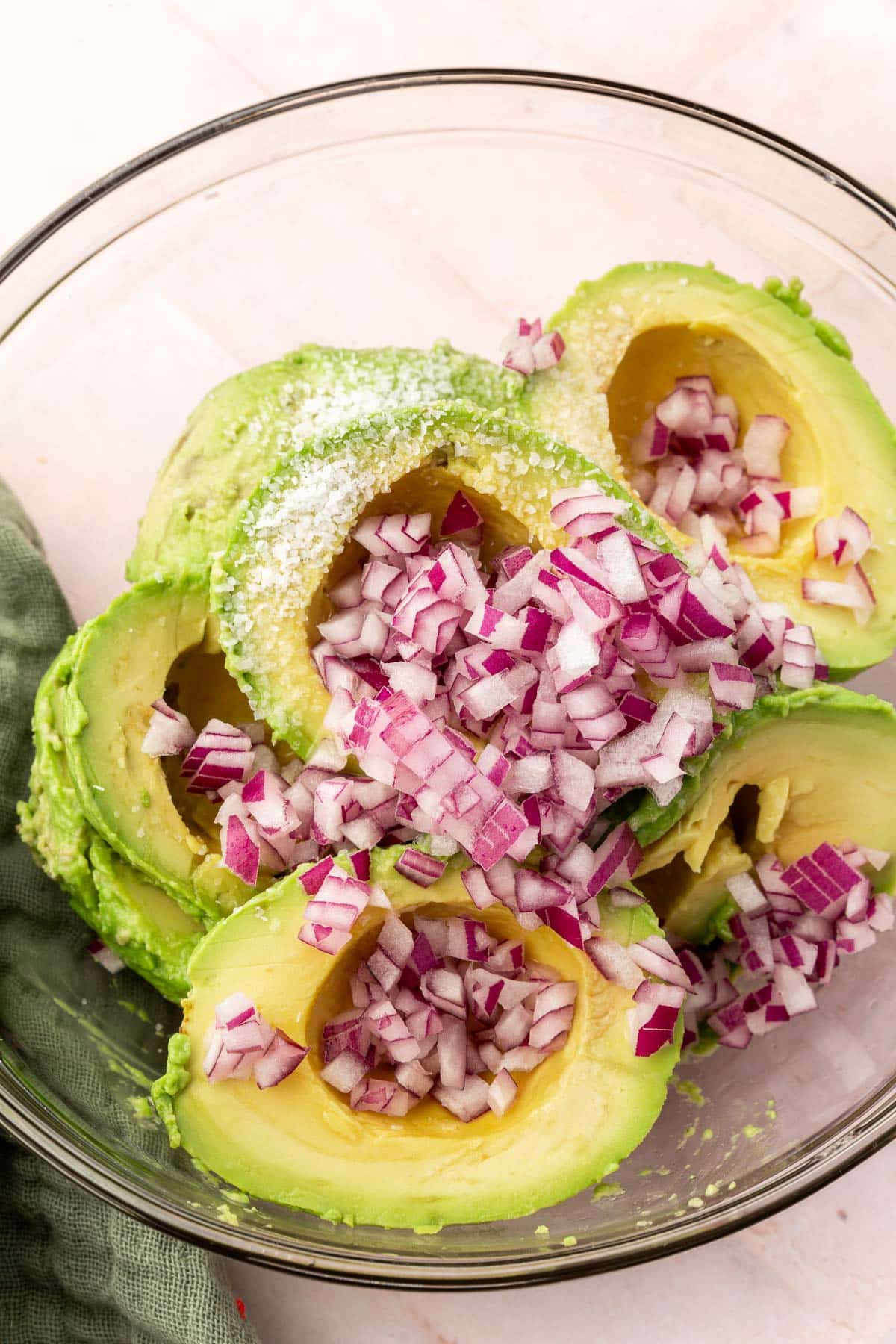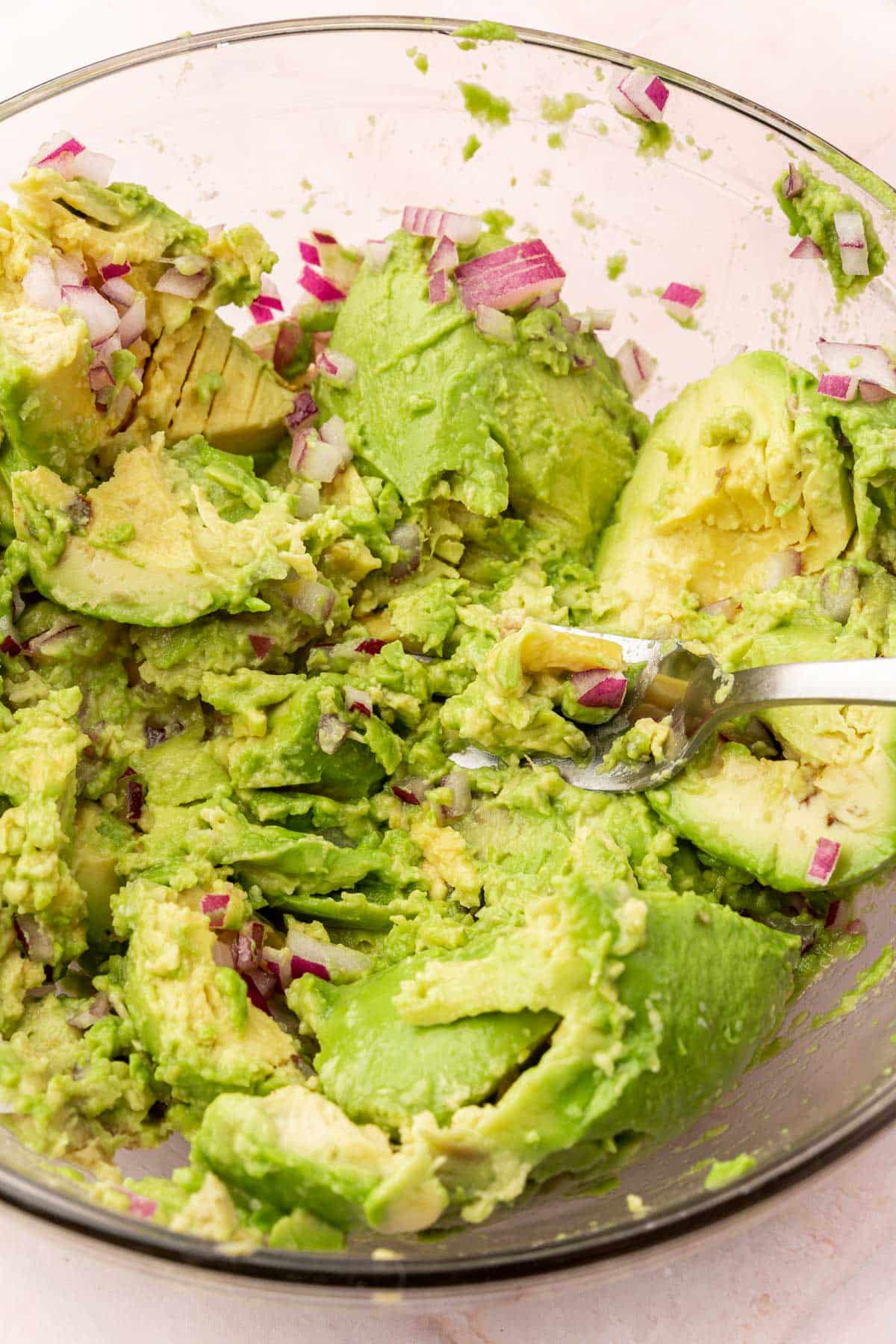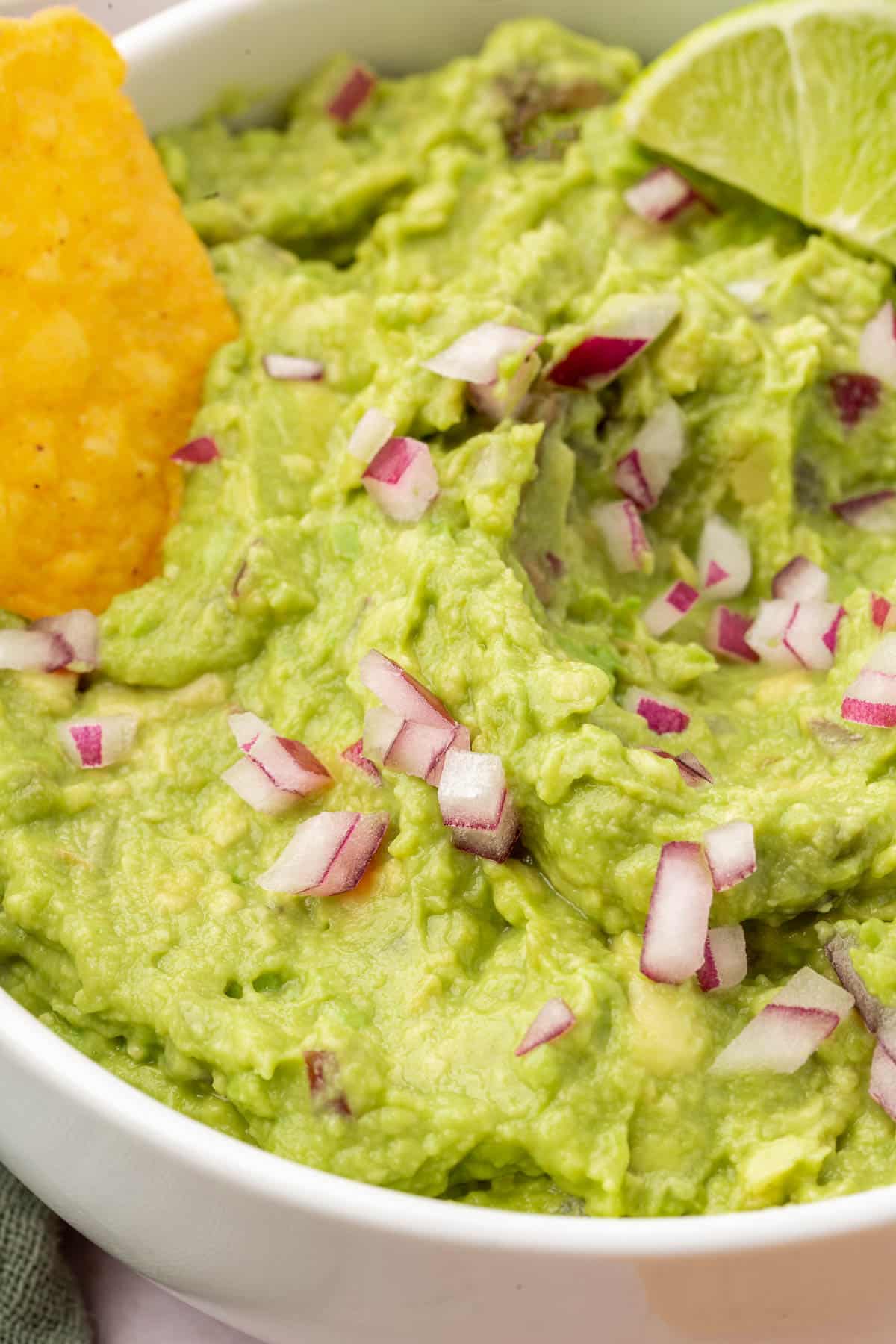 Recipe FAQs
How do I choose ripe avocados for guacamole?
The avocados should have some slight give to them but not be very soft when you gently squeeze it. A hard avocado can take up to a week to ripen, so keep that in mind when buying avocados for guacamole. You will most likely want to purchase them a few days in advance.
How do you store avocados before making guacamole?
Store avocados at room temperature until they are fully ripe. Once they are ripe, you can place them in the refrigerator to prevent them from going bad quickly. I usually find I can store them in the refrigerator for an extra 2-3 days this way.
What should I serve with guacamole?
Guacamole is typically served with tortilla chips, but it can also be served with raw vegetables, such as carrots, celery, or bell peppers, or as a topping for tacos, burritos, burrito bowls or grilled meats and fish.
Storage instructions
Storage: You can store leftover guacamole in the refrigerator for 2-3 days. In an airtight container, the guacamole will brown quickly, but still be edible if slightly brown. For best results, follow my tips for how to keep guacamole from browning below.
Freezer Option: Guacamole does not freeze well so I do not recommend doing this. It will lose its creamy texture once frozen.
How to keep guacamole from browning
There is nothing worse when you have put in the hard work to make guacamole and it turns an ugly brown color in the refrigerator. I have the best hack for keeping your guacamole from browning!
First, smooth the surface of the guacamole with the back of a spoon. Then, press a piece of plastic wrap over the surface of the guacamole so that it's touching. This will make sure you remove as much air as possible touching the surface area of the guacamole.
Pour a shallow layer of water over the plastic wrap and place a lid on top of the container. When you're ready to serve, just pour the water off the top and stir to serve. It stays green every time and really slows down the browning process!
If you want to cut back on plastic usage in your house, you can also carefully pour water directly on the surface of the guacamole and then pour it off before using. Just stir before using. This method is a little messier than the plastic wrap method, but still will help keep your guacamole from turning brown.
More delicious dips to try
Did you make this recipe?
I'd love to know! Please rate it and leave a comment below. You can also share your pictures and tag @adashofmegnut on Instagram.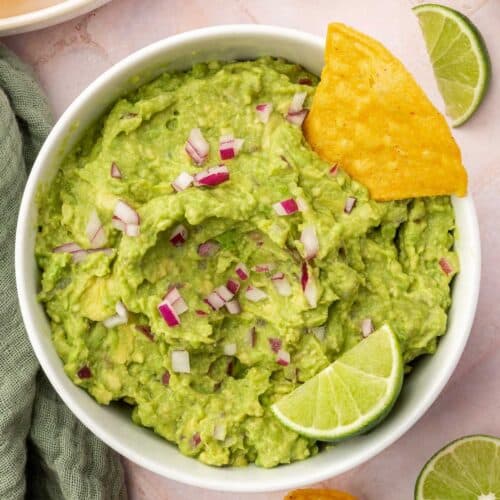 4-Ingredient Guacamole
This 4-ingredient guacamole is a quick and easy recipe that requires only a handful of simple ingredients. It's a perfect combination of creamy avocado, tangy lime, flavorful red onion, and a bit of kosher salt. It's so easy to make at home, you'll never need to buy it at the store again.
Print
Pin
Rate
Ingredients
3

ripe large avocados

2

tablespoons

fresh lime juice

(from 1 lime)

1

teaspoon

kosher salt

(or to taste)

1/2

cup

red onion

(finely diced)
Instructions
Cut the avocados in half and remove the pit. Scoop the flesh of the avocado into a bowl.

Add the lime juice, kosher salt, and finely chopped red onion to the bowl and mash the avocado with a fork until it reaches your desired consistency. I like to leave mine chunky.

Taste and adjust the seasoning as needed.

Serve immediately or cover and chill in the fridge until ready to serve.
Notes
Please be careful when you are cutting your avocados and removing the pit. Do not try to remove the avocado pit while holding the avocado in your hand. I personally like to cut my avocado in half, and then cut it into quarters. The pit should easily release by pulling it with your hand this way.

Use the chips or vegetables that you are serving the guacamole with when testing to see if it needs more salt or lime juice. If your chips are really salty, that will determine the amount of salt you want to add into your guacamole.
Nutrition
Calories:
126
kcal
|
Carbohydrates:
8
g
|
Protein:
2
g
|
Fat:
11
g
|
Saturated Fat:
2
g
|
Polyunsaturated Fat:
1
g
|
Monounsaturated Fat:
7
g
|
Sodium:
296
mg
|
Potassium:
385
mg
|
Fiber:
5
g
|
Sugar:
1
g
|
Vitamin A:
112
IU
|
Vitamin C:
9
mg
|
Calcium:
12
mg
|
Iron:
0.4
mg