This brown sugar bacon wrapped apples recipe uses only four ingredients to make the ultimate appetizer. They're so easy to make you'll be whipping them up in no time for your next party. And guess what? They're gluten-free and dairy-free!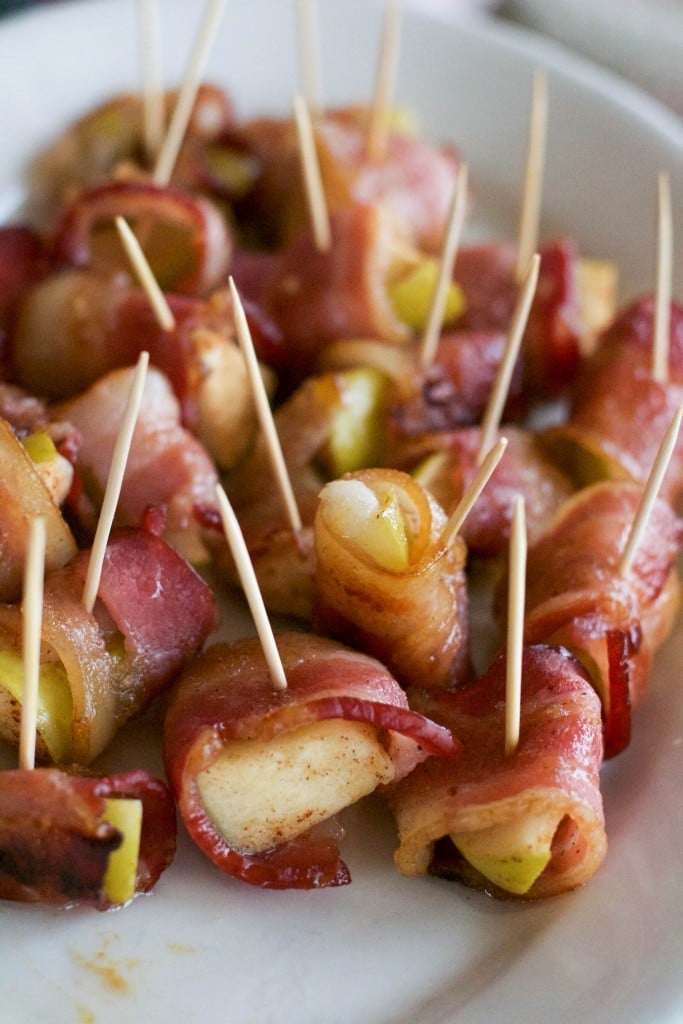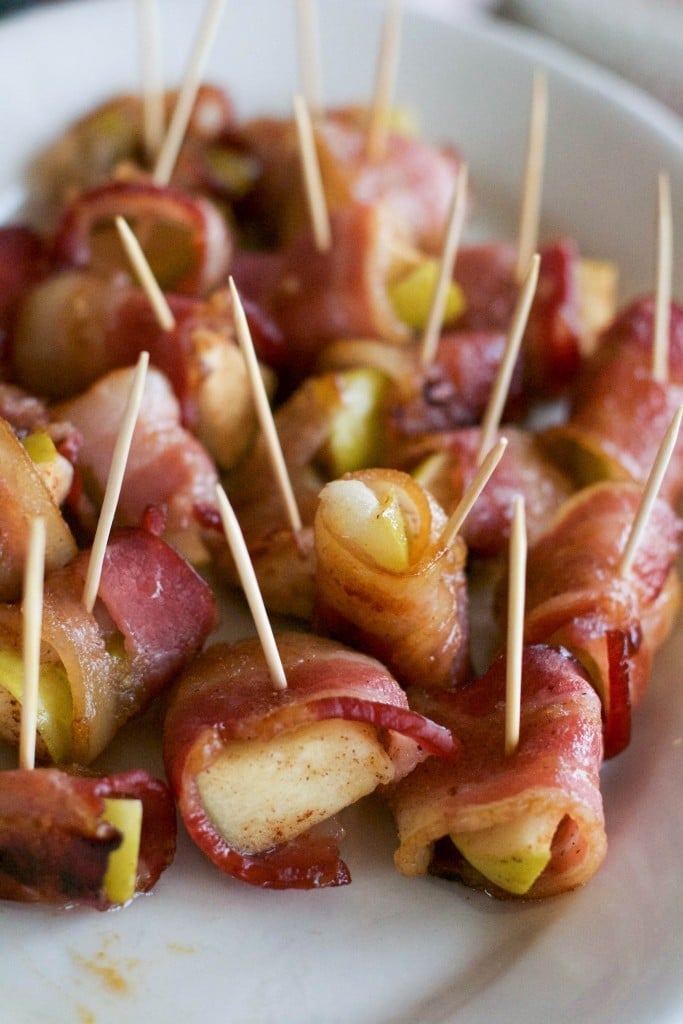 'Tis the season for appetizers! I don't know about you but there are holiday parties and events left and right this month. So I find myself in need of an appetizer to share – one that's gluten-free and dairy-free of course. This brown sugar bacon wrapped apples appetizer was born out of forgetfulness. That is… me forgetting that I needed to bring an appetizer to a party if I wanted to have something to eat before the main meal. So I did what any good food blogger would do – went to the kitchen to see what I could scrounge up into something delicious. And there I saw it – bacon. If you know me, you know I'll eat bacon on ANYTHING. It also pairs well with some many flavors which is why it's a favorite for appetizers. I swear, wrap just about anything in bacon and you have an appetizer! 
Bacon is also (generally) gluten-free so it is a great way to create a flavorful appetizer for us gluten-free folk. Once I found the bacon in the refrigerator, I know my last minute appetizer was going to be good! And then out of the corner of my eye, I spotted the apple I forgot to eat with my lunch at work that day. Bacon wrapped apples for the win! And what goes better with bacon and apples than brown sugar and cinnamon right? Exactly. So really this appetizer is 4 ingredients only. I really thought when I created this brown sugar bacon wrapped apples appetizer that I was just going to be making something edible that I could eat for the party. But then, after I placed the plate on the appetizer table, I knew it was definitely more than that!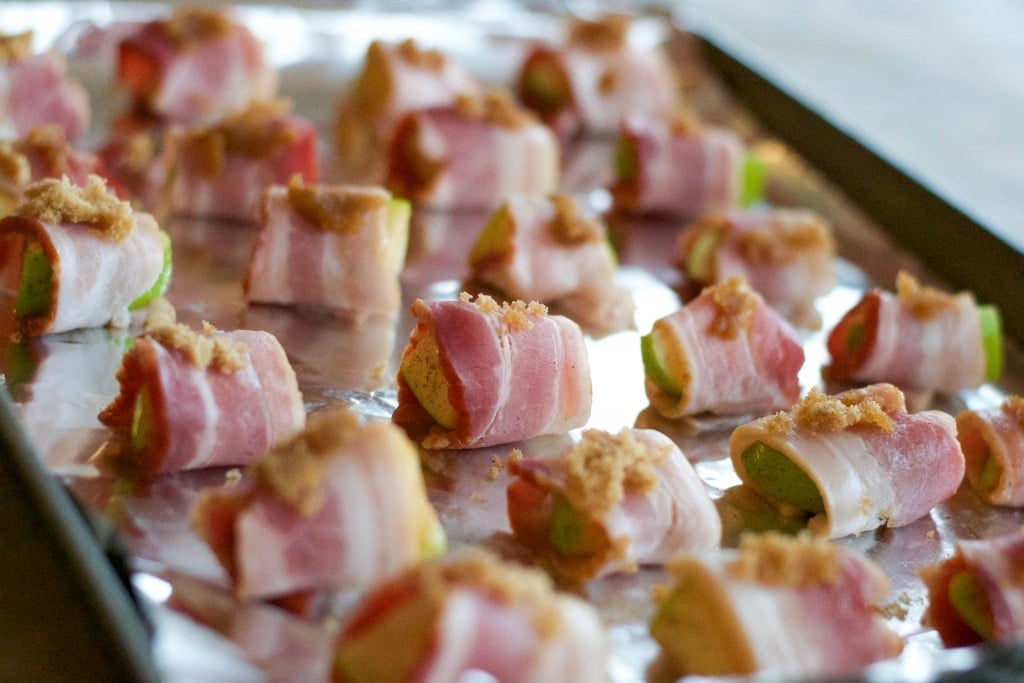 These little babies were gobbled up in no time! Luckily I was prepared and had saved myself a few on a small plate so that I would have something to eat as good gluten-free appetizer hoarders do. But, I know exactly what I'll be making next time I head to a party this month. Four ingredients, 30 minutes. That's all you need!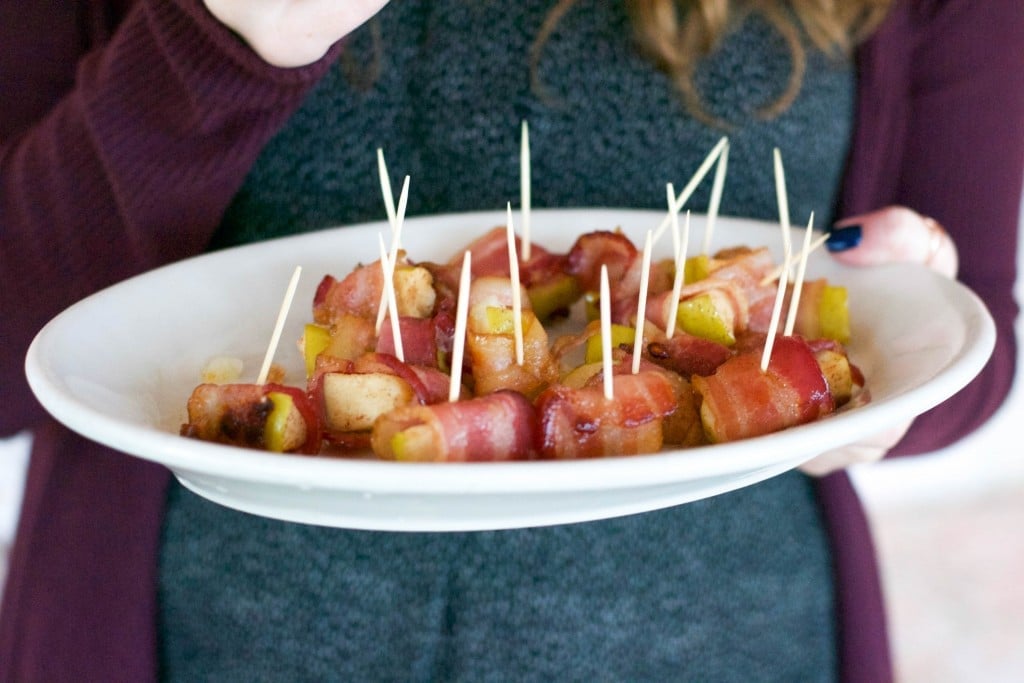 Brown Sugar Bacon Wrapped Apples
Prep time:
Cook time:
Total time:
Ingredients
2 medium granny smith apples (cut into 1 inch chunks - I got 24 chunks out of 2 apples)
8 slices of bacon, cut into thirds (you can also do 12 pieces cut in half)
¼ cup brown sugar
1 tsp cinnamon
Instructions
Preheat oven to 350F.
In a small bowl, mix together cinnamon and brown sugar
Lay out your bacon strips. Spoon half of the brown sugar cinnamon mixture evenly over the slices of bacon.
Place a chunk of apple on one end of the bacon. Roll the bacon around the apple.
Place apple bite seam side down on a baking sheet lined with aluminum foil. Repeat with remaining slices. Top with remaining brown sugar mixture.
Bake for 25-35 minutes, or until bacon is crisp.
Notes
*Use an apple like granny smith that is firm and holds up well when baking. You don't want something that will get mushy in the oven!