Bacon wrapped dates with goat cheese are a great appetizer for potlucks, holiday parties and entertaining guests all year long! Trust me, they'll be a party favorite!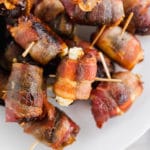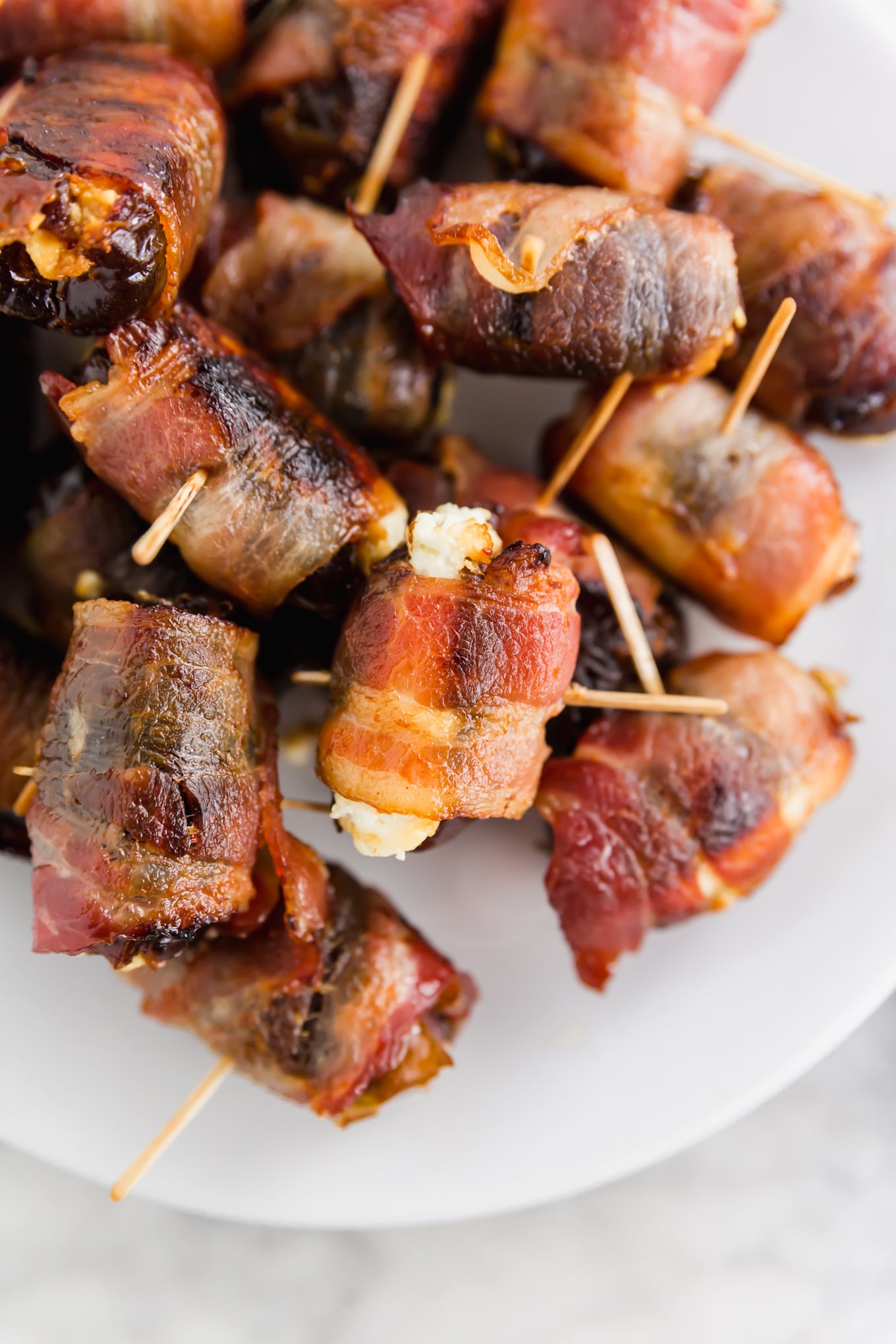 This recipe was originally posted on November 24, 2011 and updated on January 27, 2020.
Have you tried bacon wrapped dates before? If not, you're in for a treat. This version is stuffed with goat cheese, but in it's most basic form all you need for bacon wrapped dates is bacon and dates!
Though, I encourage you to try this version with goat cheese. It's so delicious! Trust me, any time these goat cheese stuffed dates are around at a party, they get devoured in minutes!
What type of dates are best for bacon wrapped stuffed dates?
You want to get really big, juicy medjool dates for this bacon wrapped dates recipe.
Deglet noor dates are smaller and not as meaty as medjool dates. However, they can be used in a pinch if you are unable to find medjool dates.
Keep in mind that whichever type of date you use, you need to remove the pit! Just slice the date lengthwise and carefully remove the pit keeping the bottom of the date in tact.
Can't find dates at all? Try figs instead! They make a great substitution.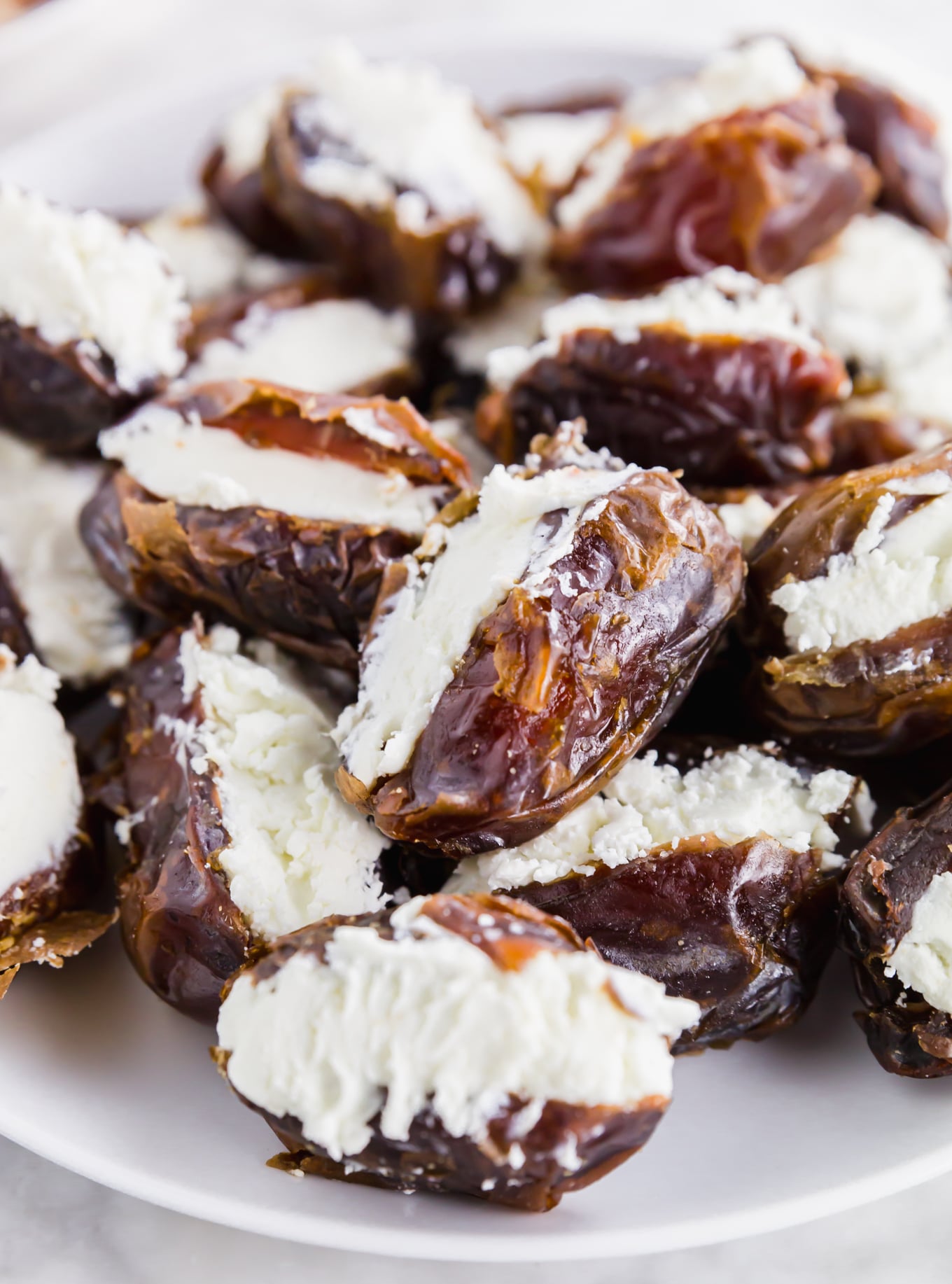 What type of bacon is best for stuffed dates?
You can use any kind of bacon for these bacon wrapped dates but I personally prefer to use a regular-cut bacon instead of thick-cut bacon.
Keep in mind if you use a thick-cut bacon, you may need to increase the oven time to fully cook the bacon through and make it crispy.
Is the toothpick necessary for making bacon wrapped dates with goat cheese?
A toothpick is not necessary for making stuffed bacon wrapped dates, but I personally like to use toothpicks for two reasons:
A toothpick helps keep the bacon from unwrapped in the oven. There is nothing worse than opening the oven and finding that the bacon has unraveled from the medjool date.
Toothpicks make these bacon wrapped dates easy party food. Guests can easily pick up the dates and pop them into their mouth in just a few bites. I'm all about making party food easier!
If you don't have toothpicks, don't let that stop you from making these tasty wrapped dates! Just place the bacon seam side down on the baking sheet to make sure that the bacon stays secured during baking.
Are Bacon Wrapped Dates Gluten-Free?
You bet bacon wrapped dates are gluten-free! Well… at least my bacon wrapped dates recipe is gluten-free.
Some recipes include soy sauce, which is not gluten-free. Some restaurants fry their bacon wrapped dates in a shared fryer with gluten, which then makes them not gluten-free.
Don't worry though, you can always make these super simple bacon wrapped dates and they will be gluten-free with just a few ingredients!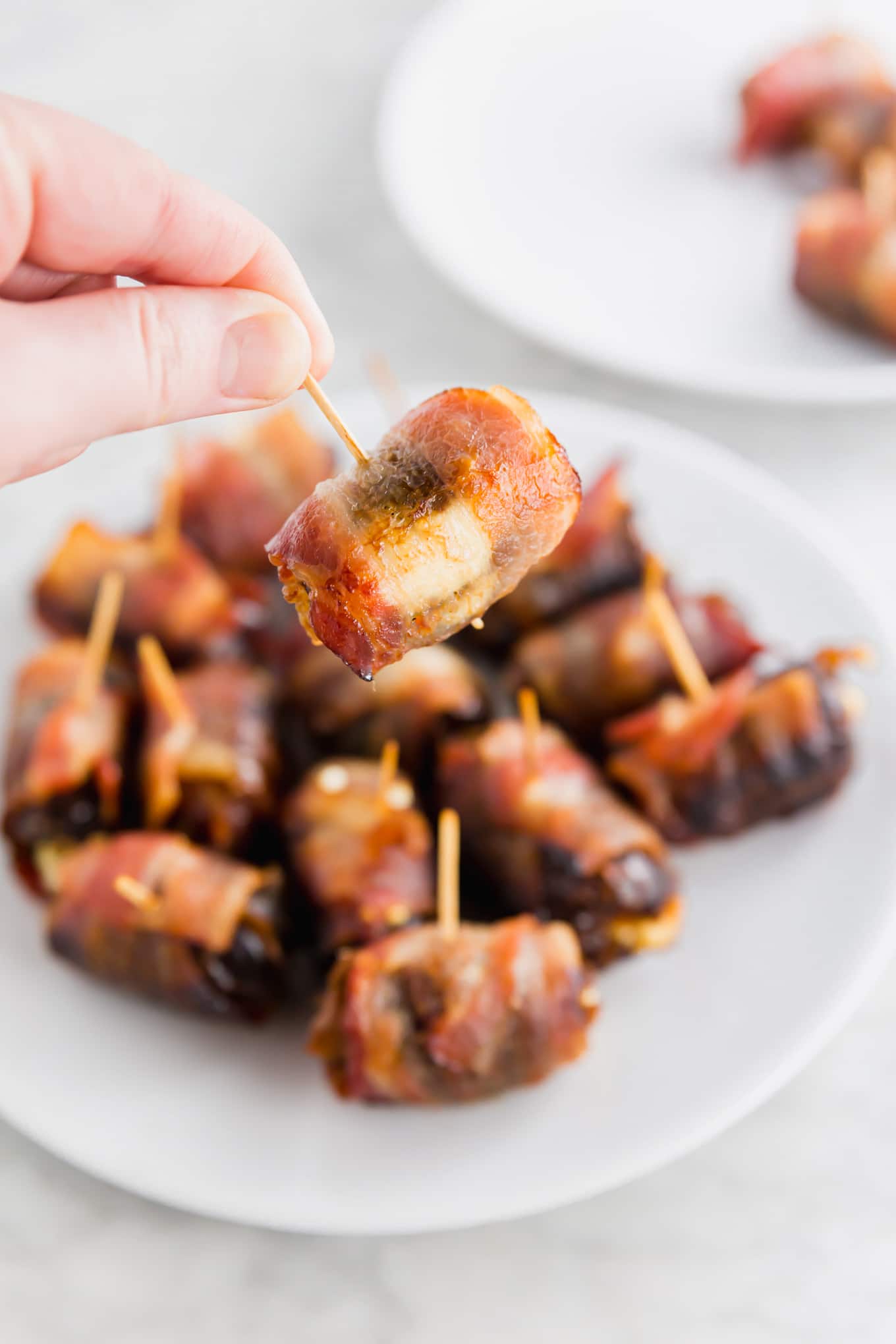 I can't eat dairy. Can I still make stuffed dates?
If you can't tolerate dairy, you can still make bacon wrapped dates. Instead of stuffing the medjool dates with goat cheese, you can stuff the dates with an almond, almond butter, or even cashew cheese!
Do I have to stuff the medjool dates with anything?
Of course, when it comes down to it, all you really need for bacon wrapped dates is 2 ingredients: bacon and medjool dates.
So you really don't have to stuff your dates with anything at all. They will still be yummy and quickly consumed by all of your party goers.
How to Make Ahead Bacon Wrapped Dates
Good news! Bacon wrapped dates can be made in advance!
You can assemble bacon wrapped dates ahead of time and then bake them in the oven as guests arrive. They can be made up to a day in advance and refrigerated before baking.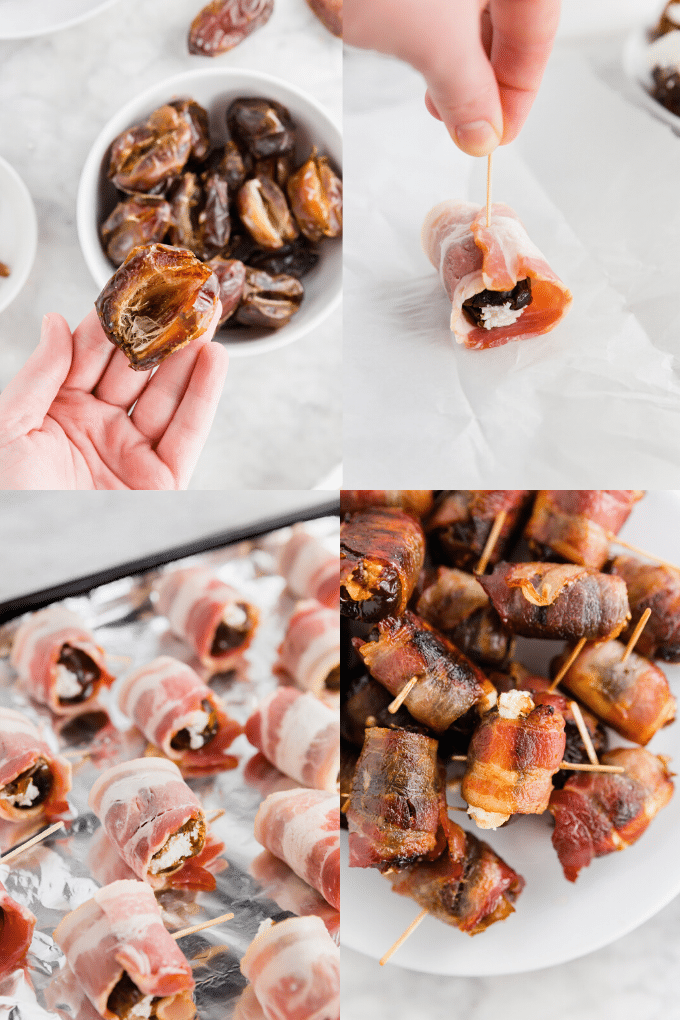 How to Make Stuffed Bacon Wrapped Dates Step-by-Step
It's so easy to make bacon wrapped dates. It just takes about 10 minutes of preparation to put them together, and then just bake in the oven!
First, you'll need to remove the pit of the dates. Make a slit lengthwise across the dates and carefully remove the pit.
Then, you'll stuff the date with softened goat cheese.
Carefully wrap the goat cheese stuffed date in half of a piece of bacon.
Insert a toothpick to secure the bacon.
Place the dates on a baking sheet lined with aluminum foil for easy cleanup.
Bake in the oven at 375F for 15 minutes. Then flip the dates over and bake another 10-15 minutes, until the bacon is crispy.
Allow to cool slightly and serve!
More Gluten-Free Appetizers For Your Next Party
Bacon Wrapped Dates with Goat Cheese
Bacon wrapped dates with goat cheese are a great appetizer for potlucks, holiday parties and entertaining guests all year long! Trust me, they'll be a party favorite!
Print
Pin
Rate
Ingredients
5

oz

goat cheese

24

fresh dates

(pitted)

12

slices

of bacon

(sliced in half)
Instructions
Preheat oven to 375 degrees Fahrenheit. Line a baking sheet with aluminum foil and set aside.

Slice open one side of the dates, cutting vertically. Make sure you do not cut through the entire date, you just want to open it up so we can stuff it with cheese. Carefully remove the pit and discard.

Stuff the opened dates with the goat cheese.

Wrap each date with half a piece of bacon and secure with a toothpick.

Place the dates in a roasting pan or baking pan with the toothpick laying down on the sheet pan. Leave an inch or so in between each date.

Bake at 375F for 15 minutes. Flip the bacon wrapped date over, so that the toothpick is still laying on it's side. Bake for another 15 minutes, or until the bacon is cooked and crispy.

Let cool for a few minutes and serve.
Nutrition
Calories:
131
kcal
|
Carbohydrates:
18
g
|
Protein:
2
g
|
Fat:
5
g
|
Saturated Fat:
2
g
|
Cholesterol:
11
mg
|
Sodium:
90
mg
|
Potassium:
193
mg
|
Fiber:
1
g
|
Sugar:
16
g
|
Vitamin A:
105
IU
|
Calcium:
22
mg
|
Iron:
0.3
mg