Thanksgiving Sugar Cookies
These gluten free Thanksgiving sugar cookies are so adorable for the holidays! Decorated as turkeys and fall leaves, they'll be a party hit!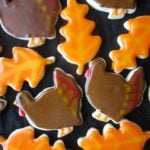 Thanksgiving is almost here!! Thanksgiving is by far my favorite holiday. Is it because of all of the delicious food? Well yeah. But it's also the holiday itself. You get to give thanks for all that you have: your family, friends, life. There's no worrying about if you got your sister an amazing gift, or what costume you are going to wear. It's simply sharing a great meal with people you love. Last year for Thanksgiving, my sister Amy and I went to Scotland to visit Katie, our younger sister. Katie spent the semester studying in Stirling. We didn't want to Katie to be all alone for a holiday (at least that's what we told our parents) so we brought Thanksgiving to her. These cookies made the trip from Madison to Chicago to Scotland in a tupperware. Talk about sturdy cookies right! Amy and I may have had a few on the way there… it's a long flight. We spent a few days in Edinburgh and then took a train to London. For Thanksgiving we ate at a Mexican restaurant and then saw the musical Lion King and then skyped with the entire family. Pretty interesting Thanksgiving if you ask me. Nothing like being in a country that doesn't celebrate the holiday. It reminds me of the time I celebrated 4th of July in Denmark. I'll spare you of the mishaps of the rest of our trip until a later date… maybe I'll make something that I had on the trip and uncover the misfortunes of Amy and Megan in the UK. It could probably be a movie on Lifetime. I'm definitely looking forward to a more traditional Thanksgiving this year with my family!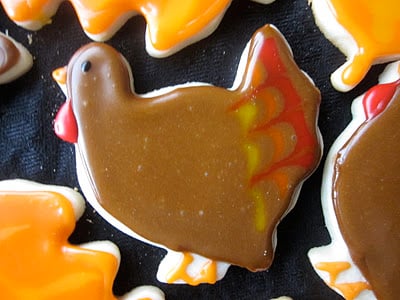 Gluten Free Thanksgiving Sugar Cookies
These gluten free Thanksgiving sugar cookies are so adorable for the holidays! Decorated as turkeys and fall leaves, they'll be a party hit!
Print
Pin
Rate
Ingredients
For the Cookies:
2 1/2

cups

gluten free flour blend

1/2

tsp

xanthan gum

(if your blend does not already contain it)

1

cup

butter

(softened)

1

cup

powdered sugar

2

tsp

almond extract

1

tsp

pure vanilla extract

1

tsp

salt

1

egg
Royal Icing:
4

cups

powdered sugar

(sifted)

2

tbsp

meringue powder

5

tbsp

water

1

tsp

vanilla

(or almond extract)
Instructions
For the Cookies:
In a medium bowl, whisk together gluten free flour blend and xanthan gum (if using). Set aside.

Cream butter and powdered sugar in a large bowl with an electric mixer.

Mix in egg, vanilla, almond extract and salt and beat until mixed well.

Gradually add in flour blend (1/2 cup at a time) and mix after each addition. Be sure not to over mix. I use the electric mixer for the first 2 cups of flour and then hand mix the last 1/2 cup.

Put dough in the refrigerator for an hour or so, or until the dough firms up. You can also put it in the freezer but I would only do that for 20-30 minutes otherwise it's very difficult to roll out.

Sprinkle your work surface and rolling pin with powdered sugar.

Roll the dough out to a 1/4 inch thickness.

Cut with cookie cutters.

Place on a greased cookie sheet and put back in the freezer for 10-15 minutes.

Then, bake in the oven at 375 degrees Fahrenheit for 8-10 minutes or until cookie all the way through. The cookie should not brown, but the edges can be slightly browned (that's a good indication it's done). Cool on a wire rack.
For the Royal Icing:
In a bowl of an electric mixer fitted with the whisk attachment, combine the powdered sugar, meringue powder and water.

Mix for 7-10 minutes, until the ingredients are well blended and the icing has a matte finish.

This is the base consistency. I usually add about 1 tsp more of water for a good outline icing (I use a 10 second rule) and add more water until I reach a 4-second icing for flood icing. This means that when you drizzle icing over the bowl of royal icing then the icing will flow back in with the rest of the icing in 4 seconds (10 second icing is the same but it will sink back in with the rest of the icing in 10 seconds). If you need to thin it out more then add more water. If you need to thicken it add more powdered sugar.
To Decorate:
To decorate turkey cookies, outline the cookies using either a #2 or #3 tip with brown icing. Then, thin out the icing (4 second icing) in brown and transfer to pastry bags. Then flood the cookies with the background color.

While the brown icing is still wet, you make a line of yellow, orange and red.

Then, with a toothpick drag in toward the center of the turkey. Do this three times so it makes feathers.

Let dry for a few hours or overnight.

When the icing is dry on the cookie, using a #2 tip pipe the turkey face with your choice of colors in a thick consistency (15-second icing).

Let the cookie sit until it is dry.
Nutrition
Calories:
282
kcal
|
Carbohydrates:
45
g
|
Protein:
2
g
|
Fat:
11
g
|
Saturated Fat:
6
g
|
Cholesterol:
36
mg
|
Sodium:
226
mg
|
Potassium:
6
mg
|
Fiber:
1
g
|
Sugar:
33
g
|
Vitamin A:
330
IU
|
Calcium:
15
mg
|
Iron:
0.7
mg