You'll love the flavor of these peanut butter chicken wings! Gluten-free tamari sauce, honey, and garlic help make peanut butter into a luscious sauce over these tender wings. They're baked (not fried!), gluten-free and oh so crispy! Look no further for the perfect game day appetizer – though you might not want to share!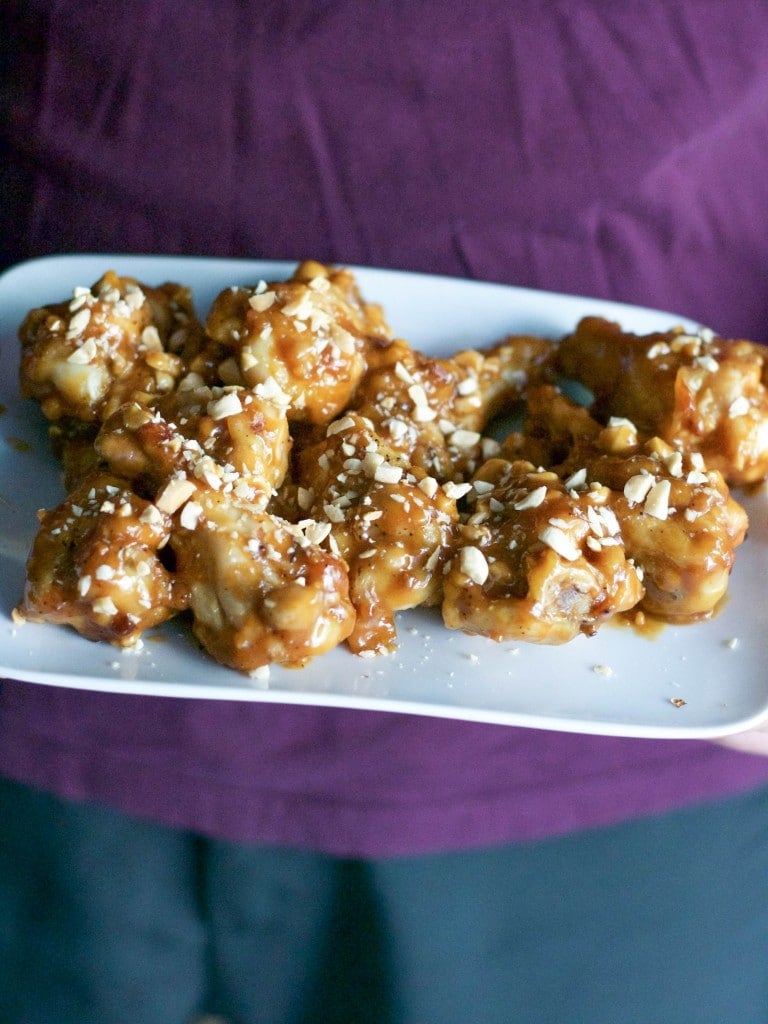 I've realized something within the past year. And it's really important. Here it goes… 
I. LOVE. CHICKEN. WINGS.
Told ya it was important! I never used to really grab for the chicken wings when given a spread of appetizers to choose from, especially on football Sundays. My go-to was always nachos (one day we will reunite cheese I promise) or spinach artichoke dip, but now.. I'm all about those chicken wings! Last fall I made a few varieties here on the blog that quickly became favorites in our house, these baked teriyaki chicken wings and these mango habanero chicken wings. Both are gluten-free (obviously) and baked in the oven rather than frying them in oil.  Still, you get that nice really crunch with my baking method which I absolutely love!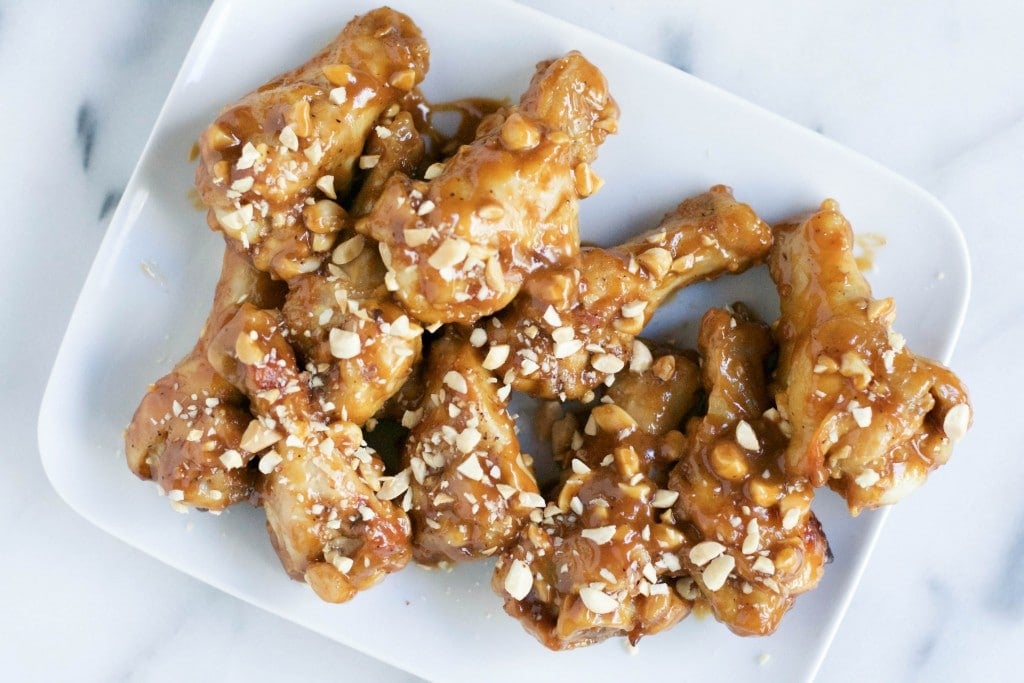 Today, we're making peanut butter chicken wings using the same method, just a different sauce. These peanut butter chicken wings are currently Michael's favorite as he has a slight obsession with peanut butter, as do I. I remember the first time I took a giant spoon full of peanut butter and placed some chocolate chips on it and popped it into my mouth (I learned this from my mom) and he looked absolutely horrified. Now, I see him do it ALL the time and all I can reply is "SEE! IT'S GOOD!" with a giant look of satisfaction on my face. But, I digress. 
Peanut butter chicken wings are crazy delicious. This isn't some peanut butter and jelly concoction. Oh no! This sauce is all grown-up with plenty of complex flavors. Gluten-free tamari sauce and garlic give the peanut butter that little edge that compliments the chicken so well. Chopped peanuts provide the crunch and texture that I love so much. And honey rounds out the sauce and gives that little touch of sweetness. These wings also come together in under an hour which means they are perfect for a little Sunday football appetizer action. Pop them in the oven at the start of the game and you have some delicious chicken wings before half time! I love that this recipe uses ingredients I always have on hand and it even works well for chicken thighs for dinner! One bite of these peanut butter chicken wings and you'll be using peanut butter for MUCH more than just your peanut butter and jelly sandwiches from now on.
What's your favorite football game day appetizer? Tell me in the comments! As always, show us what you're making! If you've made this recipe, tag us on Instagram or Facebook so we can see!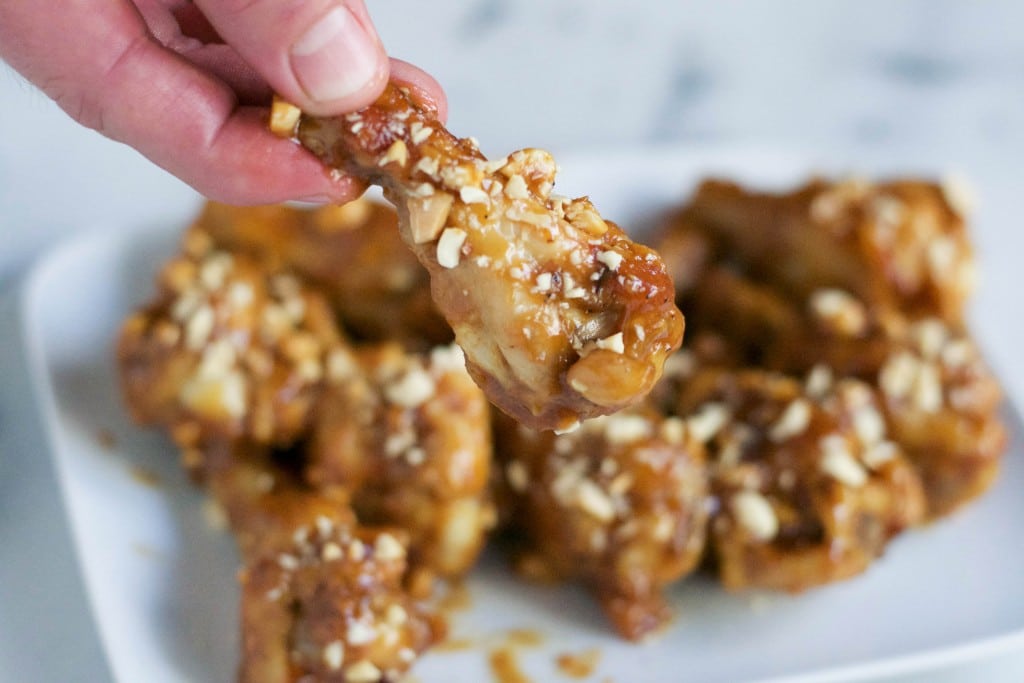 Peanut Butter Chicken Wings
Prep time:
Cook time:
Total time:
Ingredients
For the Chicken:
1.5 lbs chicken wing drumettes
½ tsp salt
½ tsp black pepper
1 tbsp oil
For the Sauce:
¼ cup natural smooth peanut butter
2 tbsp brown sugar or honey
1 tbsp lemon juice
1 tbsp gluten-free tamari sauce (you can use soy sauce if not gluten-free)
4-5 tbsp water (start with 4 and see if you need another)
1 clove garlic, minced
¼ tsp ginger
pinch of cayenne pepper
¼ cups peanuts, chopped
Instructions
Preheat oven to 400F. Line a baking sheet with foil. Toss wings in oil and place on the baking sheet. Sprinkle with salt and pepper. Bake for 30-35 minutes, flipping half way through.
In the meantime, make sauce. In a small pot over medium heat, combine peanut butter, honey/brown sugar, lemon juice, tamari sauce, water, garlic, ginger and cayenne pepper and whisk together. Bring to a boil and then lower to simmer. Cook for 2-3 minutes and stir. Adjust thickness by adding more water if needed. Reduce heat to low until wings are ready.
Once wings have finished cooking through in the oven, turn the oven to broil. Broil the wings for 5-7 minutes, watching carefully, until they are crispy.
Remove from the oven, add wings to a large bowl and pour peanut butter sauce over the wings. Toss until wings are completed covered.
Plate wings, top with chopped peanuts, and serve.