Mango Habanero Chicken Wings
Get a taste of these sweet and spicy mango habanero chicken wings! They're baked (not fried!) and gluten-free! Perfect as an appetizer to share or to snack!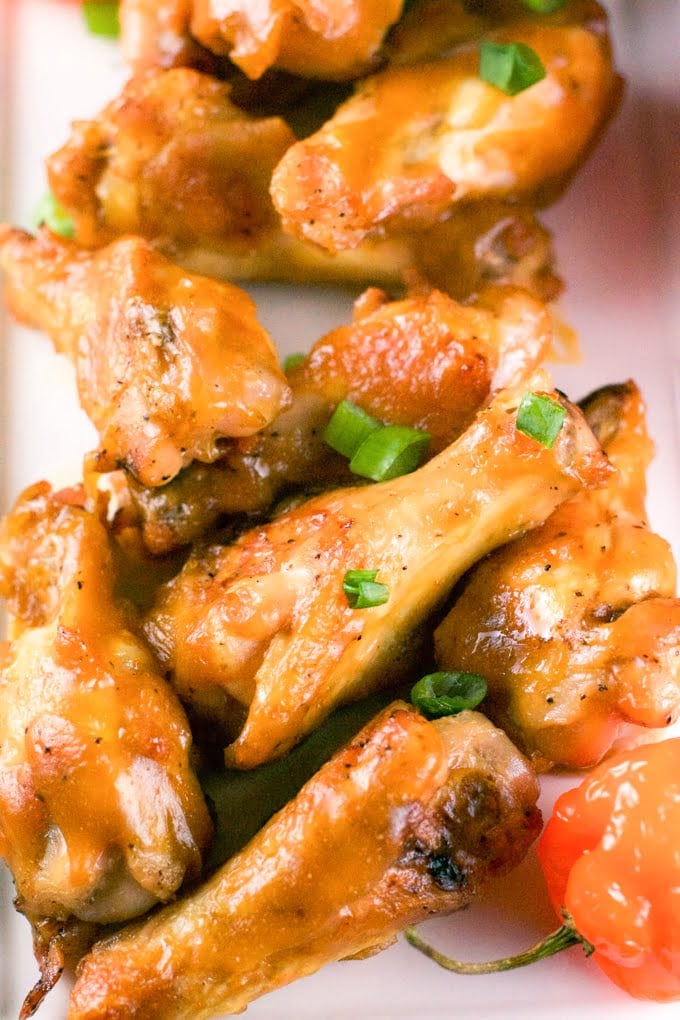 Right around the Super Bowl, I got it in my head that I really, REALLY wanted to make some mango habanero chicken wings. I'm not really sure why, as I'm known for low tolerance to spicy foods. My coworkers really enjoy spicy guacamole and salsa and with one bite my mouth is always on fire and my eyeballs are sweating (not to be confused with crying).
Heck, I even think that the mild salsa has a bit of a kick to it! I'm talking real weak here. But for whatever reason, there's something about the mixture of sweet and spicy of mango habanero that just seemed appealing to me.
I never actually ended up making these mango habanero chicken wings for the Super Bowl, but that's okay.. because they're here now! And that's all that matters!
I will say, this recipe really isn't very spicy. If you like spicy, definitely add another habanero pepper. Instead, these wings have just a wee bit of heat. It's almost an after affect.
You're hit with the sweet mango and then you get a subtle burn in the back of your throat after from the habanero. We'll call this the Megan threshold. So if you're a bit on the wimpy side like me.. go one habanero. If you like the heat.. go two!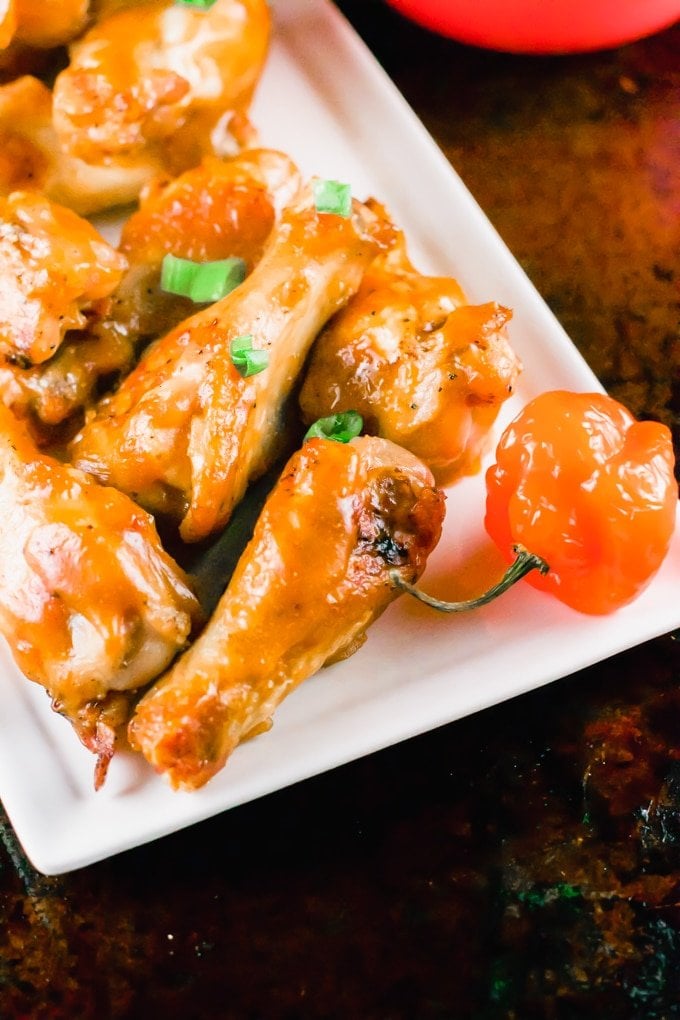 I absolutely love how these chicken wing drummettes turned out. The sauce is sticky and the chicken is crispy. I baked my wings in the oven with just a bit of seasoning and oil to get them nice and crispy.
Then I took the chicken out, slathered it in the mango habanero sauce, turned up the heat on the oven and put them back in for a few minutes to get that sauce all deliciously sticky!
Per usual, I added some chopped green onion on top for a little texture and color. We also served the extra sauce on the side for more dipping. Needless to say.. Michael and I devoured these wings in mere minutes!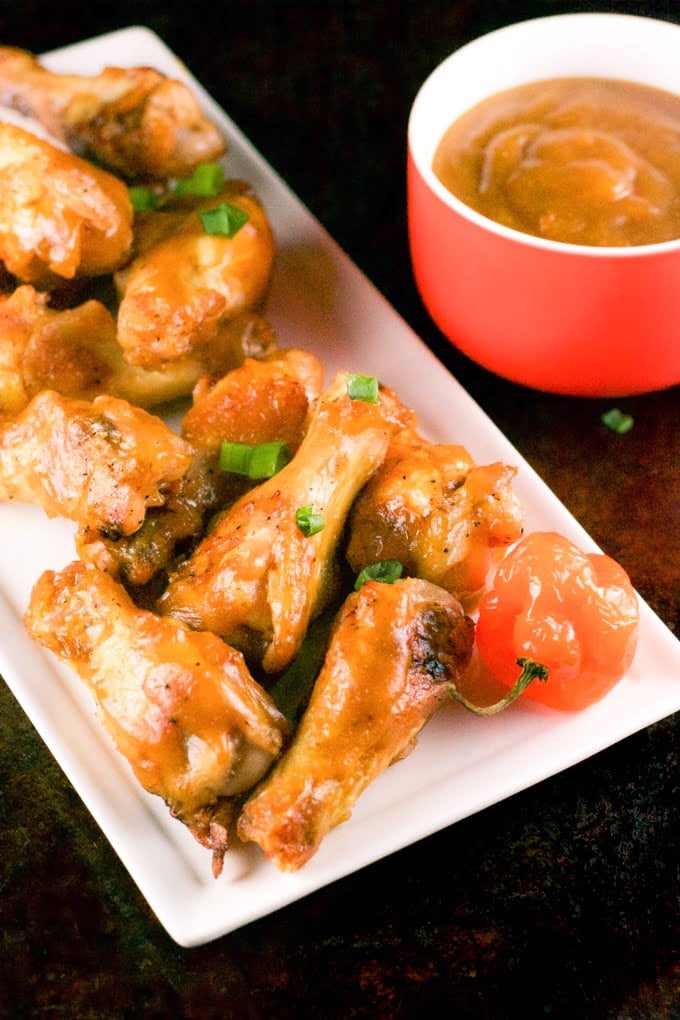 Love chicken wings? Try these other recipes!
Chicken wings make such a great appetizer for parties or watching football on the weekends. They're easy to make and the flavor combinations are endless. My honey mustard chicken wings are always a favorite in our house, and if you're feeling a little more adventurous, these peanut butter chicken wings are so flavorful!
I typically bake my wings for a crispy texture, but did you know you can also make chicken wings in the slow cooker? This slow cooker garlic parmesan chicken wings recipe gets so crispy and only requires 4 ingredients!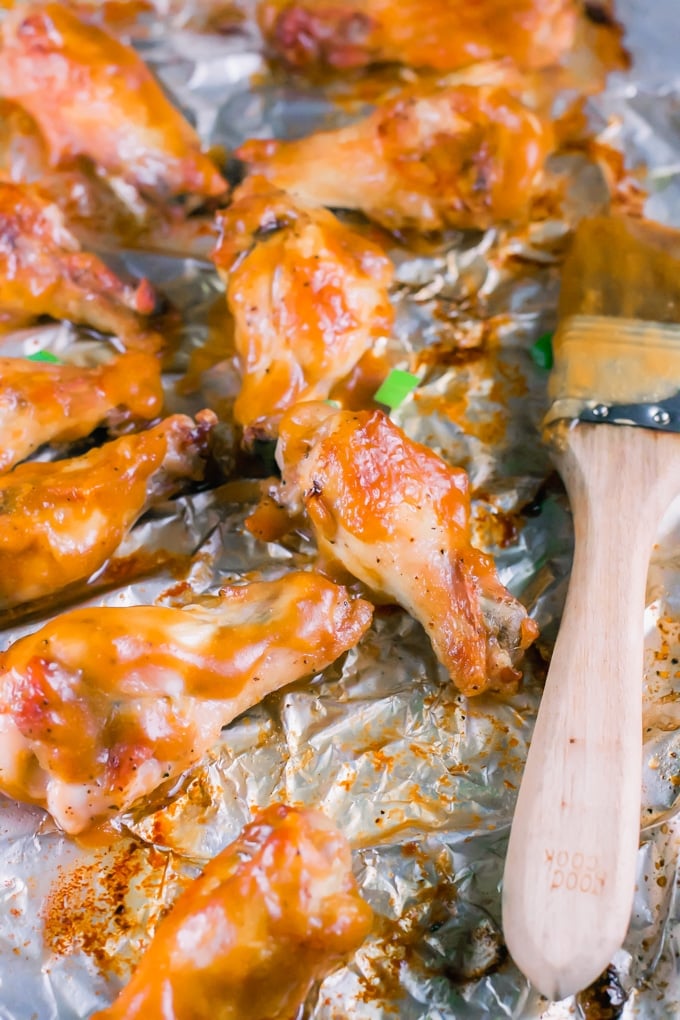 Mango Habanero Chicken Wings Recipe
Mango Habanero Chicken Wings
Get a taste of these sweet and spicy mango habanero chicken wings! They're baked (not fried!) and gluten-free! Perfect as an appetizer to share or to snack!
Print
Pin
Rate
Ingredients
1.5

lbs

chicken wing drummettes

1

tbsp

olive oil or avocado oil

1/4

tsp

salt

1/4

tsp

black pepper

1

cup

diced ripe mango

(about 6 oz)

1

habanero pepper

(stem removed)

1

cup

water

1/4

cup

gluten-free tamari

(or soy sauce if not gluten-free)

1/2

tsp

ground ginger

1/4

tsp

garlic powder

1

tbsp

honey

(add more depending on how ripe your mango is)

2

tbsp

cornstarch + 1/4 cup cold water

(mixed together in a bowl*)
Instructions
Preheat oven at 400F. Line a baking sheet with foil. Toss the chicken with salt, pepper and oil. Bake at 400F for 30-35 minutes, until cooked through and chicken reaches an internal temperature of 165F.

While the chicken is baking, make the sauce. To make the sauce, add 1 cup water, tamari, habanero pepper and mango to a food processor. Blend until smooth.

Place in a small pot over medium heat and bring to a boil. Add ginger, garlic powder and honey. Bring down heat to medium low.

Add the cornstarch and water slurry into the pot and stir until it thickens. Let cook for 5-10 minutes, until sauce is thick and warm. Keep warm while the chicken is cooking.

When the chicken is cooked through, turn the oven to broil. Broil the chicken for 5 minutes until crispy.

Then remove from the oven and brush the chicken with the sauce (directions for the sauce below).

Broil for another 3-5 minutes, until sticky and delicious looking.
Notes
*To make the slurry, mix together cornstarch and cold water in a small bowl until no clumps of cornstarch remain. This will be the thickener for the sauce.
Nutrition
Calories:
100
kcal
|
Carbohydrates:
5
g
|
Protein:
6
g
|
Fat:
6
g
|
Saturated Fat:
1
g
|
Cholesterol:
23
mg
|
Sodium:
342
mg
|
Potassium:
81
mg
|
Sugar:
3
g
|
Vitamin A:
200
IU
|
Vitamin C:
6.4
mg
|
Calcium:
6
mg
|
Iron:
0.4
mg