Get a taste of these sweet and spicy mango habanero wings! They're baked (not fried!) and naturally gluten-free! These crispy wings are glazed with a sticky mango habanero sauce and are perfect for game nights, parties, or a simple flavor-packed appetizer.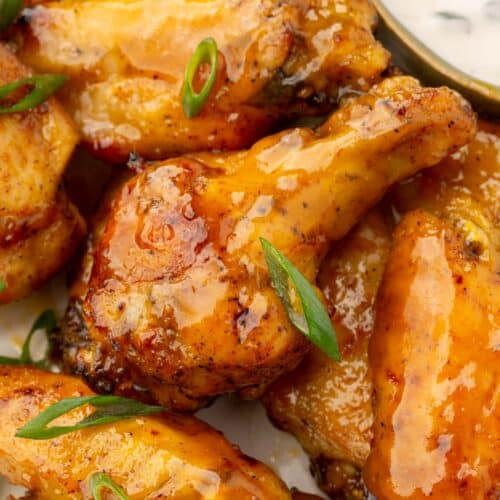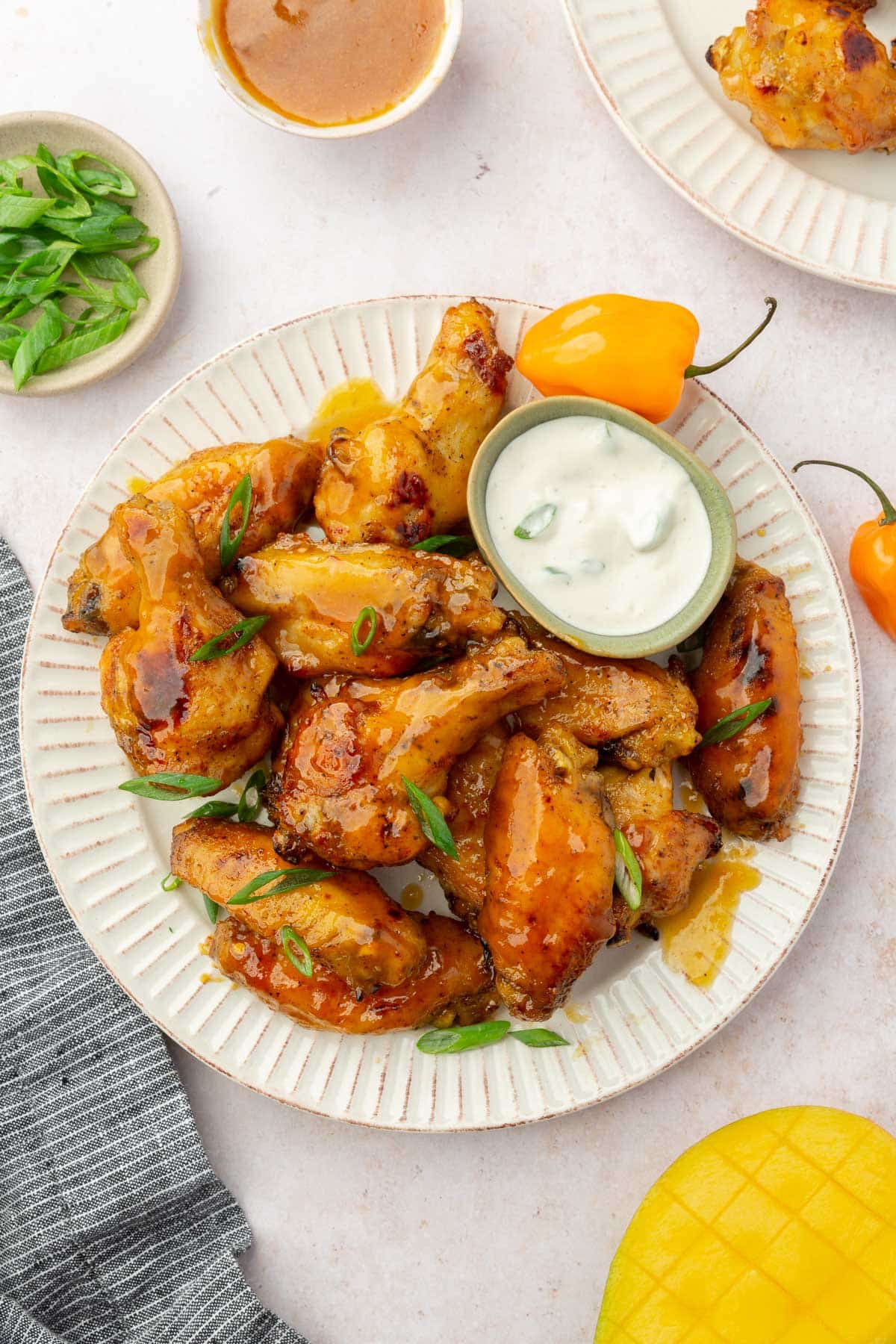 These baked mango habanero wings are the perfect mixture of sweet and spicy. Tender, juicy chicken wings are glazed with a sticky mango habanero sauce that is so delicious.
I bake my chicken wings in the oven with just a bit of seasoning and oil to get them nice and crispy. Then, they're covered in a homemade mango habanero wing sauce and broiled until lightly charred.
I absolutely love how these chicken wing drumettes turned out. The sauce is sweet, spicy and sticky and the chicken is so crispy!
Add some chopped green onion on top for a little texture and color and serve the extra sauce on the side for more dipping. They're the perfect appetizer for parties and easy to make in the oven!
You'll love this recipe because:
Ingredients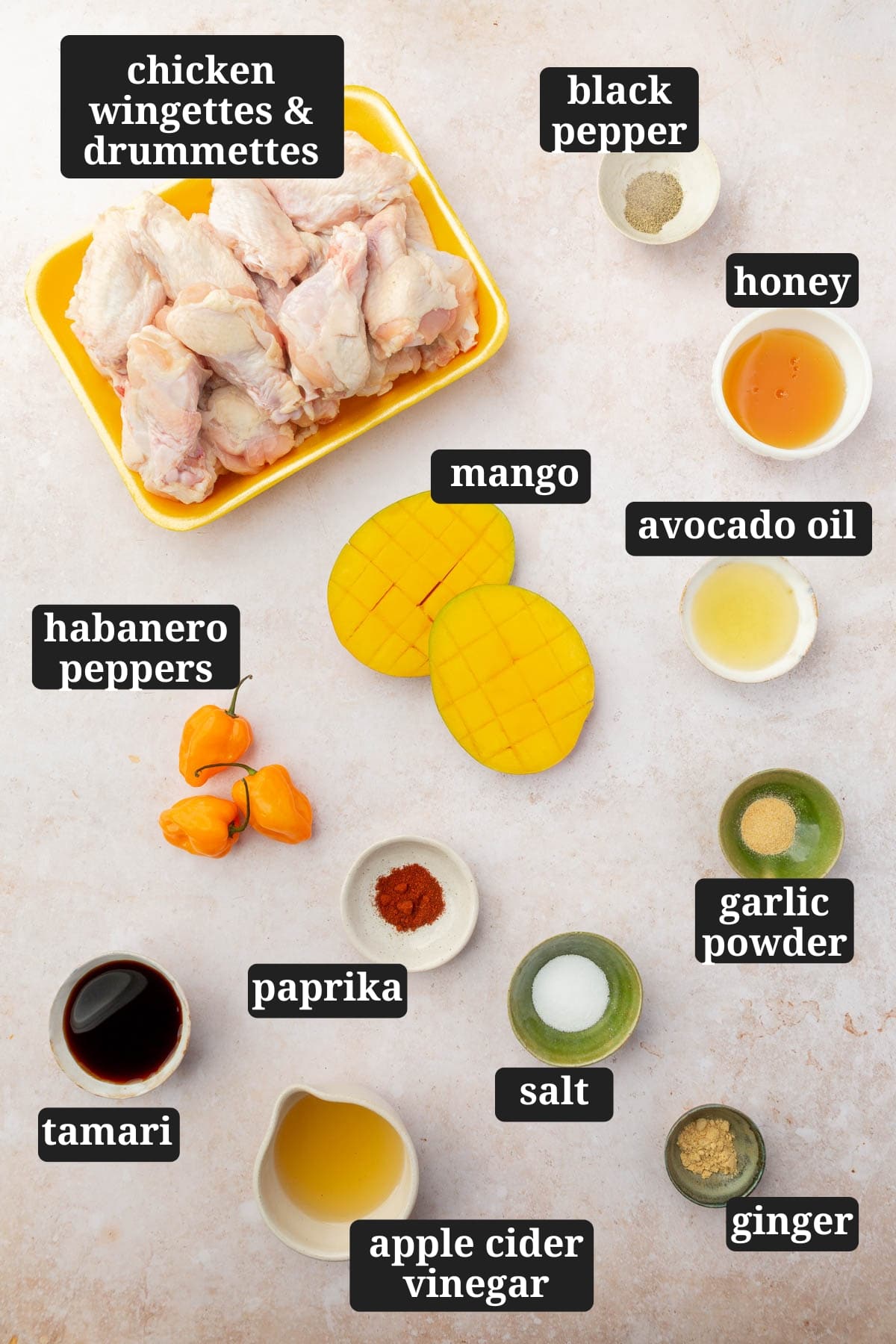 Ingredient Notes
Chicken wing drumettes and flats – You can use whole chicken wings or separate them into drumettes and flats (sometimes called wingettes). I typically purchase my wings already separated. They are sometimes marketed as "party wings" at the grocery store.
Avocado oil or olive oil – I prefer to use avocado oil in this recipe because it has a higher smoke point which is ideal for baking at high temperatures. You can also use olive oil if you don't have avocado oil on hand.
Mango – Mango brings a natural sweetness to these spicy chicken wings. It balances the spiciness of the habanero peppers so they aren't too spicy when you take a bite. Look for mangos that are vibrant in color (yellow, red or orange on the skin) without any green patches. They should have slight softness when you squeeze them and smell sweet. Slice the mango into chunks and remove the peel before using.
Habanero peppers – Habanero peppers are one of the hottest chili peppers available, so if you're not accustomed to their heat, start with only one habanero pepper and be sure to remove the seeds in this recipe. It's better to err on the side of caution and use less peppers if you aren't sure if you like spicy wings. I suggest one pepper deseeded if you like a little heat, but don't do well with spicy foods. I used 3 peppers for my batch of chicken wings, where 2 were deseeded and 1 still had the seeds in it.
Apple cider vinegar – The tanginess of apple cider vinegar acts gives the mango habanero sauce some acidity. If you don't have apple cider vinegar, you can also use white vinegar but I find that to be a little more harsh tasting.
Tamari sauce – Soy sauce contains wheat, so instead we use tamari sauce, which is a gluten-free alternative to soy sauce to give the wing sauce some umami flavor. If you aren't gluten-free, you can use soy sauce. You can also use coconut aminos if you prefer.
Honey – While the mango provides a good amount of sweetness to the sauce, a little bit of honey helps to provide some extra flavor. It also helps create a sticky glaze when the sauce gets cooked down.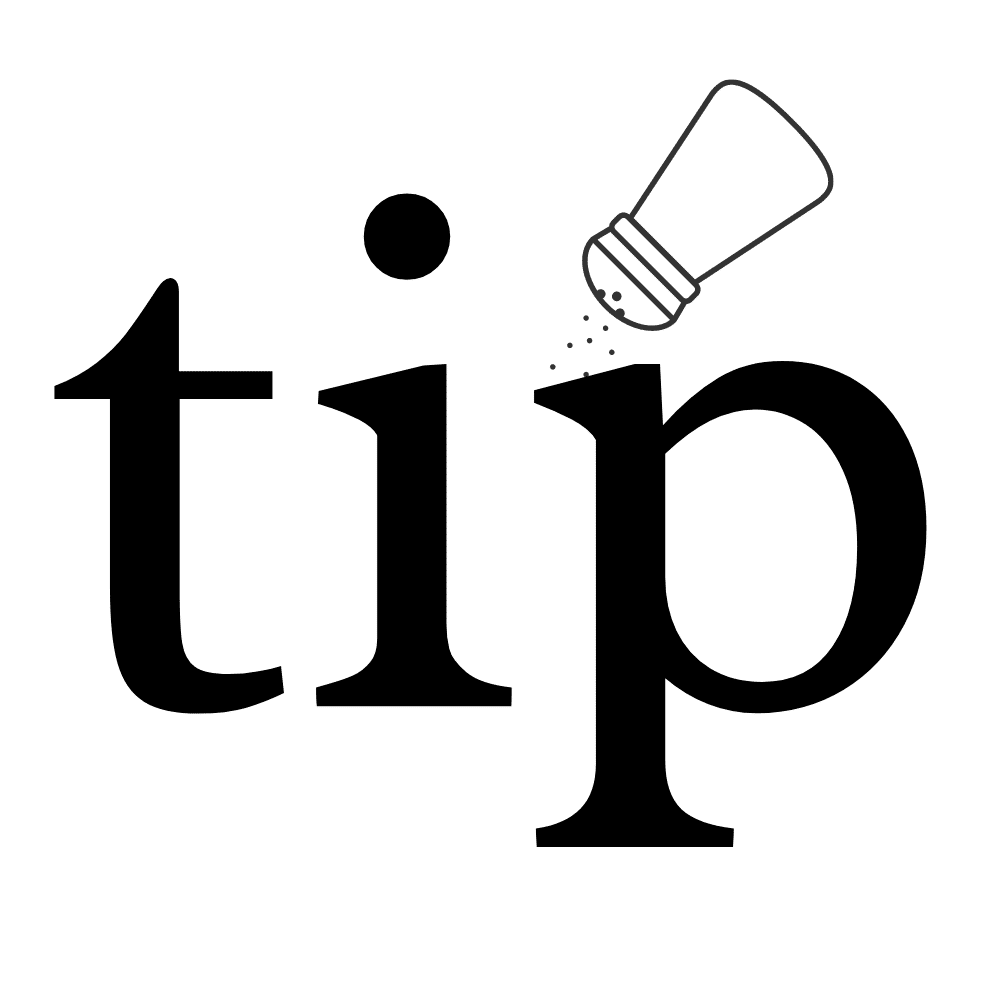 Habanero peppers are known for their intense heat. Their oils can cause your hands to get irritated and burn. I recommend using gloves when slicing and deseeding the habanero peppers. Be sure to wash your knife well as the oils will be on the handle and blade and can transfer to other surfaces. Never touch your eyes after handling habanero peppers.

Step-by-Step instructions
These mango habanero chicken wings are very simple to make in the oven. The below steps with matching photos are meant to help you see the recipe at various stages, but are not the full recipe and instructions.
For the ingredient list with measurements, full instructions, printable recipe, and additional notes, please scroll down to the recipe card.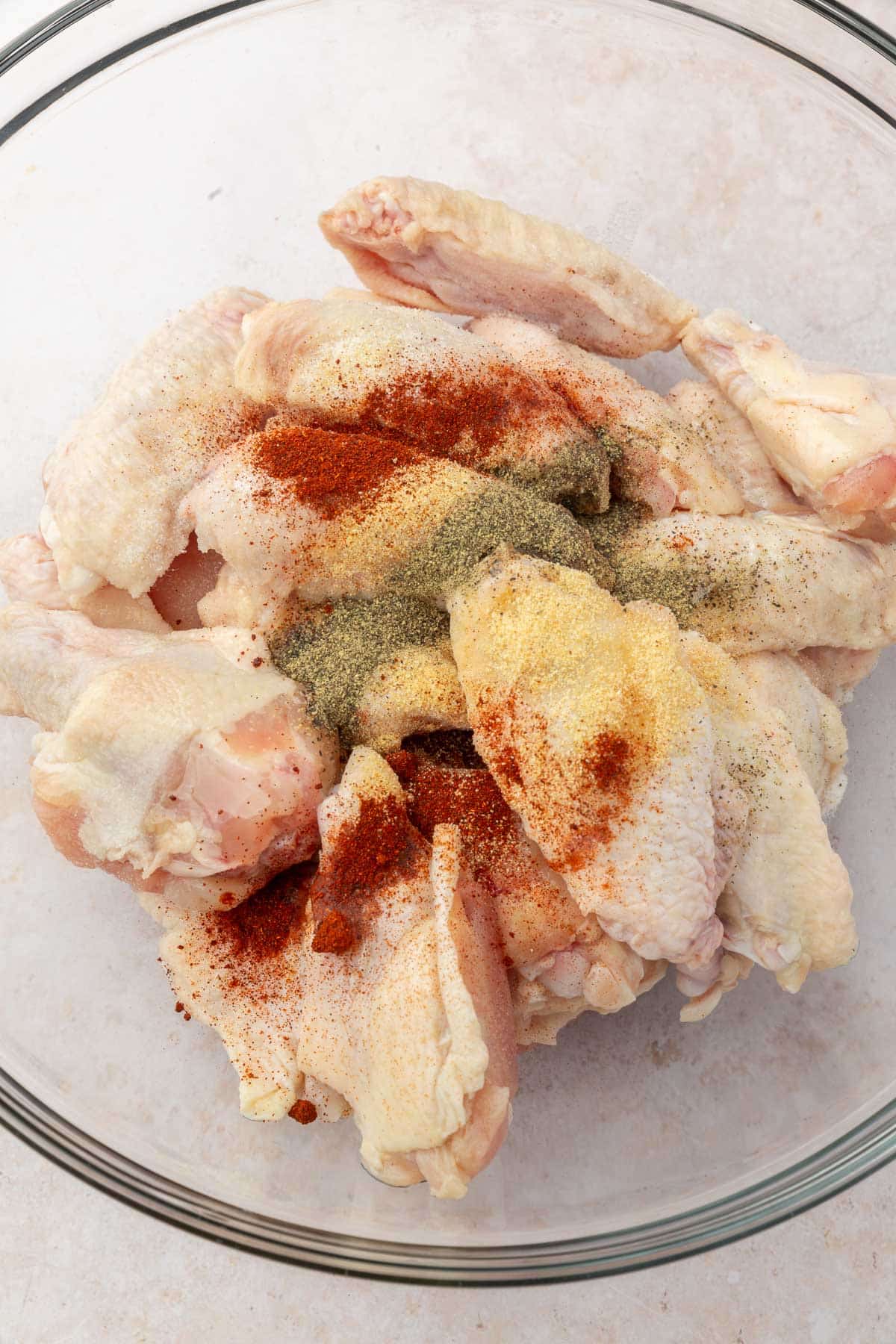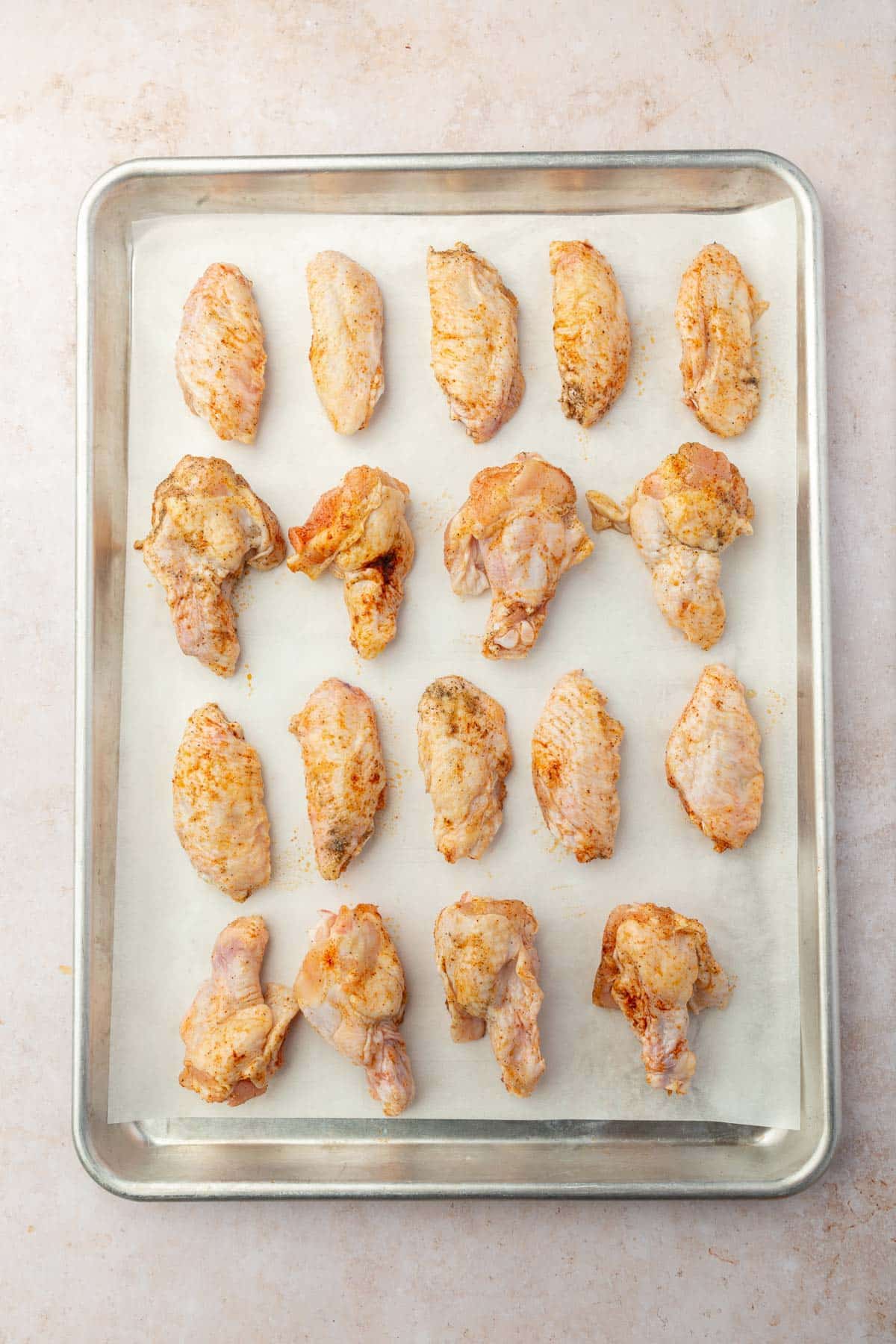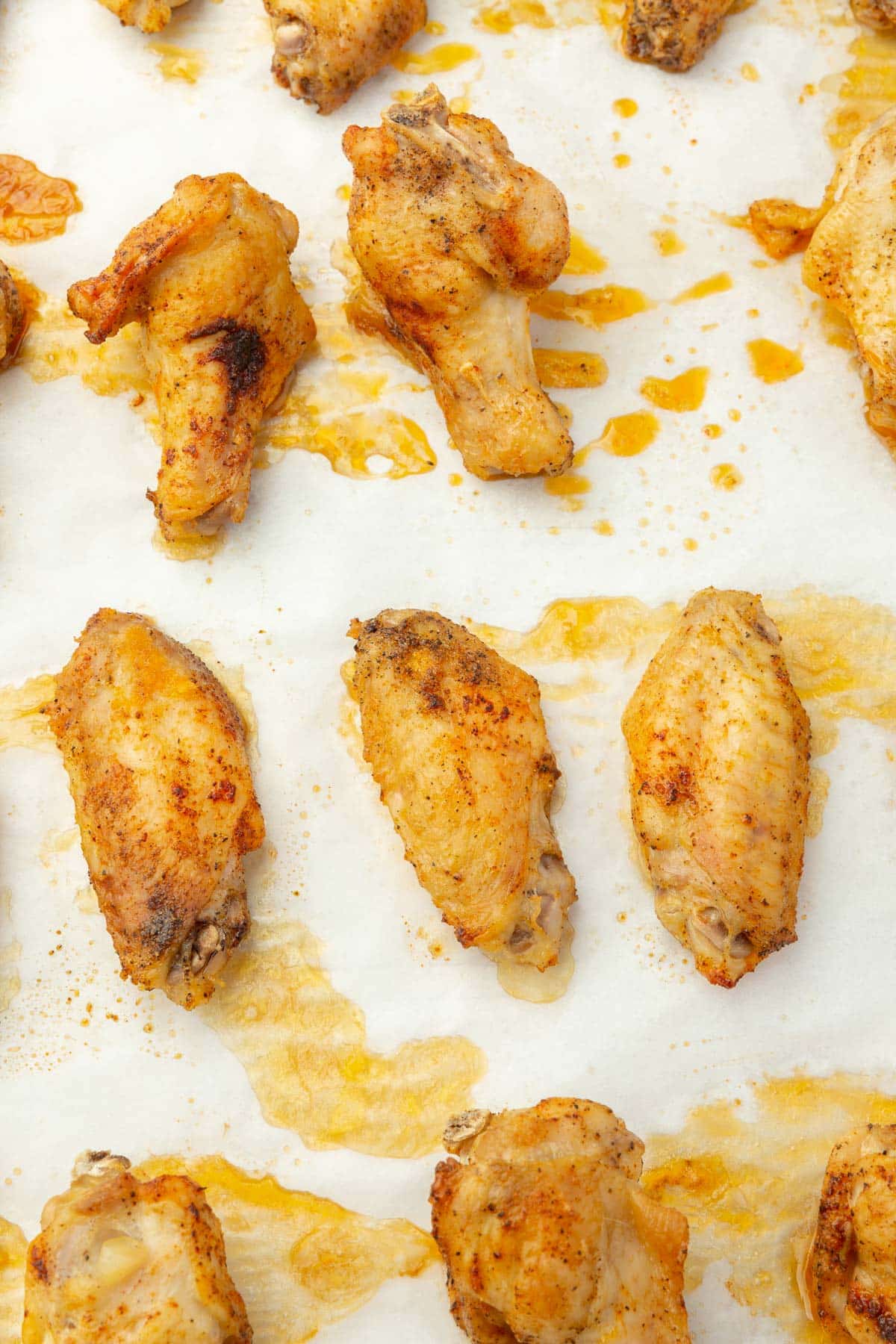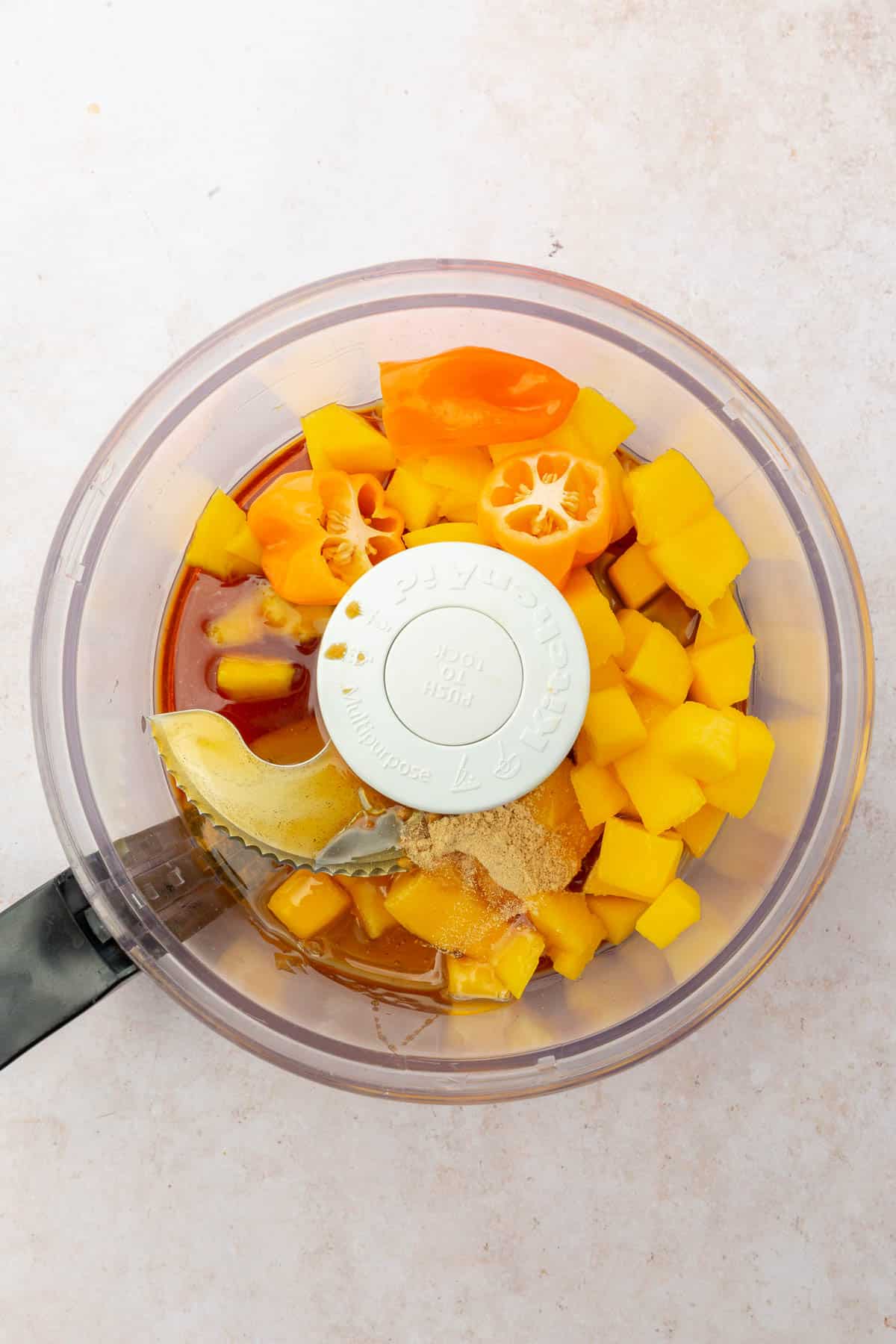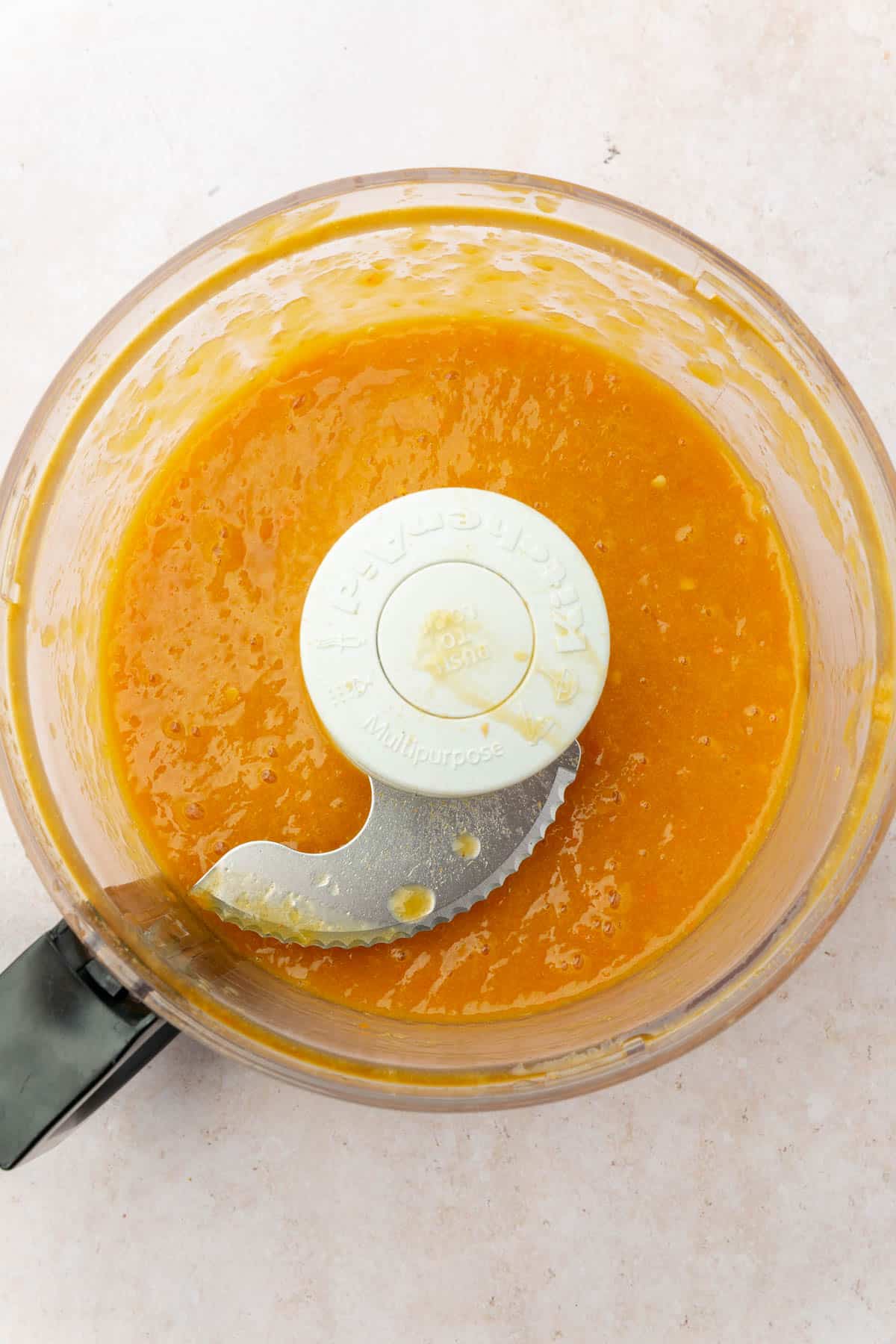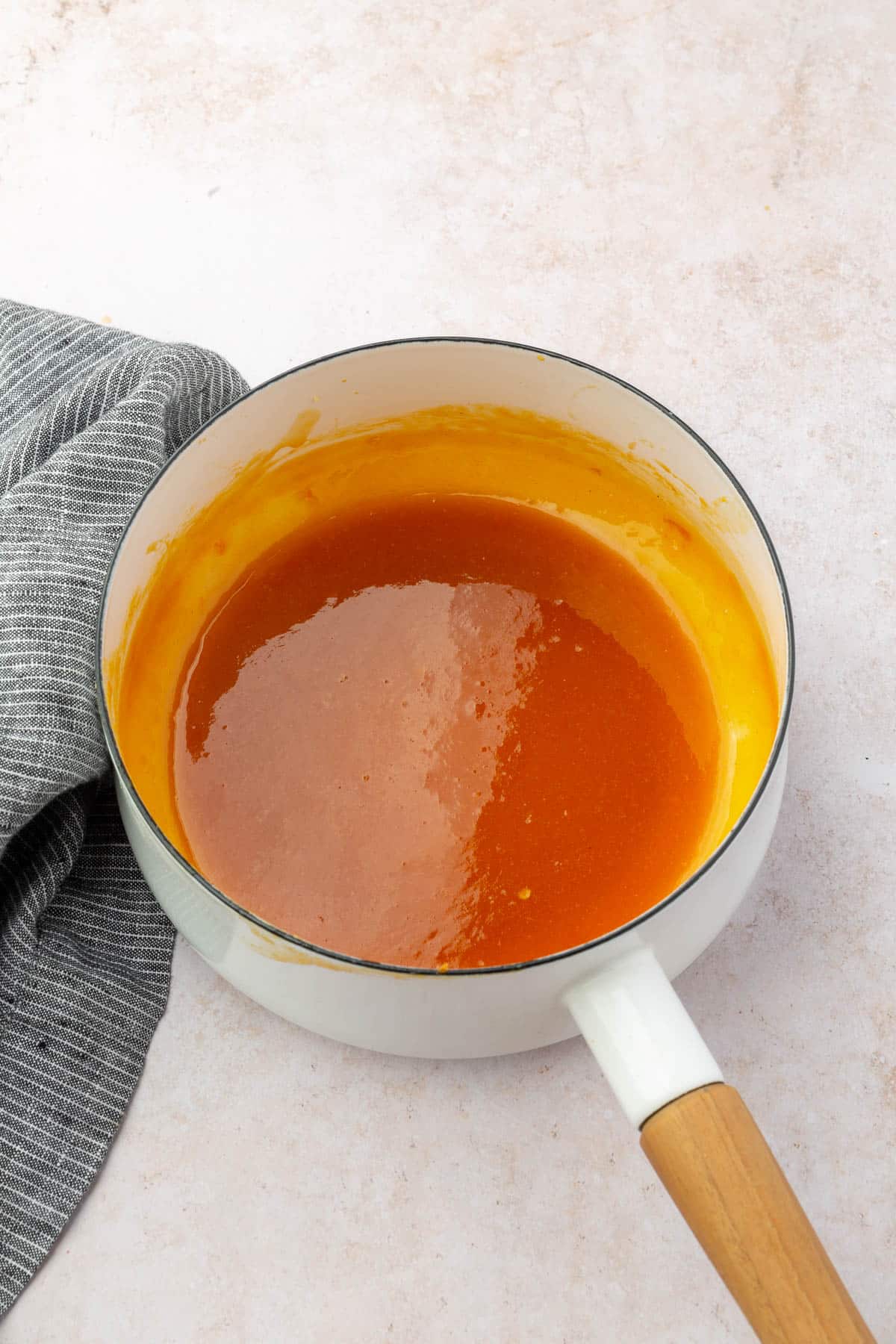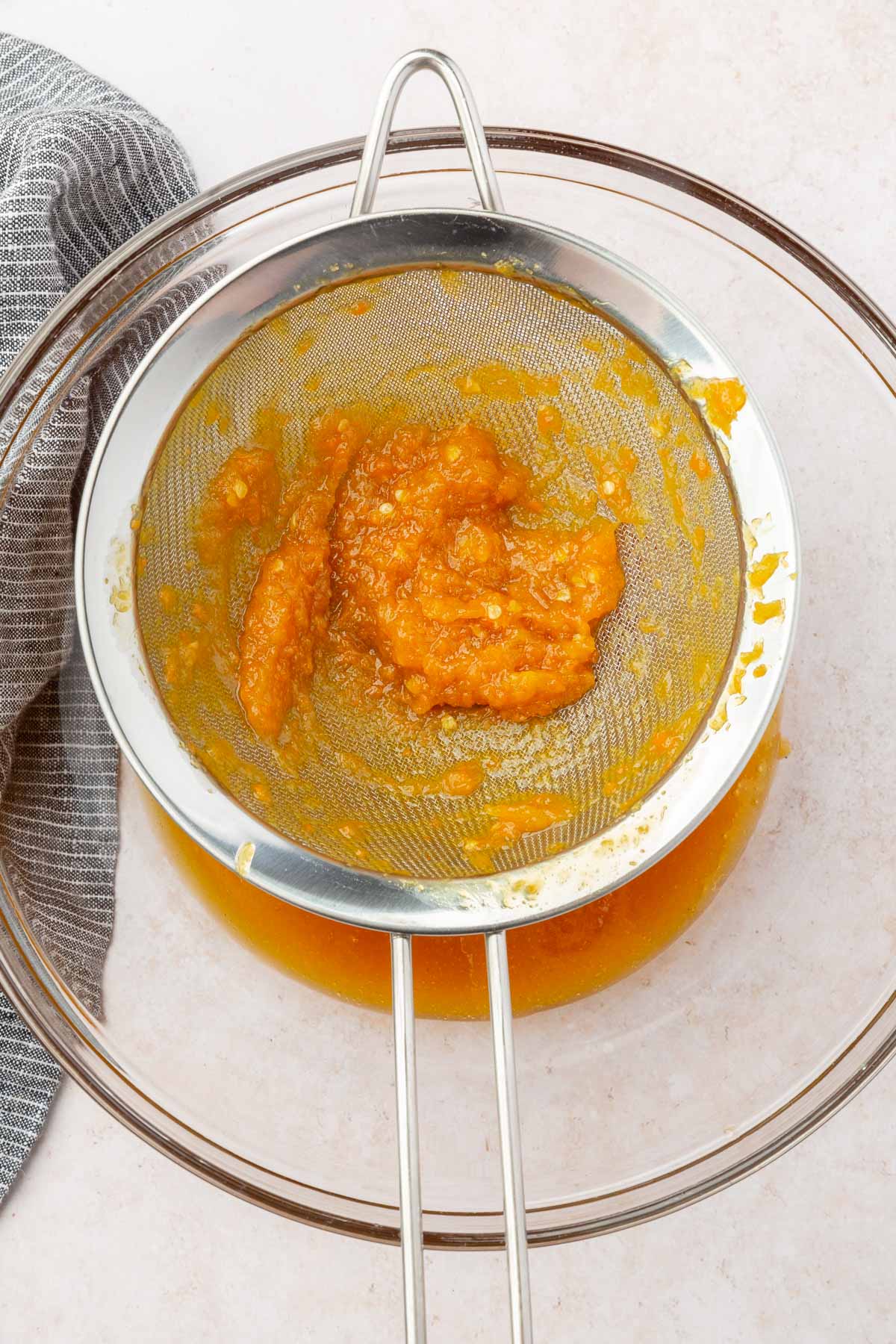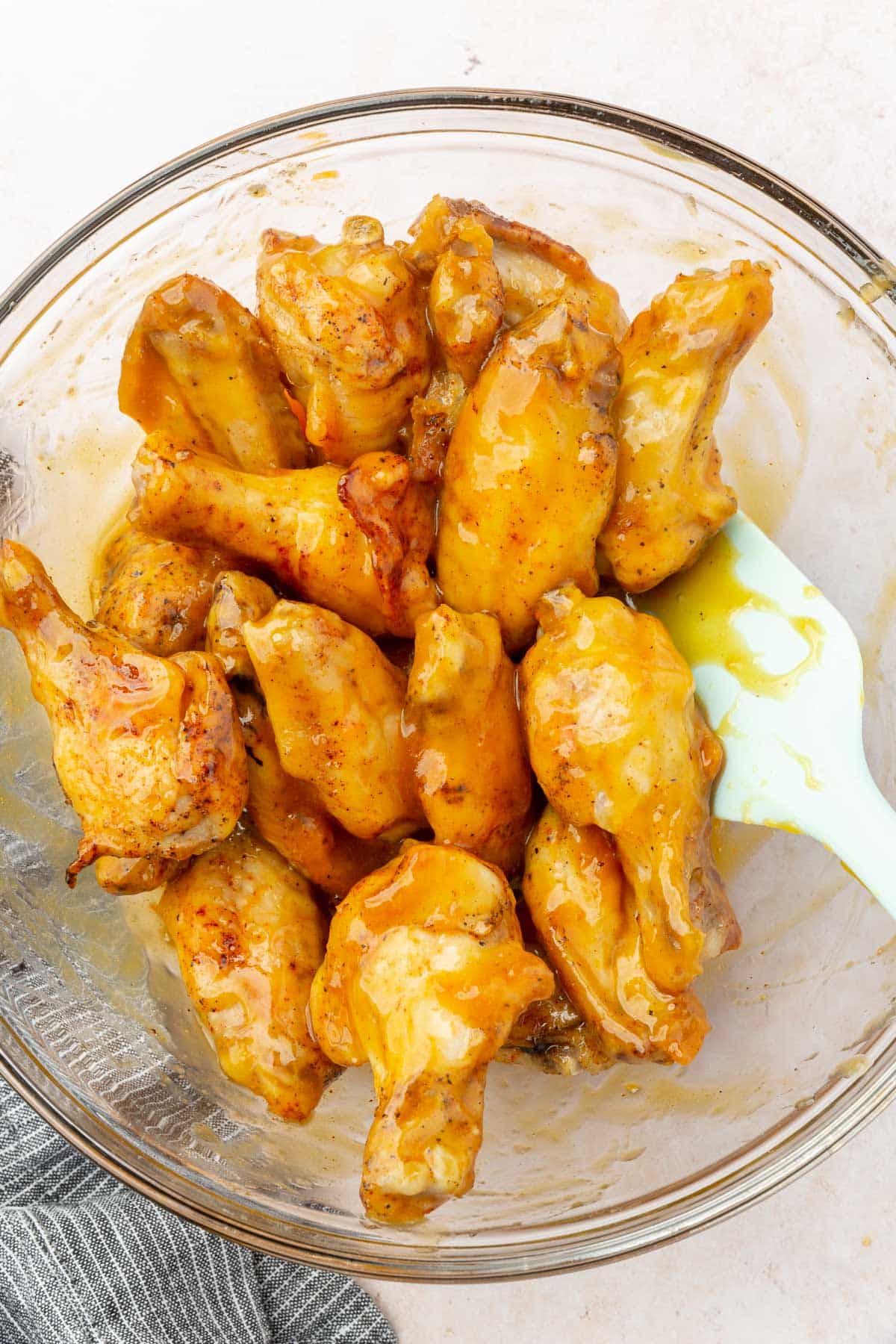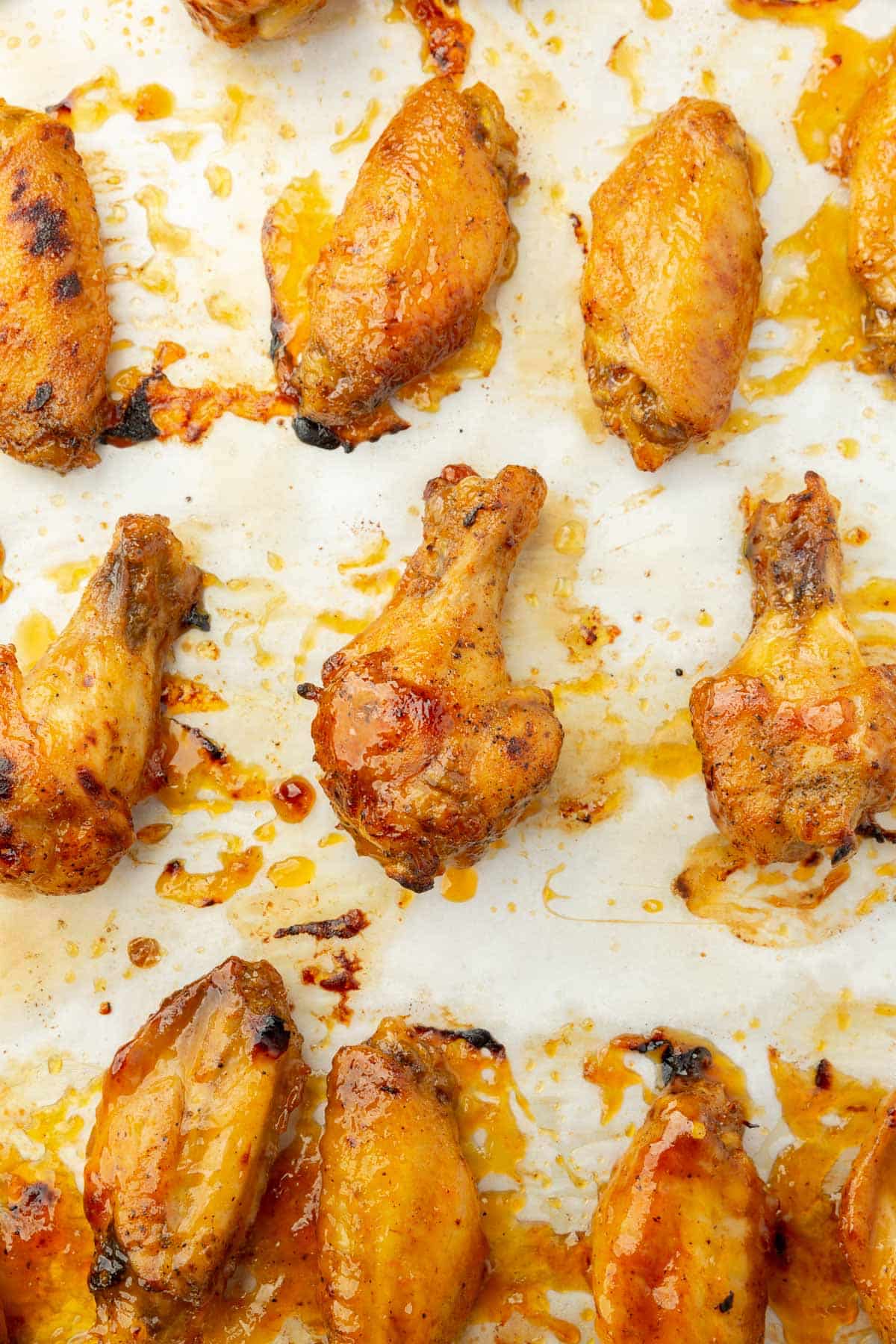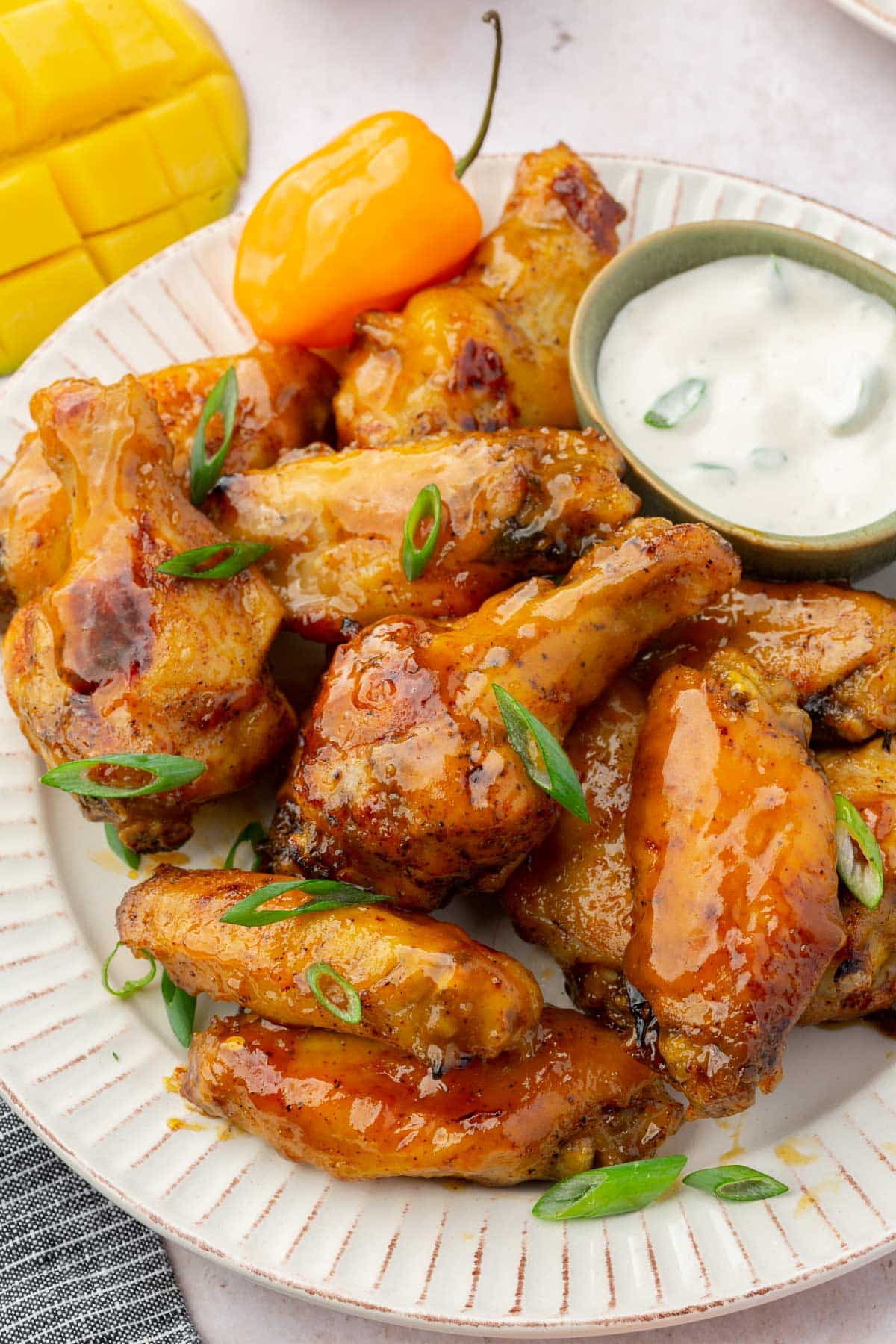 Recipe FAQs
Are mango habanero wings spicy?
Yes, mango habanero wings can be spicy. The habanero peppers used in the recipe contribute a significant level of heat. However, the spiciness can be adjusted based on your personal preferences.
Is habanero spicier than jalapeño?
Yes, habanero peppers are generally spicier than jalapeño peppers. Habaneros have a higher Scoville heat rating, which measures the spiciness of chili peppers. While jalapeños typically range from mild to moderate heat, habaneros are known for their intense heat and can be significantly hotter.
Can I adjust the spice level in this recipe?
Absolutely! You have full control over the spice level in these wings. If you prefer a milder heat, you can reduce the number of habanero peppers or remove the seeds. For those who like it extra hot, leave the seeds in and even consider adding an extra pepper. Feel free to customize the spice level to suit your taste preferences.
Can I use frozen mango instead of fresh mango?
While fresh mango is recommended for the best flavor and texture, you can use frozen mango as a substitute if fresh isn't available. Just make sure to thaw the frozen mango before blending it into the sauce. You can also use mango nectar instead if you prefer.
Are mango habanero wings gluten-free?
To make these wings gluten-free, be sure to use tamari instead of soy sauce, which contains wheat.
Can I grill the wings instead of baking them?
If you prefer the smoky flavors from grilling, you can adapt this recipe for the grill. Preheat your grill to medium-high heat and cook the wings for about 12-15 minutes per side, or until they are cooked through and nicely charred. Baste them with the mango habanero sauce while grilling for that delicious glaze.
Storage instructions
Storage: Store any leftover mango habanero wings in an airtight container or resealable bag in the refrigerator. They can be kept refrigerated for up to 3-4 days. Make sure to allow them to cool completely before storing.
Oven reheating: There are a couple of options to reheat leftover wings. To reheat in the oven, preheat your oven to 350°F (175°C), place the wings on a baking sheet, and bake for about 10-15 minutes or until heated through.
Microwave reheating: For a microwave option, cover with a damp paper towel to prevent drying out, and heat in 30-second intervals until warmed to your liking.
Air fryer reheating: For the air fryer, air fry at 350°F (175°C) for about 5-7 minutes, until heated through.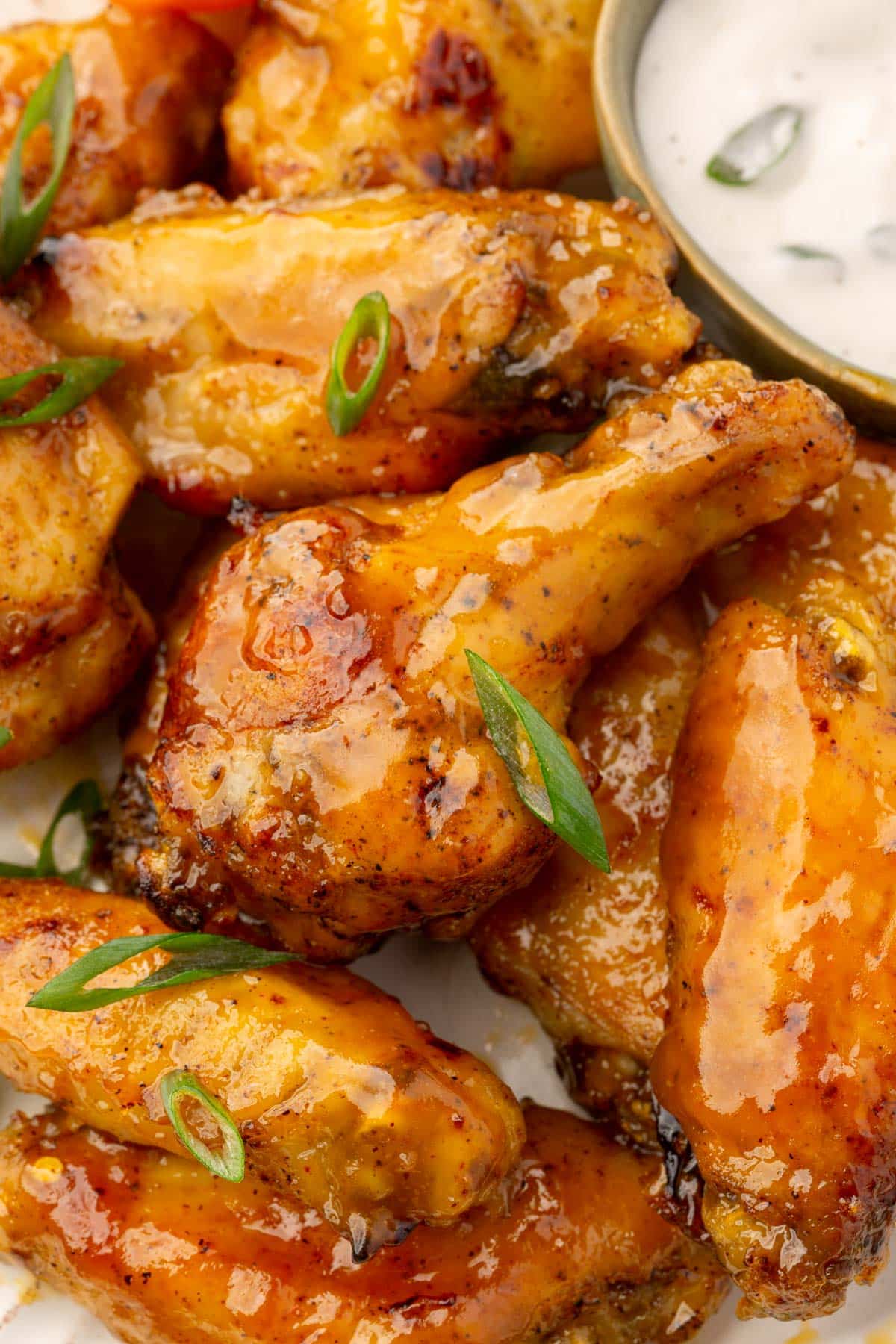 Related Recipes
Chicken wings make such a great appetizer for parties or watching football on the weekends. They're easy to make and the flavor combinations are endless.
My honey mustard chicken wings are always a favorite in our house, and if you're feeling a little more adventurous, these peanut butter chicken wings are so flavorful!
More delicious appetizers to try
Did you make this recipe?
I'd love to know! Please rate it and leave a comment below. You can also share your pictures and tag @adashofmegnut on Instagram.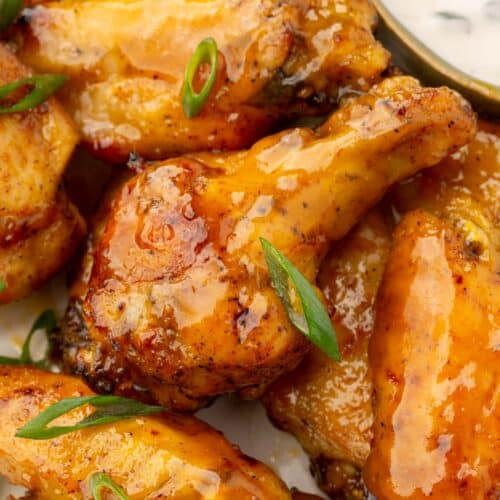 Mango Habanero Wings
Get a taste of these sweet and spicy mango habanero wings! They're baked (not fried!) and naturally gluten-free! These crispy wings are glazed with a sticky mango habanero sauce and are perfect for game nights, parties, or a simple flavor-packed appetizer.
Print
Pin
Rate
Ingredients
For the chicken wings:
2

lbs

chicken wings

(cut into drumettes and flats)

1

tablespoon

avocado oil or olive oil

1

teaspoon

salt

1/2

teaspoon

ground black pepper

1/2

teaspoon

garlic powder

1/2

teaspoon

paprika
For the sauce:
1

cup

mango

(diced)

1-3

habanero peppers

(stem removed and deseeded if desired (see notes))

2

tablespoons

apple cider vinegar

2

tablespoons

gluten-free tamari sauce

2

tablespoons

honey

1/2

teaspoon

garlic powder

1/2

teaspoon

ginger powder
Instructions
For the chicken wings:
Preheat the oven to 400F. Line a baking sheet with parchment paper or aluminum foil. Set aside.

In a large bowl, add chicken wings and avocado oil. Toss chicken wings until completely covered in the avocado oil. Sprinkle the chicken with salt, pepper, garlic powder and paprika. Toss to combine.

Place the raw chicken wings in a single layer on the baking sheet. Bake at 400F for 40-45 minutes, flipping halfway through, or until chicken reaches an internal temperature of 165F.

Remove the wings from the oven. Change the oven setting to broil.

Toss the wings in the prepared mango habanero sauce (see directions below). Return the wings to the sheet pan and broil for 3-5 minutes, until the sauce is caramelized. Remove from the oven.

Place on a serving platter and sprinkle with chopped green onions and leftover mango habanero sauce.
For the sauce:
While the chicken is baking, make the mango habanero sauce. Add the diced mango, habanero peppers, apple cider vinegar, tamari sauce, honey, garlic powder and ginger powder to a food processor.

Pour the mango habanero mixture into a saucepan. Heat over medium heat for about 10 minutes, stirring occasionally, until the sauce has thickened and become shiny.

Strain the sauce through a fine mesh sieve to remove any seeds and chunky mango pulp.

Place in a bowl to toss the wings into as stated above or store in the refrigerator for up to a day in advance until ready to use.
Notes
The number of habanero peppers you will want to add will depend on your spice tolerance. I like to do 3 habanero peppers in total, but I leave the seeds in only 1 pepper and remove the seeds from the other 2 peppers. This gives a lot of flavor, without it being way too spicy. If you have a lower spice tolerance, try 1-2 habanero peppers with both of the peppers deseeded. I really do not recommend leaving the seeds in all 3 peppers in the recipe, as the wings will be incredibly hot.

Habanero peppers are very hot, so be sure to use caution when removing the stem and seeds from the pepper. I'd recommend to use gloves when handling the peppers or be sure to wash your hands very thoroughly before touching your face or eyes.

If you have celiac disease or are on a gluten-free diet for other reasons, be sure to double check all of your ingredients to ensure they are gluten-free.

Tamari is a gluten-free substitute for soy sauce since it has wheat in it. If you are not gluten-free, you can use soy sauce in the recipe if you'd like.

Air fryer instructions: Make the sauce as noted in the recipe card. For the chicken, instead of cooking in the oven, you can place the wings in an air fryer basket in a single layer. Air fry at 400F for 18 minutes, flipping halfway through, or until the chicken reaches an internal temperature of 165F. Toss the chicken wings in the sauce and then return to the air fryer and cook at 400F for 5 minutes, until the sauce is sticky.
Nutrition
Calories:
248
kcal
|
Carbohydrates:
11
g
|
Protein:
16
g
|
Fat:
16
g
|
Saturated Fat:
4
g
|
Polyunsaturated Fat:
3
g
|
Monounsaturated Fat:
7
g
|
Trans Fat:
0.2
g
|
Cholesterol:
63
mg
|
Sodium:
784
mg
|
Potassium:
213
mg
|
Fiber:
1
g
|
Sugar:
10
g
|
Vitamin A:
516
IU
|
Vitamin C:
13
mg
|
Calcium:
17
mg
|
Iron:
1
mg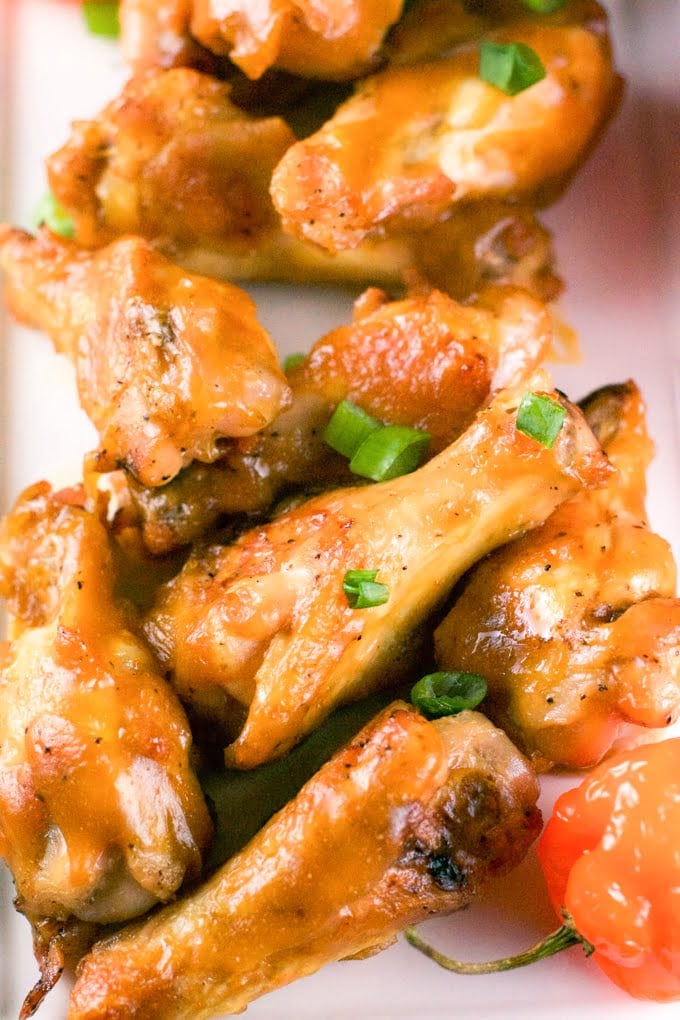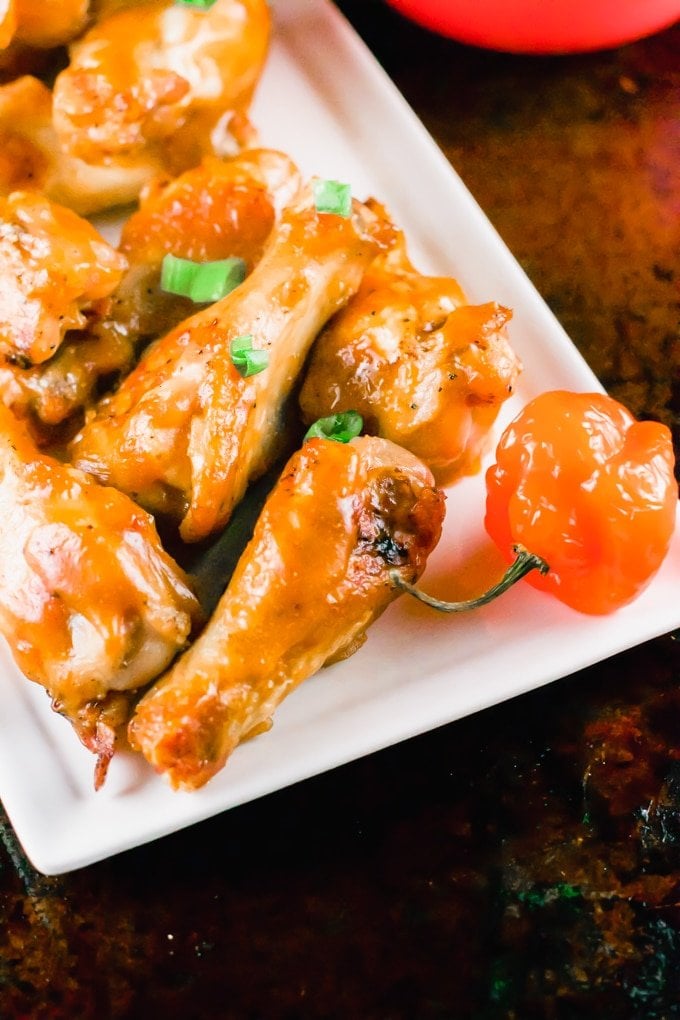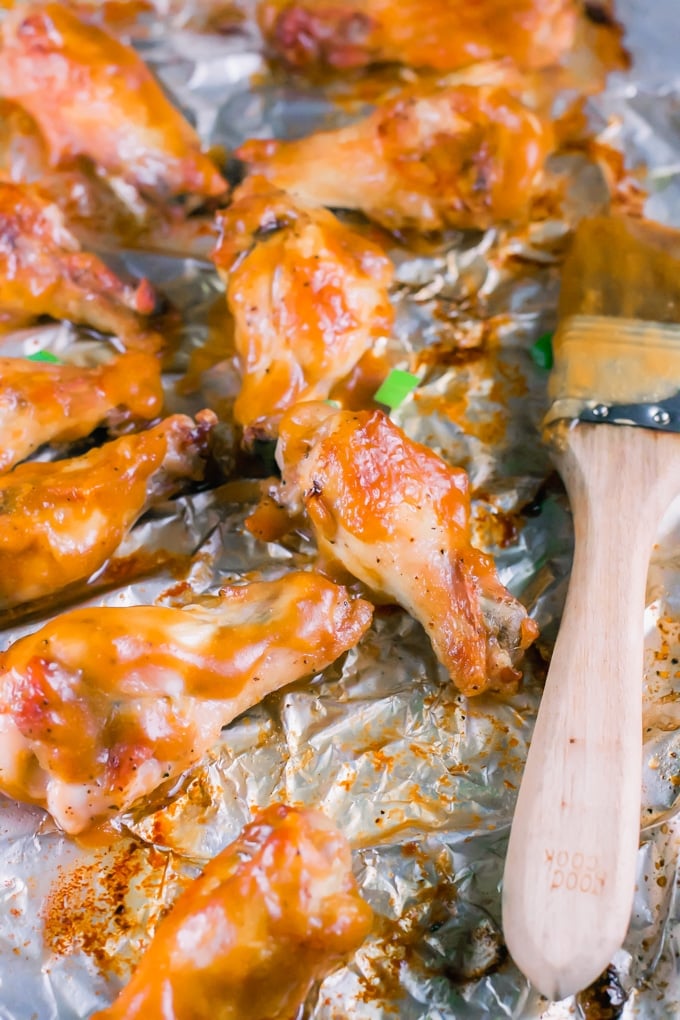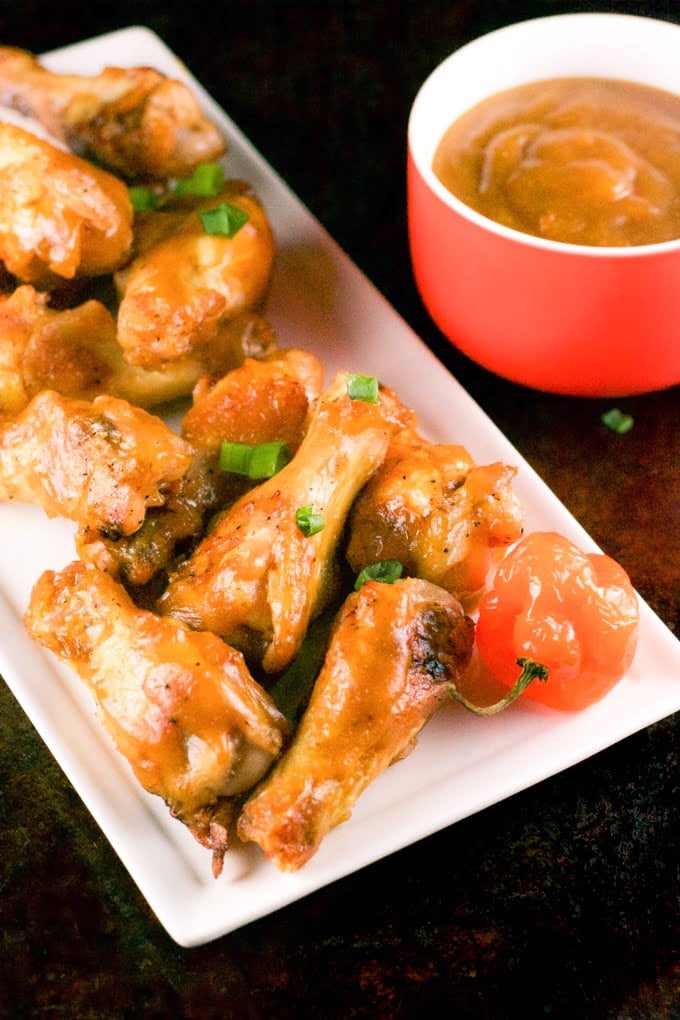 I'm Megan
A gluten-free food blogger from Chicago and lover of all things food, showing you gluten-free can be easy and delicious, too. Let's make gluten-free stress free together! Read more…