A vegan pumpkin cheesecake that is just as creamy as it's dairy counterpart. Top with raw or toasted pepitas for extra crunch and flavor. Gluten-free, dairy-free, egg-free and vegan.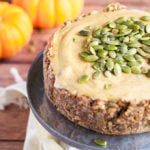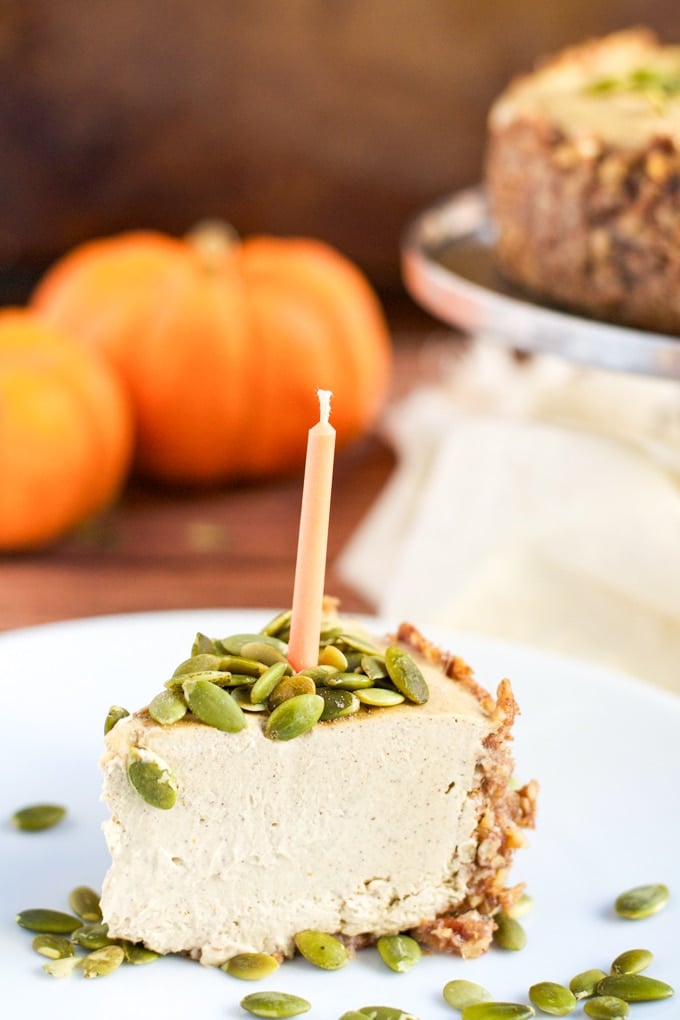 *Sigh* I'm 27. Today. Yup, that's right! Today is my birthday! For those of you who guessed it on Instagram the other day.. props!
I'm not sure how I feel about 27. I can no longer claim I'm in my mid-twenties can I? Now, I'm officially in the late twenties group. That kind of makes me an adult.. but there's no way I'm an adult. At least I don't feel like one (This post might seriously turn into a quarter life crisis in a minute..) But you know what? I have a good feeling about 27. No, a GREAT feeling. I feel like it's going to be my best year yet! 26 was good, but I'm going to make 27 great! (And she quickly turns the quarter life crisis around!)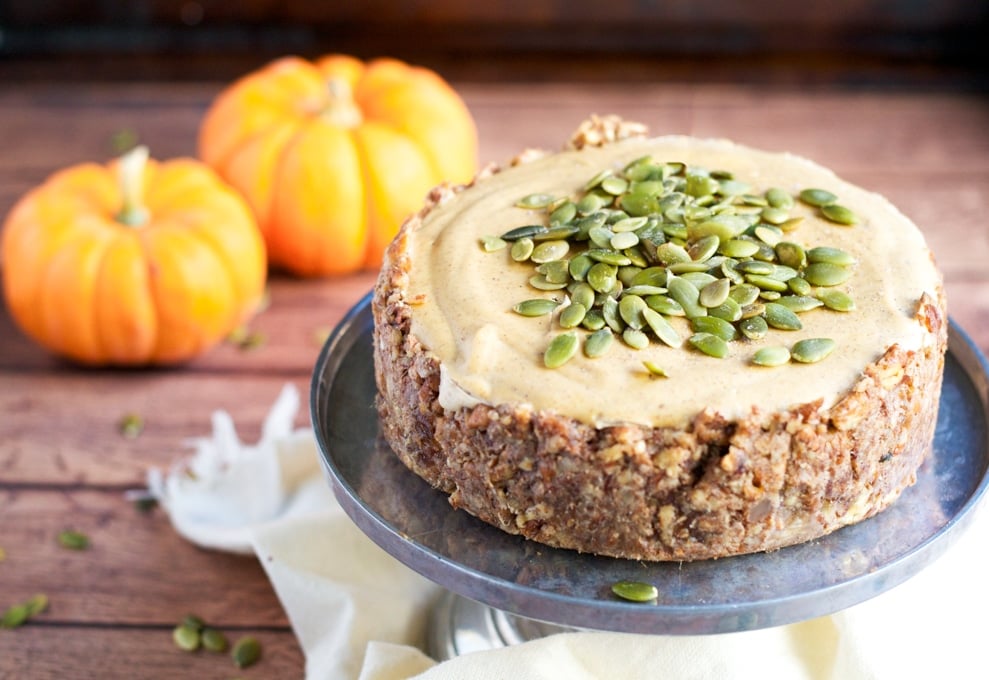 I will say though, one of the hardest things about my food intolerances is the lack of birthday cake. Like seriously, if someone can find me a gluten-free, dairy-free, egg-free cake that is lower than 10g of sugar per slice (and free of all artificial sweeteners) I will hug you and give you a million dollars and become your best friend.
And to be honest, I haven't even tried making such a cake… because I just have a horrible feeling it would go so poorly and then that would confirm my fears that a cake like that does not exist and I'll just be disappointed and cry. Needless to say, it's been a few years since I've gotten a birthday cake! But this year… this year is different! (Kind of)
My amazing boyfriend could not stand the thought of me not having a birthday cake, so he decided to make me one of my vegan cheesecakes. Before we all collectively go "awwww" I will confess that I helped him a little.
Meaning I wrote the recipe and stood beside him ready to tell him what to do if he needed help. But he totally pulled it off 95% of the way by himself! I mean that crust gets a little tricky if you've never pressed it into a pan before. So today there will be birthday "cake" and I could not be more excited!
As we're nearing the end of October, I thought it was only fitting to have a pumpkin cheesecake to celebrate.. and trust me.. I'm not done with pumpkin recipes yet! We'll be sharing those all the way until December people, so hold on tight! But back to the cheesecake.
This vegan pumpkin cheesecake is seriously so incredible. It's perfectly spiced with my homemade pumpkin pie spice and filled with pure pumpkin for a true pumpkin flavor. The cheesecake get it's oh so dreamy, creamy texture from the soaked cashews and coconut milk.
And the crust… ohhh the crust! The crust is simply made from pecans, soaked dates and even more pumpkin pie spice for a crunchy and sweet layer in every bite! I'm currently loving the combination of pure maple syrup (the good stuff, not the fake stuff) and anything pumpkin, it's just such a comforting flavor pairing during the Fall.
It makes me want to snuggle up under a warm blanket with a hot chai tea and just eat lots of cheesecake. Wait, can I do that? Seriously though, bring this vegan pumpkin cheesecake to any party and I guarantee everyone will love it and NO ONE will guess its vegan! It will most definitely be on my Thanksgiving menu, I can tell you that!
I don't know about you all, but I personally cannot wait to blow out the candles on this vegan cheesecake tonight and bring on 27!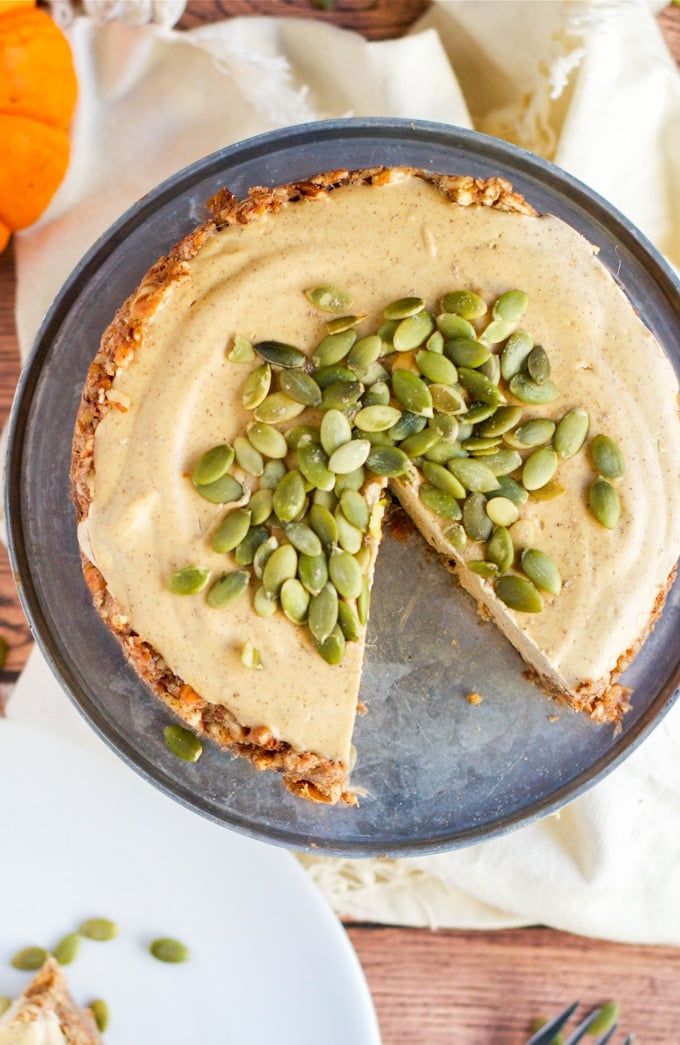 Vegan Pumpkin Cheesecake
A vegan pumpkin cheesecake that is just as creamy as it's dairy counterpart. Top with raw or toasted pepitas for extra crunch and flavor. Gluten-free, dairy-free, egg-free and vegan.
Print
Pin
Rate
Ingredients
For the Crust:
1

cup

pecans

1/2

cup

dates

(soaked in hot water for 20 minutes)

1-2

tbsp

leftover date water

(if needed)

1

tsp

pumpkin pie spice
For the Filling:
2 1/2

cups

raw cashews

(soaked in boiling water for at least an hour)

3/4

cup

coconut milk

1/4

cup

coconut oil

(melted)

1/4

cup

pureed pumpkin

1 1/2

tbsp

pumpkin pie spice

1/4

cup

pure maple syrup

1

tbsp

lemon juice

1/2

tsp

kosher salt

1

tsp

vanilla

1/2

cup

pepitas

(to top cheesecake)
Instructions
To make the filling, combine pecans, dates and pumpkin pie spice in a food processor or high powered blender. Pulse until combined. The mixture should be able to hold together in between two fingers. If need be, add about one tablespoon of the leftover date soaking water to get it to come together.

Press the filling in the bottom and sides of a tall 6" cake pan lined with parchment paper or aluminum foil.*

To make the filling, combine soaked cashews, coconut milk, coconut oil, maple syrup, and pureed pumpkin in a food processor or high powered blender until smooth. Addlemon juice, salt, pumpkin pie spice and vanilla and blend until combined. Adjust any sweetness or spice levels according to your tastes.

Pour filling over the crust and smooth with the back of a spatula.

Freeze for 3-4 hours until set. Top with raw pepitas.

To serve, defrost for about 20 minutes.
Notes
*I used a tall 6" cake pan for this recipe. You can also use a springform pan which is easier. If you would like to make a bigger cheesecake you can put it in an 8" pan and just have a shorter cheesecake and the crust will not go up the sides but will fill the bottom. You can also double the filling for a taller 8'' cake.
**Parchment paper or aluminum foil is necessary to life the cake easily out of the pan. If you have a springform pan you do not need to worry about this.
Nutrition
Calories:
493
kcal
|
Carbohydrates:
30
g
|
Protein:
10
g
|
Fat:
40
g
|
Saturated Fat:
14
g
|
Sodium:
155
mg
|
Potassium:
501
mg
|
Fiber:
3
g
|
Sugar:
15
g
|
Vitamin A:
1200
IU
|
Vitamin C:
1.8
mg
|
Calcium:
54
mg
|
Iron:
4.5
mg