These roasted chicken thighs are so crispy, the skin almost tastes like bacon! Only four ingredients to create this recipe which is perfect for entertaining last minute guests or for an easy weeknight dinner with your family.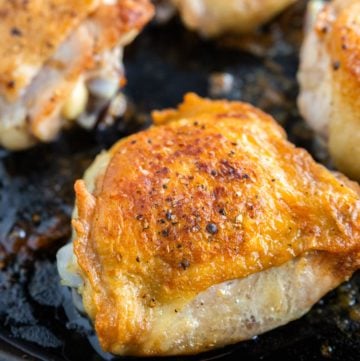 Roasted chicken thighs are baked to crispy perfection with this easy oven roasting method using a cast iron skillet. They're completely gluten-free – you won't believe how crispy the skin gets without actually frying the chicken! It makes a great weeknight dinner or a meal to impress guests for a dinner party!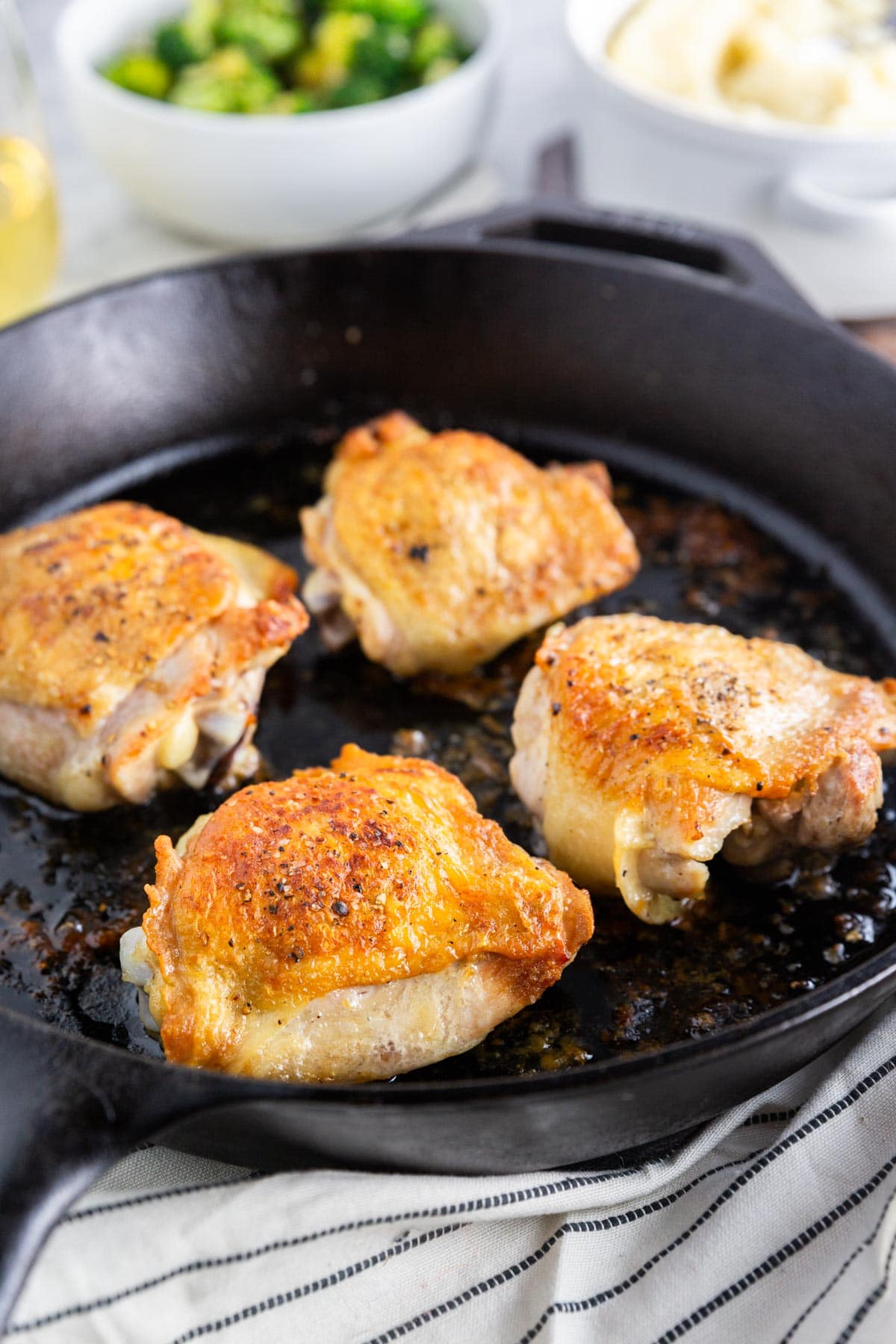 Everyone has a go-to meal right? You know, that meal you make whenever you want something that you know will turn out great every single time. That's the meal I'm talking about!
Well, roasted chicken thighs are my go-to meal. I've been making roasted chicken thighs almost once a week for the past few years, in fact. I make this meal whenever I have friends over for dinner, book club meetings, nice Sunday night dinners at home, or an easy weeknight dinner after a long day at work.
It's an all occasions meal really. Because this roasted chicken thighs recipe is so incredibly easy!
As long as you have a cast iron skillet, you are golden.. and your chicken thighs will be too! The skin gets so crispy using this method that it almost tastes like bacon. Almost. The skin is truly the best part.
It's the closest thing you'll get to fried chicken without actually frying it, which coming from a girl who's favorite foods used to be bacon and anything fried before going gluten-free, that means something!
Next time you need a quick and easy meal that is sure to impress your friends, try this recipe for roasted chicken thighs!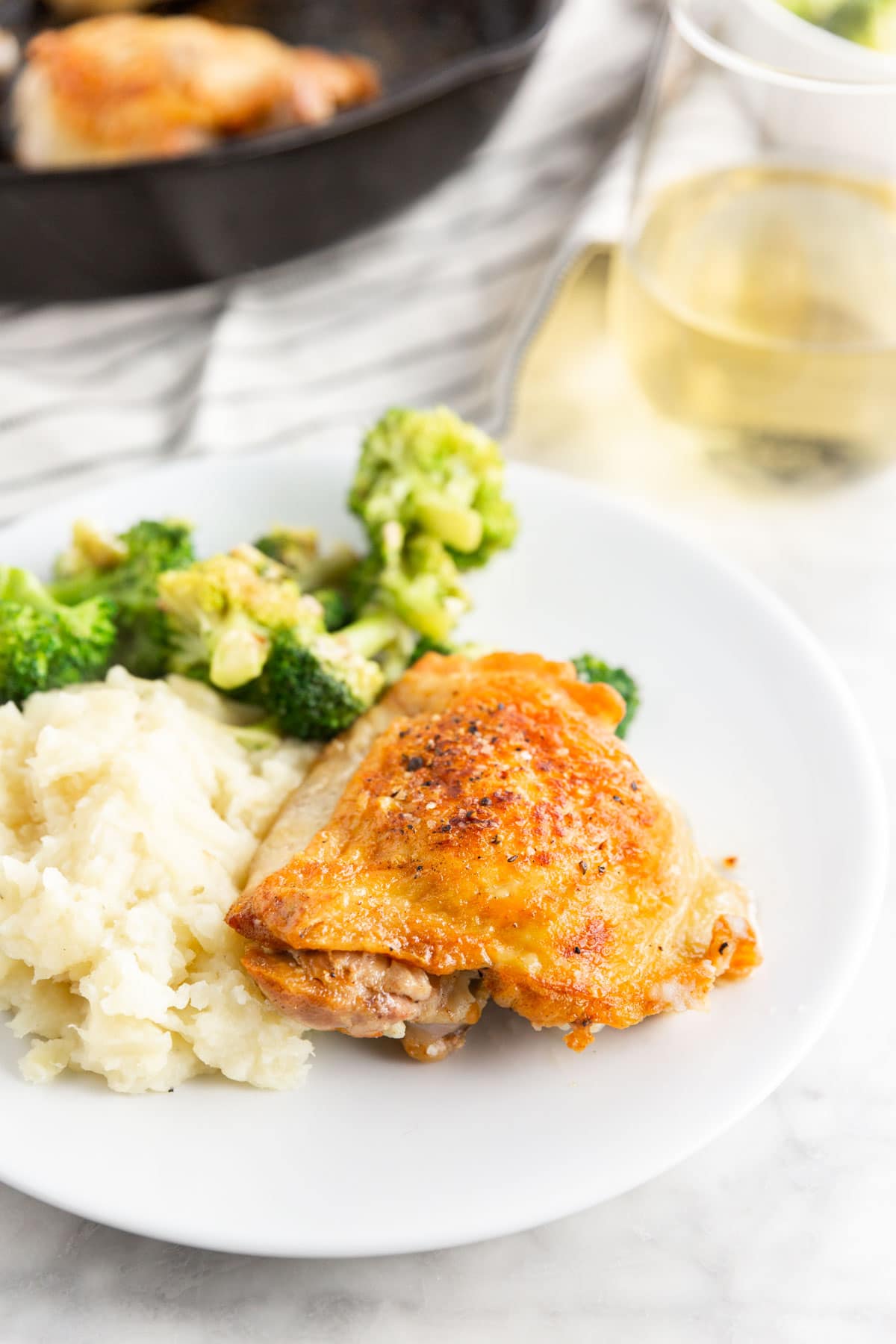 A Dash of Megnut is a participant in the Amazon Services LLC Associates Program, an affiliate advertising program designed to provide a means for us to earn fees by linking to Amazon.com and affiliated sites.
Here's What You'll Need to Make This Recipe
Ingredients: Chicken thighs, oil, salt and pepper – that's it!
Equipment:
How to Make Roasted Chicken Thighs
Prepare your chicken
Use bone-in skin-on chicken thighs for this recipe. DO NOT rinse your chicken as that will spread bacteria.
Pat your chicken dry with a paper towel to remove excess moisture from the juices of the chicken. Then season both sides of the chicken thighs.
This is a base recipe, so we're just using salt and pepper. Feel free to add your own favorite spices! Garlic powder, cumin, onion powder, mustard powder, and dried herbs are all great options!
Prepare your skillet
You will want to preheat your cast iron skillet over medium-high heat so that it gets really hot.
Then, add the oil and let it get hot for a minute. You don't want the oil to be smoking, just hot.
Sear the chicken
The first part of this recipe requires searing the chicken on the stove top. Place the thicken thighs skin-side down in the hot cast iron skillet. Let it cook for 8-10 minutes, until the skin gets golden brown.
I like to use my fish spatula to check if the skin is golden. Be sure to check around the 5-minute mark to make sure your chicken thigh skin does not burn.
If it's golden at the 5-minute mark, your heat was probably a little higher than mine, but proceed on with the recipe. Don't let it keep searing of you'll burn it!
Bake the chicken
After searing, flip the chicken over. Carefully place the cast iron skillet in the oven and bake at 400F for 20-25 minutes, until chicken is cooked through and the internal temperature reaches 165F.
Let the chicken rest for 5 minutes before serving.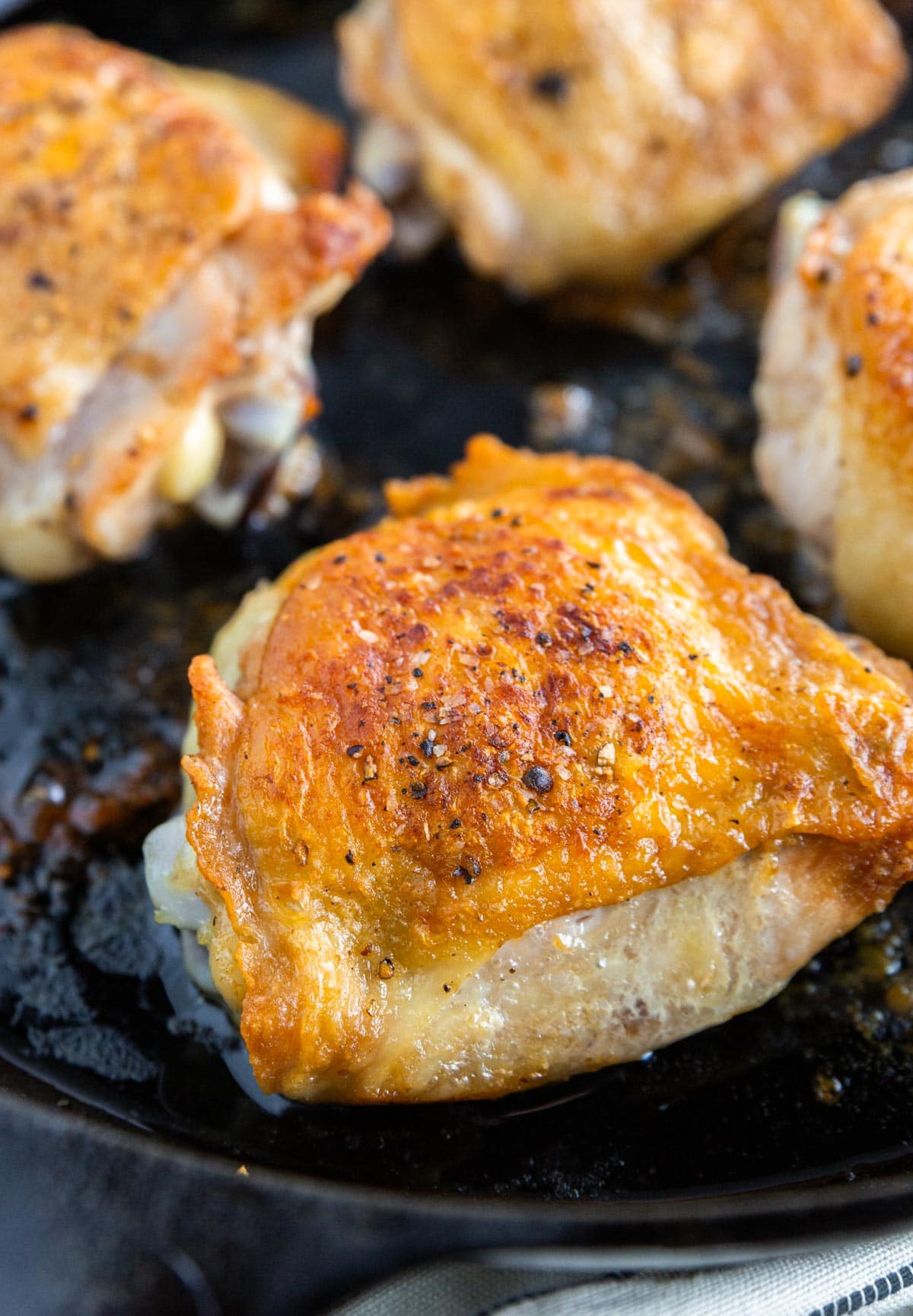 FAQs and Tips for Making Cast Iron Skillet Roasted Chicken Thighs
Are baked chicken thighs gluten-free?
Yes! These roasted chicken thighs are indeed gluten-free! You'll get the taste of fried chicken which it's crispy chicken thigh skin with none of the gluten!

There's no batter in this recipe. We're only using oil and seasonings to create this crispy skinned chicken!
Is this recipe dairy-free?
Since we're using an oil to roast our chicken instead of butter, this recipe is dairy-free, too!
What oven temperature is best to roast chicken thighs?
While some recipes will tell you to turn up the heat really high to roast chicken thighs in the oven, I like to bake my chicken thighs at 400F. The chicken skin gets really nice and crispy at this temperature.
What kinds of oil can I use in this recipe?
Extra virgin olive oil is a very common cooking oil, but it has a smoke point of about 350-410F so you'll want to use an oil with a higher smoke point. Avocado oil is my favorite oil for roasting and has a very high smoke point. Sunflower oil and safflower oil are also good options.

Since we're roasting our chicken thighs at 400F, you could use olive oil as well, but I'd recommend using regular olive oil instead of extra virgin olive oil.
What internal temperature do chicken thighs need to be cooked to?
Chicken should be cooked to an internal temperature of 165F. Use a meat thermometer to check the temperature. It should be inserted in the thickest part of the thigh, and should not touch the bone.

Keep in mind that chicken thighs are dark meat, so it is virtually impossible to tell if chicken thighs are cooked through without using a thermometer to test the internal temperature!
Why should I use chicken thighs with the bone-in and skin-on?
Chicken thighs with the bone-in will give you very moist, flavorful chicken. Plus, if you want that crispy skin you need the skin-on!

If you use boneless skinless chicken thighs, the results will not be crispy and the chicken will cook much faster, so keep that in mind!
Does this recipe also work for chicken legs?
You bet! If you're using whole chicken legs, they may take an extra 5-10 minutes in the oven.

If you're only use the drumstick, start to check the oven about 5 minutes before the times listed so that your chicken does not overcook.

Cook the chicken legs to an internal temperature of 165F.
What's the best way to prevent grease from splattering?
A grease splatter guard will help keep the oil from popping up at you on the stove.

Another trick that helps is to remove some of the oil and grease from the pan after searing before the skillet goes into the oven.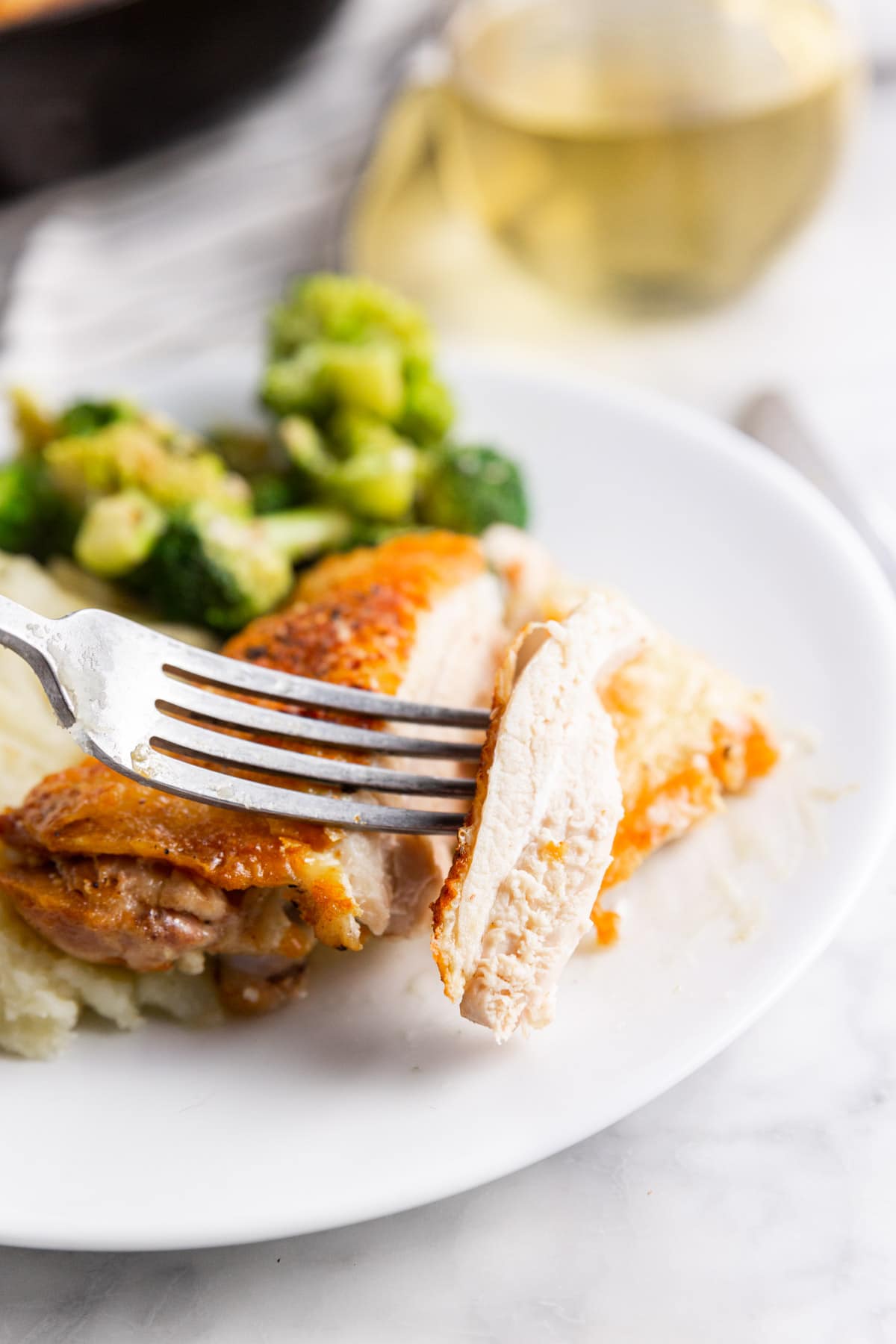 More gluten-free chicken thigh recipes
Looking for gluten-free side dishes to serve with roasted chicken? Try these recipes!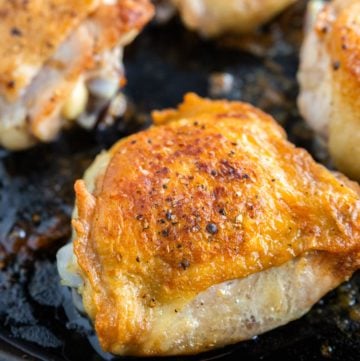 Roasted Chicken Thighs
These roasted chicken thighs are so crispy, the skin almost tastes like bacon! Only four ingredients to create this recipe which is perfect for entertaining last minute guests or for an easy weeknight dinner with your family.
Print
Pin
Rate
Ingredients
4

chicken thighs

(bone-in and skin-on)

1

tablespoon

avocado oil

(or other high-heat oil such as sunflower oil, grapeseed oil or canola oil)

1/4

teaspoon

kosher salt

1/4

teaspoon

freshly ground black pepper
Instructions
Preheat cast iron skillet on the stove until hot but not smoking.

Add one tablespoon of oil to the cast iron skillet and let heat for a minute.

Pat the chicken thigh skin dry and season with salt and pepper. Place skin side down in the cast iron skillet.

Cook over medium to medium-high heat for 8-10 min, until the skin is golden brown. Turn the thighs over so that the skin-side is up.

Carefully remove excess fat from the skillet to prevent splattering in the oven.

Transfer to the oven and cook an additional 20-25 minutes, until the skin is crispy and the chicken is completely cooked through. The internal temperature should be 165F.

Let rest for 5 minutes before serving.
Nutrition
Calories:
279
kcal
|
Carbohydrates:
1
g
|
Protein:
18
g
|
Fat:
22
g
|
Saturated Fat:
5
g
|
Cholesterol:
111
mg
|
Sodium:
232
mg
|
Potassium:
232
mg
|
Vitamin A:
88
IU
|
Calcium:
9
mg
|
Iron:
1
mg
This recipe was originally posted on May 13, 2015 and updated on March 28, 2020 with new photos, tips, and tricks to help you make these crispy roasted chicken thighs perfectly every time!
I'm Megan
A gluten-free food blogger from Chicago and lover of all things food, showing you gluten-free can be easy and delicious, too. Let's make gluten-free stress free together! Read more…