Gluten-Free Turkey Sugar Cookies
These gluten free turkey sugar cookies are so perfect for Thanksgiving! They're easy to make, too!
Happy early Thanksgiving everyone! In honor of Thanksgiving I have created some adorable sugar cookies for you all! And guess what? They're gluten free too! For the past year, I've been toying with some gluten free flour blends to create the perfect gluten-free sugar cookie. A lot of them turned out gritty, dry, crumbly, you get the idea. Not the buttery sugar cookies I was used to. Finally I think I have the perfect recipe! The secret to creating cookies that won't spread into giant blobs is to put the dough back in the freezer AFTER cutting it into shapes. You just put the dough shapes onto your baking sheet and into the freezer before baking. That helps the shapes hold up in the oven better. Also, for gluten-free cookies, the thicker the dough, the better. I did some that were about 1/8 inch and they were a bit brittle. The ones that I did closer to 1/4 inch turned out absolutely perfect. I just love how these turned out and I can't wait to make more cookies for winter!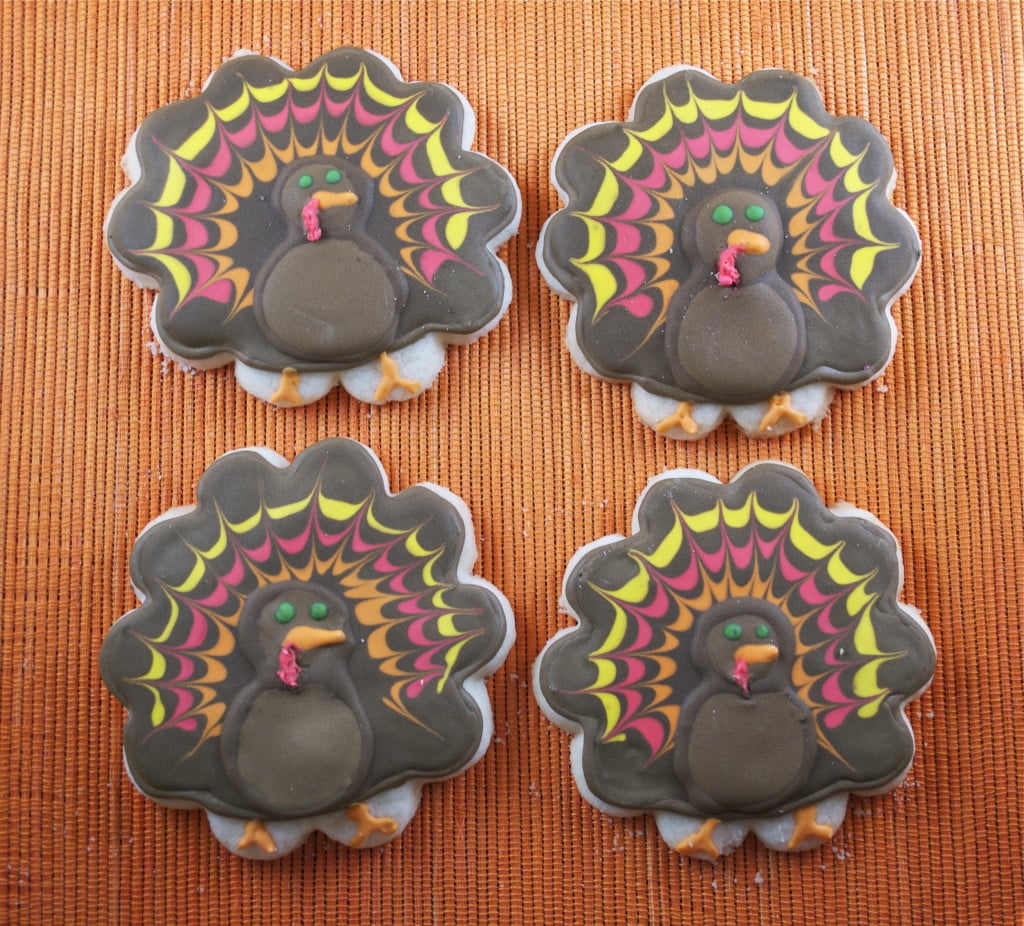 Gluten Free Turkey Sugar Cookies
These gluten free turkey sugar cookies are so perfect for Thanksgiving! They're easy to make, too!
Print
Pin
Rate
Ingredients
For the Cookies:
2 1/2

cups

gluten free flour blend

1/2

tsp

xanthan gum

(if your blend does not already contain it)

1

cup

butter

(softened)

1

cup

powdered sugar

2

tsp

almond extract

1

tsp

pure vanilla extract

1

tsp

salt

1

egg
Royal Icing:
4

cups

powdered sugar

(sifted)

2

tbsp

meringue powder

5

tbsp

water

1

tsp

vanilla

(or almond extract)
Instructions
For the Cookies:
In a medium bowl, whisk together gluten free flour blend and xanthan gum (if using). Set aside.

Cream butter and powdered sugar in a large bowl with an electric mixer.

Mix in egg, vanilla, almond extract and salt and beat until mixed well.

Gradually add in flour blend (1/2 cup at a time) and mix after each addition. Be sure not to over mix. I use the electric mixer for the first 2 cups of flour and then hand mix the last 1/2 cup.

Put dough in the refrigerator for an hour or so, or until the dough firms up. You can also put it in the freezer but I would only do that for 20-30 minutes otherwise it's very difficult to roll out.

Sprinkle your work surface and rolling pin with powdered sugar.

Roll the dough out to a 1/4 inch thickness.

Cut with cookie cutters.

Place on a greased cookie sheet and put back in the freezer for 10-15 minutes.

Then, bake in the oven at 375 degrees Fahrenheit for 8-10 minutes or until cookie all the way through. The cookie should not brown, but the edges can be slightly browned (that's a good indication it's done). Cool on a wire rack.
For the Royal Icing:
In a bowl of an electric mixer fitted with the whisk attachment, combine the powdered sugar, meringue powder and water.

Mix for 7-10 minutes, until the ingredients are well blended and the icing has a matte finish.

This is the base consistency. I usually add about 1 tsp more of water for a good outline icing (I use a 10 second rule) and add more water until I reach a 4-second icing for flood icing. This means that when you drizzle icing over the bowl of royal icing then the icing will flow back in with the rest of the icing in 4 seconds (10 second icing is the same but it will sink back in with the rest of the icing in 10 seconds). If you need to thin it out more then add more water. If you need to thicken it add more powdered sugar.
To Decorate:
To decorate the cookie, I used a scalloped circle cookie cutter. Outline the cookie using brown icing (10 second icing). Flood with thinned out brown icing (4 second icing). Immediately after flooding with the brown, using the red, yellow and orange icings in pastry bags fitted with a number 3 tip (or squeeze bottles - they work wonders), draw a half circle of each color basically making a rainbow.

Drag a toothpick from the inside of rainbow to the outside. Repeat until you form the feathers. Allow to dry.

Once dry, using the brown outline icing (10 second icing) draw two circles for the head and body of the turkey.

Flood with the 4 second brown icing and allow to dry.

Make the beak, eyes and gaggle with whatever colors you would like.

Draw the feet of the turkey with the orange icing (10 second icing).
Nutrition
Calories:
282
kcal
|
Carbohydrates:
45
g
|
Protein:
2
g
|
Fat:
11
g
|
Saturated Fat:
6
g
|
Cholesterol:
36
mg
|
Sodium:
226
mg
|
Potassium:
6
mg
|
Fiber:
1
g
|
Sugar:
33
g
|
Vitamin A:
330
IU
|
Calcium:
15
mg
|
Iron:
0.7
mg