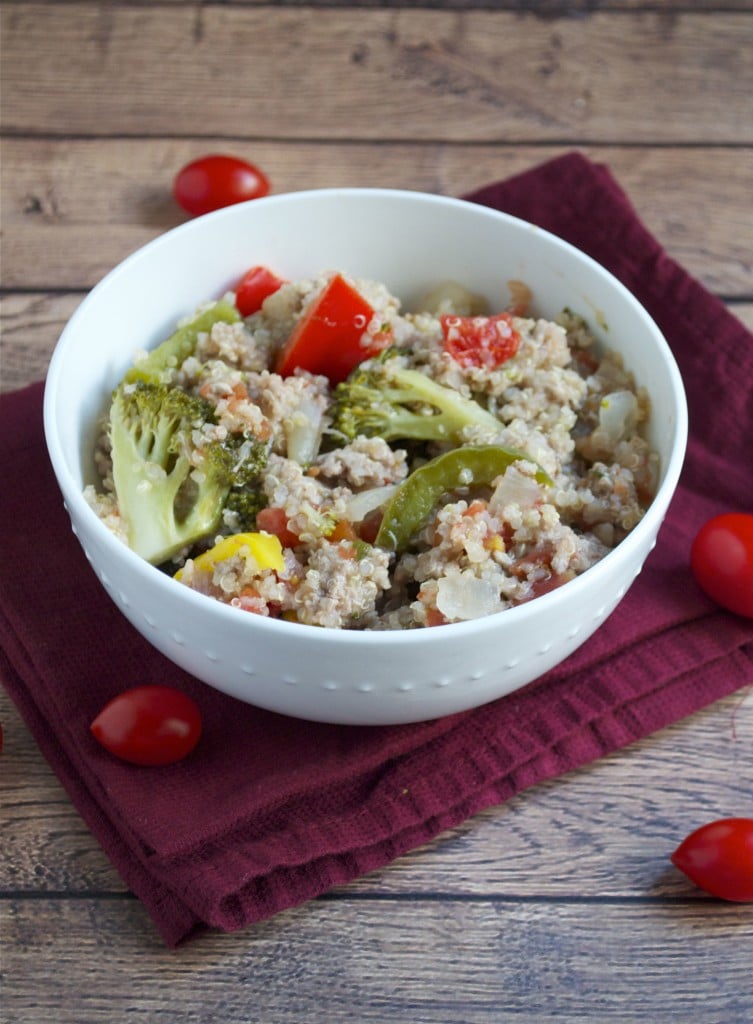 You guys remember those old Nokia phones right? You know, the small, brick-like phones with awesome customized cases and where you only needed one thumb to play Snake? They were arguably the greatest phones ever. While they weren't winning any awards in the looks department, they were basically indestructible and you never had to charge your phone since the battery lasted for a week. 
Drop it in the toilet? It probably still worked. Accidentally let it fall down a flight of stairs? Still going strong. Drop it screen side down? Still in business!
I miss the days of Nokia phones. While I do enjoy having a mini computer in my pocket at all times, sometimes the simplicity of those phones would be so nice! (And SNAKE! I could always use a game of Snake in the middle of the day.)
Why am I talking about Nokia phones? Well, this turkey and vegetable quinoa skillet recipe is kind of like a Nokia phone. It may not be the prettiest of phones, but what it lacks in appearance it makes up for in reliability, simplicity and just down right amazingness.
Like I said, this recipe is not the prettiest of recipes, but it is perfect when you are looking for a light and healthy meal. Full of vegetables, quinoa and lean ground turkey, this dinner is easy to make and on the table within an hour. Even better.. this is a one pot meal. Meaning start to finish, we are using just one pot! Coming from a girl who does not have a dish washer, that is key!  This recipe is naturally gluten-free and dairy-free, but could also be made vegan with the omission of the turkey. I love making this recipe whenever I am looking for a meal that is really tasty and fresh. I just love how much the vegetables shine through in this recipe! It's a perfect way to use up the rest of your summer harvest!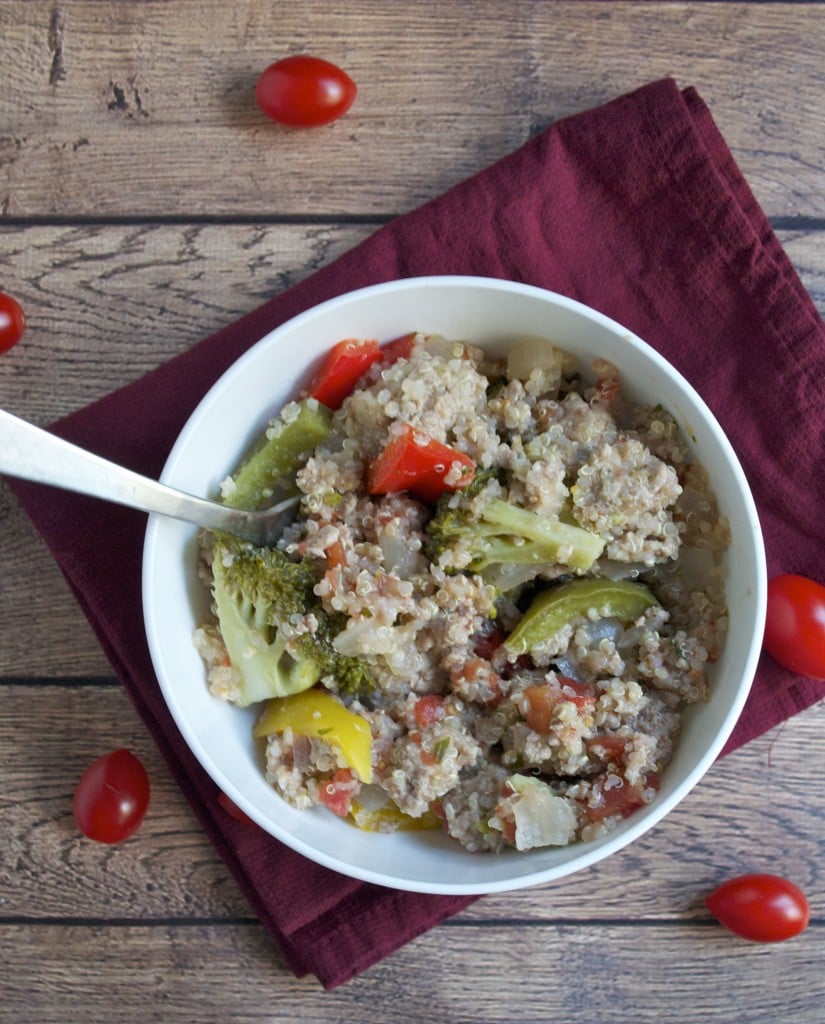 Turkey and Vegetable Quinoa Skillet
Prep time:
Cook time:
Total time:
Ingredients
2 lbs ground turkey
1 tbsp olive oil
2 cups onion, diced (1 medium onion)
2 cups sliced bell peppers, of any color (I used a combination of red, yellow and green - about ½ of a pepper each)
1 clove garlic, minced
1½ cups quinoa
3 cups water or chicken stock
2 cups cherry tomatoes, sliced in half
1 (15 oz) can diced tomatoes
1 large head of broccoli, cut into bite sized pieces (about 4 cups)
1 tsp salt
1 tsp pepper
2 tbsp fresh parsley, chopped
Instructions
In a large skillet over medium heat, heat oil. Add onions and bell peppers and sautee for about 5 minutes. Add the minced garlic and continue cooking for another 2 minutes, stirring occasionally, until garlic is light brown, but not burnt.
Add the ground turkey and cook for 10 minutes, until turkey is lightly browned. Stir every minute or so to make sure the turkey doesn't burn and that it cooks evenly.
Add quinoa and water/chicken stock and bring to a boil. Once boiling, cover pot with a lid and reduce to medium low heat. Continue cooking for about 10-15 minutes.
Add in the broccoli, canned tomatoes, salt and pepper and cook for another 10 minutes, until broccoli is soft and quinoa is cooked through and fluffy.
Stir in the cherry tomatoes and parsley, cook for an additional few minutes and then take off heat.
Serve immediately.