Gluten-Free Mini Egg Blondies
Satisfy your sweet tooth this Easter with these gluten-free mini egg blondies! These buttery and chewy blondies are studded with colorful Cadbury Mini Eggs for a festive crunch. They're so quick and easy to make - you can have them in the oven in under 10 minutes and on the dessert table in under an hour!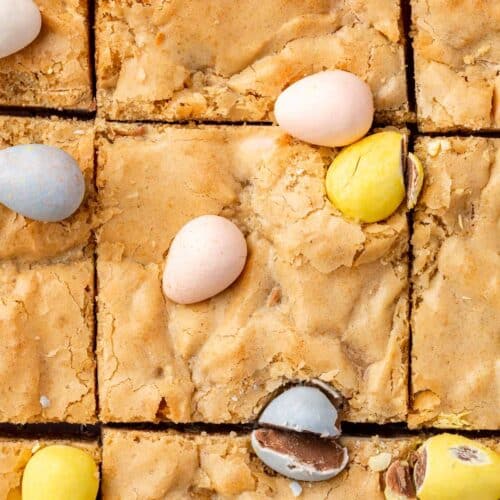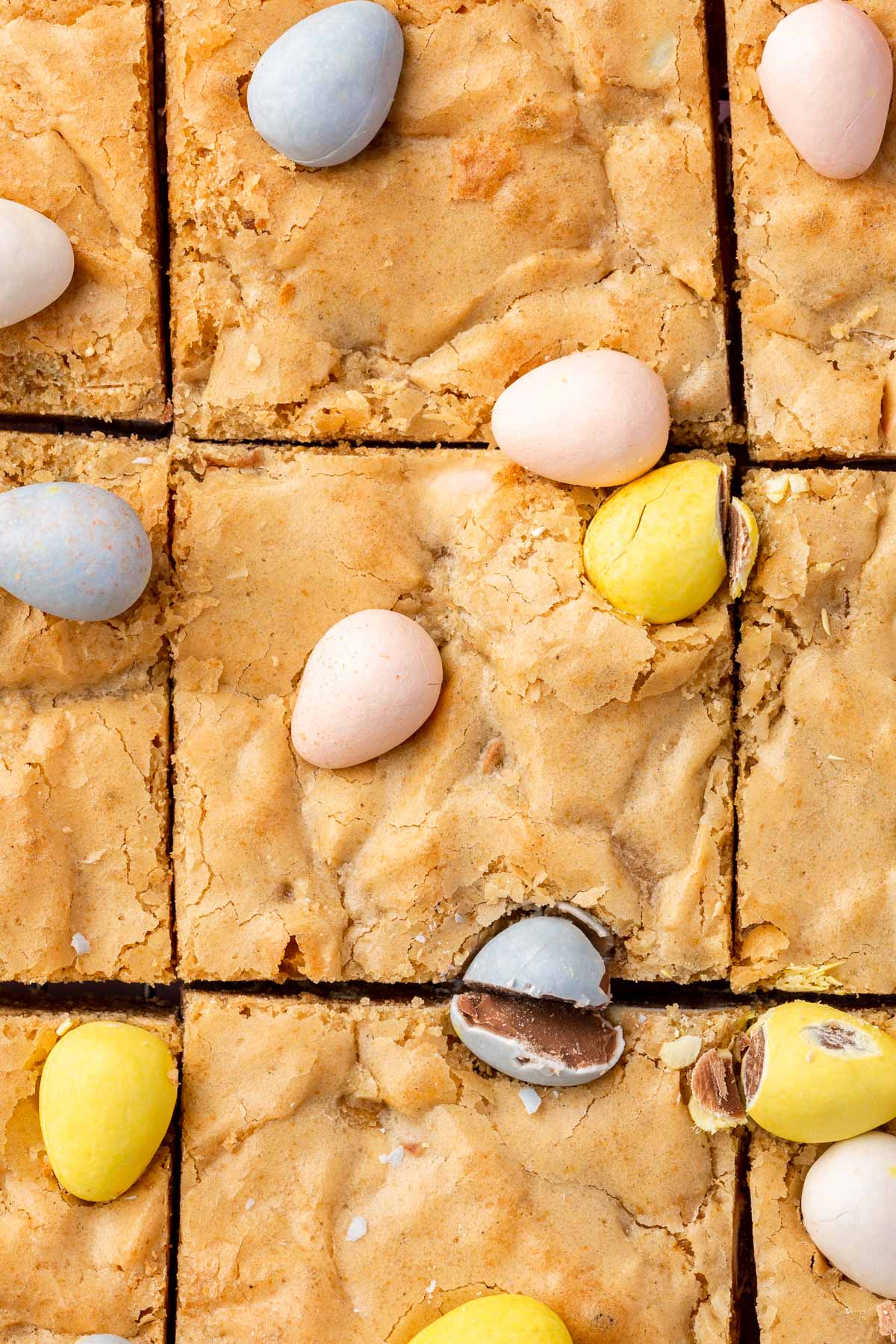 Don't miss out on the fun of Easter treats just because you have dietary restrictions. If you're looking for a tasty Easter treat that's gluten-free, these gluten-free mini egg blondies are the perfect choice.
They're quick to make and require no frosting, making them a simple and delicious dessert option. The mini eggs add a fun pop of color and flavor to the blondies. They're so festive!
Plus, this recipe is also a great way to use up leftover Easter candy after the holiday is over!
You'll love this recipe because:
Ingredients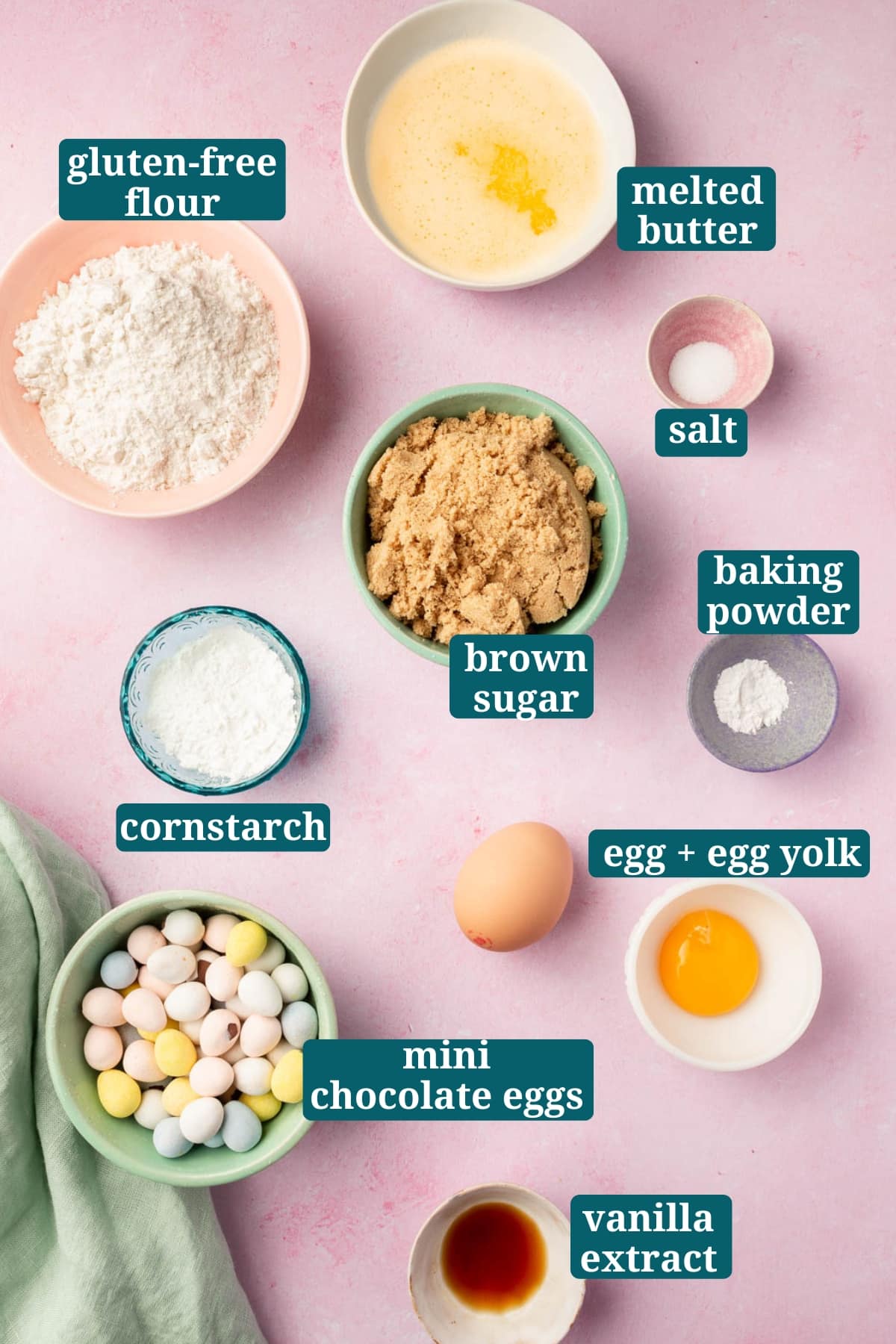 Ingredient Notes
Gluten-free flour blend – I have tested the recipe with Bob's Red Mill 1-to-1 Gluten-Free Baking Flour, which is a blend of white rice flour, sorghum flour, potato starch, tapioca flour, and brown rice flour. This flour blend already contains xanthan gum, which helps give baked goods structure and a better texture. However, I cannot guarantee that other gluten-free flour blends will work as well, as I have not tested them. For the best results, use my recommended flour blend.
Cornstarch – Cornstarch is often used in gluten-free baking as a thickener and to help give baked goods a light and tender texture. It's important to use cornstarch that is labeled as gluten-free, as some brands may be processed in facilities that also handle wheat flour.
Baking powder – While most baking powders are gluten-free, it's always a good idea to double-check the ingredients and allergen statements to make sure there is no cross-contamination with gluten. Baking powder is typically made of baking soda, cream of tartar, and a starch, which is often corn-derived or potato-derived. Use a gluten-free baking powder to ensure that your mini egg blondies are safe to eat for those who are gluten intolerant.
Salt – I used table salt in this recipe, but kosher salt should also work just fine.
Unsalted butter – recommend using unsalted butter instead of salted. The amount of salt in salted butter can vary between brands, which can affect the overall taste of your blondies. By using unsalted butter, you can control the amount of salt that goes into the recipe.
Brown Sugar – Brown sugar is what gives blondies their classic caramelized taste. Brown sugar also adds flavor and moisture to baked goods, so I don't recommend decreasing the amount of sugar in this recipe.
Egg and egg yolk – To make these mini egg blondies, we'll be using one whole large egg and the egg yolk from another large egg. If you have a medium or extra-large egg on hand instead of a large one (50g), be sure to weigh it to get the right amount for the recipe. The extra egg yolk in this recipe is key to improving the texture and flavor of the blondies, so don't skip it! It helps make the blondies more moist and chewy, which is exactly what you want. Trust me, it's worth it!
Vanilla extract – For best results, use pure vanilla extract and not imitation vanilla.
Cadbury mini eggs – Cadbury mini eggs are a popular Easter candy that add a pop of color and flavor to mini egg blondies. The Cadbury mini eggs in the United States are gluten-free, but always double check labels as ingredients and manufacturing practices can change. You can use other chocolate candy, chocolate chips or sprinkles instead if you prefer.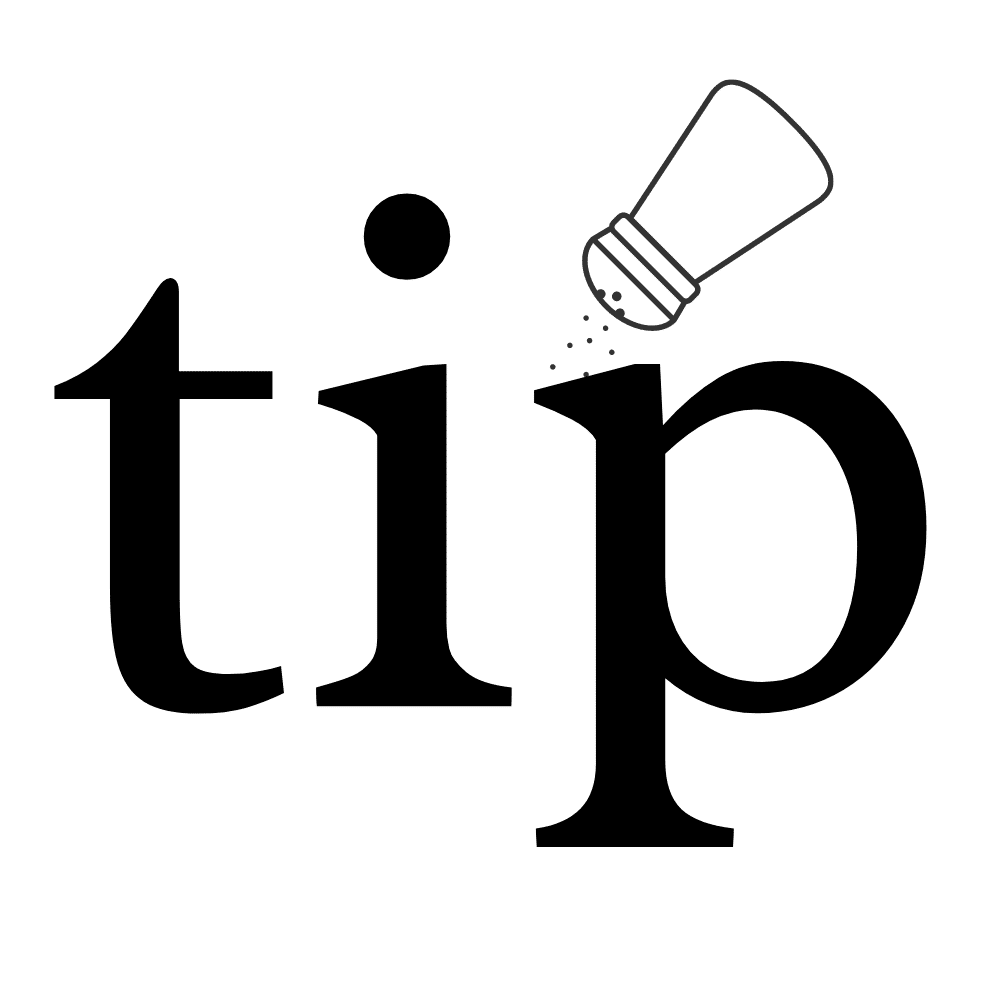 Roughly chop the mini eggs into small pieces to ensure they're evenly distributed throughout the blondies. This will make them easier to slice and to bite into! I love to use some larger whole mini eggs on top so you can see the egg shape for Easter.

Step-by-Step instructions
These gluten-free mini egg blondies are so easy to make with just a few simple pantry staples and Cadbury mini chocolate eggs! The following steps and matching photos are meant to help you see the recipe at various stages so that you can make these chewy blondies perfectly every time.
For the ingredient list with measurements, full instructions, printable recipe, and additional notes, please scroll down to the recipe card.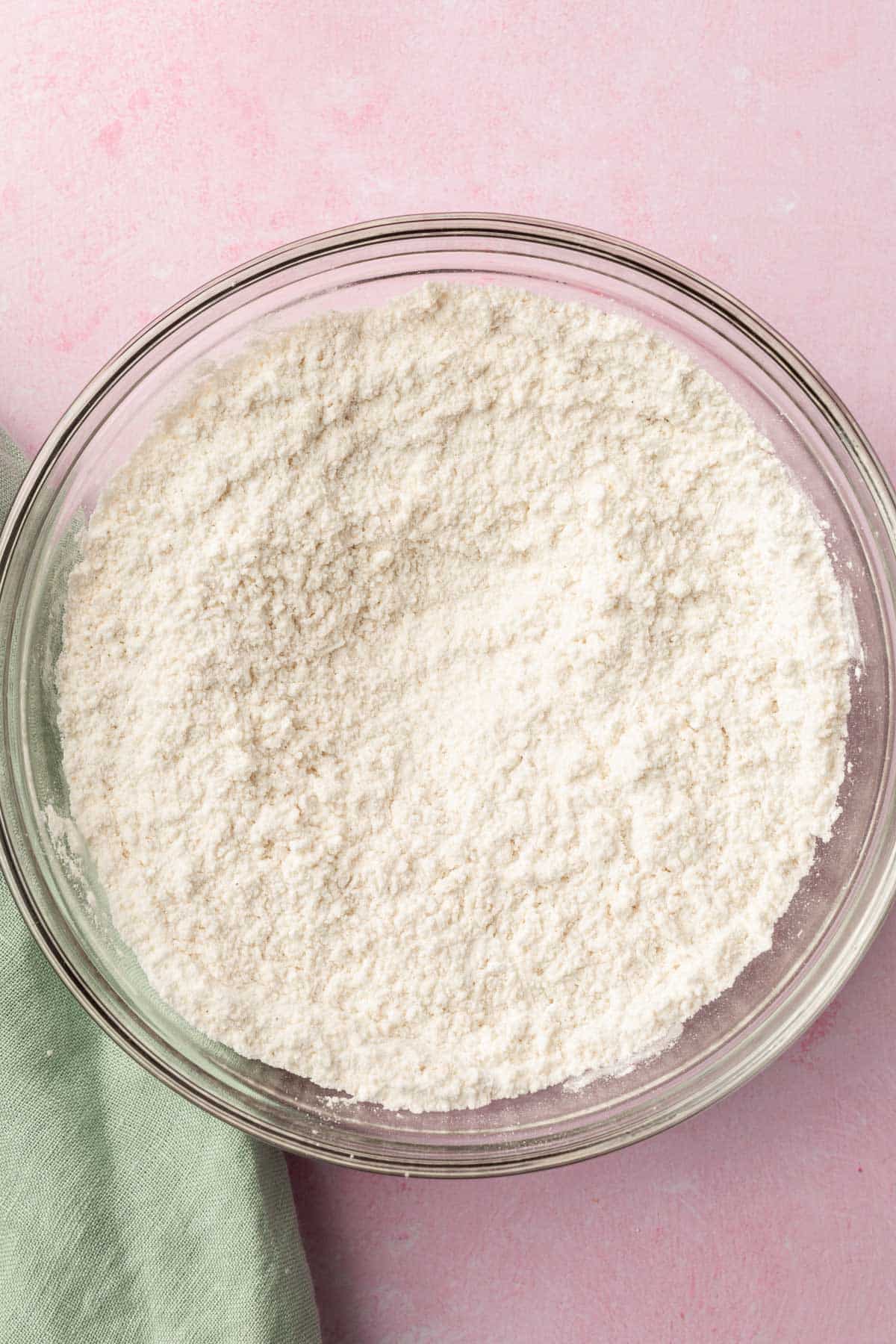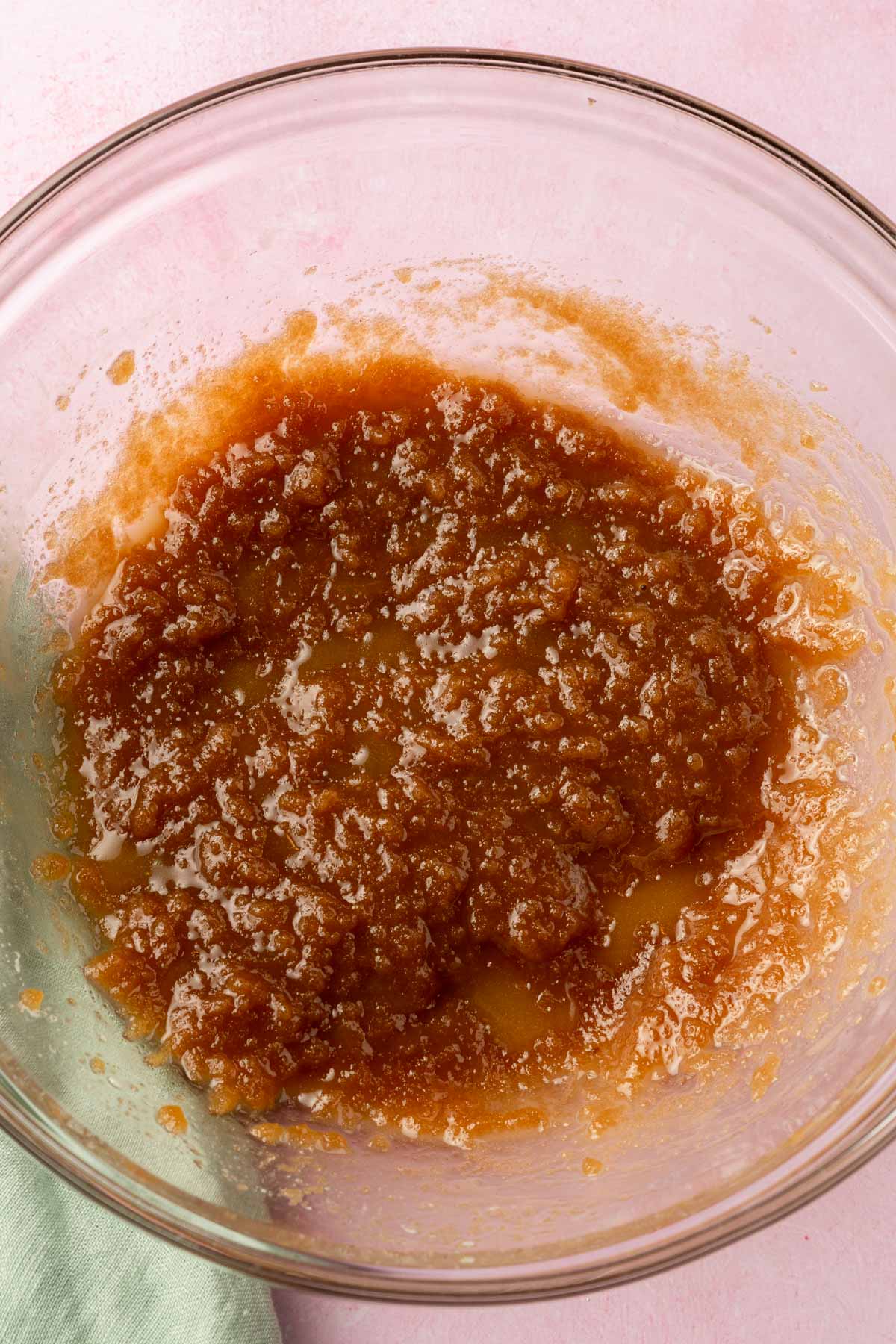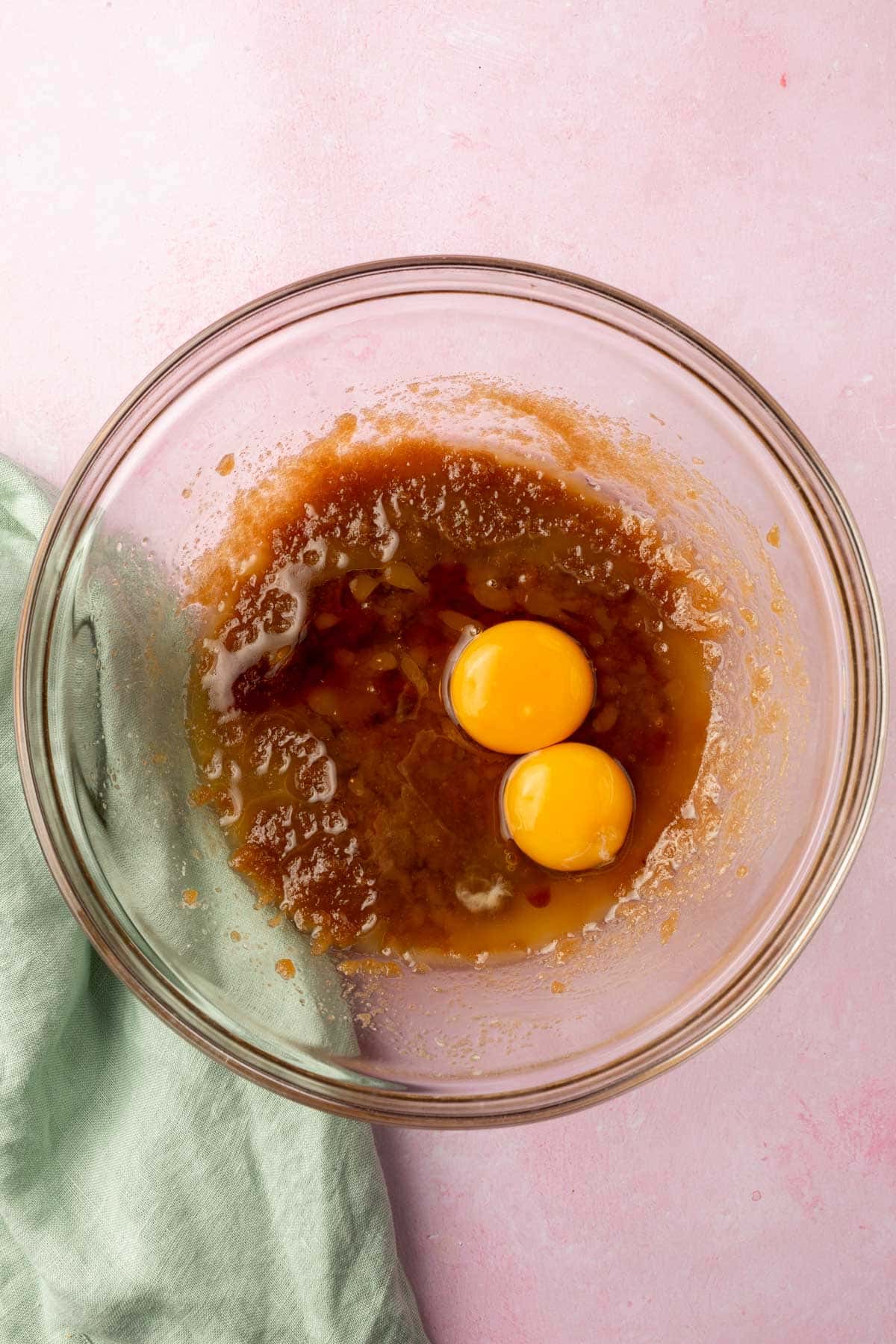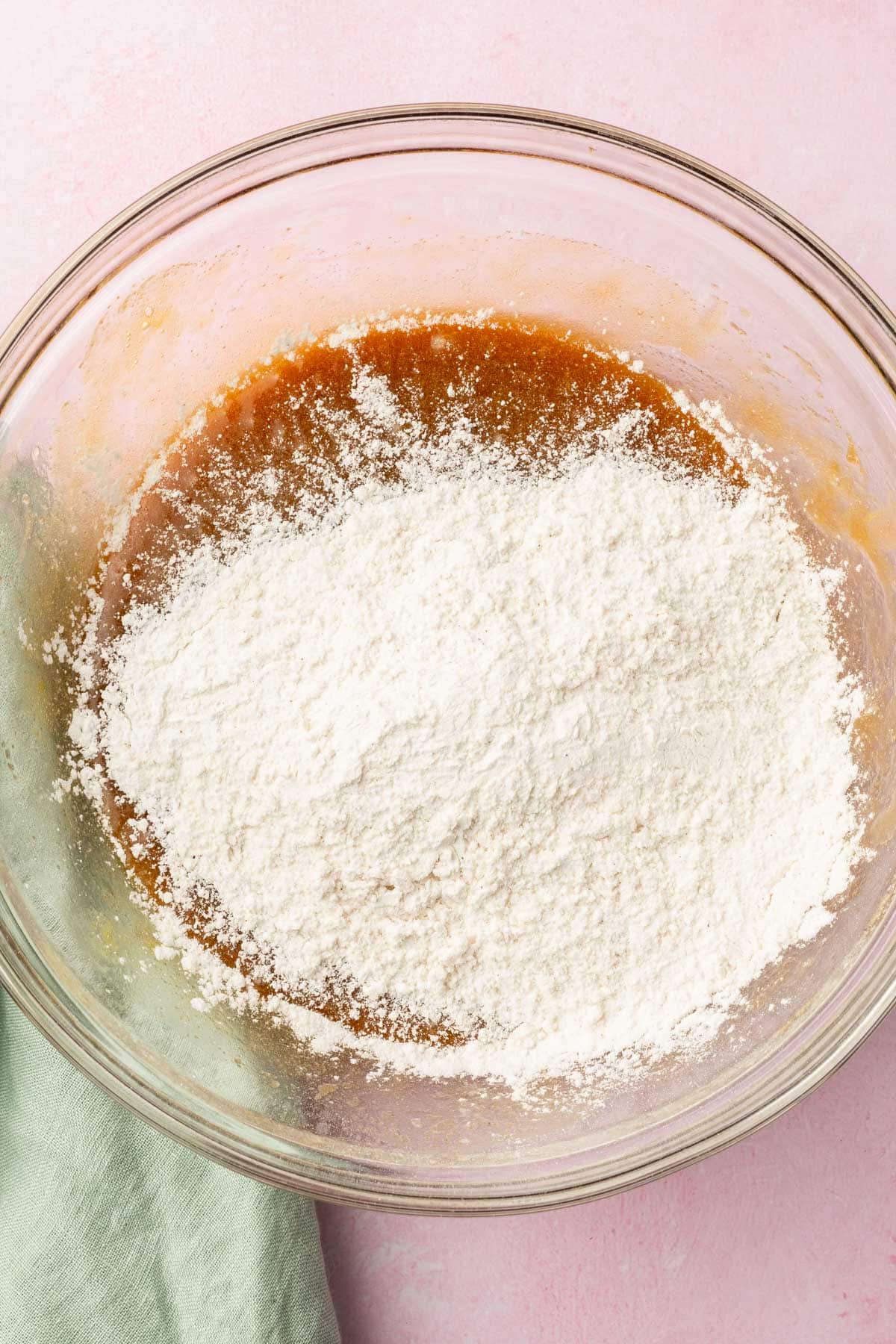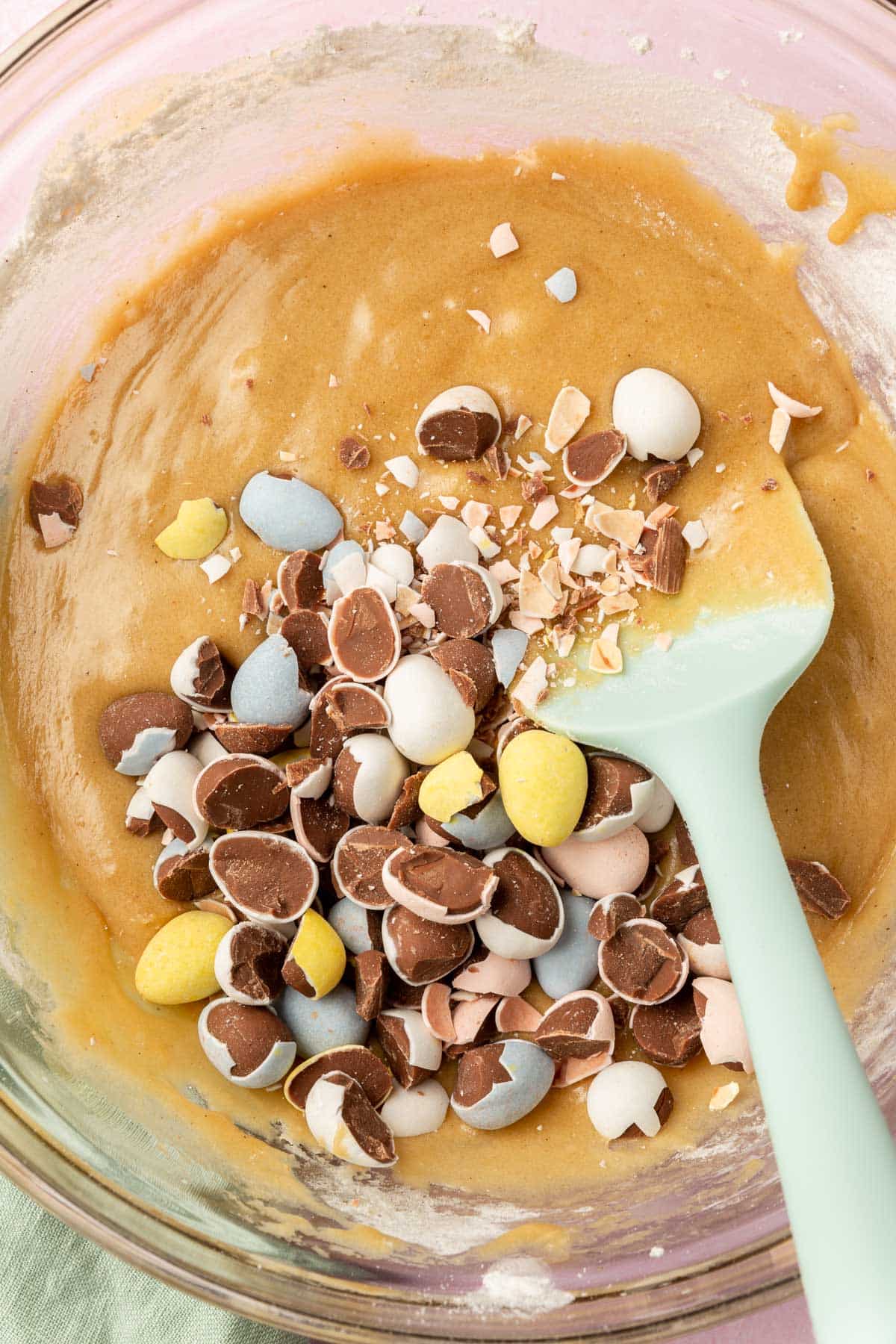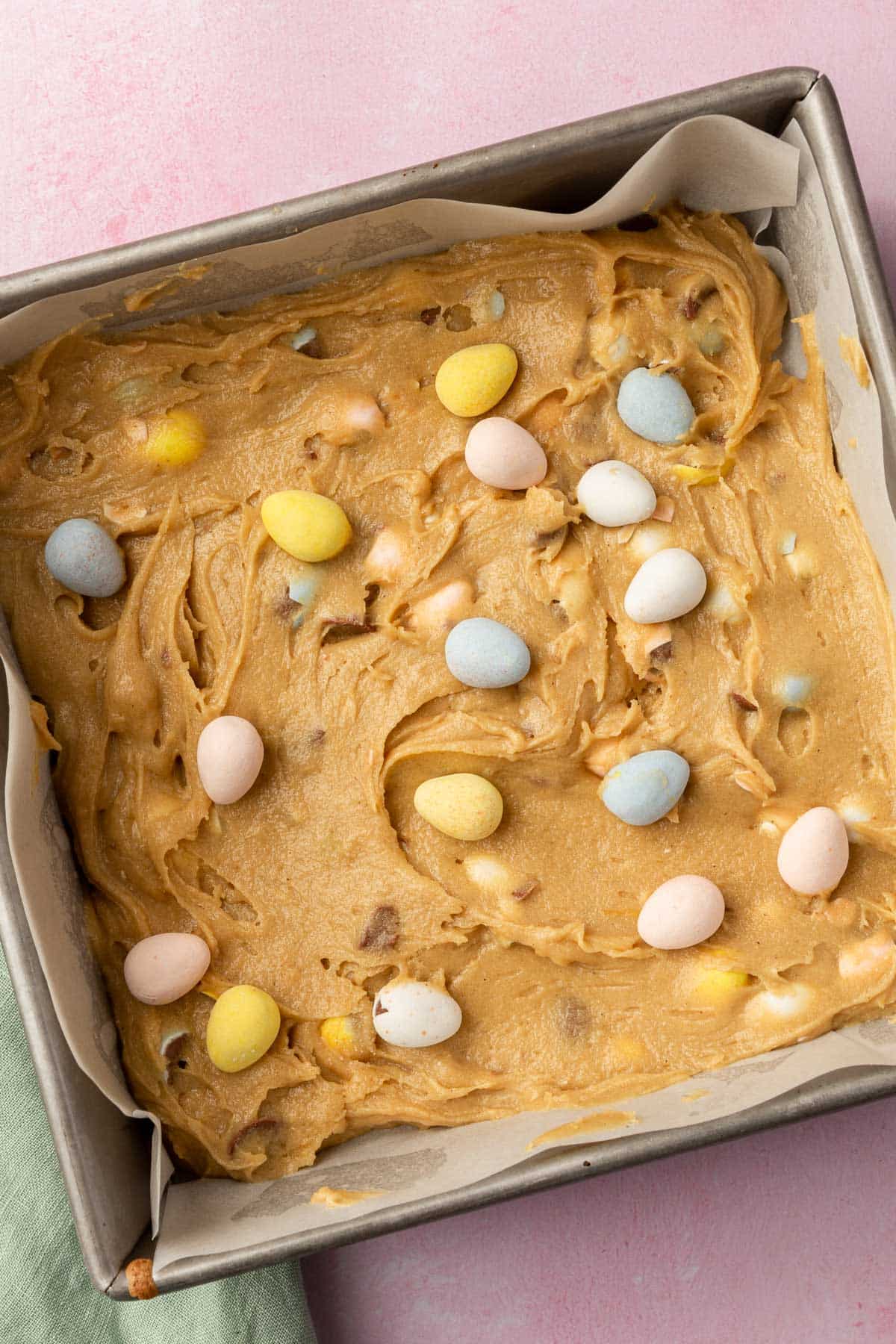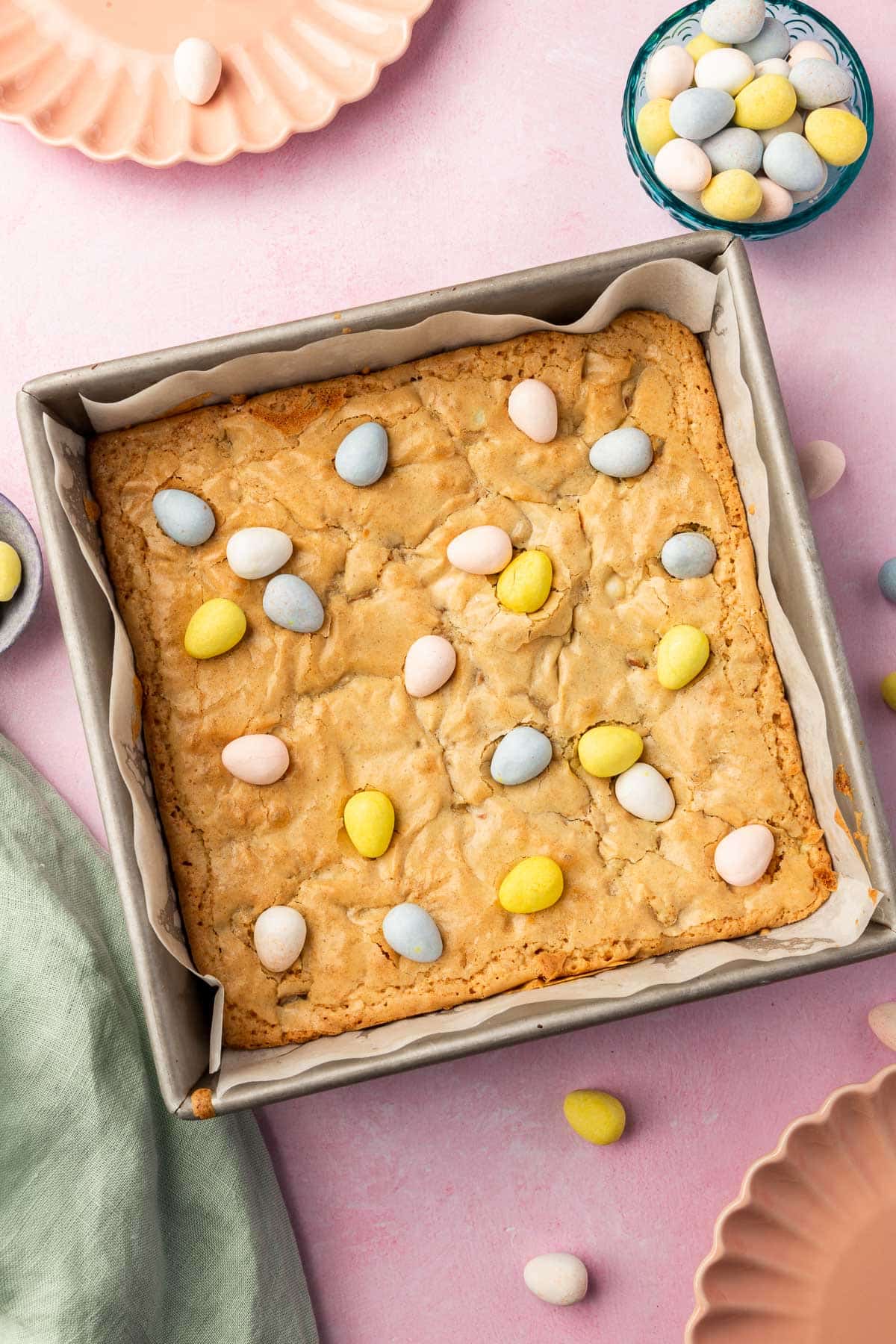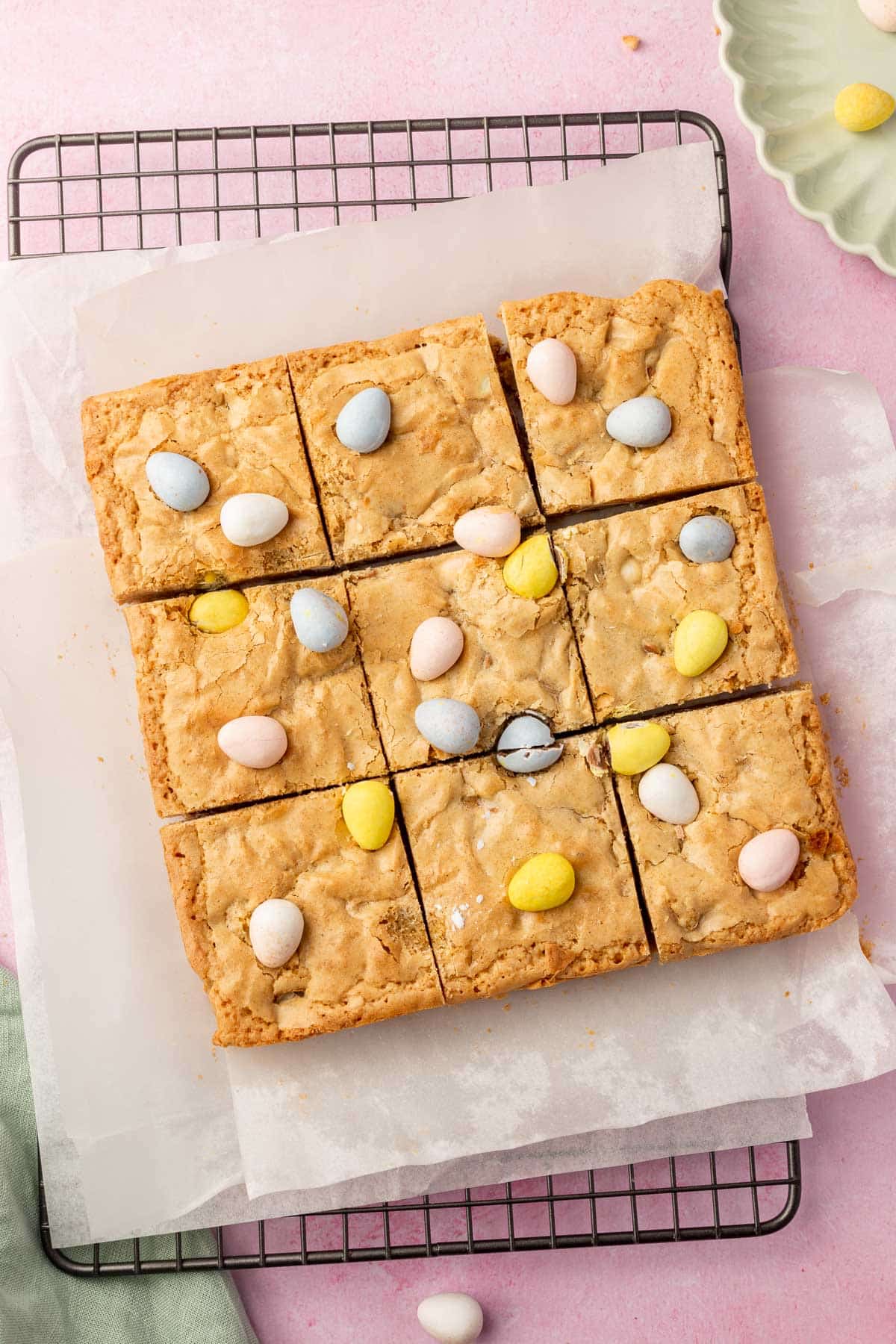 Recipe FAQs
Are Cadbury mini eggs gluten-free?
In the United States, Cadbury mini eggs are made by Hershey. Hershey has stated that Cadbury mini eggs do not contain any gluten-containing ingredients. While they are made in a facility that contains wheat, they are made on manufacturing lines that do not contain wheat. Always be sure to double check the packaging or call the company to ensure that manufacturing practices have not changed.
Can I use other candy besides Cadbury mini eggs in this recipe?
There are many brands of mini eggs on the market during the Easter season, so you can use whichever you prefer. If you are gluten-free, be sure to double check all ingredients. You can also use chocolate chips, other gluten-free chocolate candy, sprinkles, nuts or other gluten-free mix-ins instead.
Storage instructions
Storage: You can make these blondies ahead of time and store them in an airtight container at room temperature for up to 3-4 days.
Freezer Option: For longer storage, you can also freeze them for up to 2 months, tightly wrapped in plastic wrap and aluminum foil. I prefer to freeze individual slices of blondies so that I can take out the number of blondies that I need. It's also much easier to slice them into squares before freezing.
Thawing: To thaw frozen blondies, let them sit out at room temperature for 1 hour until softened.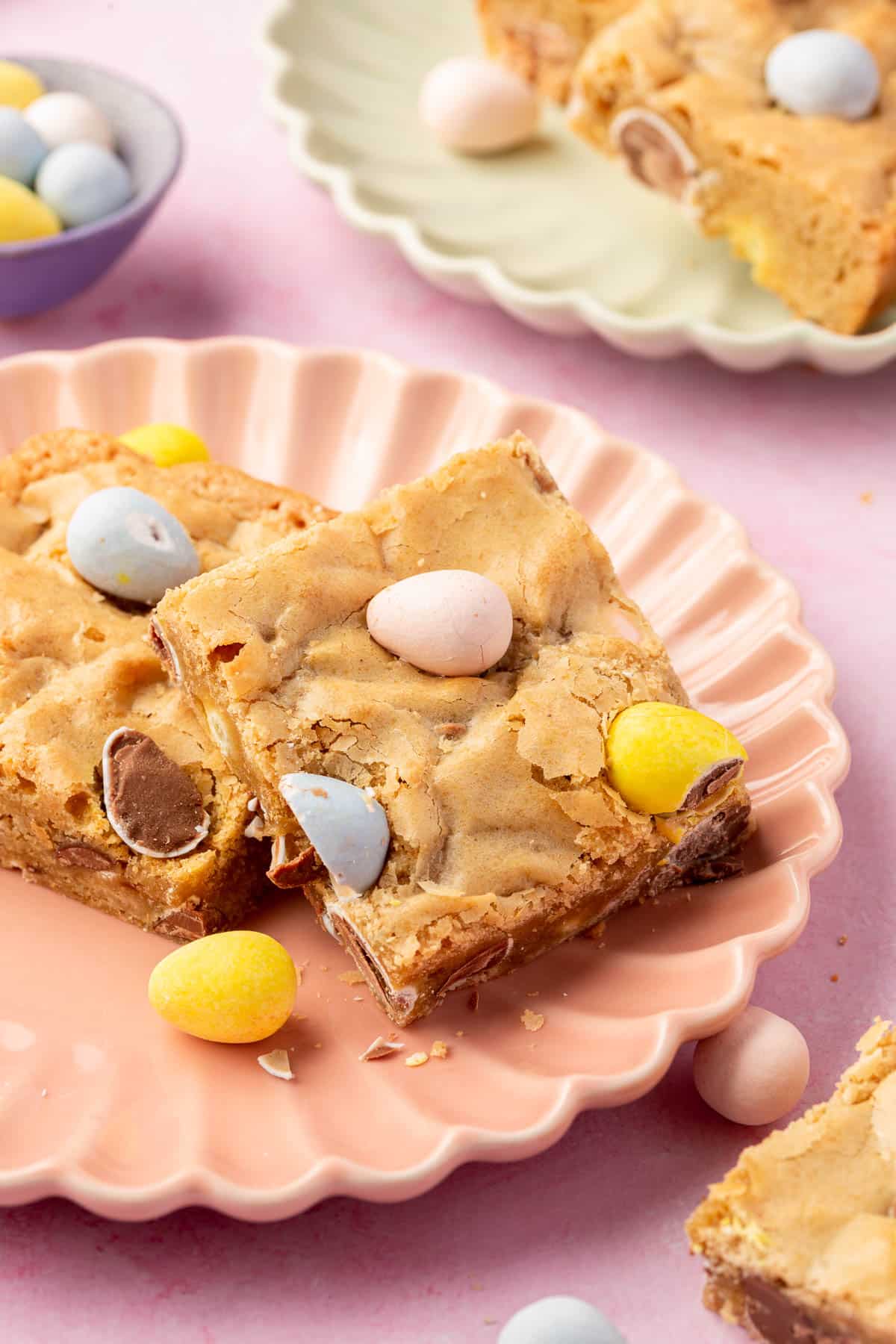 Serving suggestions
More gluten-free desserts to try
Did you make this recipe?
I'd love to know! Please rate it and leave a comment below. You can also share your pictures and tag @adashofmegnut on Instagram.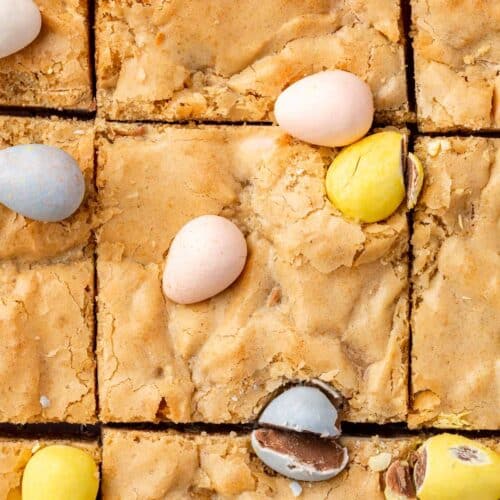 Gluten-Free Mini Egg Blondies
Satisfy your sweet tooth this Easter with these gluten-free mini egg blondies! These buttery and chewy blondies are studded with colorful Cadbury Mini Eggs for a festive crunch. They're so quick and easy to make – you can have them in the oven in under 10 minutes and on the dessert table in under an hour!
Print
Pin
Rate
Ingredients
1

cup

gluten-free all purpose flour blend

(144g)

2

tbsp

cornstarch

(16g)

1/2

teaspoon

baking powder

1/2

teaspoon

salt

½

cup

unsalted butter

(melted (113g))

1

cup

brown sugar

(packed (200g))

1

large egg

(room temperature (50g))

1

egg yolk

(room temperature (18g))

2

teaspoons

vanilla extract

1

cup

gluten-free mini chocolate eggs

(divided (190g))
Instructions
Preheat the oven to 325F (180C). Line a 8×8-inch square baking pan with parchment paper. Set aside.

In a medium mixing bowl, add the gluten-free flour blend, cornstarch, baking powder, and salt. Whisk to combine. Set aside.

In a large mixing bowl, add the melted butter and brown sugar. Mix until combined.

Add the egg, egg yolk, and vanilla extract. Mix until smooth.

Add in the dry ingredients, mixing until no more streaks of gluten-free flour remain.

Roughly chop ¾ cup of the mini chocolate eggs into small pieces. Reserve the remaining ¼ cup of mini chocolate eggs whole for later.

Add the roughly chopped mini eggs to the batter and stir until combined.

Pour the blondie batter into the prepared baking dish. Spread with a spatula or knife to smooth out the top. Top with the reserved ¼ cup of whole mini chocolate eggs.

Bake at 325F for 25-29 minutes, until the edges are browned and a toothpick inserted into the center comes out with moist crumbs. If it comes out with dry crumbs, the blondies are over baked. If it comes out with wet batter, they need more time to bake.

Let the blondies cool in the pan for at least 15 minutes before removing to a cutting board to slice into squares.
Notes
I used Cadbury mini chocolate eggs for this recipe, which are not labeled gluten-free, but have no gluten-containing ingredients in them. Cadbury has confirmed on their website that their mini eggs are made in a manufacturing facility that contains wheat but not on the same lines as wheat. If this makes you uncomfortable, you can use another gluten-free chocolate candy in its place.
Nutrition
Calories:
367
kcal
|
Carbohydrates:
51
g
|
Protein:
4
g
|
Fat:
17
g
|
Saturated Fat:
10
g
|
Polyunsaturated Fat:
1
g
|
Monounsaturated Fat:
3
g
|
Trans Fat:
0.5
g
|
Cholesterol:
70
mg
|
Sodium:
161
mg
|
Potassium:
68
mg
|
Fiber:
2
g
|
Sugar:
39
g
|
Vitamin A:
422
IU
|
Vitamin C:
0.1
mg
|
Calcium:
74
mg
|
Iron:
1
mg
I'm Megan
A gluten-free food blogger from Chicago and lover of all things food, showing you gluten-free can be easy and delicious, too. Let's make gluten-free stress free together! Read more…