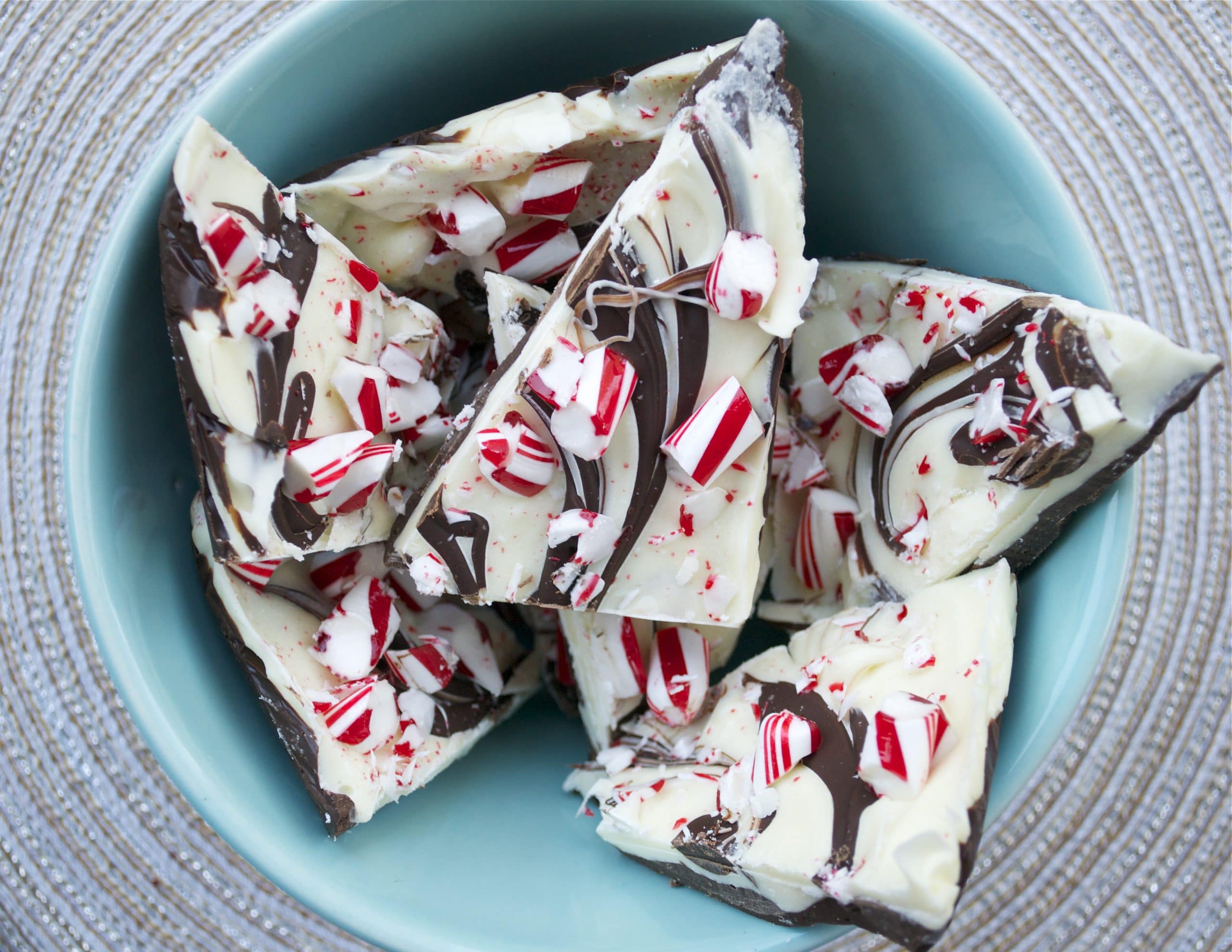 The holidays can be a wonderful, yet stressful time. Buying presents in crowded stores filled with last-minute shoppers (a.k.a. me today at World Market on a Sunday night which was complete chaos), traveling near and far to visit friends and family, various holiday gatherings where you're asked to bring a dessert. You get it, all a little stressful. The good news is I'm here to help! Well, at least with the last one. I have the perfect dessert for your holiday parties this season. You've seen it everywhere; It's peppermint bark. Super simple and always loved by everyone at all the parties I go to. Who knew four ingredients could taste so good? I love how easy this is to pull together for a last minute get together and the candy canes make it look super impressive! This recipe is definitely a keeper when I'm feeling a little stressed out and busy during the holidays! Enjoy!
Ingredients
2 1/2 cups semisweet chocolate chips
2 cups white chocolate chips
1 tsp peppermint extract
2-3 candy canes, chopped
Directions
Melt 2 cups of the semisweet chocolate chips in a microwave safe bowl in the microwave at 30 second increments, stirring in between (Mine took about 2 minutes). Stir in 1/2 tsp of peppermint extract. Pour chocolate in 9×13 inch pan and allow to set for 10 minutes. In the meantime, melt white chocolate in a microwave safe bowl in 30 second increments. Stir in 1/2 tsp of peppermint extract. Pour white chocolate over the semisweet chocolate. Then, melt the remaining 1/2 cup of semisweet chocolate in a bowl in the microwave. Then add dollops of the semisweet chocolate over the white chocolate. With a knife, swirl the semisweet chocolate into the white chocolate. Sprinkle the chopped candy canes over the chocolate. Allow to set in the refrigerator and break apart once completely hardened.