These gluten free chocolate peppermint donuts have a delicious white chocolate frosting and are topped with crushed candy canes for a holiday breakfast treat!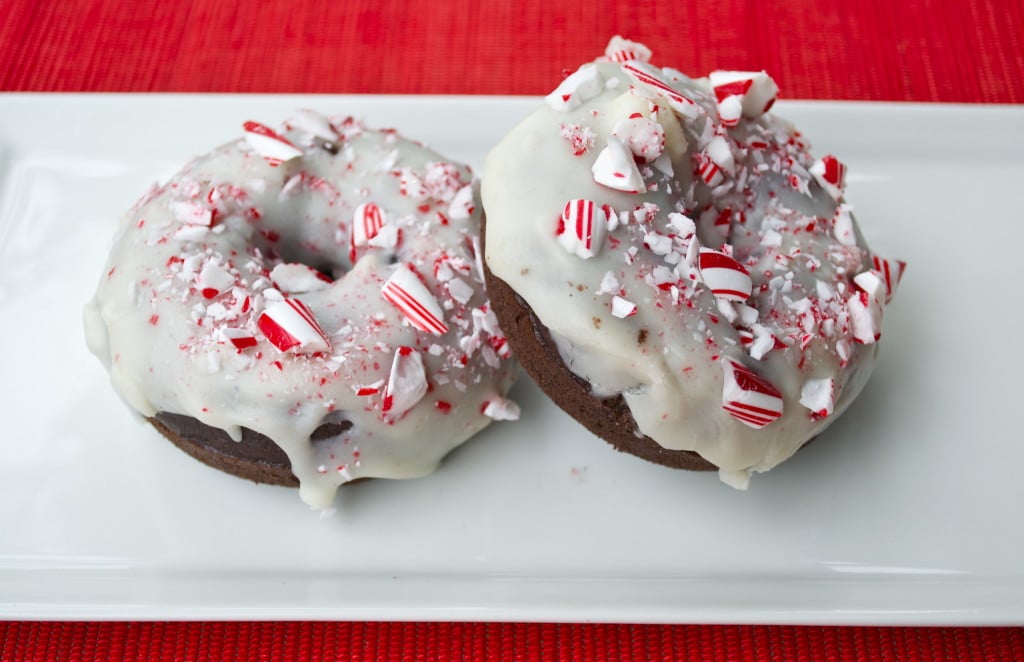 Is it donut or doughnut? I really never know. I personally prefer donut mostly because I'm lazy and the shorter the word the better. Kind of like my name. People always ask if I spell it with an "H" or without. I always say the shortest way possible. Simple is best. Like these donuts – simple flavors put together to make a big impact. Seriously delicious!
The idea for these donuts came from the store Do-Rite Donuts in Chicago, which is one of my favorite stops for a gluten-free donut. They have 4 gluten-free flavors each day so I find myself there quite frequently. A few weeks back they had a chocolate cake donut with vanilla frosting and peppermint bits. The only problem was it wasn't gluten-free. So I bought my delicious gingerbread gluten-free donut (What! Amazing!) and got one of the peppermint donuts for my boyfriend, Michael, so I could grill him on the flavors later. He of course loved it so I decided then and there we were making some this weekend to satisfy my hankering for a chocolate peppermint donut. And here we are! Donuts and all!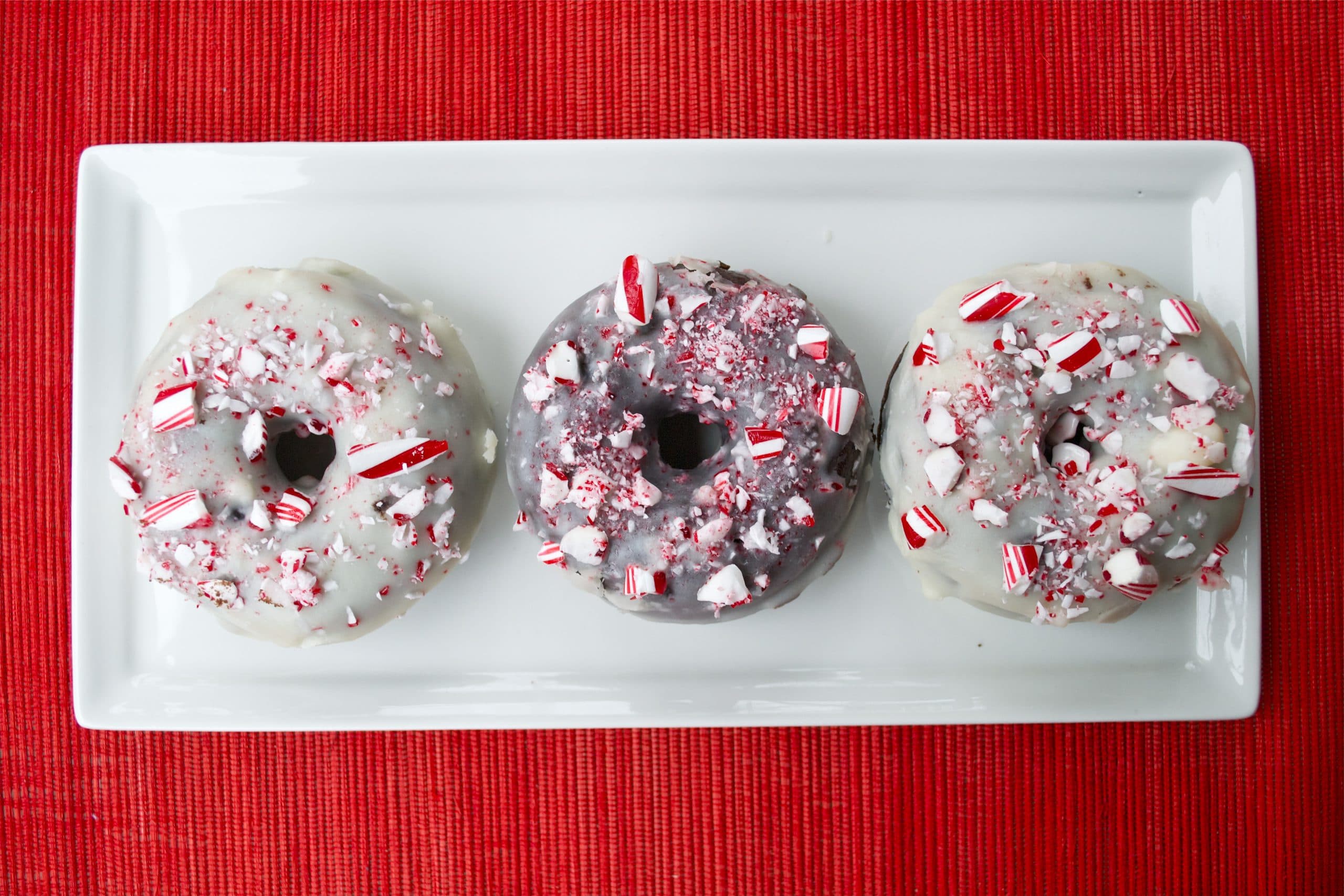 I contemplated making this donut dairy free and gluten-free since me and dairy aren't the best of friends, so I ended up making the cake part gluten-free and then went with the regular white chocolate chips anyways because I didn't see any dairy free ones at the store.
But by all means, use more or less dairy in this recipe if you want! I notated when to use skim milk instead of almond milk if you choose to.
These donuts were pure amazingness. After the first bite, I turned to Michael and asked my usual question "Can you tell it's gluten-free??" "Nope! And it's amazing!" So, needless to say…
1. We are hooked on this donut.
2. We might be obsessed with making donuts now.
3. No I won't apologize for the amount of donuts you'll see on my blog in the future.
4. Sorry I'm not sorry.
Gluten Free Chocolate Peppermint Donuts with White Chocolate Frosting
These gluten free chocolate peppermint donuts have a delicious white chocolate frosting and are topped with crushed candy canes for a holiday breakfast treat!
Print
Pin
Rate
Ingredients
Donuts:
2 1/2

cups

gluten free flour blend

1/2

tsp

xanthan gum

(if your blend does not already contain it)

1/2

cup

cocoa powder

1

cup

granulated sugar

1/2

cup

brown sugar

1

tsp

baking soda

2

tsp

vanilla extract

2

egg

1 1/2

cups

milk

1/2

cup

vegetable oil
Frosting:
1/2

cup

white chocolate chips

1 1/2

cup

powdered sugar

1/4

cup

milk

1/2

tsp

vanilla extract

4

candy canes

(crushed)
Instructions
Preheat oven to 375F.

In a large bowl, mix together gluten free flour blend, xanthan gum (if using), cocoa powder, brown sugar, granulated sugar, and baking soda.

Then, add in egg, vanilla extract, milk and vegetable oil. Whisk until smooth.

Coat a donut pan with 12 donut wells with nonstick cooking spray (make sure it does not have flour in it if you need to be gluten-free).

Spoon batter into the donut pan. The batter should just about reach the top of the pan. Bake at 375F for 10 minutes or until the donuts spring back when you touch them. Cool on a wire rack.

To make the frosting, in a small pot over medium-low heat, whisk together milk and white chocolate chips until melted.

Add in vanilla and powdered sugar and whisk until the sugar is melted and the frosting is smooth.

Take off the heat to thicken slightly.

When the donuts are cooled, dip them into the frosting and shake off any excess.

Place back on wire rack and sprinkle candy cane bits over the donuts. Repeat until you have completed all of the donuts.
Nutrition
Calories:
420
kcal
|
Carbohydrates:
71
g
|
Protein:
5
g
|
Fat:
14
g
|
Saturated Fat:
10
g
|
Cholesterol:
32
mg
|
Sodium:
144
mg
|
Potassium:
145
mg
|
Fiber:
3
g
|
Sugar:
50
g
|
Vitamin A:
95
IU
|
Calcium:
88
mg
|
Iron:
1.6
mg