Blackened fish tacos with avocado crema make the perfect weeknight dinner and are ready in under 30 minutes. Fresh cod filets are seasoned to perfection and topped with zesty red cabbage slaw and avocado crema. The recipe is both gluten-free and dairy-free!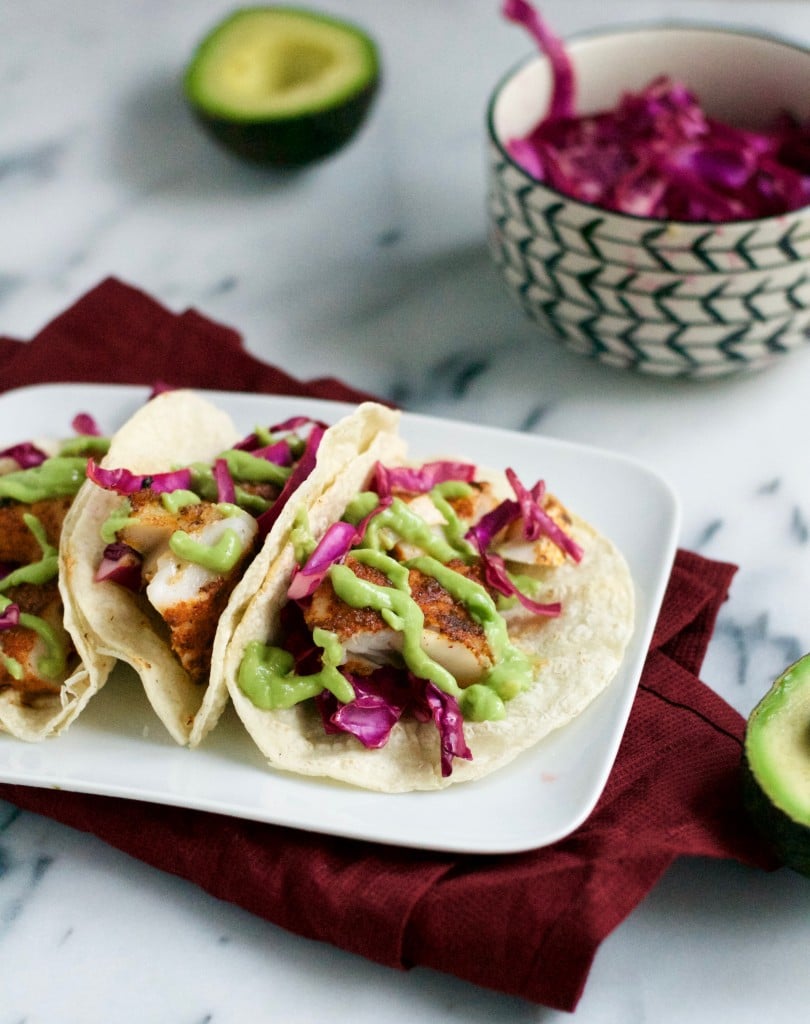 I just looovveeee Taco Tuesday. Any excuse to eat tacos is okay in my book. In fact, everyday should be taco day if you ask me. All the tacos. In all the world. In my belly. Everyday. What more could a girl want? Just more tacos. 
I've posted my fair share of taco recipes here on A Dash of Megnut. I've got crockpot pork tacos, beef tacos, tilapia tacos, even vegan quinoa tacos. And now we have blackened cod tacos. Trust me, there's lots of room for even more tacos on here and I will make them all happen! These blackened fish tacos with avocado crema are definitely some of my favorites! Fresh cod filets seasoned with paprika, garlic, topped with a zesty red cabbage slaw and avocado crema (dairy-free too!) all on top of a delicious corn tortilla. I'm able to find gluten-free corn tortillas in abundance here in Chicago, but for those of my friends who can't this recipe would work deliciously as lettuce wraps too or as a quinoa or rice burrito bowl. Just season that rice or quinoa with some lime juice and fresh cilantro and you're in business.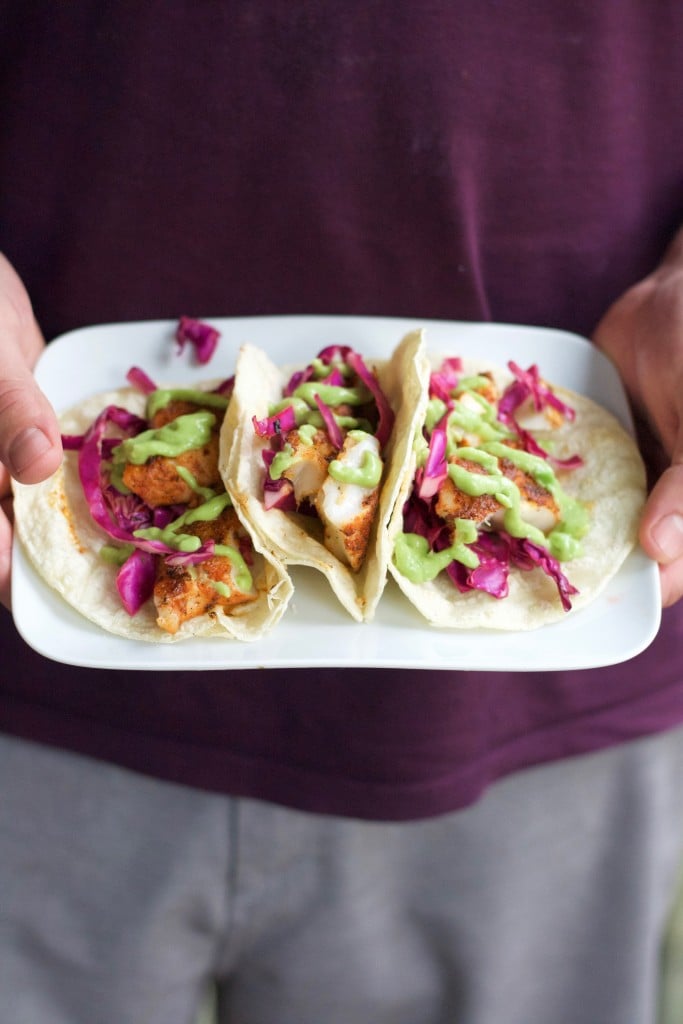 Michael declared these as his favorite tacos even though the whole house smelled like fish for days. So that's saying something! The whole recipe came together in about 20 minutes tops. The cod cooks quickly on the stovetop and the slaw and avocado crema are really easy to put together while the fish is cooking. That's the great thing about fish tacos – fish just cooks so much quicker than chicken, pork of beef. That fact alone makes it a great weeknight meal. But, the taste is also amazing! The fish is so tender and seasoned perfectly. There is a bit of a kick from the seasoning and the in the avocado crema, but the avocado really cools everything down and balances it all. For the red cabbage slaw, I used what I had on hand and made it dairy-free and egg-free but you can be creative here. Add in more shredded carrots or maybe even some cucumber or apple. Add mayo if you feel like it. That's what I love about recipes – giving you a starting point and then you make it your own!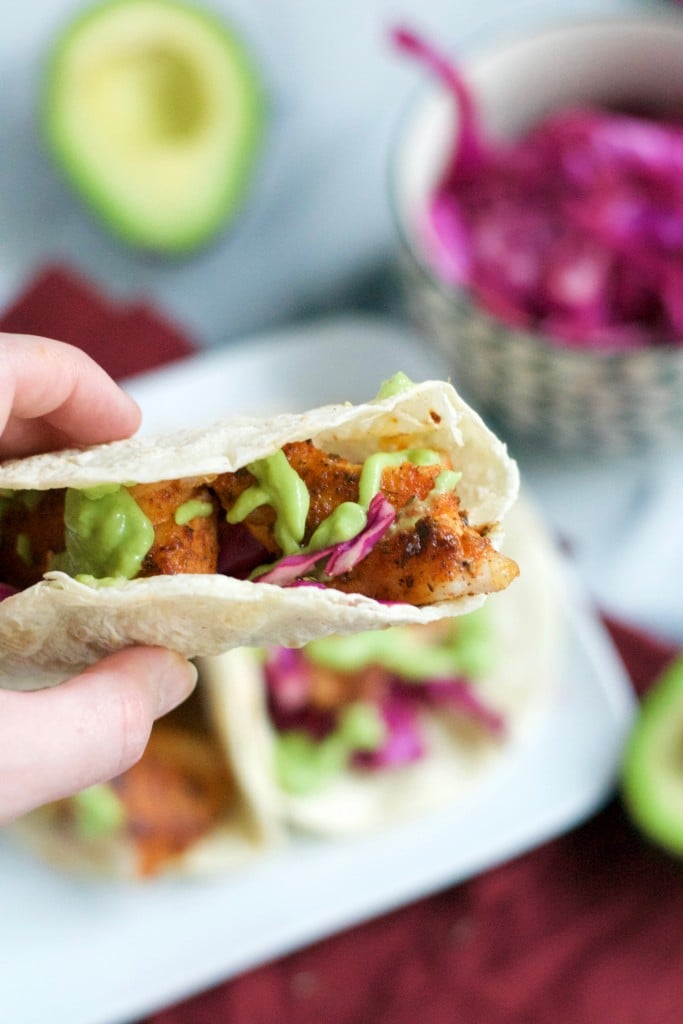 Blackened Fish Tacos with Avocado Crema
Prep time:
Cook time:
Total time:
Ingredients
For the Fish:
2 tsp paprika
1 tsp garlic powder
½ tsp dried oregano
½ tsp dried thyme
½ tsp ground black pepper
½ tsp salt
¼ tsp cayenne pepper
1½ lb fresh cod filets, cut into 2-3 large pieces
1 tbsp oil (olive, avocado, grapeseed, etc.)
12 corn tortillas (gluten-free - check the ingredients)
fresh cherry tomatoes, for topping (optional)
For the avocado crema:
1 avocado, skin and pit removed
2 tbsp fresh lime juice
¼ cup cilantro
½ jalapeno, seeded
½ tsp salt
1-2 tbsp water
For the Cabbage Slaw:
2 cup shredded red cabbage
1 cup shredded carrot, green cabbage, or more red cabbage
2 tbsp apple cider vinegar
1 tbsp lime juice
pinch of salt
Instructions
First, make the spice rub by combing paprika, garlic powder, oregano, thyme, black pepper, salt and cayenne pepper in a bowl. Then, rub spice on fish.
Add the oil to a skillet preheated over medium heat. Cook fish over medium heat, about 4 minutes on each side, until the fish reaches an internal temperature of about 145F. You can also check for doneness when the fish is no longer translucent and it flakes easily with a fork.
While the fish is cooking, you can make the cabbage slaw by combining the shredded red cabbage, shredded carrots, apple cider vinegar, lime juice and salt. Let it sit in the refrigerator while the fish is cooking.
To make the avocado cream, add the avocado, lime juice, cilantro, jalapeno, and salt to a food processor and blend until smooth. Add 1-2 tablespoons of water to get your crema to a thinner consistency. Think pourable consistency rather than a scoopable consistency.
To serve, heat corn tortillas on a skillet or in the oven at 350F for a few minutes until they are warm and slightly toasted. This will give it a bit more structure to hold the fish. Break the fish into smaller pieces and place on the warm tortillas. Top with cabbage slaw, diced tomatoes and a drizzle of avocado crema.