These pumpkin pie macarons are both gorgeous and delicious. Filled with cream cheese frosting, they are perfect for Fall and Thanksgiving!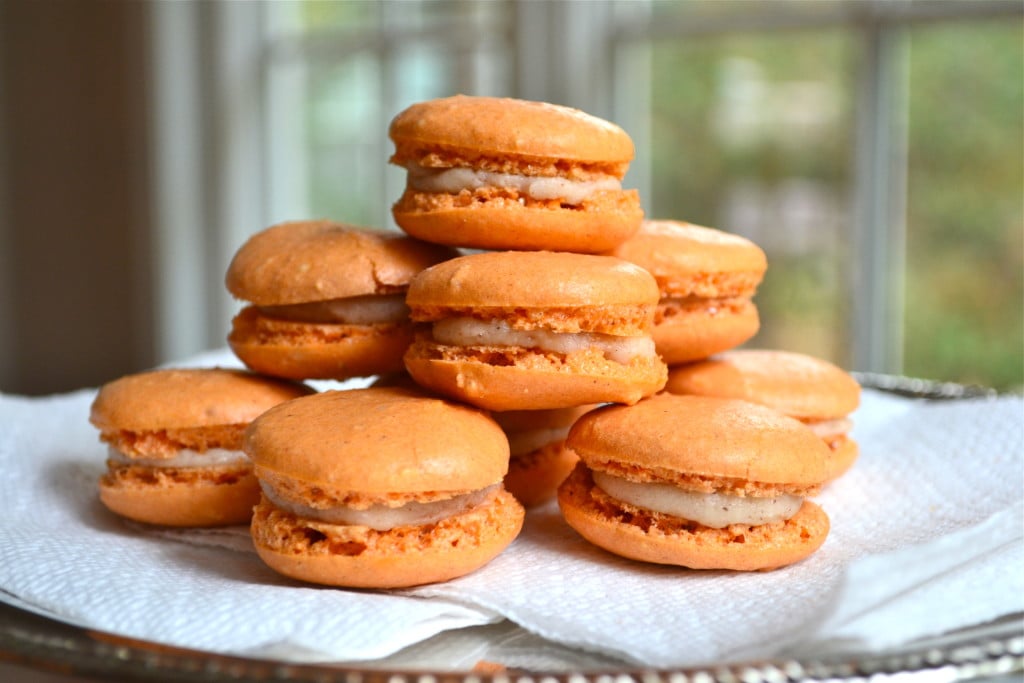 I love French macarons. They are so decadent and luscious and dainty and I feel oh so very sophisticated when I eat them. There's a bakery a few blocks from me that sells macarons. Do you know how bad that is? It's like I have macarons taunting me from three blocks away saying "Come eat me!" The worst is that it's next to the hardware store. Since I'm decorating my apartment, I frequently find myself at the hardware store. And you guessed it… the bakery. Macarons are seriously so expensive. It's $2.00 for one small cookie (I bet some people over in France just cringed when I called it a cookie; sorry about that mes amis). I still haven't started my job yet (Read: Broke), so I can't afford these $2.00 macarons. But do they make me feel amazing? Oh yes. I'm the girl that orders her one macaron and says "Oh you don't have to put it in the bag, I'm going to eat it the minute I walk out the door. Let's save the environment, shall we?" and gets a weird look back from the bakery employee. Sorry, it's the little things in life that please me. When I sit at home all day and the only interactions I have until my roommates get home is with the AT&T guy that is there for the 5th time trying to fix our internet, I'm going to get a little weird at the bakery. Where was I going with this? Ah yes, macarons. They're delicious. You get a little bit of crunch on the outside and then sink into the soft and gooey interior of the macaron. And then you reach the sugary filling that sends your senses into complete euphoria. Oh my goodness.
Macarons are most times super expensive to get from a bakery; But the good news is they are so much cheaper to make from home. I'm sure most foodies have heard how finicky and difficult macarons are to work with and that's true. However, if you're not overly concerned with the appearance of your macaron it's really not too hard. This is only my second time making macarons, so while I eventually would like to get the perfect "feet" on the macaron, for now I'm more concerned with getting them in my belly. There's all sorts of methods and tips that websites will give you to make the perfect macaron, and the first time I made macarons I remember I was very concerned about following every single tip I could find. Some of the tips have stuck with me, such as rapping the baking sheet against the counter and letting the macarons sit out before baking, but others, such as aging my egg whites haven't. I still think I came out with some pretty tasty macarons, so I personally wouldn't worry about all of the different theories out there. I'm sure there are many who will disagree with me, but like I said I'm more concerned about eating them as fast I possibly can.
My obsession with pumpkin continues. These little babies are flavored with pumpkin pie spice. I was worried that they wouldn't taste pumpkiny enough but they did, in fact, taste just like pumpkin pie. The filling is a cinnamon cream cheese icing that complements the pumpkin shell extremely well. I made these for my grandma's dinner party and they went over pretty well. I was pretty much on a sugar high when all was said and done. I couldn't keep my hands off them. Honestly sooo good.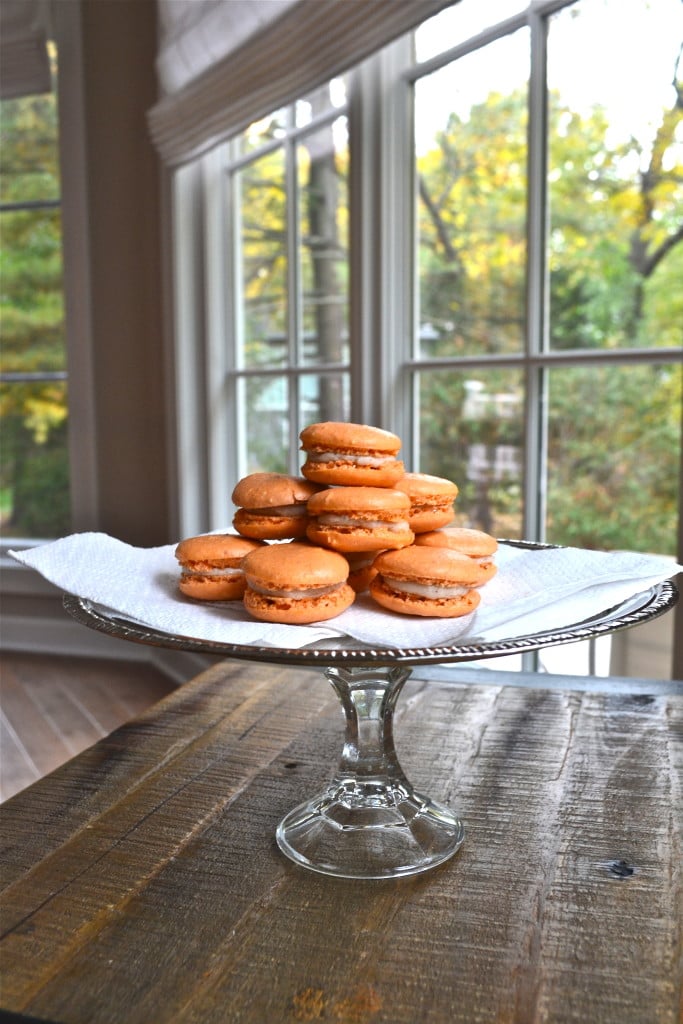 Pumpkin Pie Macarons
These pumpkin pie macarons are both gorgeous and delicious. Filled with cream cheese frosting, they are perfect for Fall and Thanksgiving!
Print
Pin
Rate
Ingredients
For the Macaron:
1 1/2

cups

almond flour

1 1/4

cups

powdered sugar

1

tsp

pumpkin pie spice

3

egg whites

1/2

tsp

vanilla extract

1/8

tsp

salt

1/4

cup

granulated sugar

orange gel food coloring
For the Cream Cheese Filling:
6

oz

cream cheese

4

oz

unsalted butter

(softened)

1 1/2

cup

powdered sugar

1/2

tsp

vanilla

1/2

tsp

cinnamon
Instructions
To Make the Macaron Shell:
Line two large baking sheets with parchment paper or silpat (my preference). Set aside. In a medium bowl, mix together almond flour, powdered sugar, and pumpkin pie spice. Note: If you don't have almond flour, you can grind blanched almonds in a food processor until its a fine powder, then sift the almonds a few times before combining with the powdered sugar and pie spice.

Then, in a large bowl, combine egg whites, vanilla and salt. In the bowl of an electric mixer fitted with the whisk attachment, whisk egg whites on medium-high speed until they are frothy. Slowly add the granulated sugar, while beating, until the mixture holds stiff peaks.

Then, fold in the almond flour mixture and food coloring (add a little at a time until you get your desired color).

Spoon mixture into a large pastry bag fitted with a large circular tip or you can spoon the mixture into a large Ziploc bag and cut of the corner, which is what I did.

Pipe 1 1/2 inch circles, about 1 inch apart onto the baking sheet.

When you are done piping hit the baking sheet against the counter to let any air bubbles settle (This is a very important step).

Preheat the oven to 350 degrees Fahrenheit and let the piped macarons sit out at room temperature for at least 30 minutes. They will develop a film on the top of them and feel a bit dry. If they don't feel like this then let them sit a little longer.

Reduce the oven to 325F. Bake for 9-10 minutes at 325F.

Cool on the cookie sheet for a few minutes, and then transfer to wire racks to finish cooling.
To Make the Filling:
In a medium bowl, combine powdered sugar and cinnamon and set aside.

Then, in a bowl fitted with the paddle attachment, beat together cream cheese and butter until smooth.

Add in the vanilla and beat again.

While beating on medium-low speed, gradually add powdered sugar. If you aren't getting your desired consistency add more powdered sugar (to make it thicker), or add a little milk (to make it thinner).

Spoon filling into a pastry bag or Ziploc bag to fill macarons.When the macarons have cooled, pipe out a small circle of filling on a macaron and with another macaron (preferably of the same size) press down gently so you make a sandwich and the filling just reaches the sides of the cookie.

Repeat until all macarons are filled.

Store in an airtight container in the refrigerator.

Bring to room temperature before serving.

Makes about 20 sandwich cookies.
Nutrition
Calories:
194
kcal
|
Carbohydrates:
21
g
|
Protein:
2
g
|
Fat:
11
g
|
Saturated Fat:
4
g
|
Cholesterol:
21
mg
|
Sodium:
50
mg
|
Potassium:
19
mg
|
Sugar:
19
g
|
Vitamin A:
255
IU
|
Calcium:
29
mg
|
Iron:
0.4
mg
Source: Shell recipe from The Baking Bird. Filling recipe is my own.
I'm Megan
A gluten-free food blogger from Chicago and lover of all things food, showing you gluten-free can be easy and delicious, too. Let's make gluten-free stress free together! Read more…