Instant Pot Pumpkin Mushroom Risotto
This Instant Pot Pumpkin Mushroom Risotto gives you a creamy, rich risotto with minimal fuss thanks to the Instant Pot! This recipe is so easy and versatile, it's the perfect side dish or main course to make this fall or winter season.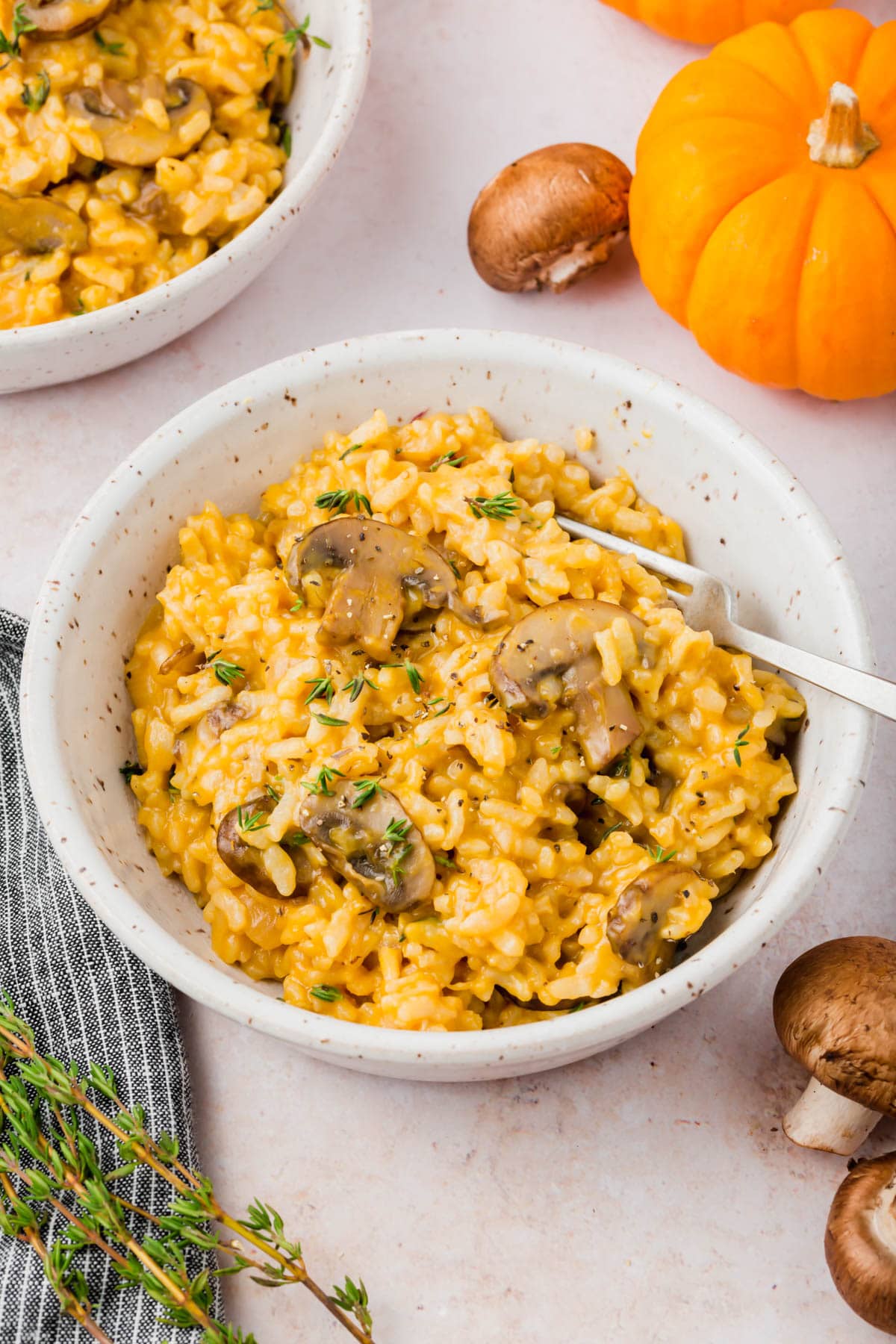 Why this recipe works
This Instant Pot pumpkin risotto is an easy weeknight dinner that you'll have on repeat all season long. Creamy Arborio rice is infused with the earthy richness of mushrooms, sweetness of pumpkin puree, and elevated with a touch of dry white wine.
But what truly makes this recipe a family favorite is the convenience of the Instant Pot, which turns a labor-intensive dish like risotto into a breeze. Making risotto on the stove top may not take very long, but it's a lot of work having to constantly stir and add broth a little bit at a time.
Using the Instant Pot takes all of that effort away from you and makes this recipe super simple. You can also switch up so many of the ingredients (the type of wine or cheese or spices) to make it your own.
Add your favorite protein, like grilled chicken, shrimp, or prosciutto, to really amplify the flavors and make this dish even more filling. It's the perfect recipe to make for your entertaining guests this holiday season or to have on hand for an easy weeknight dinner with your family!
You'll love this recipe because:
Ingredients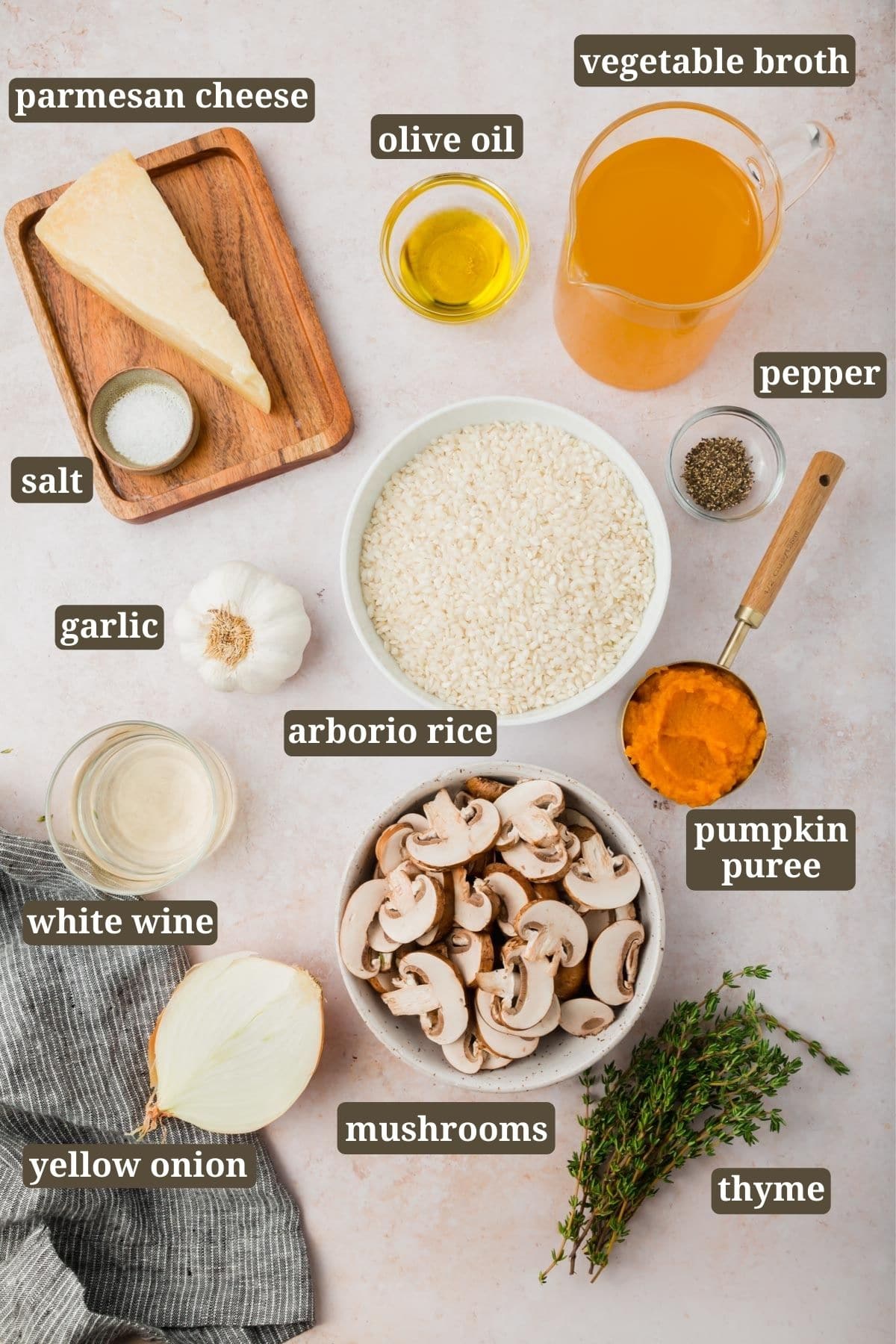 Ingredient Notes
Vegetable broth – Not all broths are gluten-free, so be sure to check that the broth you choose is certified gluten-free if you need your risotto to be gluten-free. If you don't have vegetable broth and do not need your dish to be vegetarian, you can substitute in chicken broth instead.
Pumpkin puree – You want to use pure pumpkin puree, NOT pumpkin pie filling which has spices and sugars added to it. If you can't find store-bought, try my homemade pumpkin puree recipe!
Fresh thyme – I used fresh thyme in my risotto, but you can always switch it up if you prefer a different spice, like fresh parsley, rosemary or sage. If you don't have any fresh spices on hand and would rather use dry, just make sure to cut down the amount to 1/3 of what the recipe calls for. Dried spices are a lot more potent than their fresh counterparts.
Arborio rice – Risotto needs to be made using a short-grain starchy rice like arborio or carnaroli rice. Both of these types of rice keep their shape very well and have a high starch content to create creamy risotto.
Mushrooms – The recipe calls for baby bella mushrooms, but you can also use cremini mushrooms if you prefer. These mushrooms contribute earthy, umami flavors to the dish, but feel free to experiment with other mushroom varieties for a unique twist.
Parmesan cheese – Use freshly grated Parmesan, instead of pre-grated cheese, for the best results. If you're looking to make the dish dairy-free or vegan, you can omit the Parmesan cheese altogether or substitute it with a dairy-free alternative.
Dry white wine – Opt for a dry white wine like Sauvignon Blanc, Pinot Grigio, or dry Chardonnay for the best results. If you prefer a non-alcoholic option, you can substitute the wine with additional vegetable or chicken broth to maintain the liquid-to-rice ratio.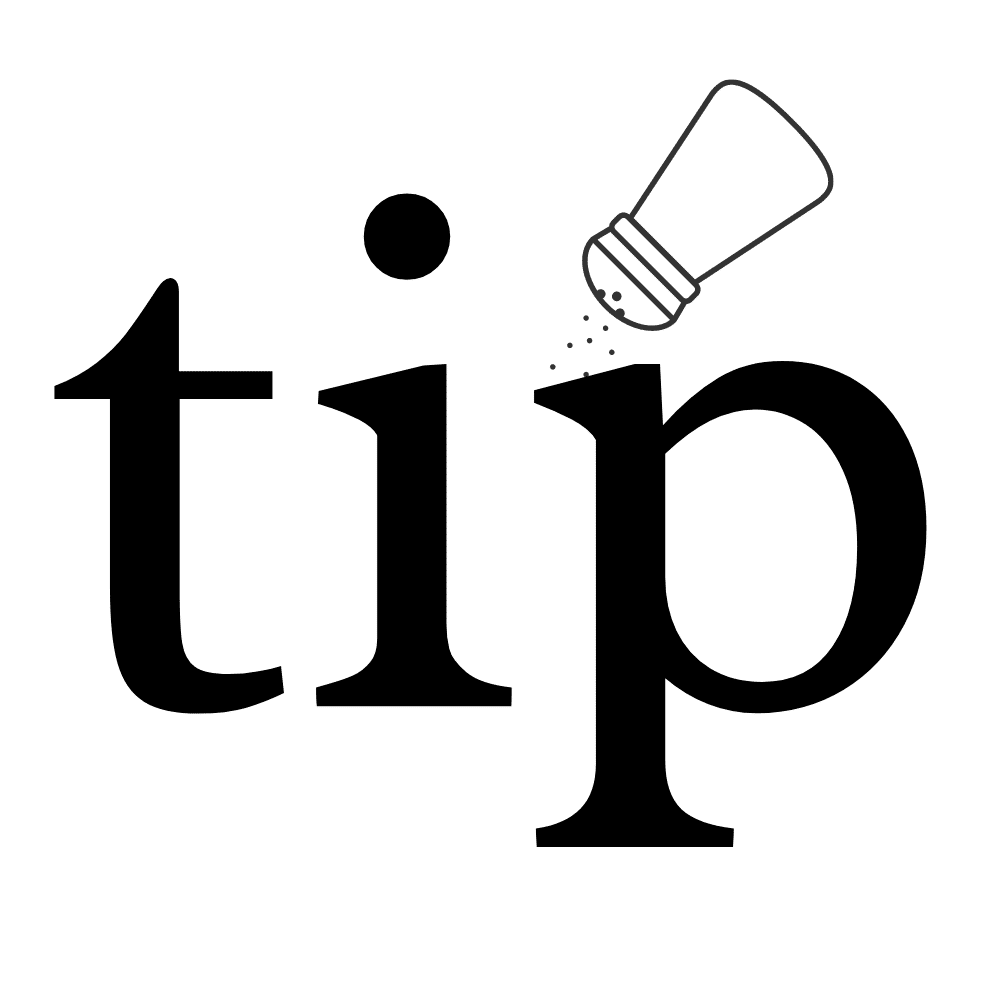 When selecting your dry white wine for this risotto, remember that the wine's quality will directly impact the dish's flavor. While you don't need an expensive bottle, opt for a wine you would enjoy drinking, as its taste will shine through in the final dish

Step-by-Step instructions
This Instant Pot pumpkin risotto is very simple to make at home. The below photos with matching steps are not intended to be the full recipe, but are there to help you see the recipe at various stages so you can make your pumpkin risotto perfectly every time.
For the ingredient list with measurements, full instructions, printable recipe, and additional notes, please scroll down to the recipe card.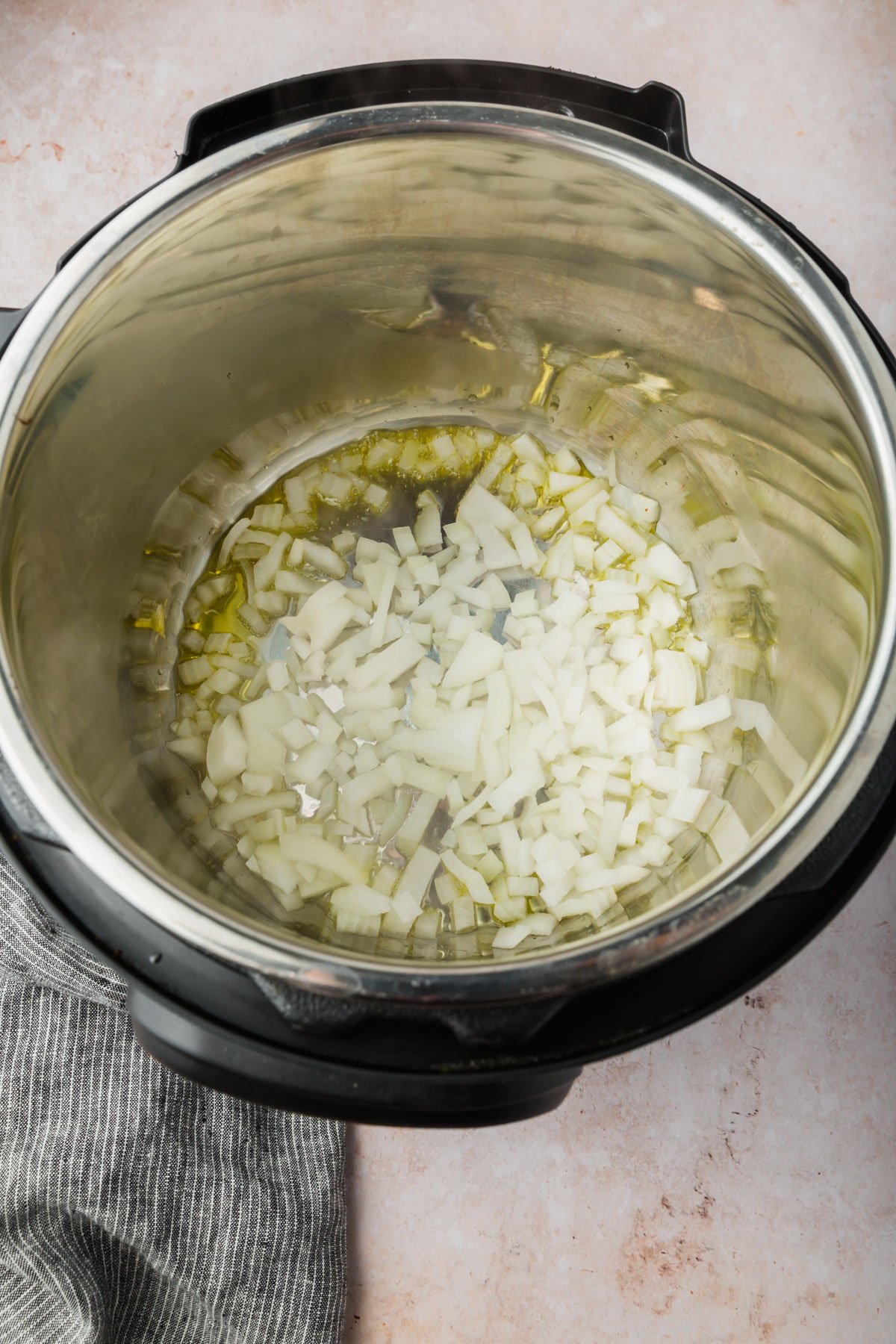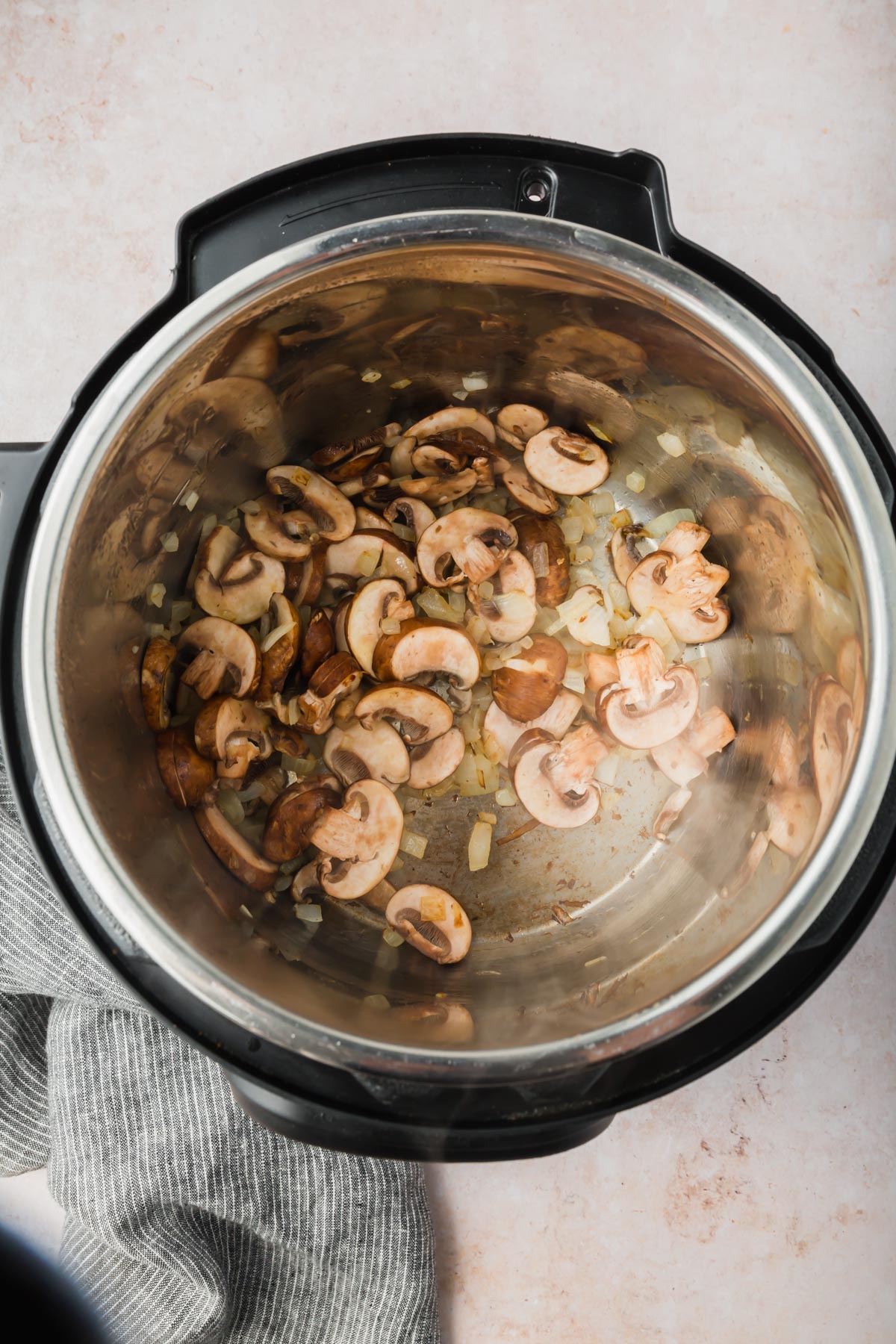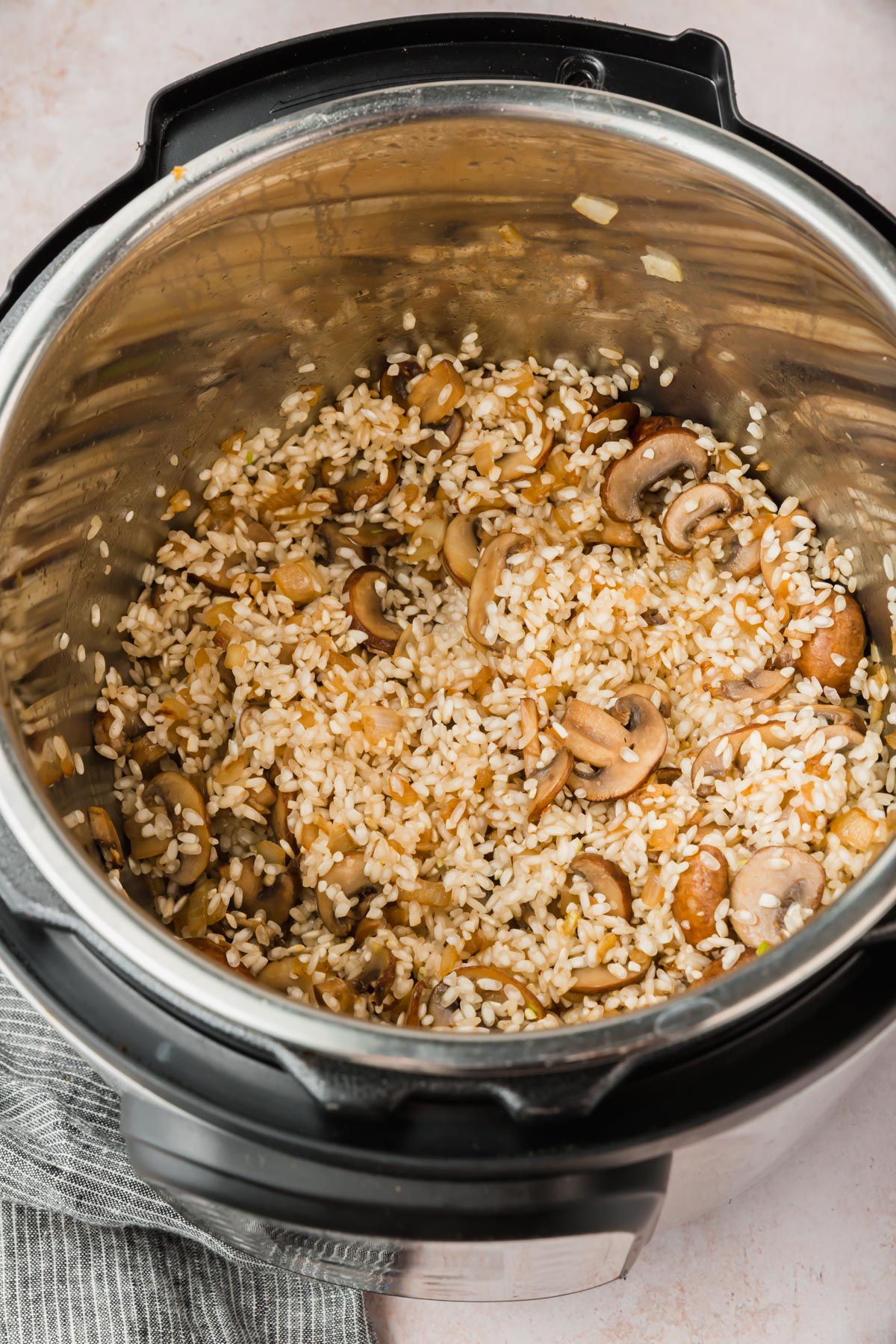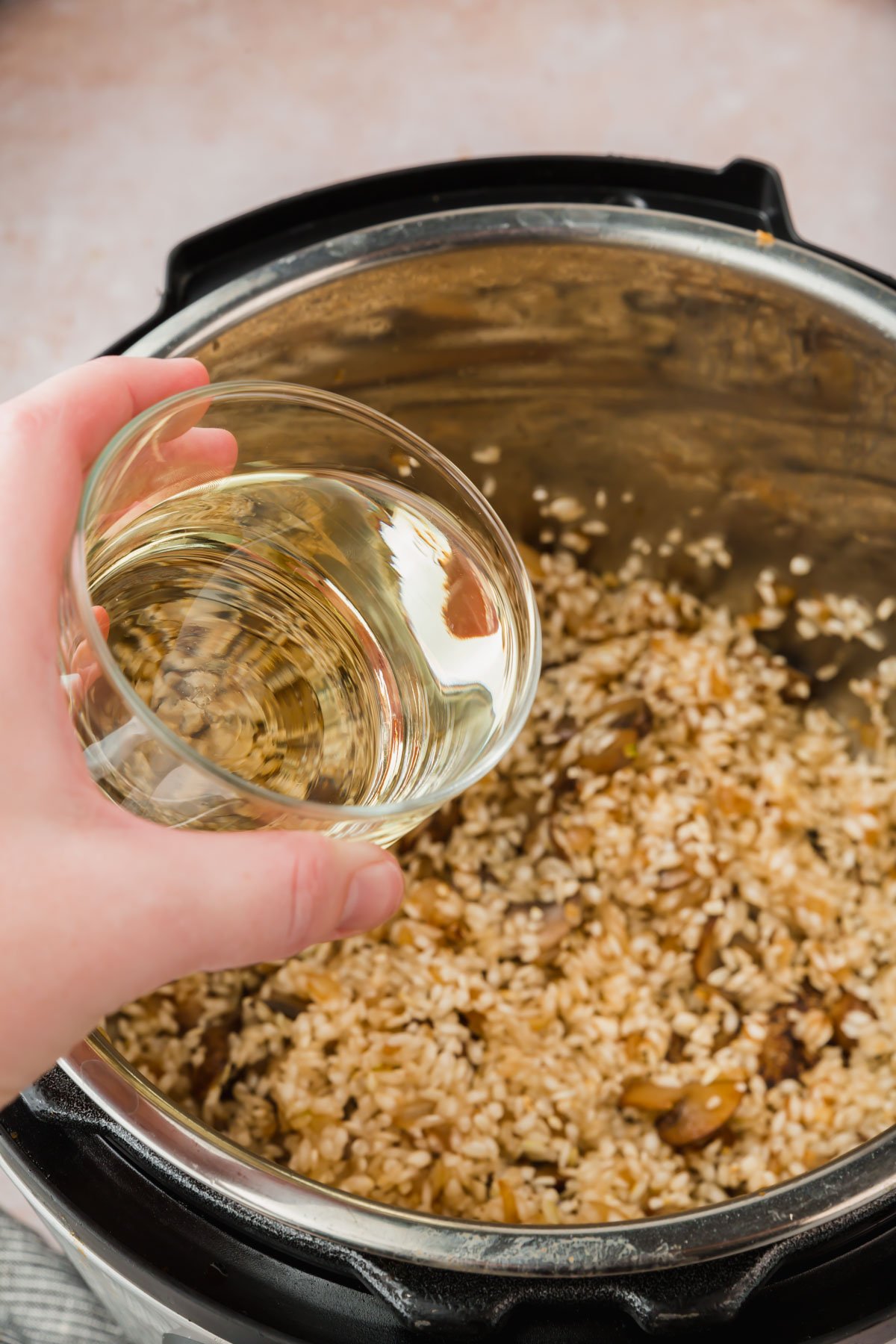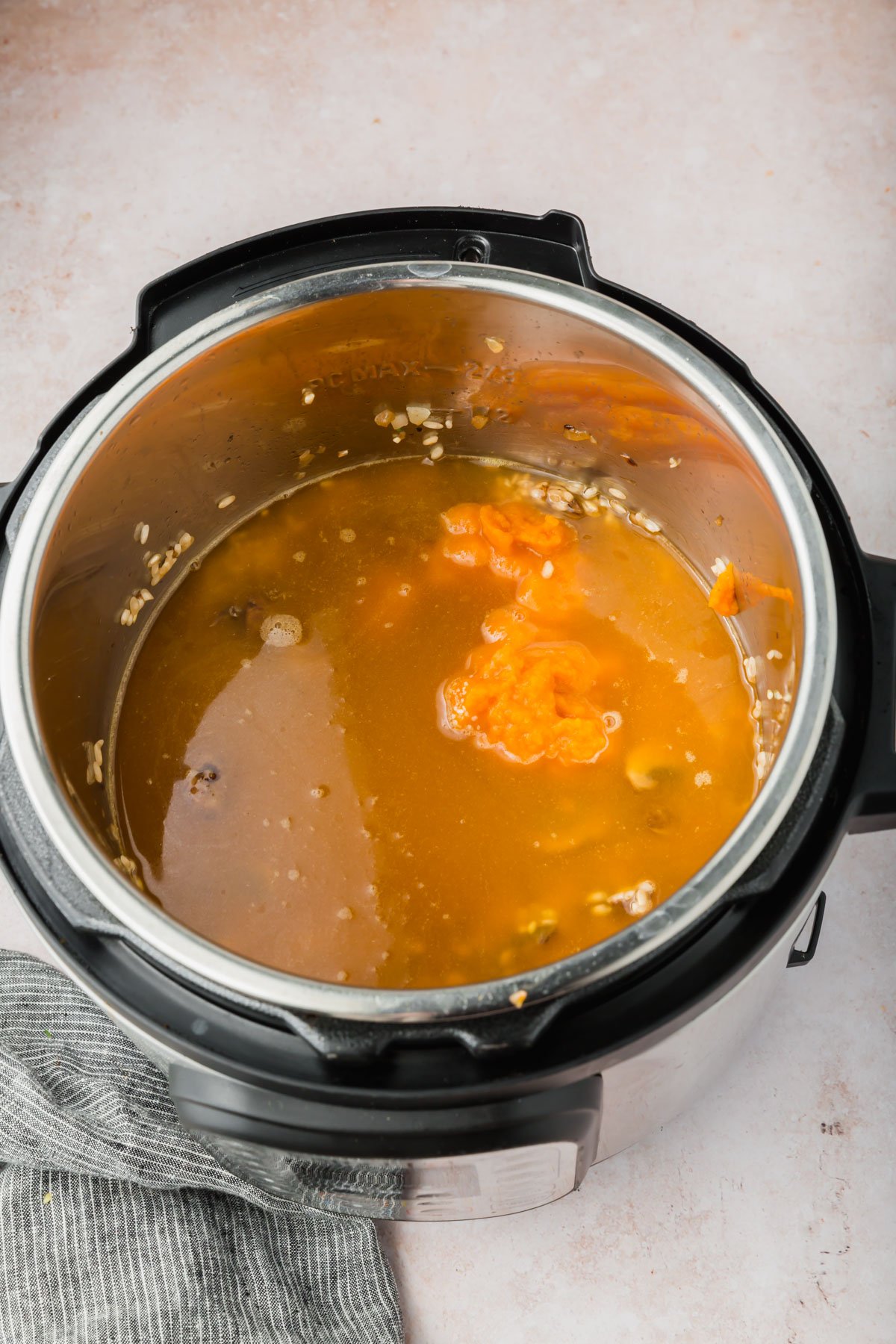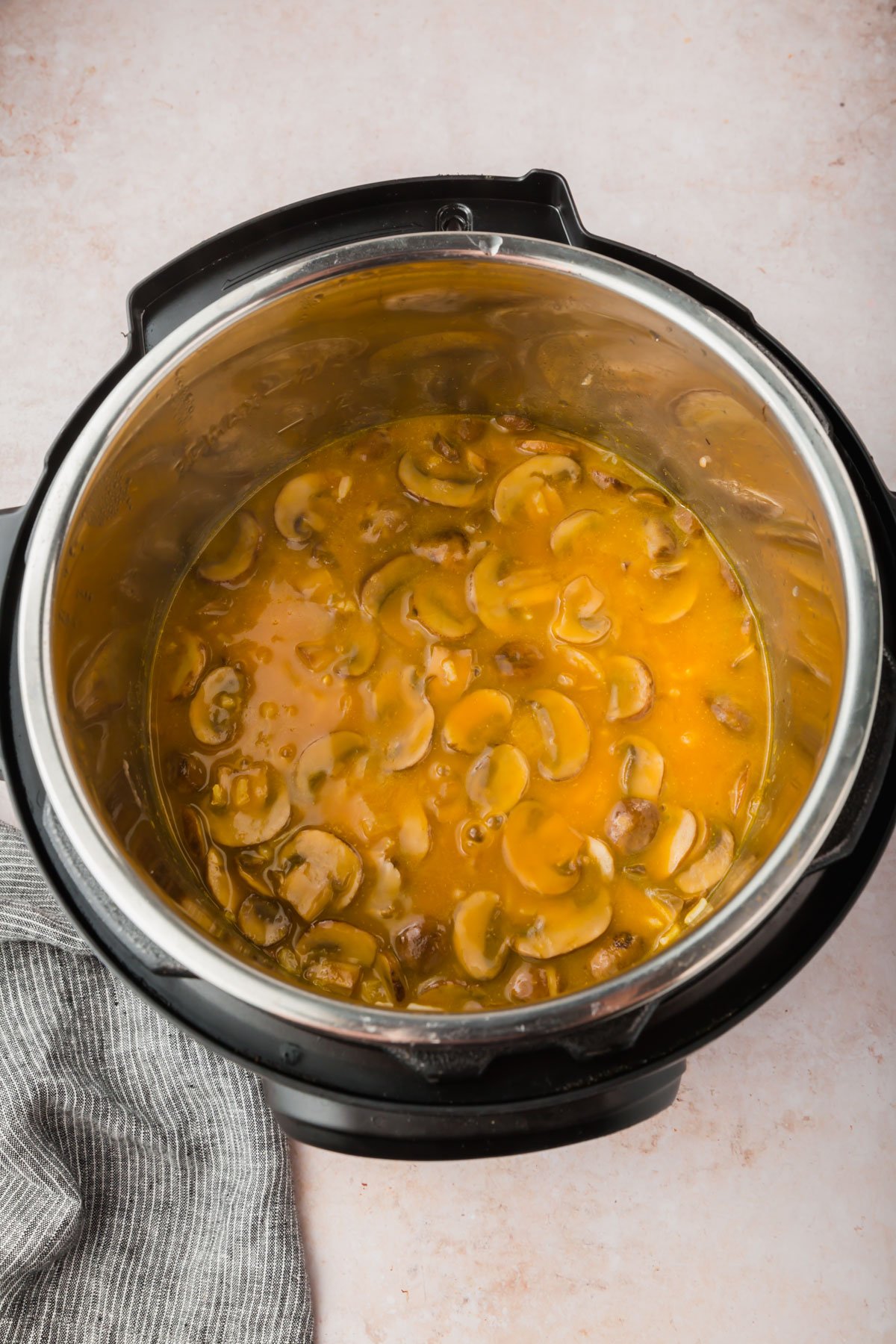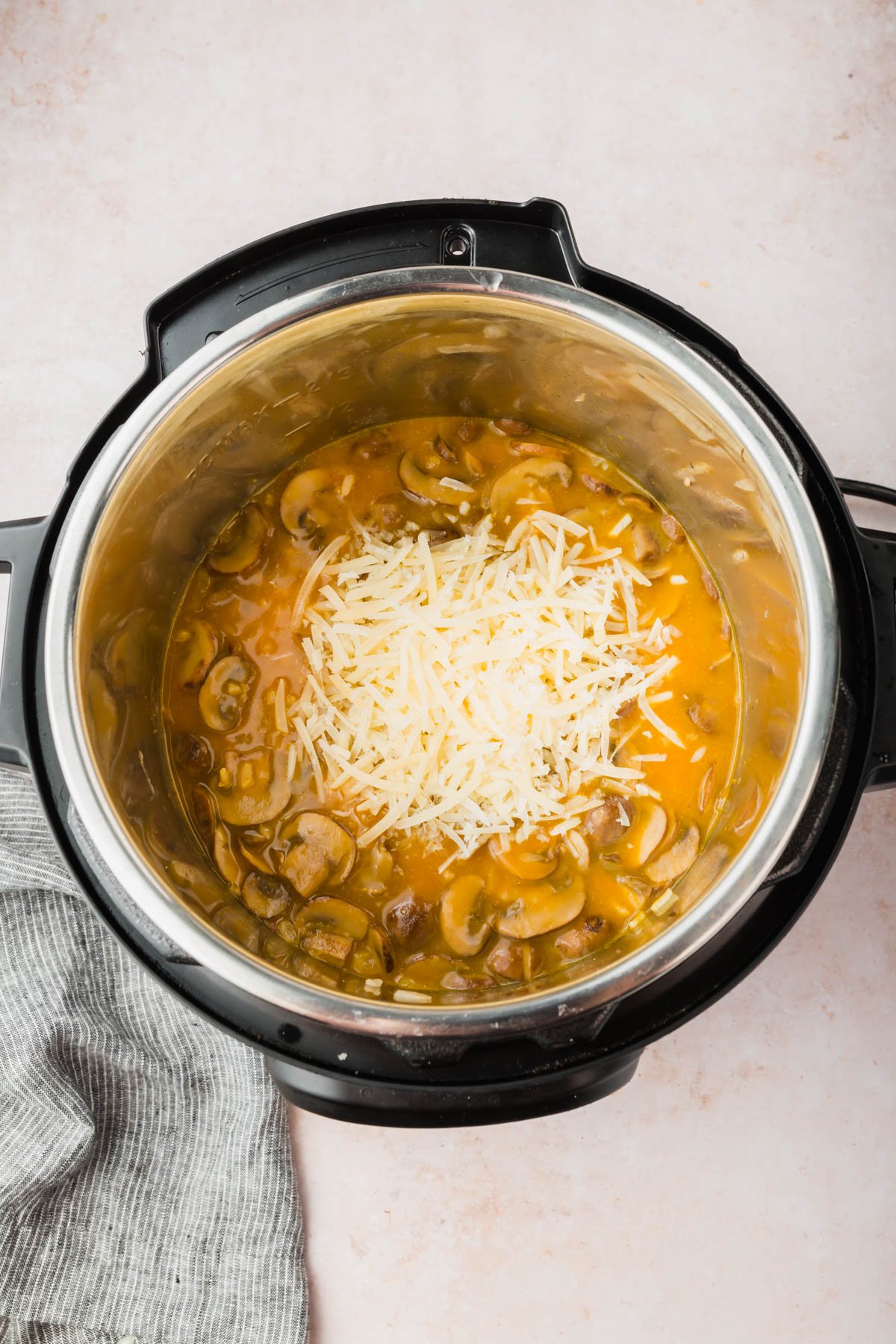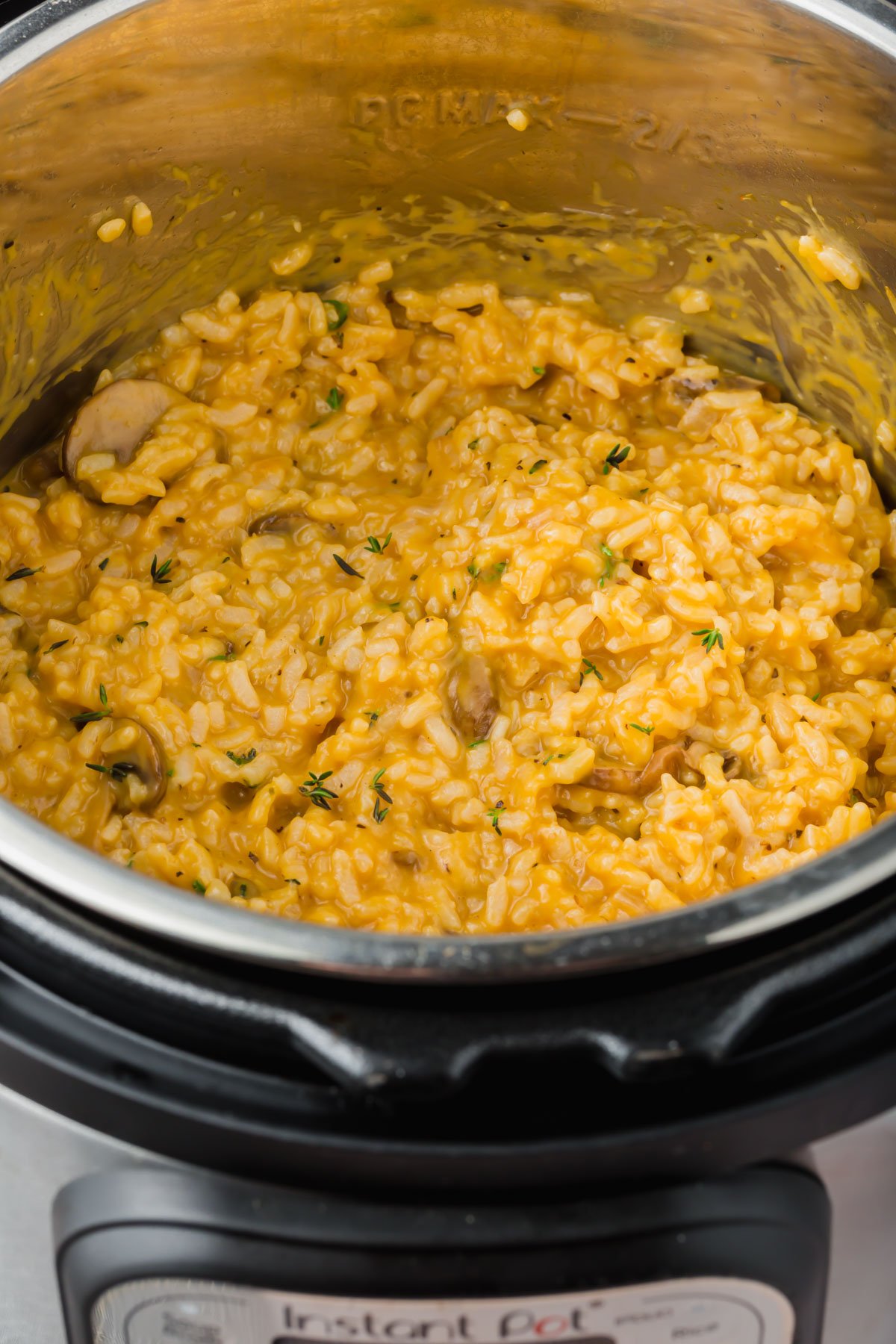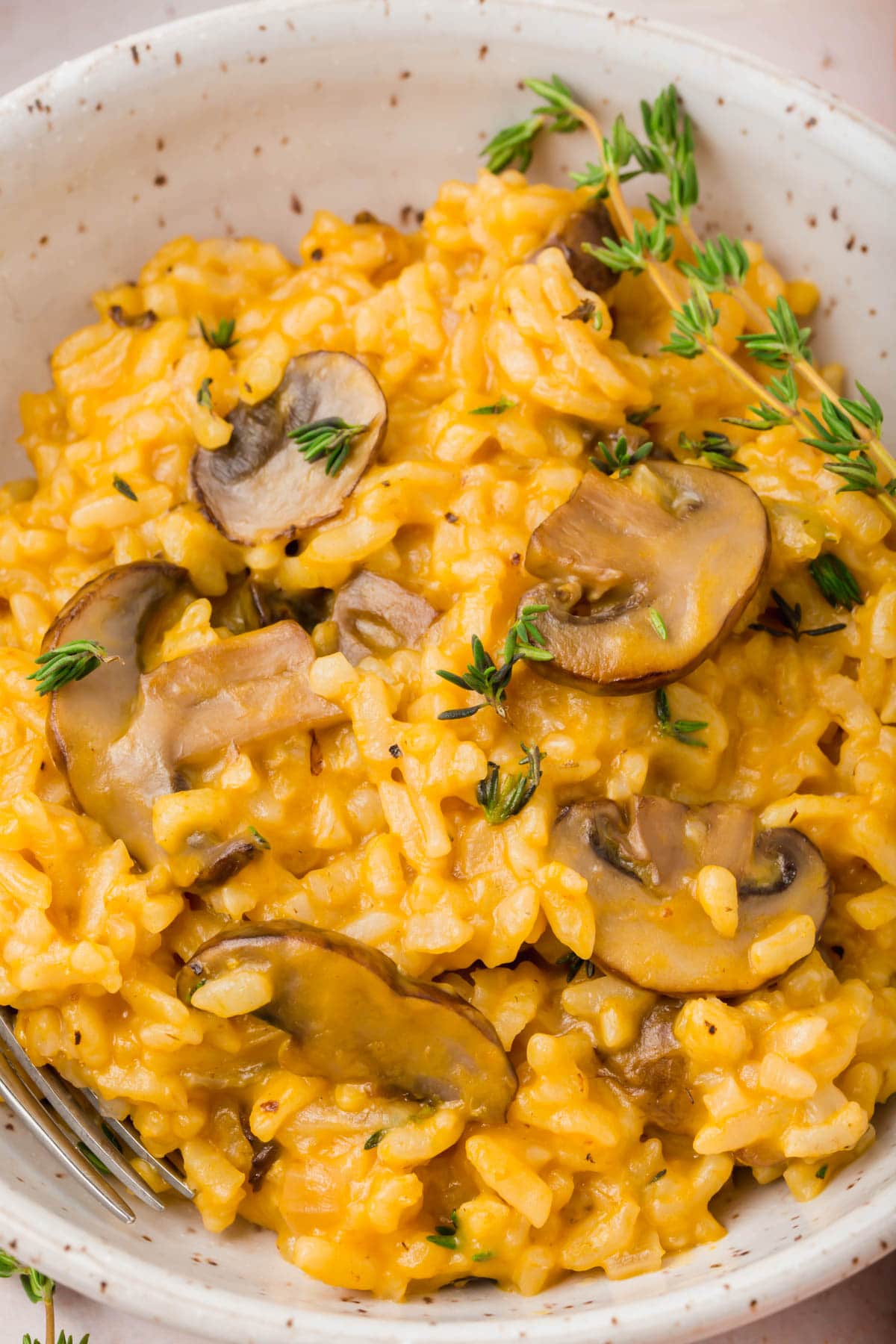 Recipe FAQs
Is the wine really necessary?
Even though you only need 1/2 cup, the wine adds a ton of flavor and some acidity to the risotto. However, if you're out of white wine in your house don't let that stop you from making this risotto! Use additional vegetable stock instead of the wine in this recipe.
Can I make this recipe without an Instant Pot?
You can! You can make this on the stove top, as well. Follow the steps using a dutch oven or large stockpot over medium heat on the stove top up until the point where you add the broth. Mix everything together and add 1/2 cup of hot broth at a time, stirring in between each mixture until the rice absorbs the broth. It should take about 20 minutes of stirring to get through the entire 4 cups of broth.
Can I make this recipe dairy-free or vegan?
Yes! The only part of this recipe that is not dairy-free or vegan is the parmesan cheese. Simply leave out the parmesan cheese to make this recipe vegan.
How long does pumpkin mushroom risotto last?
This pumpkin mushroom risotto will keep in an airtight container stored in the refrigerator for up to 5 days.
Storage instructions
Storage: Store any leftover risotto in an airtight container. Refrigerate it for up to 4 days to enjoy as a quick and convenient meal throughout the week.
Reheat: When reheating refrigerated risotto, add a splash of broth or water to the dish to restore its creamy consistency. Heat it gently on the stovetop over medium-low heat, stirring frequently to prevent sticking or burning. It should take about 5-10 minutes to warm through. If you're in a hurry, you can reheat it in the microwave in 30-second intervals, stirring in between, until it reaches your desired temperature.
Related Recipes
Instant Pot Pumpkin Mushroom Risotto
This Instant Pot Pumpkin Mushroom Risotto gives you a creamy, rich risotto with minimal fuss thanks to the Instant Pot! This recipe is so easy and versatile, it's the perfect side dish or main course to make this fall or winter season.
Print
Pin
Rate
Ingredients
2

tablespoons

olive oil

1/2

cup

yellow onion

(finely diced)

8

oz

baby bella mushrooms

(thinly sliced)

3

cloves

garlic

(minced)

1/2

cup

dry white wine

2

cups

arborio rice

3/4

cup

pure pumpkin puree

4

cups

vegetable or chicken broth

(gluten-free if need be)

1

teaspoon

kosher salt

1/2

cup

freshly grated Parmesan

2

tablespoons

fresh thyme

(roughly chopped)

ground black pepper

(to taste)
Instructions
Turn pressure cooker to sauté and allow to heat. Add the olive oil to the Instant Pot and let heat for 1 minute.

Add in the diced onions and sauté for 3 minutes.

Add mushrooms and cook, stirring occasionally, until tender, about 3-4 minutes.

Then, stir in the minced garlic and sauté 1 minute longer.

Pour in the arborio rice and stir the rice until it is coated with the olive oil. Toast the rice for about 2 minutes, stirring frequently.

Add the dry white wine to the Instant Pot and let simmer for about 2 minutes, until the rice has absorbed the wine.

Stir in the pumpkin puree, vegetable broth and salt. Turn off the sauté function and place the lid on the pressure cooker. Set the vent to sealed.

Set the Instant Pot to high pressure for 6 minutes. It will take about 15 minutes for the instant pot to come to pressure.

Let the pressure release naturally for 7 minutes. Then, carefully manually release the pressure by opening the valve. Remove the lid and stir the risotto to mix the broth into the rice.

Stir in the parmesan cheese and fresh thyme. Season with ground black pepper to taste.

Serve immediately.
Notes
Make sure your broth is gluten-free as some do contain gluten. You can also use chicken broth instead of vegetable broth.

You can use cremini mushrooms instead of baby bella mushrooms if you prefer.

Switch up the spices by using fresh sage or parsley instead of the fresh thyme.
Nutrition
Calories:
369
kcal
|
Carbohydrates:
62
g
|
Protein:
9
g
|
Fat:
8
g
|
Saturated Fat:
2
g
|
Polyunsaturated Fat:
1
g
|
Monounsaturated Fat:
4
g
|
Cholesterol:
7
mg
|
Sodium:
1148
mg
|
Potassium:
348
mg
|
Fiber:
4
g
|
Sugar:
4
g
|
Vitamin A:
5283
IU
|
Vitamin C:
6
mg
|
Calcium:
127
mg
|
Iron:
4
mg
I'm Megan
A gluten-free food blogger from Chicago and lover of all things food, showing you gluten-free can be easy and delicious, too. Let's make gluten-free stress free together! Read more…