These gluten free hot cocoa cookies are perfect with a glass of eggnog or hot chocolate! Bake them while watching your favorite holiday movie!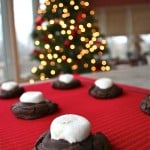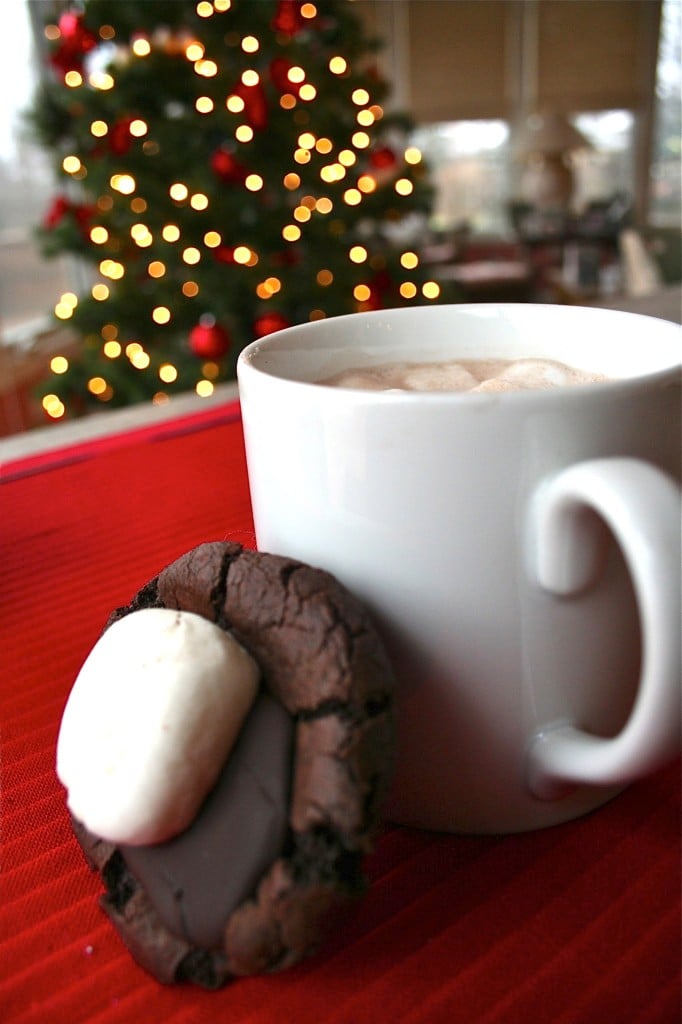 It's that time of year again, you guys! My favorite, favorite month of the year is here at least. Christmas, New Years, My Birthday! What more could you want?! I've been baking up a storm these past couple weeks and enjoying everything the holiday season has to offer.
Last week, my friend Liz and I got together for our annual Christmas-Baking-and-Movie-Watching Extravaganza. We both work full-time jobs now and decided to end the work week right with a night of Hot Cocoa Cookies, Peppermint Bark, and Elf. It was the perfect night. I don't know about you guys, but I can quote just about every line in Elf.
On my list of all-time favorite Christmas movies, it's right up there with White Christmas and Love Actually for me. If you have not seen any of the movies I just mentioned, please stop what you're doing immediately and go watch them. I'll wait here until you're fully aware of the amazingness of said movies.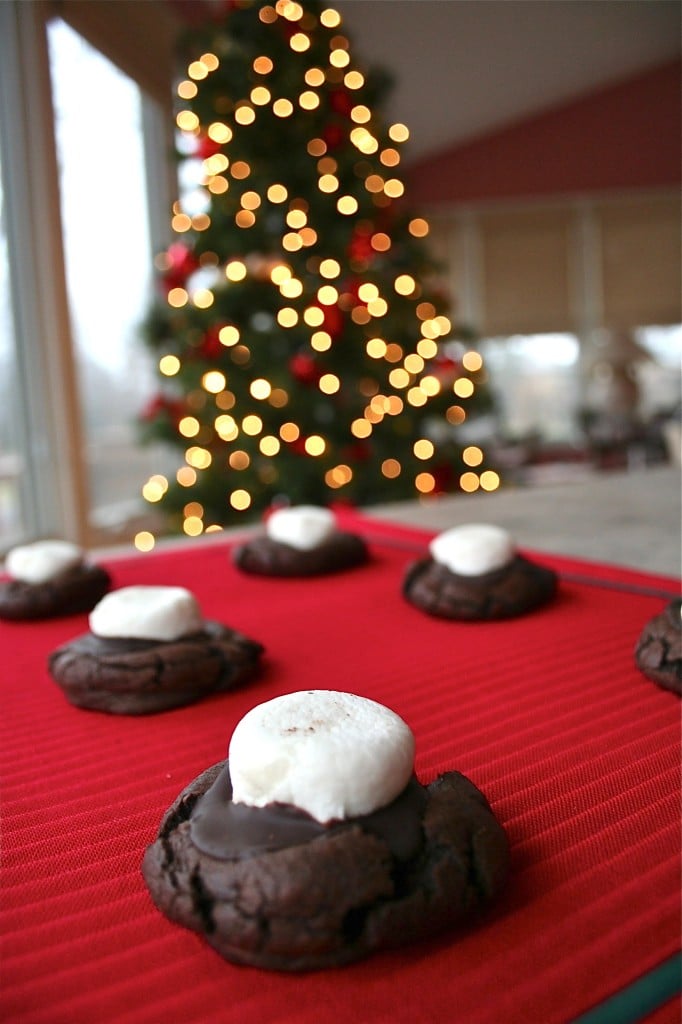 Now that you know what you've been missing out on in the Holiday Movie Area, we'll move on to some essential holiday cookies to have in your arsenal. I found this recipe whilst on one of my Pinterest binges and decided they looked way too festive to pass up. Plus, they included tons of chocolate and marshmallow, which is always a good thing in my mind.
These cookies weren't too difficult to make and they were absolutely delicious. They almost tasted like brownie cookies, and although, the original recipe says to enjoy them while they're hot and gooey, I thought they tasted just as good at room temperature the next day.
So please go do yourself a favor and make these cookies, grab a mug of hot cocoa, baileys, eggnog, etc. and watch your favorite holiday movie!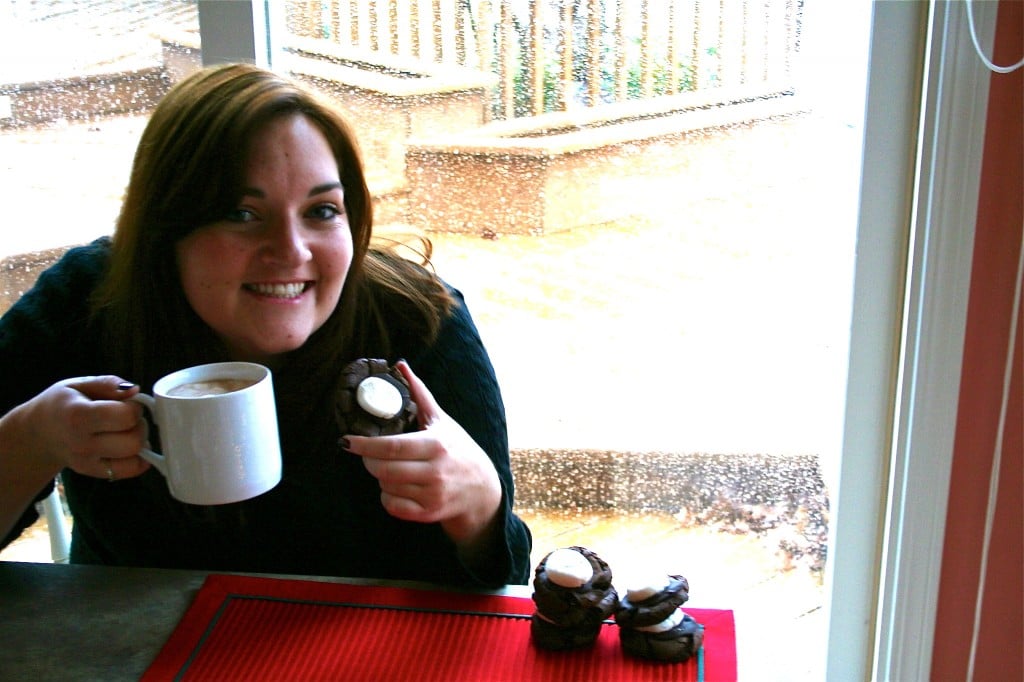 Gluten Free Hot Cocoa Cookies
These gluten free hot cocoa cookies are perfect with a glass of eggnog or hot chocolate! Bake them while watching your favorite holiday movie!
Print
Pin
Rate
Ingredients
8

tbsp

unsalted butter

12

oz.

chopped semisweet chocolate

1 1/2

cups

gluten free flour blend

1/2

tsp

xanthan gum

(if your blend doesn't already contain it)

1/4

cup

unsweetened cocoa powder

1 1/2

teaspoons

baking powder

1/4

teaspoon

salt

1 1/4

cups

light brown sugar

3

eggs

(at room temperature)

1 1/2

teaspoons

pure vanilla extract

7.5

oz.

semisweet chocolate

(chopped into chunks)

16

large marshmallows

(cut in half)
Instructions
In a medium sauce pan, melt butter and 12 oz. of chocolate together until the chocolate has melted. It's easiest to chop up your chocolate into smaller chunks to make the melting process quicker.

Take the pan off the heat and let it cool for 15 minutes.

Mix sugar, eggs, and vanilla together with an electric mixer until blended.

In another bowl, whisk flour, xanthan gum (if using), cocoa powder, baking powder, and salt together into incorporated.

After the butter and chocolate mixture has fully cooled to room temperature, add it to the egg/sugar mixture and give it a few stirs until just blended.

Next add your flour mixture to the wet mixture and blend with the electric mixture. I find it's always better to add the flour in two parts to make sure it all gets blended and so I don't make a total mess of the kitchen. At this point, the dough should have a relatively thick consistency.

Next, you will want to refrigerate the dough for an hour or so until the dough is easy to roll into balls.Preheat the oven to 325 degrees and take out your cookies sheets.

After the dough has hardened a bit, roll the dough into 1 inch balls and place 2 inches from one another. We were able to get 15 dough balls onto each cookie sheet.

You'll bake the cookies for about 10 minutes or until the cookies start to crack. When this happens, take the cookies out and place your chocolate chunks onto the center of the cookies and place a halved marshmallow on top of the chocolate chunk.

Next, put the cookies back in the oven for about 4 minutes or until the marshmallow has melted/softened. Now, grab that hot cocoa or eggnog I mentioned above and enjoy your gooey hot cocoa cookies!
Nutrition
Calories:
196
kcal
|
Carbohydrates:
24
g
|
Protein:
2
g
|
Fat:
10
g
|
Saturated Fat:
5
g
|
Cholesterol:
24
mg
|
Sodium:
33
mg
|
Potassium:
144
mg
|
Fiber:
2
g
|
Sugar:
16
g
|
Vitamin A:
120
IU
|
Calcium:
34
mg
|
Iron:
1.5
mg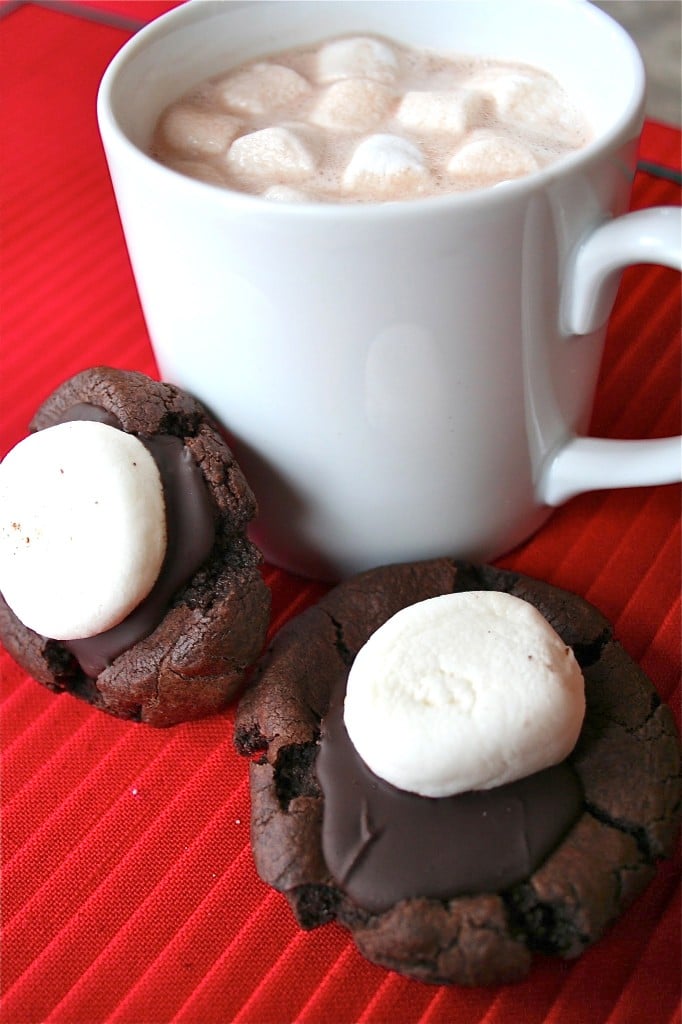 Source: Recipe from Pip and Debby