Last Updated on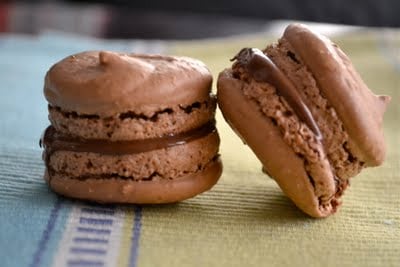 Eek! My first attempt at macarons! I always hear how scary and finicky macarons are and I've been terrified to try them. I bought a kitchen scale a few months ago as a way to bribe myself into making macarons (I'm a weirdo). I just never got to it.
It wasn't until Nikki was over that I finally made them. She always gets me to do new things somehow. I really had no idea what I was doing the entire time we were making the macarons. Here's what was crossing my mind: This is supposed to be difficult! Did we really do this right? Are you sure that's how we do it? Nikki just shrugged and we kept going.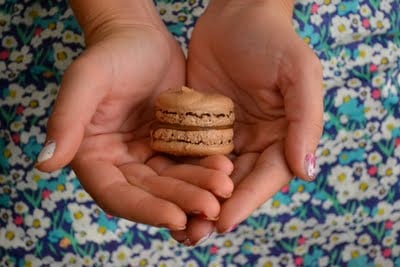 The good news is that our macarons had feet! I hear thats hard to do. So we must have done something right. However, they were a little big. I feel like the feet should have been smaller.
I really could not tell you what went wrong there. Either way, the macarons were A-MA-ZING. They were gone in an instant. I saved two to eat the next day… yeahhh those got eaten before I went to bed. I couldn't help it. So good.
P.S. When it says wrap the baking sheet against the counter, it means hit it, not wrap it with cling wrap. It took me a few minutes to realize this. WHY WOULD YOU WRAP IT TO THE COUNTER? THAT'S SO WEIRD! Yeah… not my brightest moment.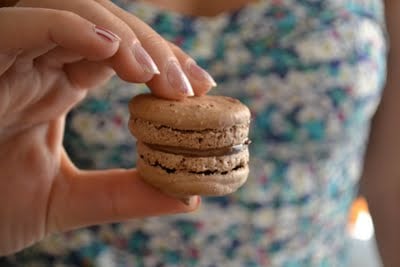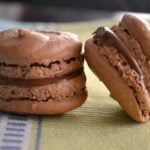 Print Recipe
Chocolate Macarons with Nutella Filling
Have you ever made your own french macarons at home? It's easier than you think! Try these chocolate macarons with nutella filling for a decadent, chocolate treat!
Ingredients
110

grams

powdered sugar

50

grams

ground almonds

12

grams

cocoa powder

2

egg whites

40

grams

granulated sugar

1/2

cup

nutella

for filling
Instructions
Add powdered sugar, whole almonds, and cocoa powder to a food processor. Process until you have a fine powder.

Sift mixture into a large bowl. Set aside.

In the bowl of an electric mixer fitted with the whisk attachment, whisk egg whites on medium-high speed until they are frothy.

Slowly add the granulated sugar, while beating, until the mixture holds stiff peaks.

Add one half of the meringue to the flour mixture and fold it in gently. A

dd the remaining meringue and do the same. The batter should look like flowing lava, thick but able to spread.

Put the batter into a giant ziploc bag and snip off one of the bottom corners.

On a baking sheet covered with parchment paper, pipe out circles approximately 1.5 inches in diameter.

When you are done piping hit the baking sheet against the counter to let any air bubbles settle (This is a very important step).

Preheat the oven to 350 degrees Fahrenheit and let the piped macarons sit out at room temperature for at least 30 minutes. They will develop a film on the top of them and feel a bit dry. If they don't feel like this then let them sit a little longer.

Bake in the oven for 12-14 minutes. Rotate the pans in the oven halfway through to ensure even baking.

When the macarons are done put them on a wire rack to finish cooling.

When they are cool pipe out a small circle of nutella on a macaron and with another macaron (preferably of the same size) press down gently so you make a sandwich and the nutella just reaches the sides of the cookie.
Nutrition
Calories:
72
kcal
|
Carbohydrates:
10
g
|
Protein:
1
g
|
Fat:
2
g
|
Saturated Fat:
1
g
|
Sodium:
6
mg
|
Potassium:
37
mg
|
Sugar:
9
g
|
Calcium:
12
mg
|
Iron:
0.4
mg
Source: Recipe from Franish Nonspeaker