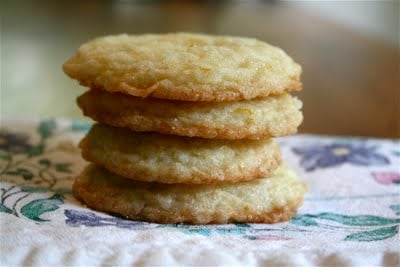 I'm sure you've noticed that I love cookies. Love is probably an understatement. I especially love decorated sugar cookies. Because of that, I tend to let other types of cookies fall by the wayside. Once in awhile though, I come to my senses and bake a batch of cookies. Not the kind I have to decorate. But the kinds that spread all over the pan and rise and transform into a gooey delight. Chocolate chip, peanut butter, double chocolate, and lemon. Ohhh lemon. You know I have strong feelings for anything lemon.. especially in the summer. So fresh, so clean. So fresh and so clean clean (Outkast anyone? Am I alone on that one? Awkward.) I'll stop going on tangents and get to the point. These lemon almond cookies are PHENOMENAL. I do not use that word loosely. Lemon and almond are my two favorite flavors so you really cannot go wrong. My aunt brought them to a picnic and she said they were fabulous. Perfect picnic cookies I tell you. There's no chocolate to melt in the sun! Speaking of chocolate, my mom tried to put M&M's on these. She's relentless with trying to put chocolate on all of my desserts. I had to remind her that they weren't for her but that didn't stop her from putting M&M's on her cookie. She gave me a bite and I won't lie, it was pretty good still. I still prefer the original version though. The random tangents have ended so go make yourselves some of these cookies!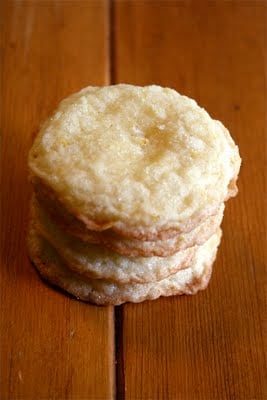 Ingredients:
2 cups all-purpose flour
3/4 cup almond flour (I didn't have any, so I used 3/4 cup of all-purpose flour instead)
1 tsp baking soda
1/2 tsp baking powder
1/2 tsp salt
zest of 2 large lemons
1 1/2 cups granulated sugar
1 cup unsalted butter, at room temp
1 large egg
1/2 tsp pure almond extract
4 tbsp fresh lemon juice


Rolling Ingredients
1/2 cup granulated sugar
zest of one lemon
Directions:
Preheat oven to 350 degrees Fahrenheit. In a bowl, whisk together flour, baking soda, baking powder and salt. In another bowl, combine lemon zest and sugar. Use your hands to work the lemon zest into the sugar until the sugar is moist and the zest is well combined throughout. In the bowl of an electric mixer, mix butter just until its smooth. Add the lemon zest/sugar mixture and cream with butter. Mix in the egg, almond extract and lemon juice. Slowly mix in the flour mixture and beat until the white streaks of flour have disappeared. Put dough in refrigerator until ready to use. In a shallow bowl, add 1/2 cup granulated sugar and the zest of one lemon. Mix with hands until they are combined. Remove batter from refrigerator and roll into one tablespoon balls. Roll balls into the sugar mixture and place on a baking sheet lined with parchment paper. Leave about 2 inches in between each ball because the cookies will spread a lot. Bake 7 to 9 minutes, or until the edges of the cookie are browned. Leave on the pan for 5 minutes to cool and then finish cooling on a wire rack.
Makes 3 dozen cookies.


Source: Recipe from Une Gamine dans la Cuisine