Last Updated on
This easy baked teriyaki salmon is simple to prepare and has tons of great flavor! It's gluten-free and dairy-free making it great for those with allergies and it pairs really well with rice and fresh vegetables.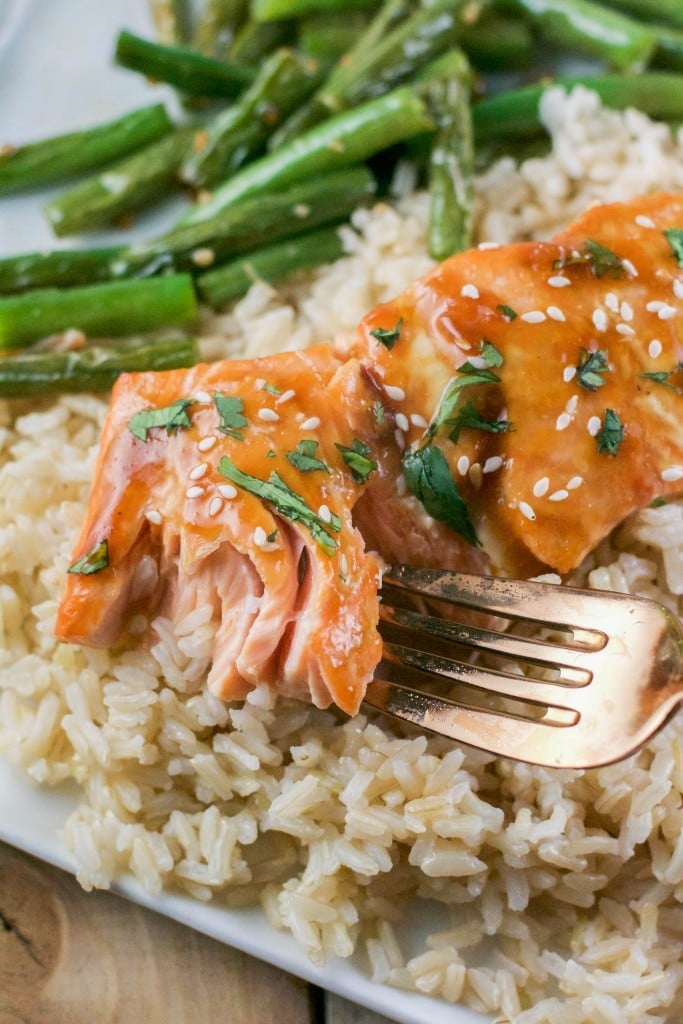 You know how much I love to do meal prep on Sundays for the entire week. It makes my week so much easier and I always know I'll have something to eat for lunch or if I get home from work too late to cook. Not to mention, I save money (and cross contamination issues) from not purchasing food at the work cafeteria. Well everyone once in awhile I love just to go home after work and cook myself (and Michael) a nice meal. You know, to feel a little fancy. And maybe to eat foods that we normally don't meal prep with since they don't reheat well.. like fish. 
Side note time.. I have strong feelings on reheating fish at work. And those feelings are that you just shouldn't. Ever. Be nice to your coworkers. They'll like you more. Especially the people who sit near the break room and microwave (cough *me* cough). To me, fish is something you either eat right away or reheat only the next day and in the comfort of your own home. Maybe I'm the only one who has strong feelings about this but I have a fishy feeling (oh wow I'm punny) I'm not the only one. End rant.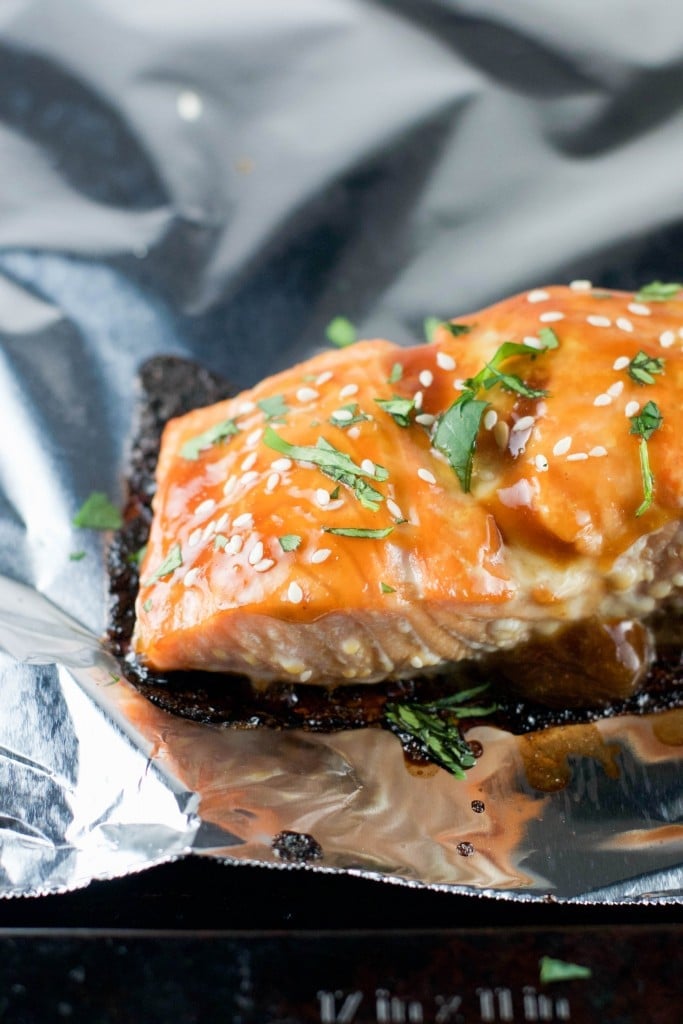 Okay back to this super awesome quick dinner that you don't need to reheat at work and stink up the whole office building. Salmon is great to make for week nights because it's really light, easy to prepare and doesn't take long in the oven at all. My favorite way to cook salmon is with some homemade teriyaki sauce. I start with my favorite teriyaki sauce recipe that I use for countless recipes like these teriyaki chicken wings and use it to marinate the fish while I get my sides, like rice or green beans, prepped. I thicken the rest of the sauce with some cornstarch and it makes a really great glaze as soon as the fish comes out of the oven. I like my salmon a little sweet, a little spicy, a little crunchy, but always super juicy and flaky on the inside. I also love topping it with sesame seeds and fresh cilantro or green onions which take the flavor and texture up a notch.
Next time you're looking for a quick and easy dinner meal, try this baked teriyaki salmon. Not only is it delicious, but it's also great as a week night meal or for those times you're having guests over for dinner!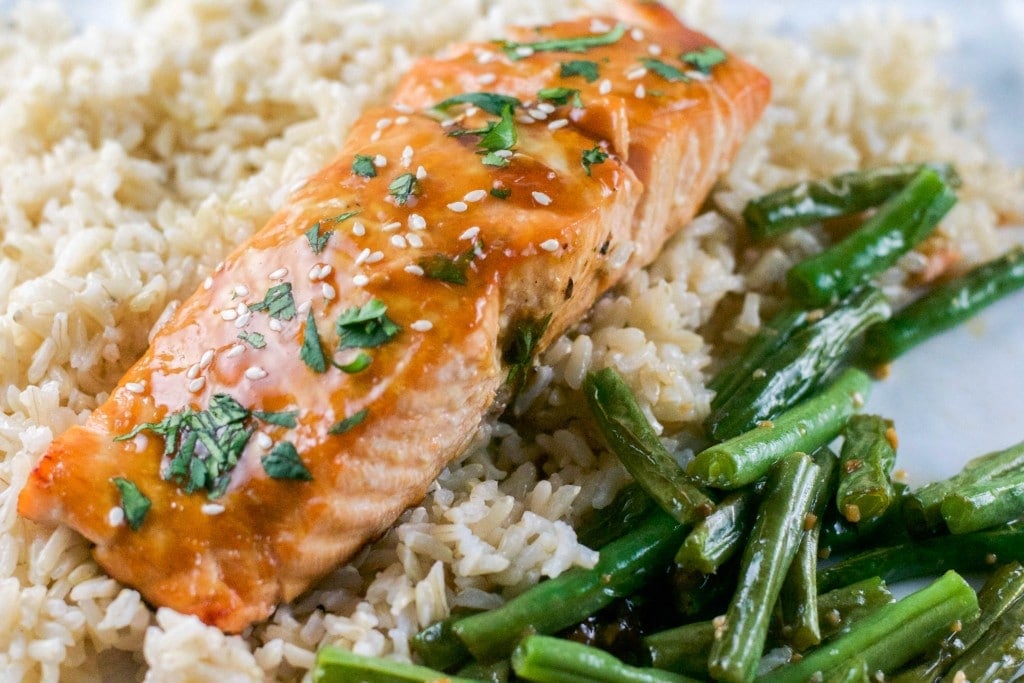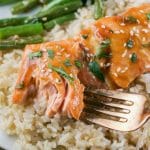 Print Recipe
Teriyaki Salmon
Teriyaki salmon has a homemade teriyaki sauce using tamari making this dish gluten-free! On the table in under an hour, you'll love this easy baked salmon recipe perfect for quick weeknight meals. Gluten-free and dairy-free.
Ingredients
4

6 oz salmon filets

1/2

cup

gluten-free tamari sauce

or soy sauce if you're not gluten-free

2

cups

water

4-5

tbsp

honey

melted (you want it to be thin to combine with the rest of the ingredients)

1

tsp

ground ginger

1/2

tsp

garlic powder

2

tbsp

cornstarch + 1/4 cup cold water

2

tbsp

sesame seeds

for topping

¼

cup

chopped green onion or cilantro

for topping
Instructions
Preheat oven to 400F. Line a baking sheet with foil and set aside.

In a large bowl, combine tamari, water, honey, ground ginger, and garlic powder and stir to combine.

Pour half of the sauce into a small sauce pan. Leave the other half in the bowl. Add the salmon pieces to the bowl and cover with plastic wrap. Let sit for 20 minutes or so to marinate.

In the meantime, heat the sauce in the sauce pan until it comes to a boil.

In a small bowl, combine the cornstarch and cold water until the cornstarch is no longer lumpy. Pour the cornstarch slurry into the sauce and stir.

Bring the sauce to a simmer and let cook for about 5 minutes until it is thick. Remove from heat and set aside.

Place the salmon on the baking sheet lined in foil. Bake for 12-15 minutes, until salmon is cooked through.

Remove from the oven and sprinkle with sesame seeds, cilantro or green onions.
Nutrition
Calories:
368
kcal
|
Carbohydrates:
24
g
|
Protein:
37
g
|
Fat:
13
g
|
Saturated Fat:
1
g
|
Cholesterol:
93
mg
|
Sodium:
1704
mg
|
Potassium:
944
mg
|
Sugar:
17
g
|
Vitamin A:
130
IU
|
Vitamin C:
1.2
mg
|
Calcium:
78
mg
|
Iron:
3
mg