Last Updated on
Celebrate St. Patrick's Day with this delicious slow cooker corned beef. It's so simple to make – just throw your corned beef and vegetables in the crock pot and let the slow cooker do the work! It's made gluten-free and dairy-free!
My grandfather came from Ireland in his early 20's and I'm very proud of my Irish heritage. Ireland is one of my favorite countries to explore and I get to learn more about my family every time I visit. In fact, my grandpa's brother still sings in pubs on Friday nights there!
I wouldn't be a good Irish girl if I didn't share my recipe for corned beef this St. Patrick's Day. Typically I boil my corned beef on the stove, but I thought this year I'd share an even easier way to get that tender corned beef – the slow cooker!
I love making slow cooker corned beef because it creates such a flavorful, juicy and tender beef. Plus, you can set it and forget it while you're working or doing chores around the house and it's ready in time for dinner!
Cooked with potatoes, carrots, onions and cabbage, this gluten-free slow cooker recipe is a full meal! Though, it also tastes great when paired with my dairy-free kale colcannon. If you end up having leftover corned beef you should try my leftover corned beef hash for breakfast!
What is Corned Beef?
Corned beef. It's a little salty, a little sour. But what is it?
Corned beef is beef brisket that has been cured in salt. The brisket is cured in nitrate, which is what gives it its signature red color after cooking. Since brisket is a tougher cut of meat, corned beef is best cooked slowly at a low temperature.
In the US, corned beef is traditionally served with cabbage around St. Patrick's Day for an Irish feast!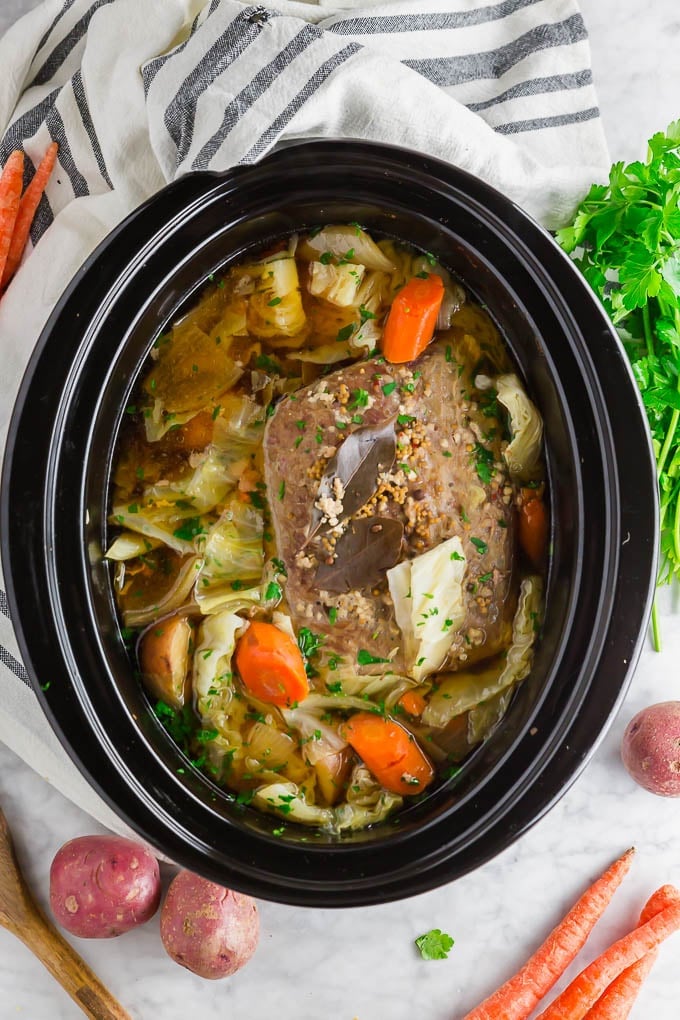 Is Corned Beef Really Irish?
Not really. Corned beef as we know it today is not a dish common in Ireland. Instead, it's an Irish-American version of Irish bacon and cabbage.
You can read all about the history of corned beef from the Smithsonian (which is seriously a fascinating read), but I'll spare you the details and get into how to make this delicious gluten-free corned beef recipe.
Just know you probably won't find corned beef in Ireland on St. Patrick's Day.
Should I Cure My Own Beef Brisket or Buy Corned Beef?
Typically when it comes to gluten-free eating, I'd say cure your own beef brisket to make corned beef. BUT – that's not the case here. Why? Well, curing your own brisket can take over a week and I don't know about you, but I just don't have that kind of time.
Luckily, there are many gluten-free corned beef options on the market! So I like to buy already prepared corned beef and pop it into my slow cooker with vegetables for an easy corned beef meal.
Is Corned Beef Gluten-Free?
Corned beef may or may not be gluten-free depending on the brand that you purchase. Most of the brands I see at the store are clearly labeled "gluten-free" though so you will probably have luck at your local stores as well.
Remember to ALWAYS check ingredient labels and inquire with the manufacturer about any cross contamination issues.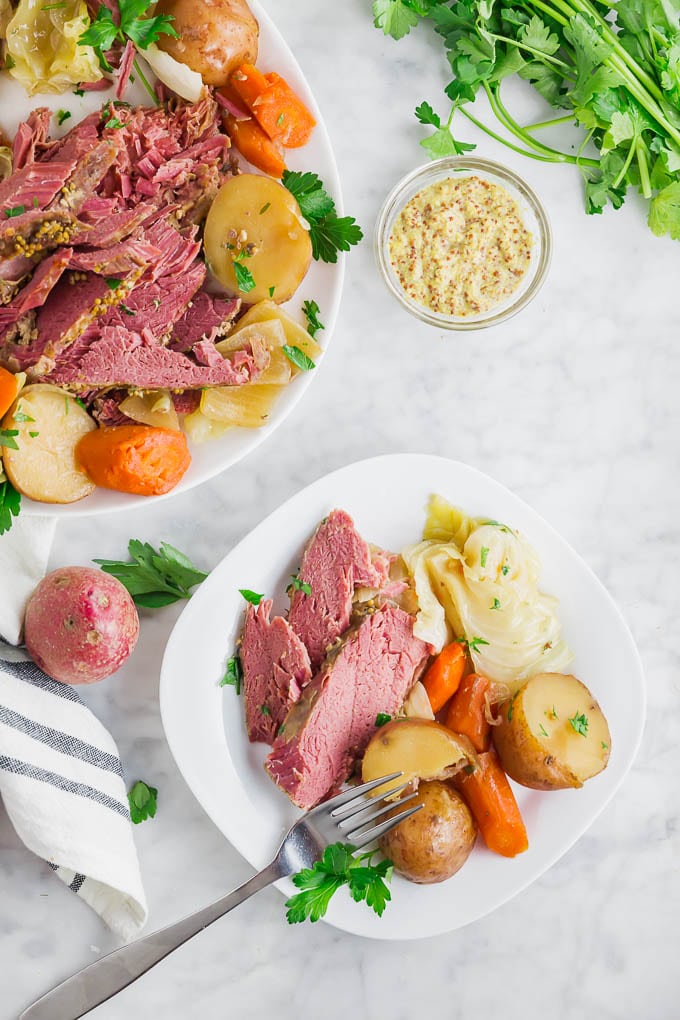 To Use the Corned Beef Spice Packet or Not
Most corned beef will come with a spice packet, but you can certainly start with your own spices. The spice packet typically contains spices such as mustard seed, bay leaves, coriander, allspice, and pepper.
Typically I like to use the spice packet but add a few more spices, depending on what I have on hand in my pantry. Adding a few bay leaves, minced garlic and finishing with some fresh parsley usually does the trick!
What Kind of Corned Beef Should I Buy?
There are two kinds of corned beef that you can normally find available at the grocery store: flat cut or point cut.
I typically buy the flat cut because I like that it cuts easily in uniform slices, which makes it great for leftover sandwiches or breakfast hash. It is a bit leaner than the point cut. With this slow cooker preparation, the flat cut comes out tender and juicy, not at all overcooked.
The point cut has more fat and flavor and is preferred by some. I find it to be equally as delicious and will sometimes also opt for this cut.
Whichever cut you choose, this crock pot corned beef recipe will make a delicious meal.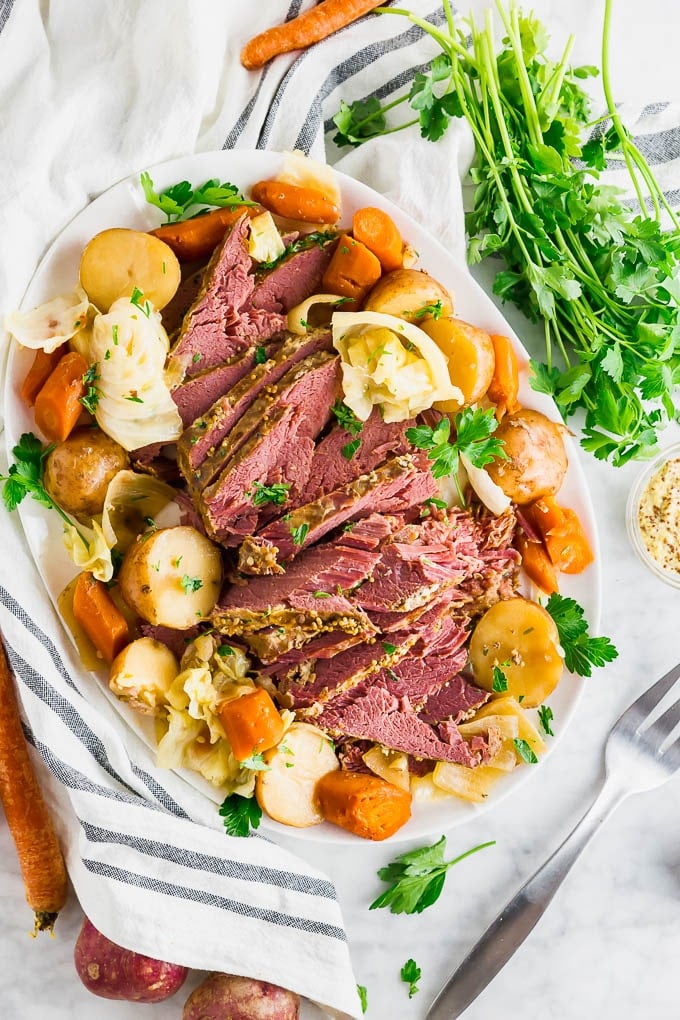 Slow Cooker Corned Beef Recipe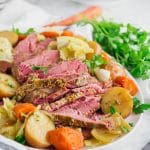 Print Recipe
Slow Cooker Corned Beef
Celebrate St. Patrick's Day with this delicious slow cooker corned beef. It's so simple to make - just throw your corned beef and vegetables in the crock pot and let the slow cooker do the work! It's made gluten-free and dairy-free!
Ingredients
3

lbs

corned beef brisket

flat or point cut (check for gluten-free)

1

lb

small red potatoes

halved

4

carrots

cut into 1-2 inch slices

1

yellow onion

cut into large wedges

2

cups

beef broth

check for gluten free

2

tablespoons

worcestershire sauce

check for gluten free

1

spice packet that comes with corned beef brisket

2

bay leaves

4

garlic cloves

minced

1/2

head

cabbage

cut into wedges

2

tablespoons

chopped fresh parsley
Instructions
Rinse the corned beef brisket. Set aside.

Add red potatoes, carrots, and onion to the slow cooker.

Place corned beef brisket on top of vegetables.

Pour beef broth over the brisket.

Add spice packet that comes with the corned beef, bay leaves and garlic cloves.

Cook on the low setting for 9-10 hours, until corned beef is tender, adding in the cabbage wedges with 1 hour left in cooking.

Stir in chopped fresh parsley.

Serve with grainy mustard.
Notes
Note: I personally like to drain my corned beef and vegetables from the broth before serving, but you can also serve it in a bowl with the broth for a more stew-like meal. 
Nutrition
Calories:
588
kcal
|
Carbohydrates:
41
g
|
Protein:
78
g
|
Fat:
15
g
|
Saturated Fat:
6
g
|
Cholesterol:
182
mg
|
Sodium:
2801
mg
|
Potassium:
1089
mg
|
Fiber:
7
g
|
Sugar:
10
g
|
Vitamin A:
10300
IU
|
Vitamin C:
59
mg
|
Calcium:
226
mg
|
Iron:
8.9
mg