Gluten Free Lemon Brownies
Love the texture of brownies but don't like chocolate? Try these gluten-free lemon brownies instead! Frosted with a tangy lemon glaze, these lemonies are chewy and bursting with lemon flavor in every bite. They're a great recipe for summer gatherings, too!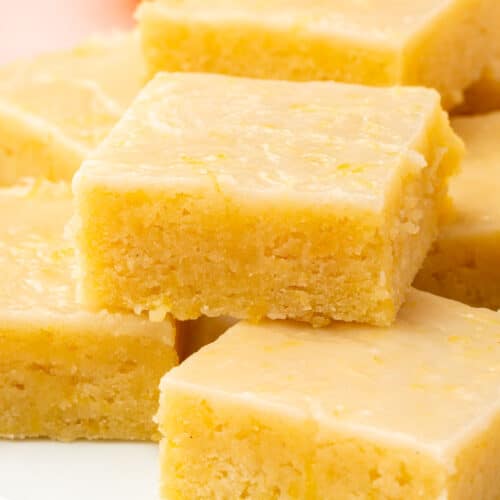 These gluten-free lemon brownies with a zesty lemon glaze are tangy, sweet and so delicious. They're a cross between a lemon bar and a brownie. You might think that would make them a lemon blondie, but no – lemon brownies really are the right term for these.
They aren't as buttery as blondies so that the lemon flavor can really shine through. Plus, I think they have a more fudgy texture than the brown sugar chewy flavor of a blondie.
Using fresh lemon zest and lemon juice gives these lemon squares the perfect amount of lemon flavor. They're a great treat for any occasion!
You'll love this recipe because:
Ingredients
Ingredient Notes
Gluten-free flour blend – I used Bob's Red Mill 1-to-1 Gluten-Free Baking Flour (in the blue bag) for this recipe, which is meant to be a 1:1 swap for all-purpose flour and already contains xanthan gum. If you use another flour blend, I cannot guarantee the success. However, be sure to use one that has xanthan gum in it.
Salt – It helps balance the sweetness and intensifies the lemon flavor in the brownies. You can use either table salt or kosher salt in this recipe.
Granulated sugar – I don't recommend using brown sugar in this recipe as it will overpower the lemon flavor. I have not tried any other sweeteners in this recipe so I can only guarantee that granulated sugar will work.
Lemon zest – The majority of the lemon flavor comes from the lemon zest in this recipe. You can use anywhere from 2 tablespoons to 3 tablespoons of lemon zest. I recommend 3 tablespoons for the full amount of lemon flavor. You will need 3-4 large lemons to get 3 tablespoons of lemon zest.
Unsalted butter – Use unsalted butter to have better control over the salt content in the recipe.
Eggs – Use large eggs that are 50g each for this recipe. Make sure that the eggs are at room temperature so it blends in with the melted butter in the batter better.
Lemon juice – Use fresh lemon juice. You will only need 2 tablespoons of lemon juice for the brownies and 3 tablespoons for the glaze.
Lemon extract – To amp up the lemon flavor, use a little bit of pure lemon extract in the brownies. Don't use more than called for in the recipe because lemon extract can quickly become artificial tasting if you use too much.
Powdered sugar – For the glaze, you'll need powdered sugar, which is also known as confectioners sugar or icing sugar. You'll combine this with the lemon juice and a little bit of lemon zest to glaze the lemon brownies after baking.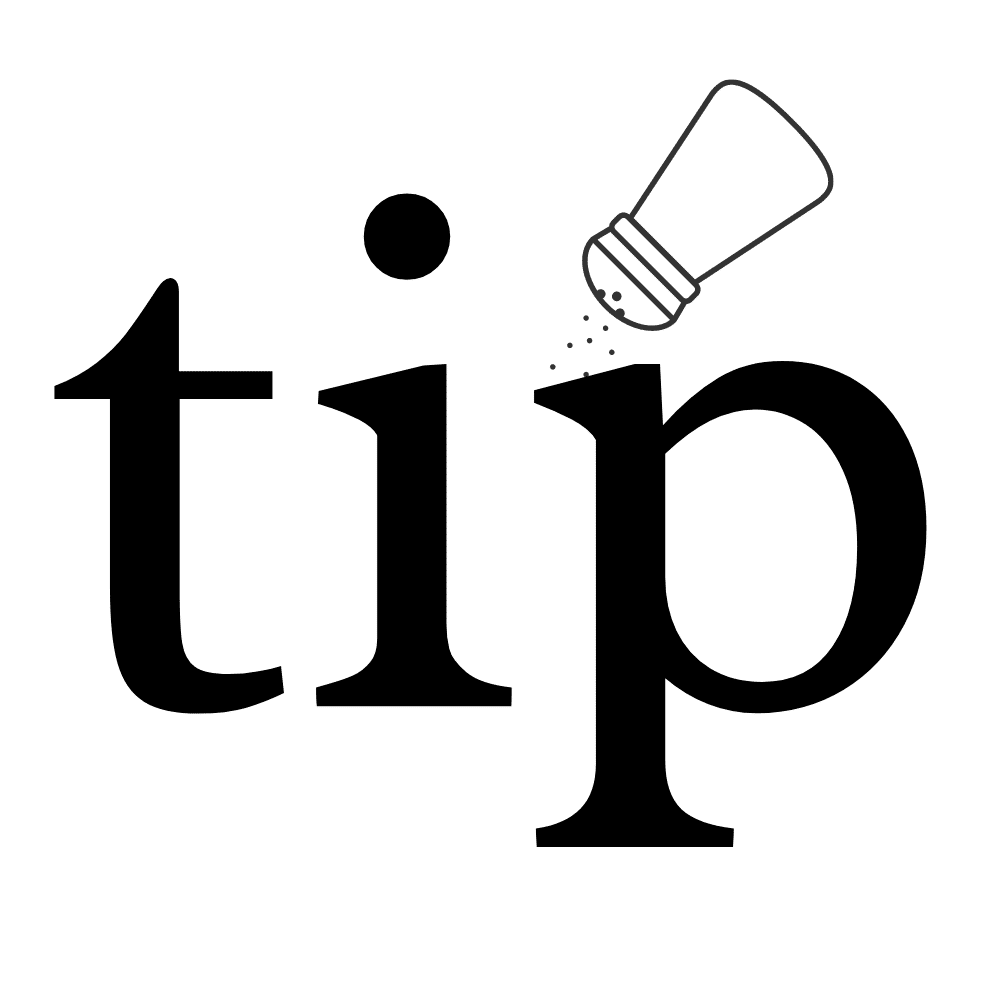 Most lemons have 3-4 tablespoons of juice in them, so you may have extra lemon juice after zesting the lemons. Freeze extra lemon juice for later or use it in a recipe that only calls for lemon juice.

Step-by-Step instructions
All you need are 9 simple ingredients to make these lemon brownies with lemon glaze. The below photos with matching instructions are meant to help you see the recipe at various stages.
Pay special attention to the color of the lemon sugar in step 1, the thickness of the lemon brownie batter in step 5, and the lemon glaze texture in step 8.
For the ingredient list with measurements, full instructions, printable recipe, and additional notes, please scroll down to the recipe card.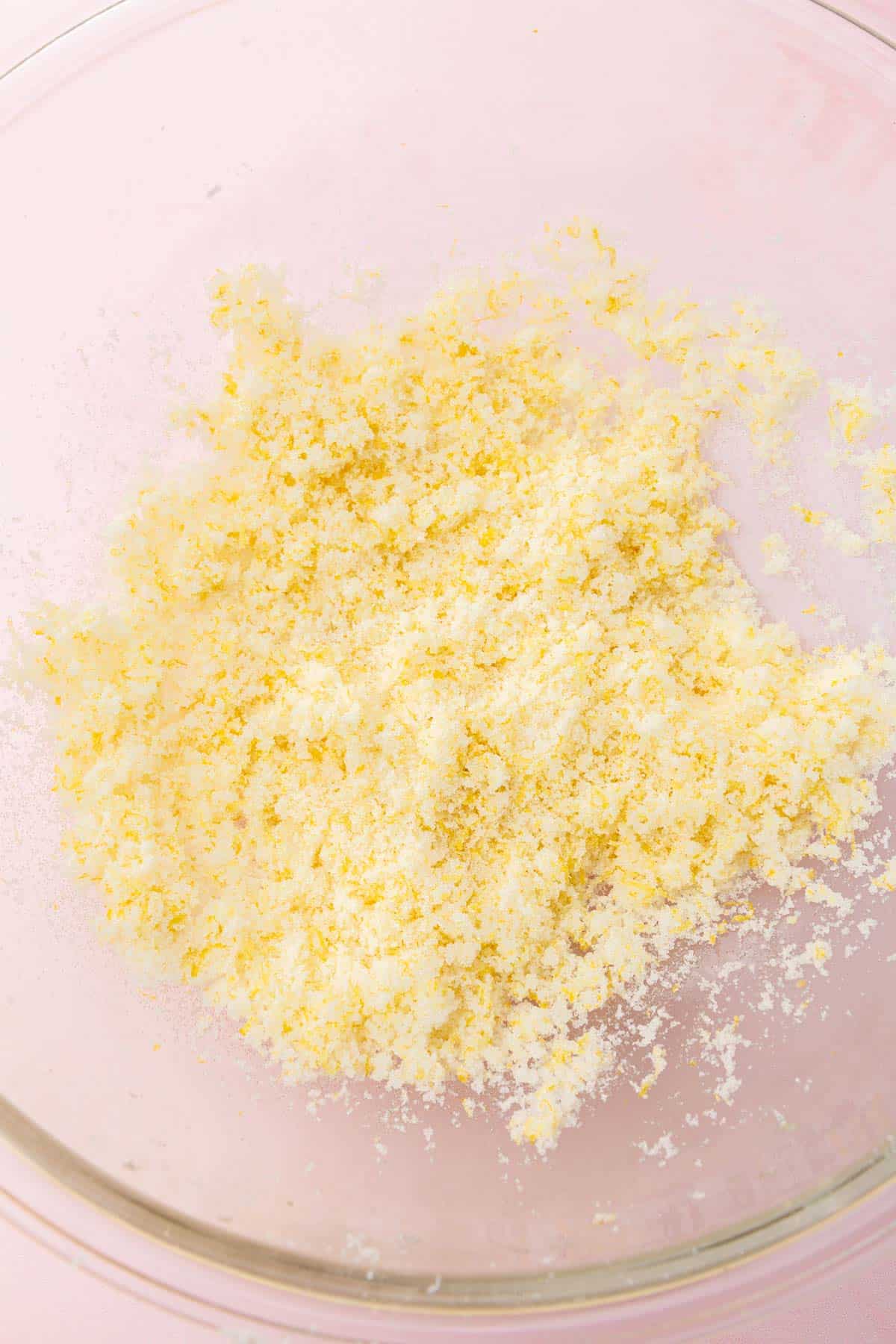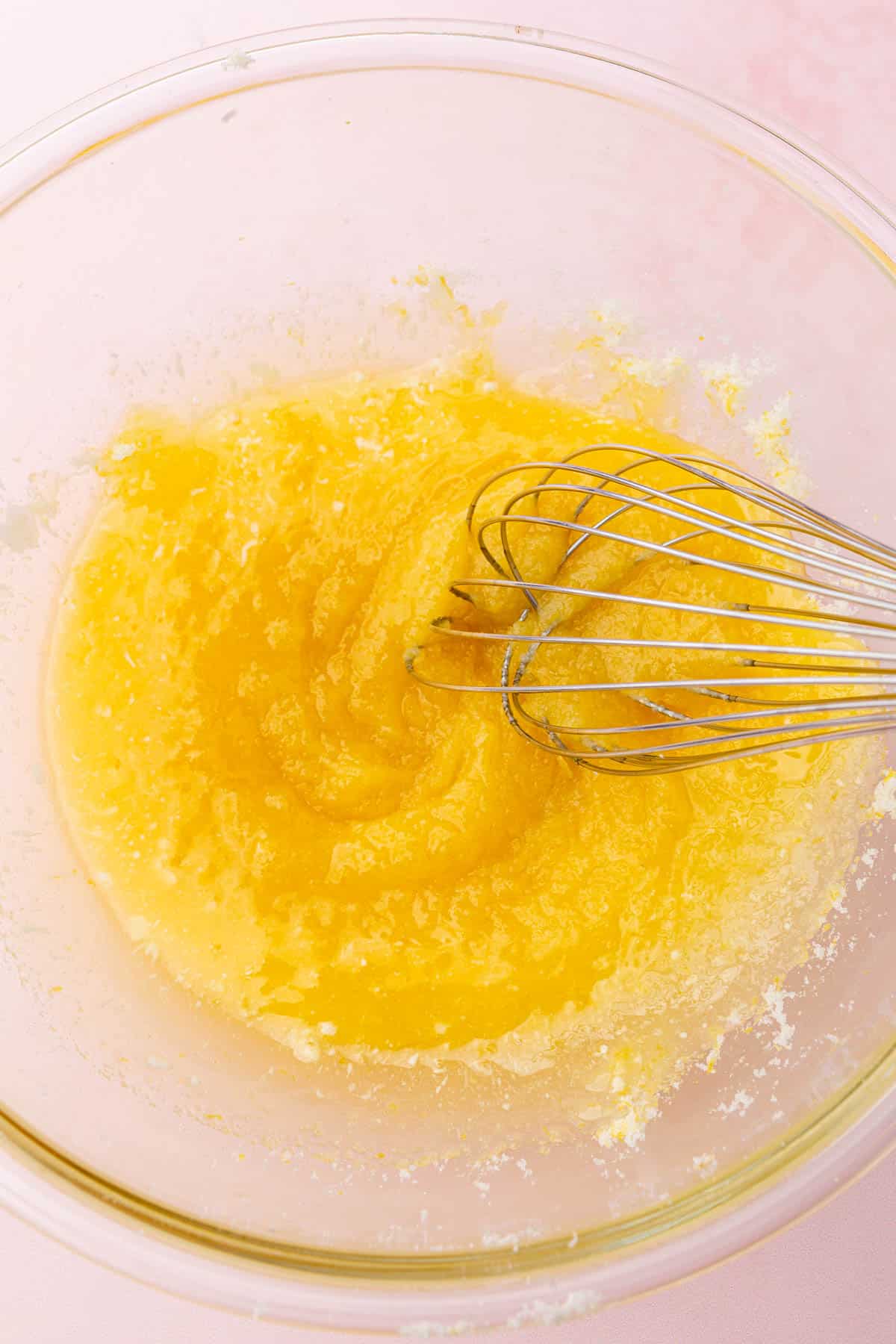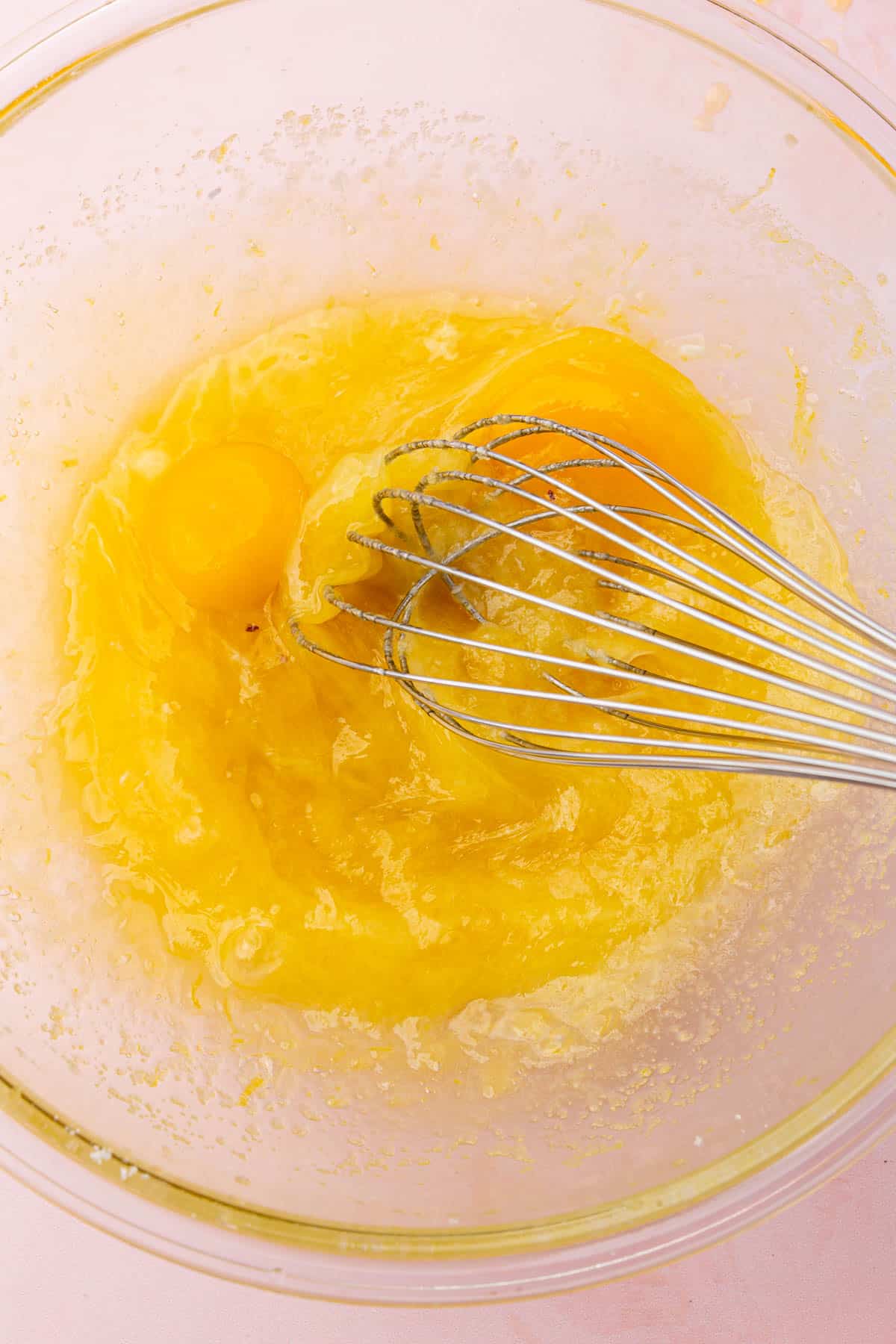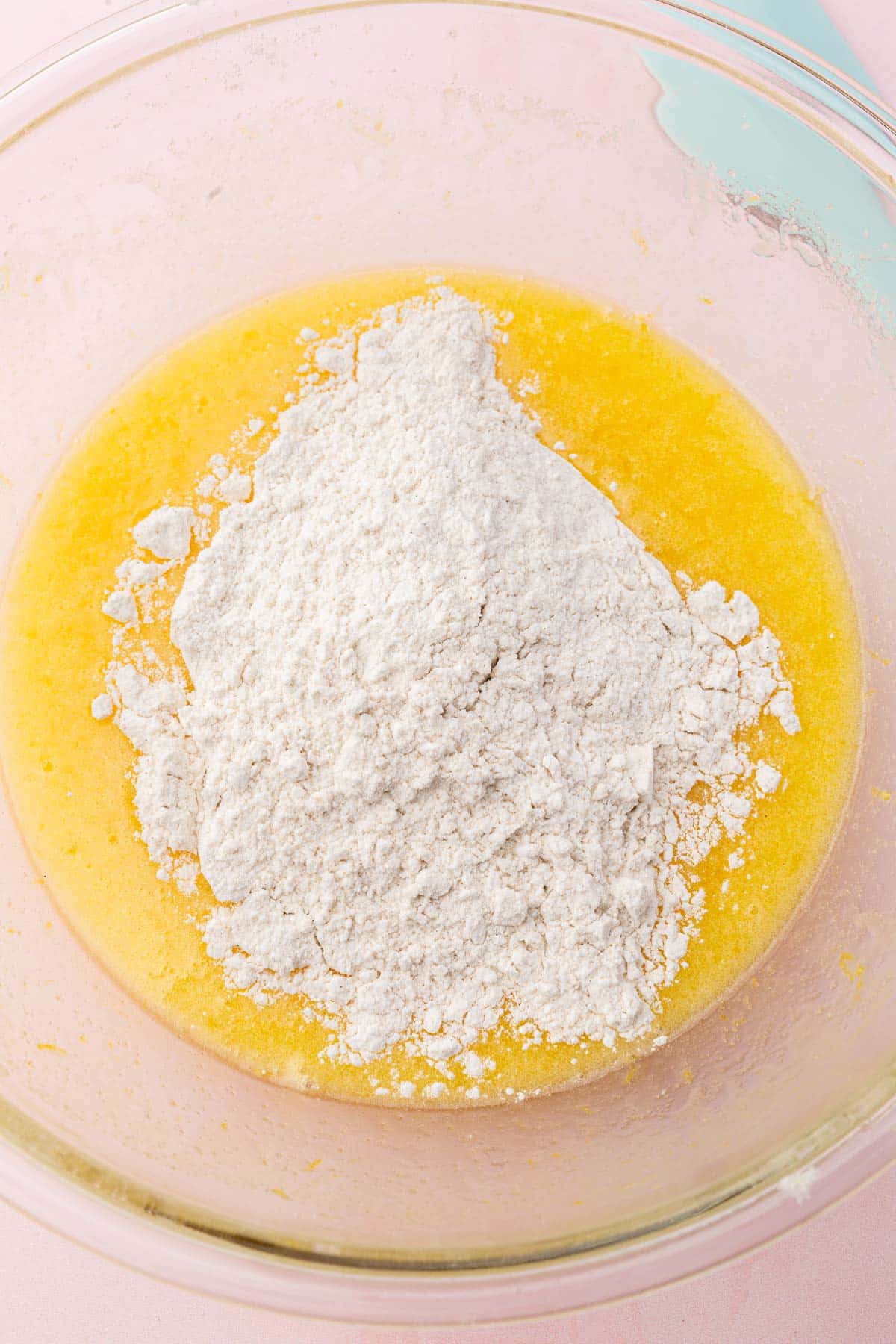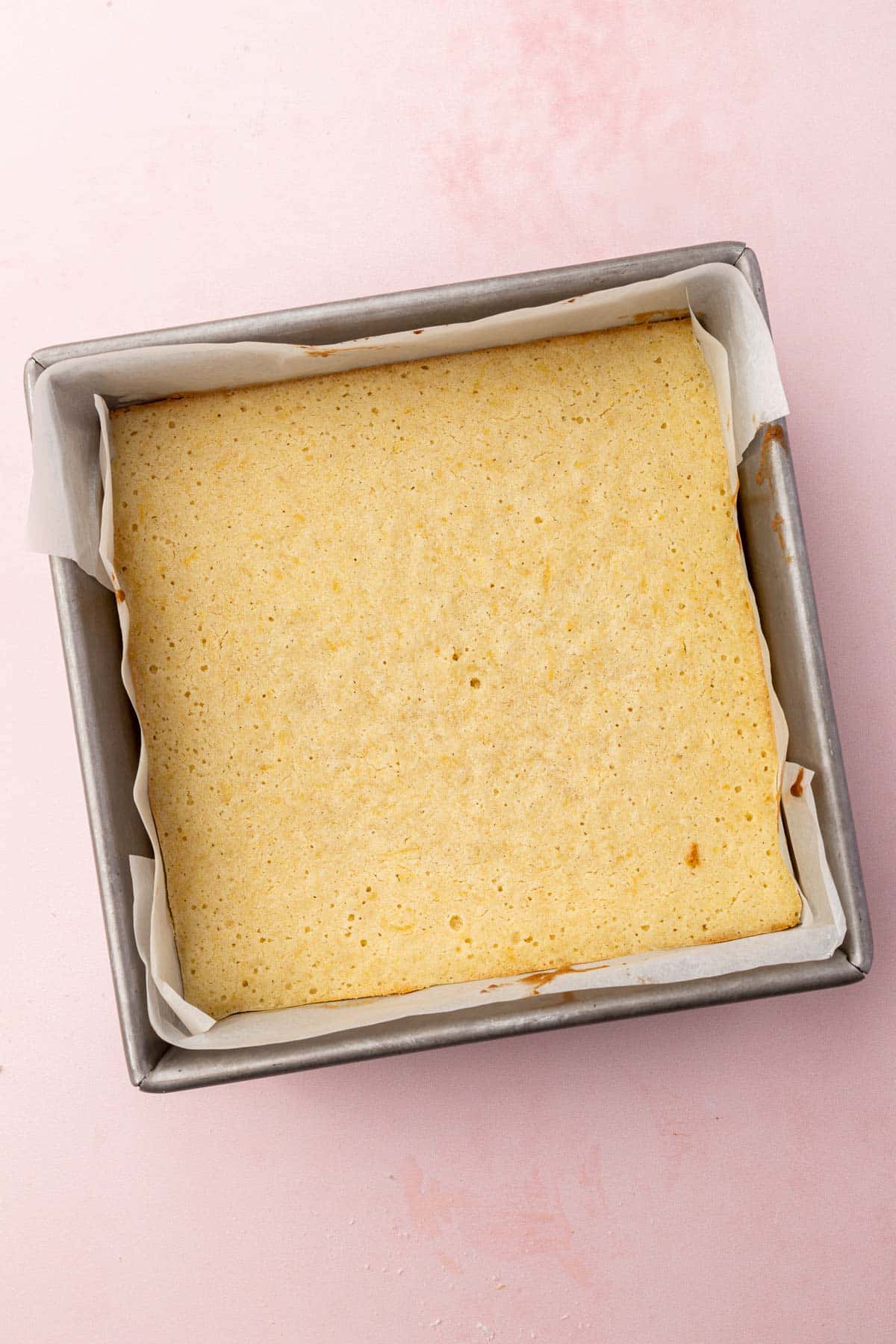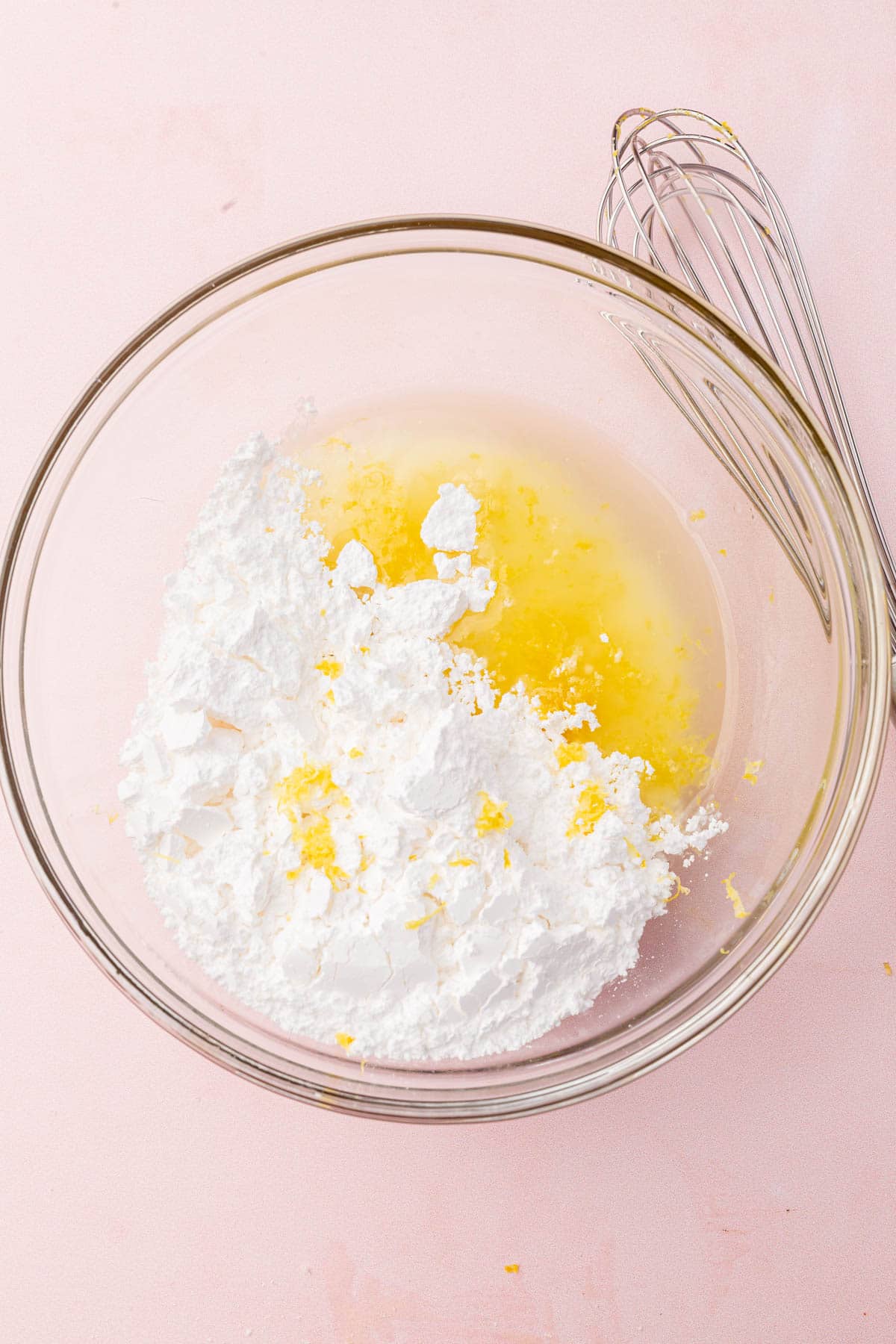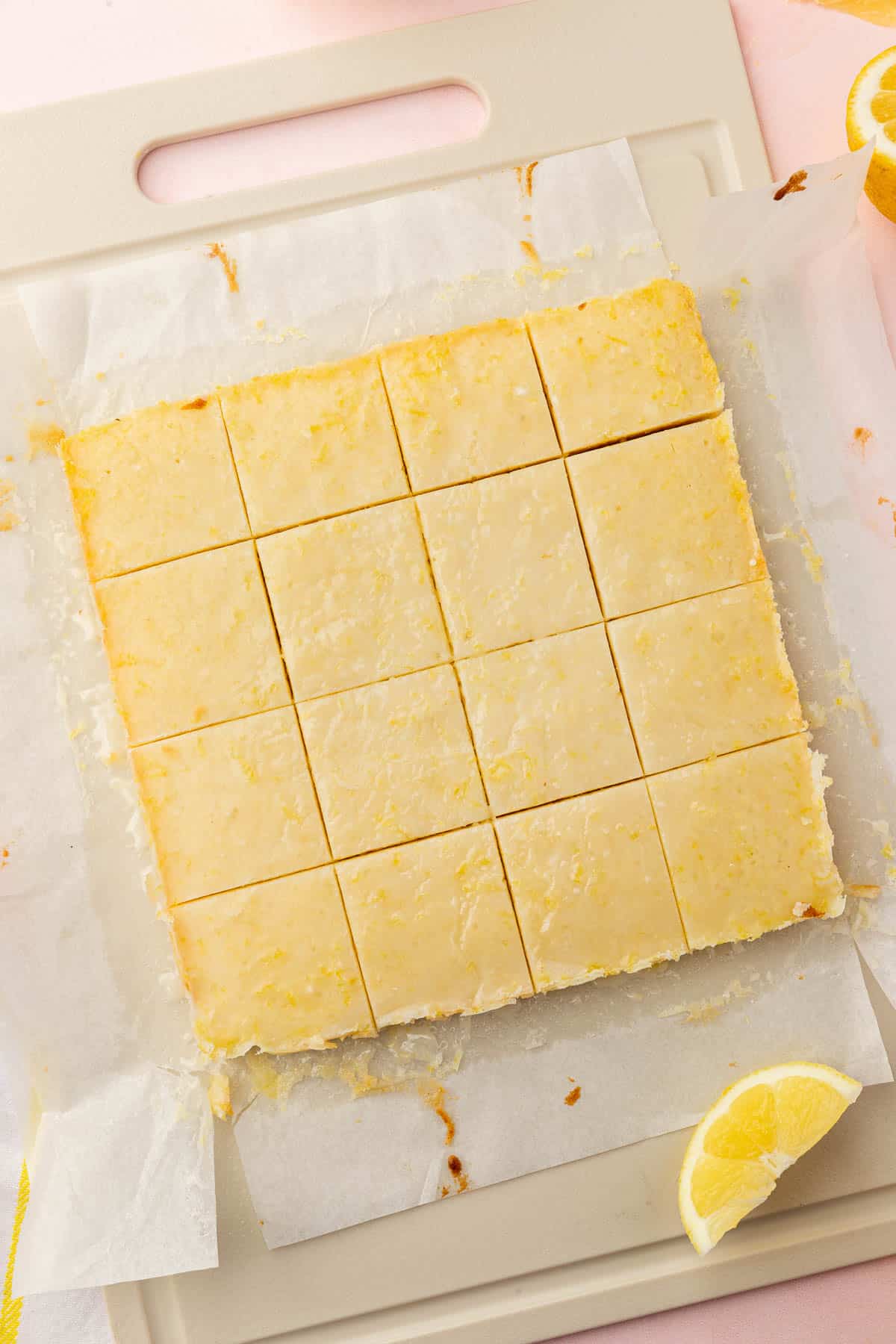 Recipe FAQs
Are lemon brownies gluten-free?
Typically, lemon brownies are NOT gluten-free. However, this recipe has been crafted with a gluten-free flour blend that is meant as a straight swap for all-purpose flour to make it gluten-free.
Why are there no leaveners (i.e. baking soda or baking powder) in these lemon brownies?
I tested the recipe with both baking soda and baking powder and found they both gave these brownies too much lift and resulted in a cakey brownie. Since we want chewy brownies, leaving the leaveners out of the recipe resulted in a more fudgy texture.
Can I make the lemon glaze ahead of time?
Yes, you can prepare the lemon glaze ahead of time and store it in the refrigerator. When you're ready to use it, let it come to room temperature and give it a good stir before drizzling it over the cooled brownies.
Can I add white chocolate chips to the brownie batter?
Yes! If you want to add mix-ins, like white chocolate chips, to the batter before baking you can! I suggest about ¾ cup of white chocolate chips for this recipe.
Storage instructions
Storage: Store leftover lemon brownies in an airtight container at room temperature for up to 3 days. I find they taste best on day 2 because the lemon flavor intensifies.
Freezer Option: For longer storage, you can freeze the lemon brownies. Place them on a parchment lined baking sheet and freeze for an hour, or until solid. Then, place them in a freezer-safe bag or container for up to 3 months.
More gluten-free desserts to try
Did you make this recipe?
I'd love to know! Please rate it and leave a comment below. You can also share your pictures and tag @adashofmegnut on Instagram.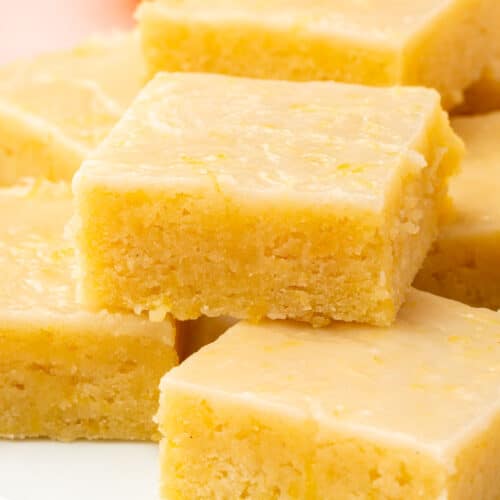 Gluten-Free Lemon Brownies
Love the texture of brownies but don't like chocolate? Try these gluten-free lemon brownies instead! Frosted with a tangy lemon glaze, these lemonies are chewy and bursting with lemon flavor in every bite. They're a great recipe for summer gatherings, too!
Print
Pin
Rate
Ingredients
For the brownies:
1

cup

granulated sugar

(200g)

3

tablespoons

lemon zest

(15g)

3/4

cup

unsalted butter

(melted (170g))

2

eggs

(100g)

2

tablespoons

lemon juice

3/4

teaspoon

lemon extract

1

teaspoon

salt

1 1/4

cups

gluten-free flour blend

(180g)
For the lemon glaze:
1

cup

powdered sugar

(210g)

3

tablespoons

lemon juice

1

teaspoon

lemon zest
Instructions
Preheat oven to 350F. Line a 8×8-inch square metal baking dish with parchment paper. Set aside.

Add the granulated sugar and lemon zest to a large bowl. Rub the zest into the sugar with your fingers until the lemon oils have released from the zest and the sugar is light yellow and fragrant. You can also do this in your food processor.

Add the melted butter to the sugar mixture. Mix for 1-2 minutes, until smooth.

Add the eggs, lemon juice, lemon extract, and salt to the butter mixture. Mix until combined.

Gradually add the gluten-free flour to the wet ingredients. Stir until no more steaks of flour remain.

Pour the batter into the prepared baking dish. Bake at 350F for 22-25 minutes, until a toothpick inserted into the center comes out with just a few moist crumbs. Do not overbake.

Let the lemon brownies cool completely before adding the glaze.

To make the glaze, combine the powdered sugar, lemon juice and lemon zest in a bowl and whisk until smooth.

Pour the glaze over the top of the lemon brownies. Let set before slicing and serving. You can place it in the refrigerator for 30 minutes to speed up the process.
Notes
If you have celiac disease or are on a gluten-free diet, be sure to double check all ingredients to ensure they are gluten-free.

For best results, weigh your gluten-free flour using a food scale. I find that using measuring cups can cause varying results because the way that you scoop flour into a measuring cup is not as accurate as weighing the ingredients. It also provides for easier clean-up, too!

This recipe was tested with Bob's Red Mill 1-to-1 Gluten-Free Baking Flour (in the blue bag), which already contains xanthan gum. I cannot verify that other brands of gluten-free flour work as I have not tested them. All gluten-free flour blends are not the same and are made up of different ingredients.
Nutrition
Calories:
194
kcal
|
Carbohydrates:
27
g
|
Protein:
2
g
|
Fat:
10
g
|
Saturated Fat:
6
g
|
Polyunsaturated Fat:
0.5
g
|
Monounsaturated Fat:
2
g
|
Trans Fat:
0.4
g
|
Cholesterol:
43
mg
|
Sodium:
155
mg
|
Potassium:
17
mg
|
Fiber:
1
g
|
Sugar:
20
g
|
Vitamin A:
297
IU
|
Vitamin C:
3
mg
|
Calcium:
14
mg
|
Iron:
0.5
mg