This hash brown egg skillet is a great gluten free breakfast or brunch recipe for the weekend. It's easily customizable with your favorite toppings!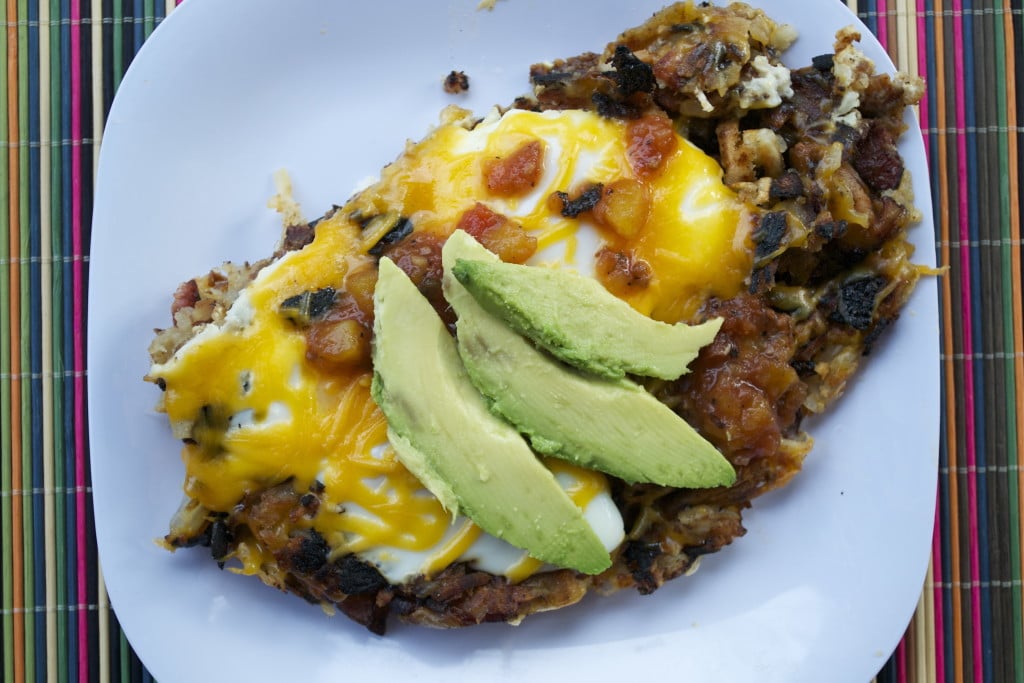 Hash Brown Egg Skillet.. or A-Version-of-What-I-Ate-Every-Time-I-Was-Hungover-in-College. Seriously. Let's talk hangover food. Back in my college days, I went through my phases of hangover food. No matter what the phase was, it always involved something greasy. So we have bacon. Bacon is a good for all times. Times of happiness, times of sadness, times of loneliness, times of hungoverness (that got depressing real fast). So bacon has always been a staple in the hangover food category. My friends and I would often get together and cook 2 lbs of bacon. Really healthy right? Then we have my chocolate milkshake phase. One of my college friends swore by chocolate shakes to cure hangovers. Something with the chocolate and the dairy and the sugar. I don't know. It kind of worked so I still do that one. Next was the bagel and cream cheese phase. After I decided Senior year that I was going to finally like cream cheese, this one became a big hangover food in my apartment. Bagels are substantial, cream cheese is fatty, it worked okay. Last, but definitely not least, we have my cheesy bacon hash browns. Greasy, cheesy, bacony goodness. This one has stuck with me the longest and isn't only good for the hangover days. It's good for all days, in fact. My hangover version involves making bacon, browning the hash browns in bacon grease and then sprinkling cheddar cheese over it until it melted. That was about all the effort I could give on those days. Now, my hash brown skillet has evolved into a bit more, including gooey eggs, onions, salsa, avocado and a dollop of greek yogurt. It's the grown up version of my hangover breakfast. It's extremely filling and so so good. Obviously it is very customizable as well, you can throw in whatever you have.. mushrooms, peppers, ham, sausage, whatever. Speaking of which, I should throw in a disclaimer now since I know I'm going to get a phone call from my mom after posting this one (Hi Mom!). Disclaimer: I do not drink very often, Mom. I just get really hungover. Also, I'm over 21 so it's okay.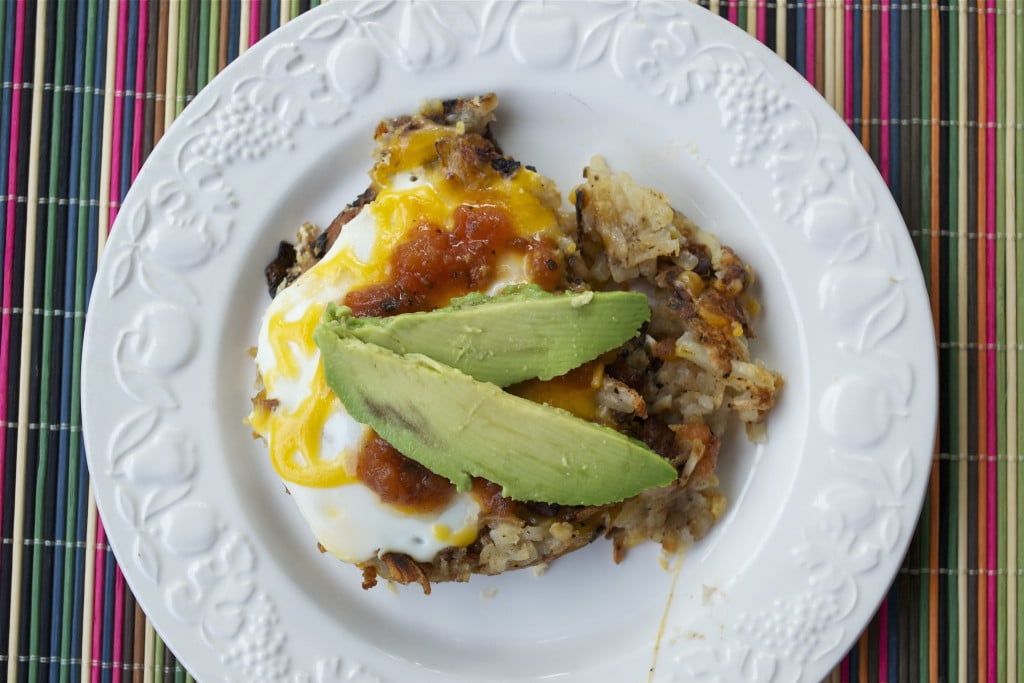 Hash Brown Egg Skillet
This hash brown egg skillet is a great gluten free breakfast or brunch recipe for the weekend. It's easily customizable with your favorite toppings!
Print
Pin
Rate
Ingredients
4

strips thick cut bacon

(diced)

1/2

cup

onions

(diced)

4

cups

shredded hash browns

(Ore-Ida is gluten free)

1/2

cup

shredded cheddar cheese

4

eggs

1

avocado

(diced, for topping)

1/2

cup

salsa

(for topping)

1/4

cup

plain greek yogurt

(for topping)
Instructions
In a skillet, over medium heat, cook diced bacon until slightly crispy. Remove bacon with a slotted spoon and transfer to a plate. Leave the bacon grease in the pan.

Add onions, and cook until soft and transparent, about 5 minutes.

Add in the hash browns and mix until the onions are combined.

Cook for 8-10 minutes, until the hash browns are lightly browned. Flip hash browns. If you are unable to flip all of the hash browns at one time, you can split into sections and then flip each section.

Sprinkle half of the bacon bits over the hash browns. Crack four eggs onto the hash browns and season with salt and pepper.

Place a lid over the pan, and cook over medium heat for 3-5 minutes or until the eggs are set to your liking.

Sprinkle the rest of the bacon over the eggs and add the cheddar cheese.

Let the cheese melt.

Top with a tablespoon of salsa on each plate. Add 2-3 slices of avocado and a dollop of greek yogurt. Serve immediately.
Nutrition
Calories:
547
kcal
|
Carbohydrates:
46
g
|
Protein:
20
g
|
Fat:
31
g
|
Saturated Fat:
10
g
|
Cholesterol:
202
mg
|
Sodium:
672
mg
|
Potassium:
1127
mg
|
Fiber:
7
g
|
Sugar:
3
g
|
Vitamin A:
620
IU
|
Vitamin C:
24.3
mg
|
Calcium:
182
mg
|
Iron:
3.5
mg