What's a Thanksgiving meal without stuffing? If you can't eat gluten you may think your stuffing eating days are long gone, but think again! Gluten-free stuffing is so easy to make and it's so tasty, too! This traditional gluten-free stuffing has all the classic flavors with a sweet little twist.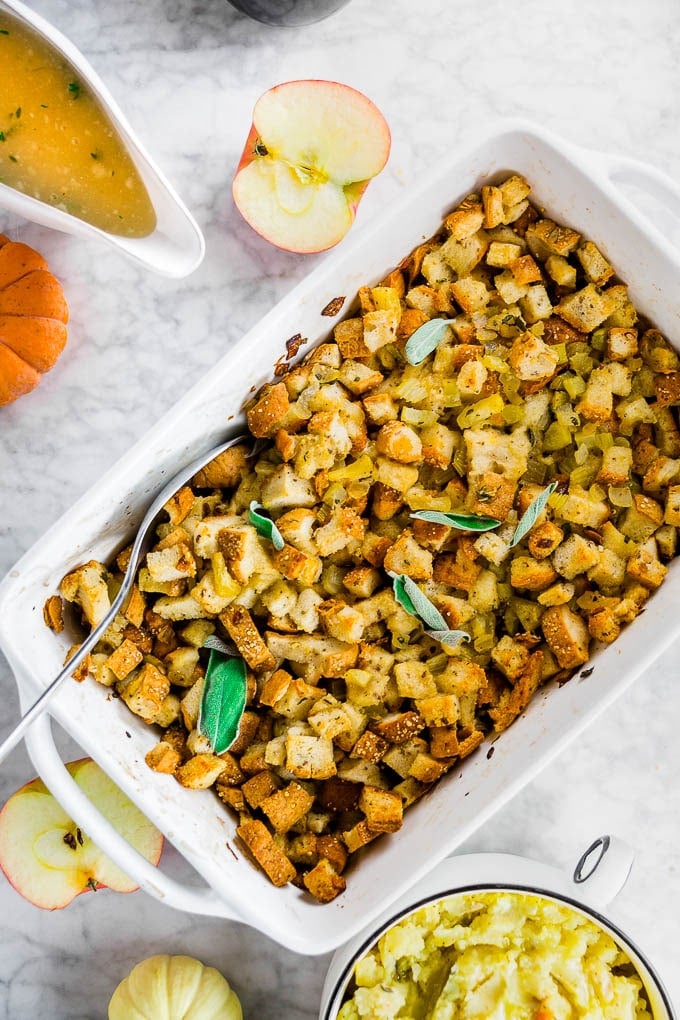 What's your favorite part of the Thanksgiving meal? The turkey? Maybe the mashed potatoes? Cranberry sauce? For me, it's all about the stuffing.
Classic stuffing made of bread, onion, celery and fall herbs like sage and thyme. With a light golden brown crust on top. Swoon. 
It's been a few years since I've had some classic gluten-free stuffing due to my celiac diagnosis. I've made some other versions with cornbread and even polenta (which… you should most definitely try my Cranberry Pork Polenta Stuffing ). But, this year, I found myself yearning for the traditional stuffing I remember from my past.
I have come up with a classic gluten-free stuffing that even gluten eaters will LOVE. It has all the traditional components with a little twist. We're adding apple to this stuffing party! Since I was making this stuffing vegetarian, I wanted to add a little something that would add another flavor profile.
Apples are a great addition because they add a little crunch, some sweetness, and pair perfectly with sage and thyme. I dice my apples pretty small for this stuffing because I like the to compliment the rest of the stuffing and not really hog the spotlight.
And yes, I'm calling this a stuffing even though it's not stuffed into the bird. It's technically a dressing since it's baked outside the turkey but you know what I mean. We've always called it stuffing in our house, so stuffing it is! Or dressing. You do you, friends.
How to Make Stuffing Gluten-Free
So I guess you're wondering… what makes this stuffing gluten-free?
Well, for starters, we're using gluten-free bread! You can use your favorite gluten-free bread in this recipe. I used Little Northern Bakehouse bread which is gluten-free, dairy-free and egg-free, so it's great if you have multiple allergies. Other favorites include Schär and Canyon Bakehouse.
It's true that bread is the main component of stuffing that contains gluten, but there are a few other ingredients that you have to watch for. Chicken stock is a common ingredient in stuffing and also one of those hidden sources of gluten that you may not realize.
Yes, chicken stock sometimes contains gluten. Crazy right? Always check the labels of chicken stock and broth (as well as other stocks and broths) to make sure that it is actually gluten-free.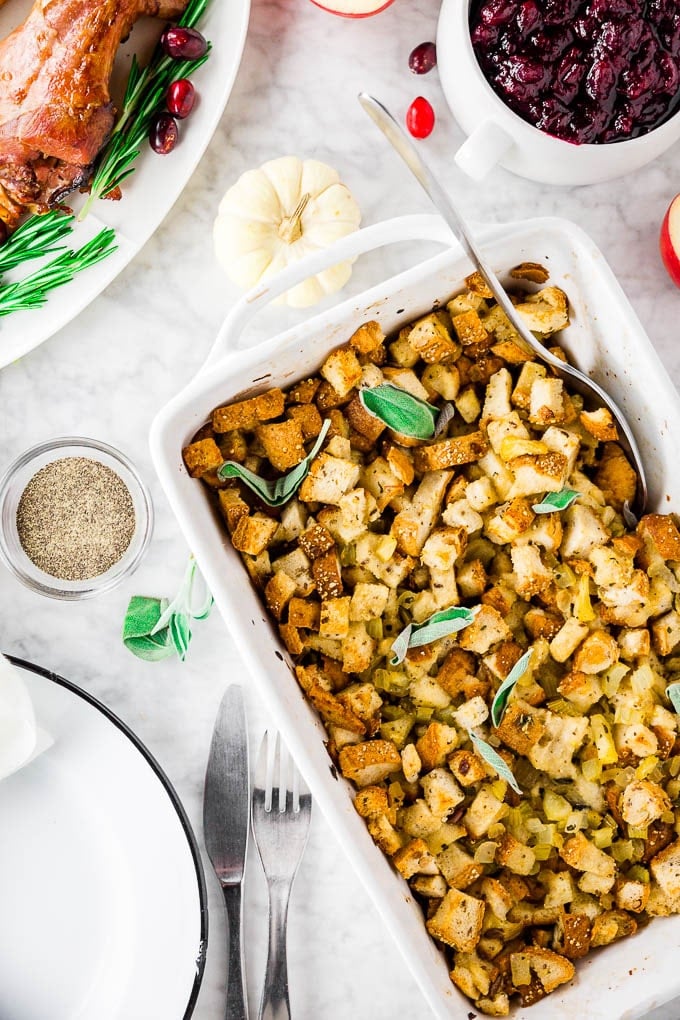 Tips for Making Classic Gluten-Free Stuffing
Making a gluten-free stuffing doesn't have to be difficult. In fact, this recipe only requires 10 ingredients to make. Easy peasy, right? There are a few tips that I've learned along the way that may help you make this classic gluten-free stuffing.
Use Dry Bread
You definitely want to make sure that your gluten-free bread gets dry. Typically I like to cube the bread and leave it out overnight to get dried out. There have been a few times where I'm in a rush and don't have that kind of time (let's be real I just didn't plan enough in advance).
If you find yourself in the same situation, you can toast the bread cubes in the oven at 325F  for about 20-25 minutes until they're all dried out. Keep an eye on the bread, it may toast quicker or slower depending on the bread you use and no one wants burnt bread!
Use the Right Amount of Broth
Nobody likes a soggy stuffing. Use the correct amount of broth in your gluten-free stuffing to make sure it is neither soggy nor too dry. You want to make sure that the bread cubes are completely moist when adding the broth without becoming overly soggy.
Depending on what bread you use, you may not need the full two cups as specified in the recipe. Some breads are more absorbent than others. Add one half cup at a time to make sure that you do not add too much broth. Somewhere in the one to two cup range should be just right.
Make it Dairy-Free and Vegan
It's easy to make this gluten-free stuffing dairy-free and vegan, too with some simple swaps. First and foremost, you need to make sure you're using a bread that is gluten-free, dairy-free and vegan if need be.
Often times, gluten-free breads use eggs as binders so if you need it to be egg-free you may need to look around a bit. Little Northern Bakehouse is a favorite of mine that is gluten-free and plant-based, containing no dairy or eggs, but there may be others at your local grocery store, too!
Instead of chicken broth, use vegetable broth to make a vegan stuffing. Again, double check those ingredients to make sure the broth is gluten-free.
Instead of butter, use a dairy-free and vegan butter substitute like Earth Balance. You won't want to use coconut oil in this recipe because we're using the butter for flavor. So make sure it has a buttery taste.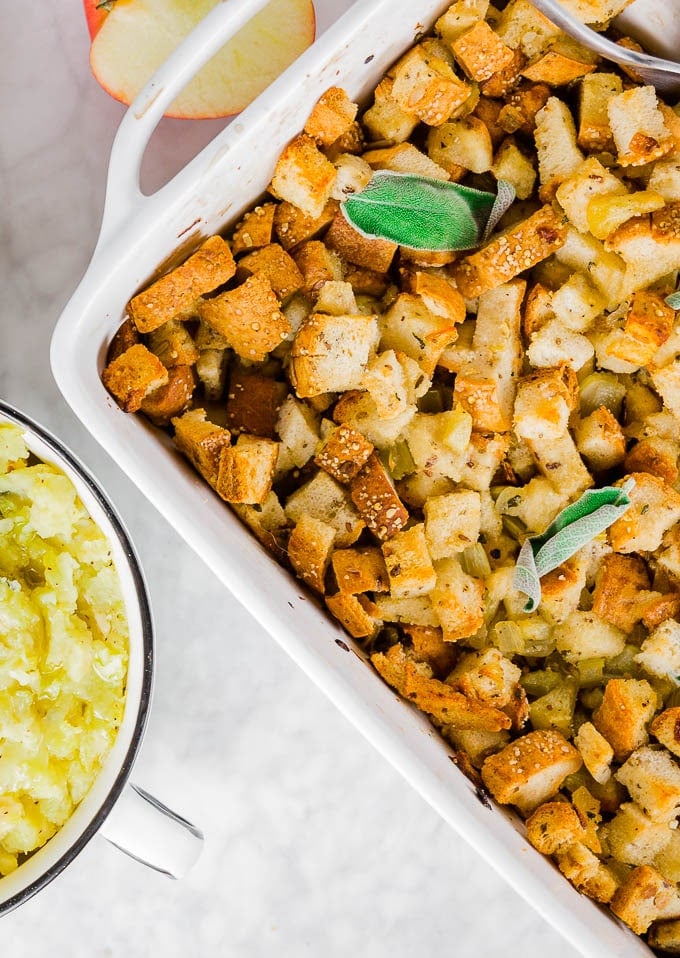 Making a Gluten-Free Thanksgiving Meal? Try These Other Recipes!
Stuffing is a quintessential part of any Thanksgiving meal and this gluten-free stuffing is a delicious take on a classic that everyone will enjoy whether they have issues with gluten or not! If you're making a whole gluten-free Thanksgiving meal, you'll want to try out some of these other gluten-free recipes, too.
Mashed potatoes are always a favorite and this roasted garlic mashed potatoes recipe with brown butter and sage is a flavorful side dish that pairs perfectly with turkey. For a vegetable side dish, try my roasted acorn squash with pomegranate and pistachios. It's gluten-free and vegan!
You can't have a holiday meal without rolls! Try out these gluten-free crescent rolls from This Vivacious Life. These crescent rolls have a secret technique that results in the most buttery and flakey rolls you've ever tasted.
For dessert, this Dairy-Free Pumpkin Spice Caramel Chocolate Pie is rich and decadent and a chocolate lovers dream! If you like mini things, then these mini pecan pie cheesecakes may be just what you need. They're also grain-free!
Classic Gluten-Free Stuffing Recipe
I love this classic gluten-free stuffing so much and I guarantee you and your family will, too. Whether you're hosting Thanksgiving or bringing a dish to share along to a relatives' house, this gluten-free stuffing is a crowd pleaser. It's gluten-free and can easily be made dairy-free and vegan, too.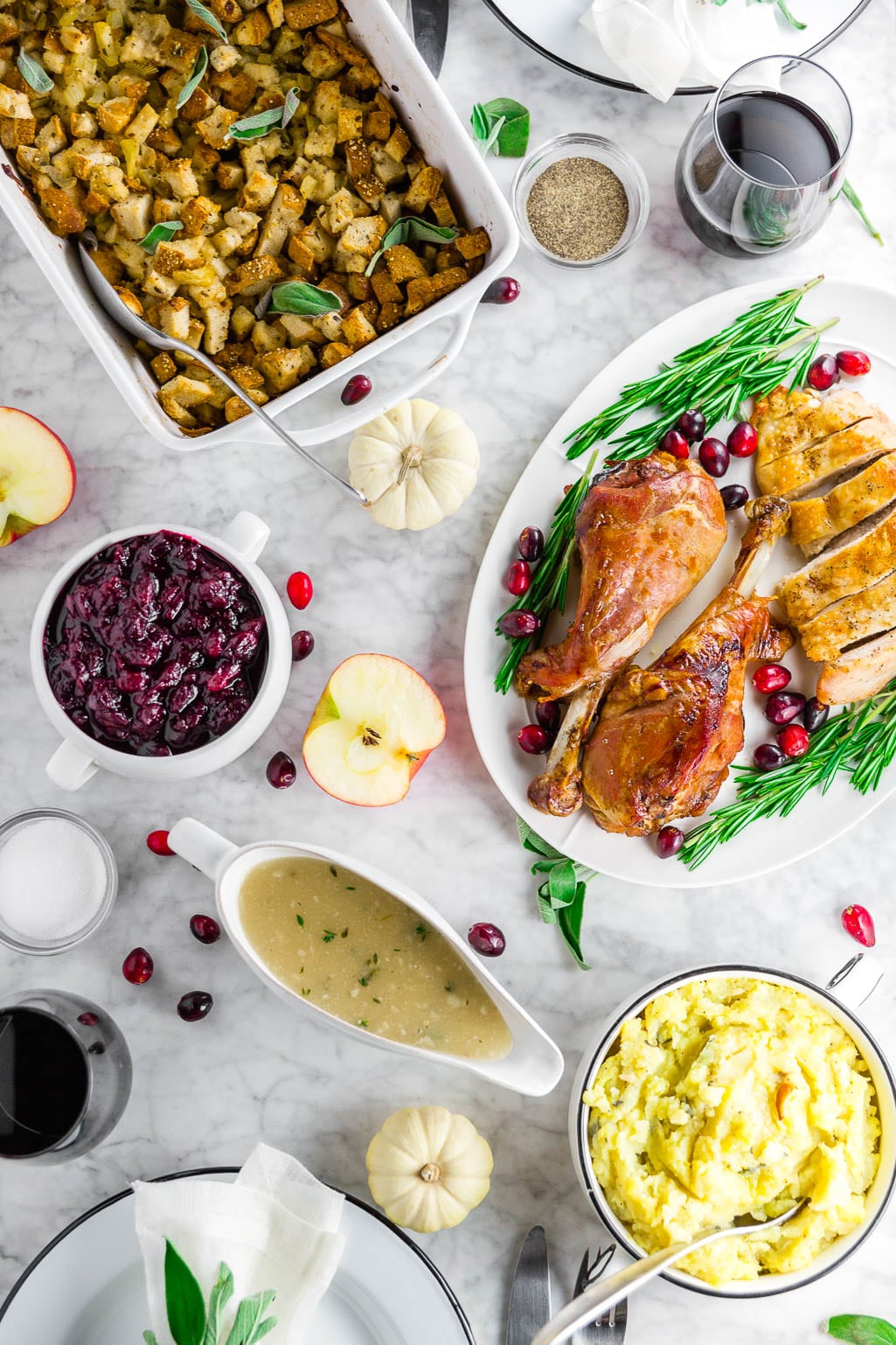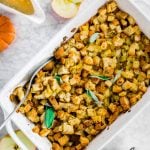 Print Recipe
Classic Gluten-Free Stuffing
What's a Thanksgiving meal without stuffing? If you can't eat gluten you may think your stuffing eating days are long gone, but think again! Gluten-free stuffing is so easy to make and it's so tasty, too! This traditional gluten-free stuffing has all the classic flavors with a sweet little twist.
Ingredients
4

tablespoons

butter

or dairy-free butter

1

large yellow onion

diced (about 1-2 cups total)

3

celery stalks

diced (about 1-2 cups total)

1

granny smith apple

diced (about 1 cup)

2

tablespoons

fresh sage

chopped

17

oz

bread

cubed and dried (about 10 cups total)

1/4

teaspoon

salt

1/2

teaspoon

ground black pepper

2

cups

gluten-free chicken broth

or vegetable stock

2

tablespoons

butter

for topping
Instructions
Preheat a large skillet over medium heat. Add butter and melt.

Add diced onion and celery to the skillet. Cook for 5-7 minutes, until onions and celery and soft and translucent.

Add diced apple to the skillet and cook an additional 3-5 minutes, until apple just begins to soften.

Remove onion, celery and apple from the stove top and add to a large bowl. Stir in dried gluten-free bread cubes, sage, salt and ground black pepper.

Pour chicken broth over the bread cubes. You may not need all of the broth. Add about 1/2 cup at a time just until the bread is moist and not soggy.

Pour the bread mixture into a 9x13-inch baking dish. Dot with the remaining two tablespoons of butter.

Cover the baking dish with aluminum foil. Bake at 350F for 30 minutes. Remove the aluminum foil and bake for an additional 10-15 minutes, until the top is a light golden brown. Let cool for 5-10 minutes before serving.
Notes
Note: Leave your cubed bread out overnight in order to dry them out. If you do not have the time, you can heat the cubed bread in the oven at 325F for 20-25 minutes, until it's lightly toasted. Remove from the oven and use in the recipe as written. 
Nutrition
Calories:
172
kcal
|
Carbohydrates:
23
g
|
Protein:
4
g
|
Fat:
7
g
|
Saturated Fat:
3
g
|
Cholesterol:
15
mg
|
Sodium:
450
mg
|
Potassium:
134
mg
|
Fiber:
2
g
|
Sugar:
4
g
|
Vitamin A:
185
IU
|
Vitamin C:
4.2
mg
|
Calcium:
62
mg
|
Iron:
1.5
mg