Whether you're ready for Fall or not, this dairy-free pumpkin spice caramel chocolate pie is for you! Made gluten-free using an almond and fig crust, this pie will for sure be on your fall baking list.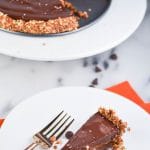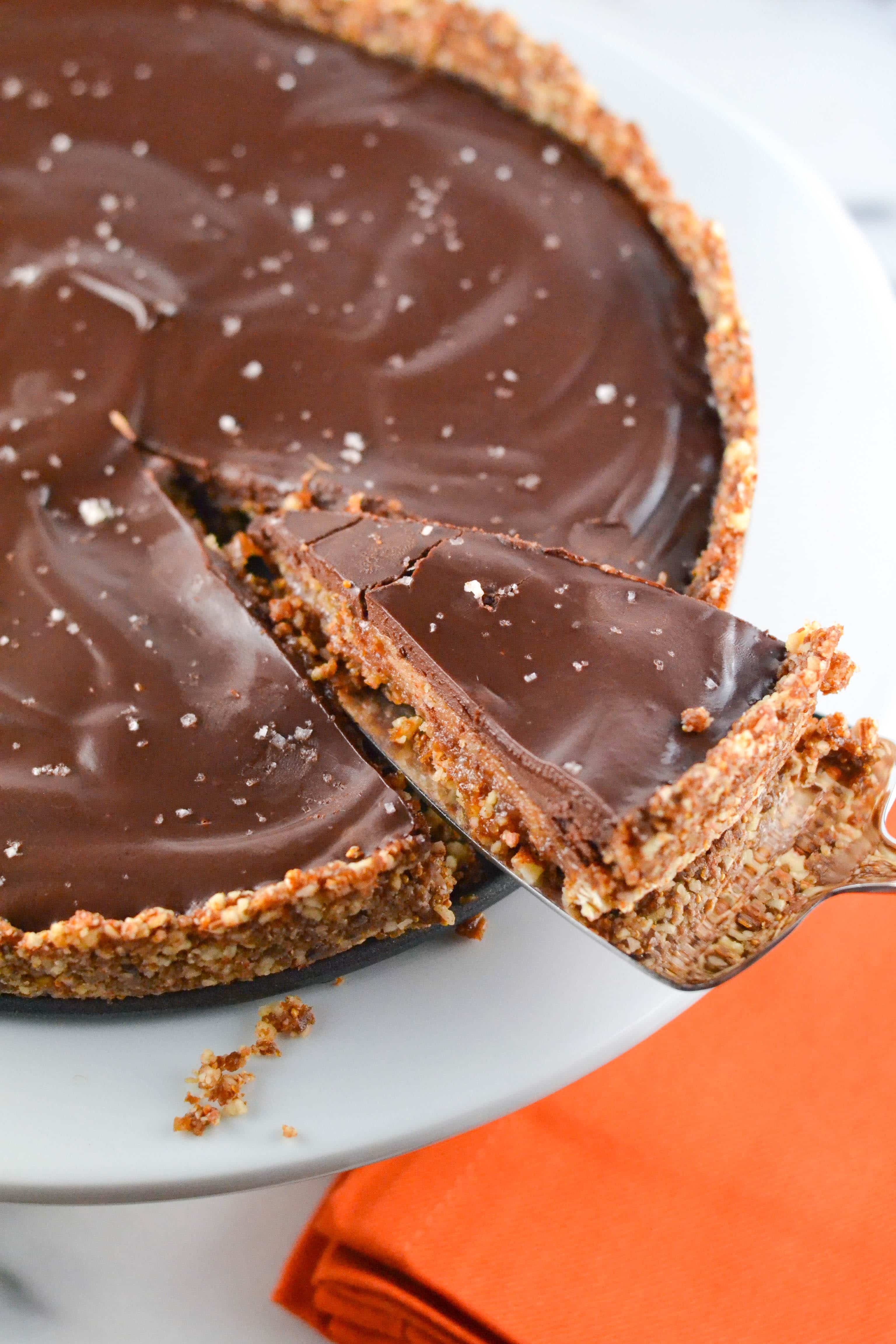 Per usual, I've created a dessert that has the longest name ever. This is a gluten-free dairy-free almond crusted pumpkin spice caramel chocolate pie. Also known as pure deliciousness.
I've been making a variation of this pie for years and can't believe I've never blogged about it before. You've seen a version of it on my Instagram, but never on the blog! So I'm beyond excited to share it finally so you all can make it, too!
We start with an easy almond and fig crust pressed into a spring form pan.
You can use a tart pan too, but I really like the springform pan for this recipe because the bottom releases easily from the sides so you can place the pie on a cake stand or plate for serving and the whole thing will stay together beautifully. If you use a tart pan, you will just have to serve straight from the tart pan which works, too.
Then, we make a simple dairy-free caramel sauce with just sugar, water, coconut cream, dairy-free butter, and a few flavorings. To top it off, we make the most LUSCIOUS dairy-free chocolate ganache with coconut milk and Guittard extra-dark chocolate chips. And in case you aren't around these parts very often, of course the whole this is also gluten-free. It is a gluten-free food blog after all!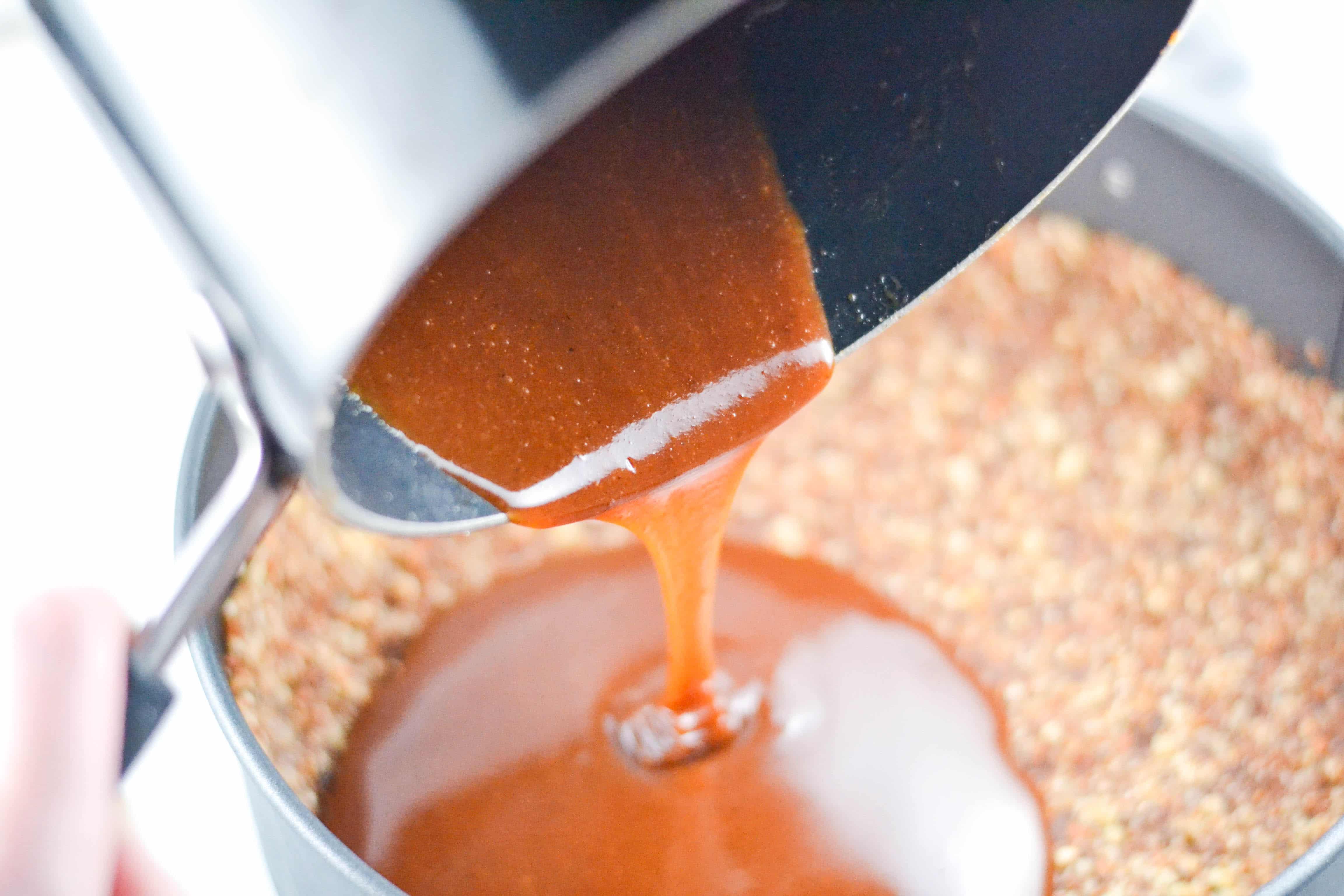 You're going to love how easy this dessert is to make. Don't be intimidated by making the caramel sauce. It really just takes a few ingredients and a little patience. I go with the wet method of making caramel as opposed to the dry method.
The wet method involves adding sugar and water into a deep pot. I stir until the sugar dissolves and then stop as soon as it begins to boil. Then, you just let the water boil off. You can occasionally swirl the pot, but don't stir it.
Once the sugar reaches an amber brown, I immediately take it off the heat and add in the coconut cream and butter. Be careful because the mixture will boil up like CRAZY and this is where you might get a little nervous, but use a long spoon to stir so you don't burn yourself and keep stirring until it all gets incorporate and the caramel will smooth out. This is when I add the vanilla and spices and magic. Kidding. Kind of.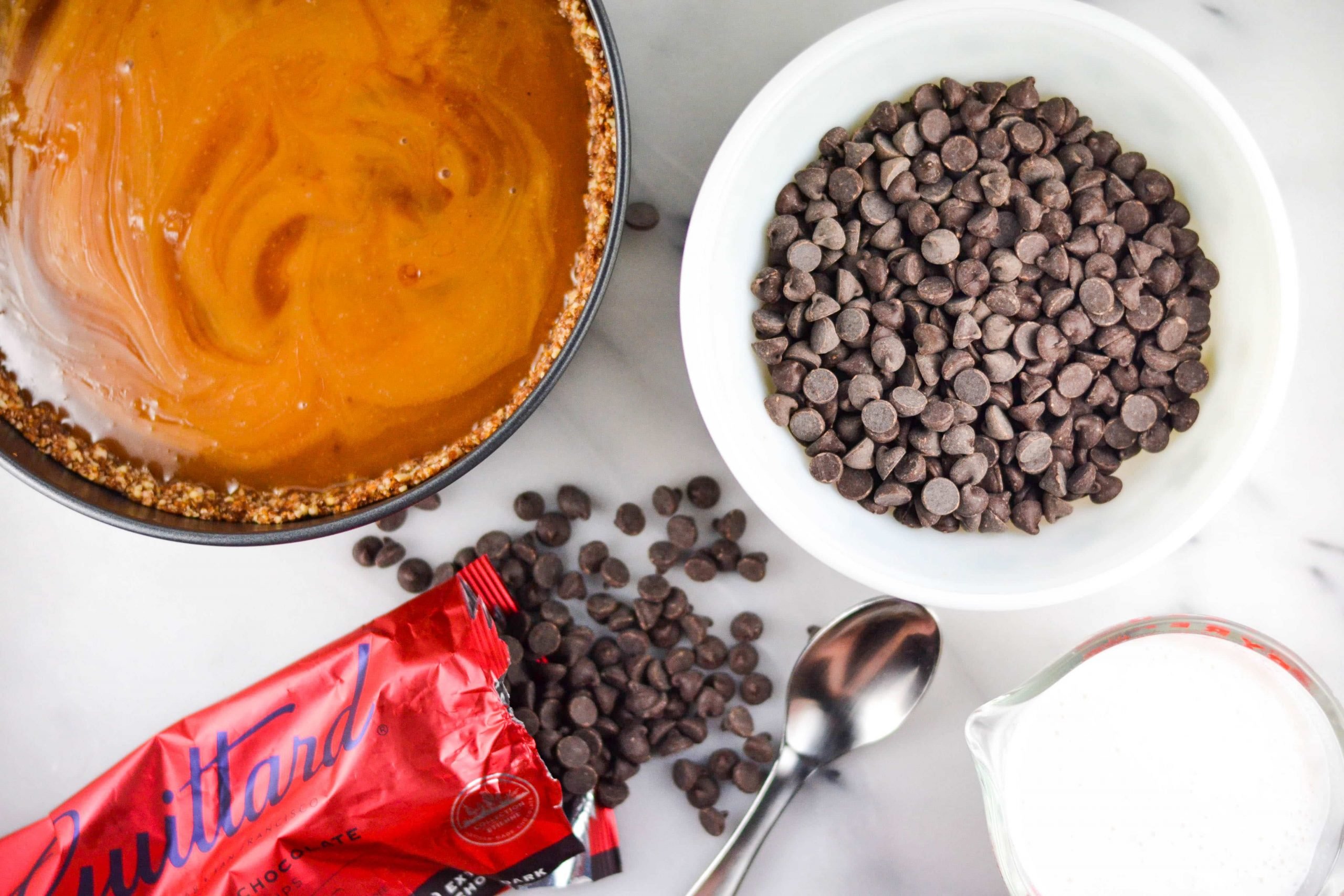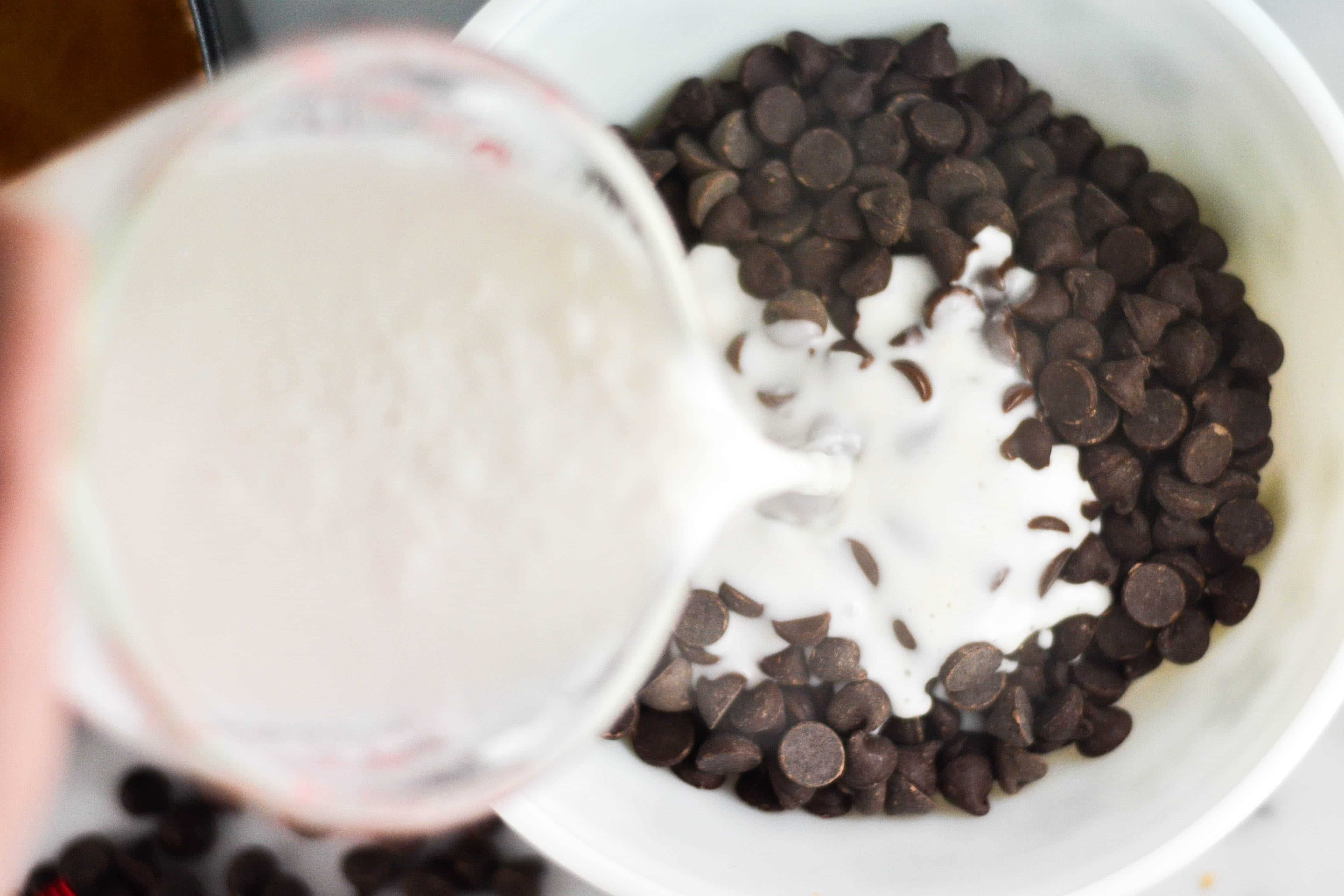 If you're wondering about the fleur de sel on top of the pie, it's essentially a very delicate salt that is great for finishing off desserts. I love using it with chocolate to bring out the flavor but I also use it a lot when I'm making caramel sauces, so it's a perfect fit for a caramel chocolate pie.
You can skip it if you'd like or even use sea salt as an alternative. Also, the flavorings of this pie can easily be changed around depending on the time of the year to suit whatever the occasion is and the crust can be too! If almonds aren't your thing, try pecans or walnuts. No figs? Try these almond date rolls in the crust. I love versatile recipes and this is definitely one of those!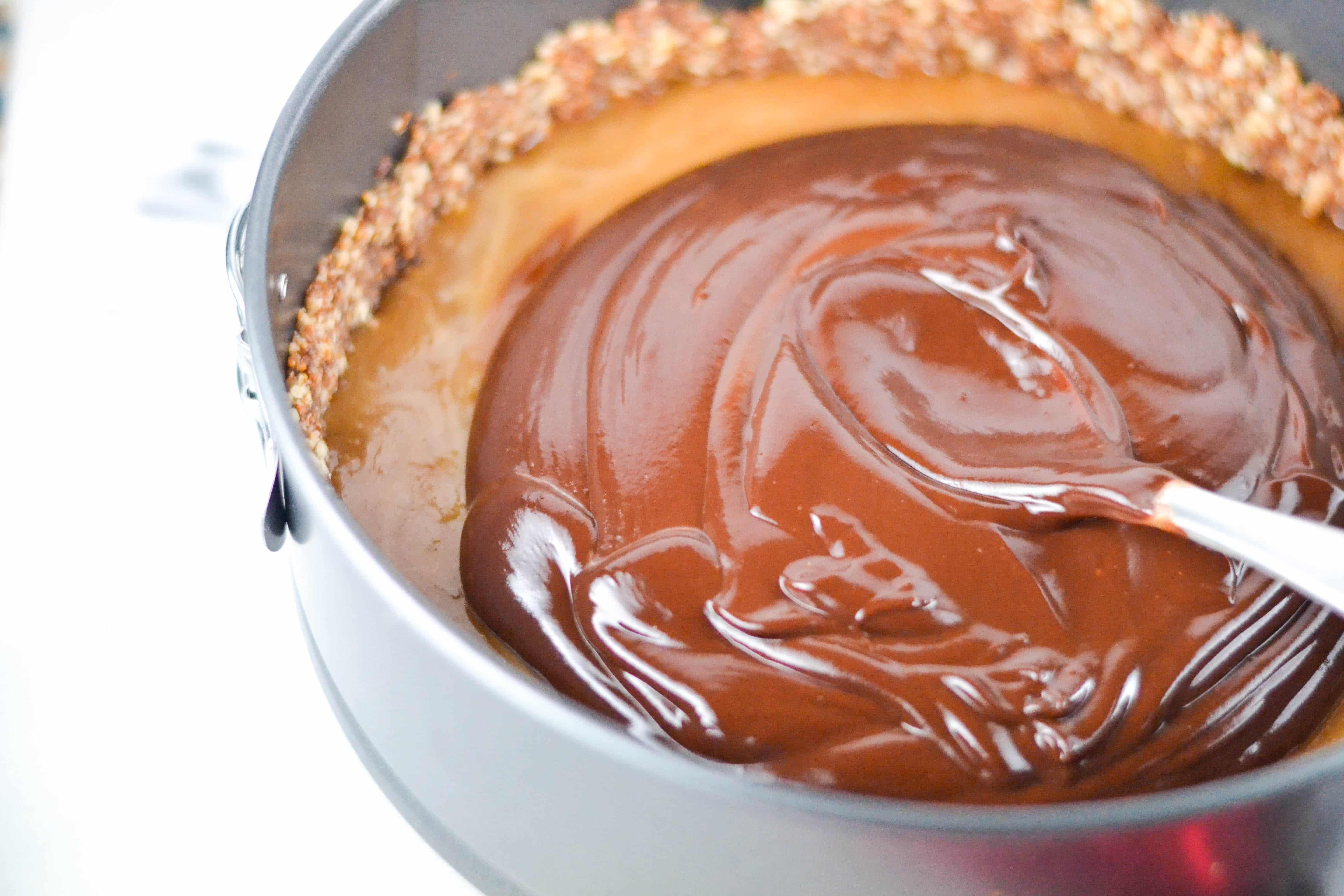 This dairy-free pumpkin spice caramel chocolate pie is a serious show stopper! I've been requested to make it for holidays, birthday parties, and the random Tuesday at work.
Who are you going to share this dairy-free caramel chocolate pie with?
Looking for more chocolate recipes? Try these!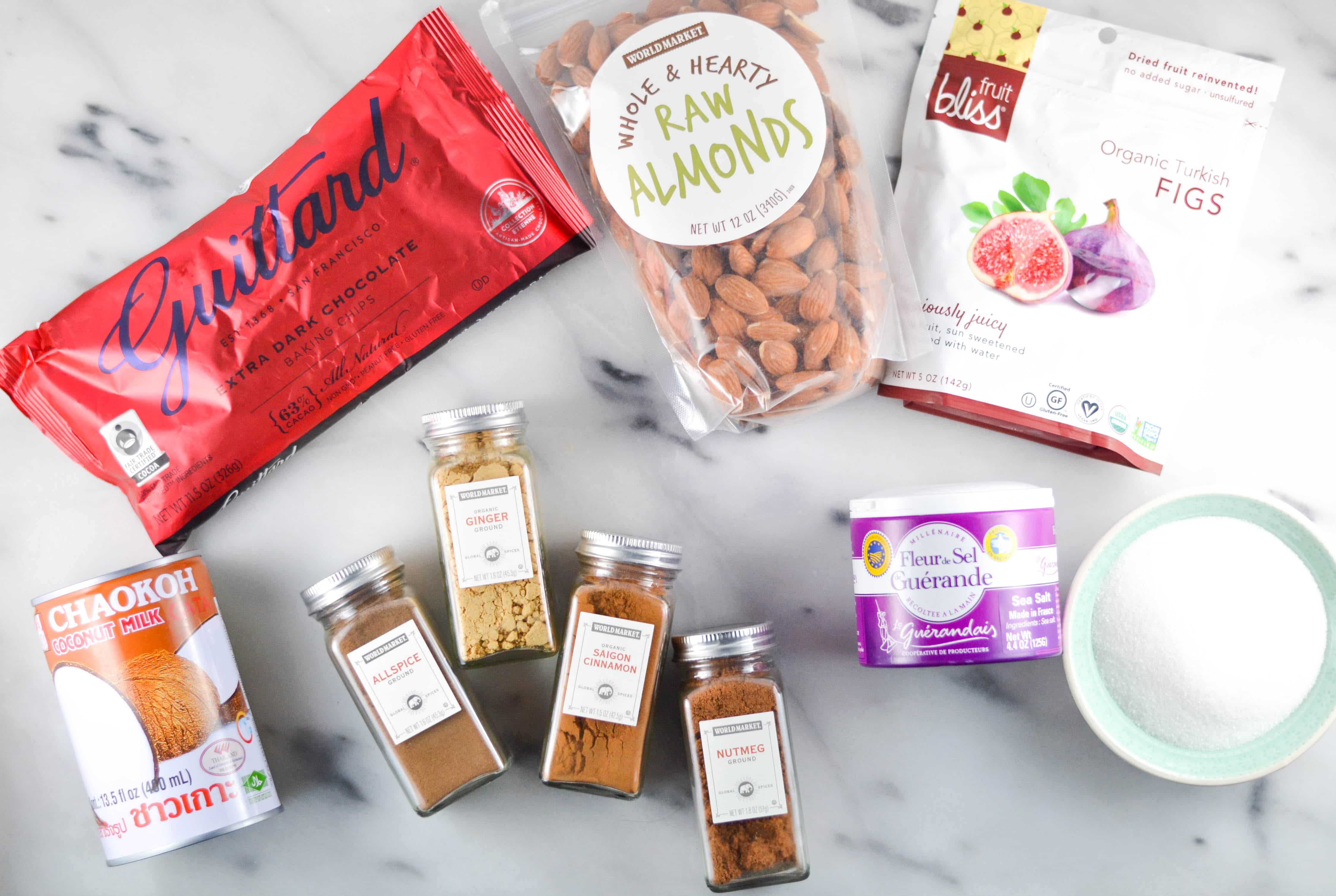 Dairy-Free Pumpkin Spice Caramel Chocolate Pie
Whether you're ready for Fall or not, this dairy-free pumpkin spice caramel chocolate pie is for you! Made gluten-free using an almond and fig crust, this pie will for sure be on your fall baking list.
Print
Pin
Rate
Ingredients
For the Crust:
1

cup

raw almonds

5

oz

dried figs

(about 1 cup)

1

tsp

saigon cinnamon

1/2

tsp

ginger

1/4

tsp

allspice

1/4

tsp

nutmeg

1/8

tsp

ground cloves

1

tbsp

water
For the Caramel:
2

cups

granulated sugar

1/2

cup

water

2/3

cup

coconut milk

3

tbsp

dairy-free butter

(such as Earth Balance)

1

tsp

cinnamon

1/2

tsp

ginger

1/4

tsp

allspice

1/4

tsp

nutmeg

1/8

tsp

ground cloves

1

tsp

vanilla
For the Chocolate Ganache:
8

oz

1 cup full fat coconut milk

8

oz

about 1⅓ cup Guittard dark chocolate chips

pinch

of fleur de sel
Instructions
To make the crust, combine almonds, dried figs and spices in a food processor or high powered blender. Pulse until combined. The mixture should be able to hold together in between two fingers. If need be, add about one tablespoon of water to get it to come together.

Press the crust in the bottom and sides of an 8" springform pan. Place in the refrigerator or freezer to firm while making the next step.

To make the caramel, add sugar and water to a deep saucepan and set over medium heat. Swirl the pan to combine the sugar and water as the sugar melts (don't stir as it can cause crystallization). The sugar will melt completely and then the mixture will start to turn from clear to a very light brown to finally an amber. Once it reaches amber, take off from the heat. Immediately pour in the coconut milk and whisk to combine. The mixture will bubbly violently so be cafeful. Return to the heat and stir until smooth. Once smooth, remove from the heat and add in the dairy-free butter, spices and vanilla and stir to combine. Let sit for 10-15 minutes to let it thicken up a bit. Once a little cooler, pour the caramel over the almond crust and smooth with a spatula or spoon. Place in the refrigerator to firm up while you make the ganache.

To make the ganache, heat coconut milk in a small saucepan just until it's about to boil. Pour coconut milk over the chocolate chips in a medium bowl. Let sit for 20-30 seconds.

Using a whisk, whisk from the center to the outside (this helps to not splash the milk everywhere), until the mixture becomes a creamy chocolate. Pour over the caramel layer. Sprinkle with a touch of fleur de sel. Freeze or refrigerate until the pie is set. Keep cold until ready to serve.
Nutrition
Calories:
501
kcal
|
Carbohydrates:
68
g
|
Protein:
5
g
|
Fat:
26
g
|
Saturated Fat:
13
g
|
Sodium:
35
mg
|
Potassium:
289
mg
|
Fiber:
5
g
|
Sugar:
58
g
|
Vitamin C:
1
mg
|
Calcium:
102
mg
|
Iron:
3.4
mg