Watermelon Salad with Basil, Feta, and Cucumber
This watermelon salad with basil is so refreshing and the perfect gluten-free side dish for your next summer BBQ or potluck. On the table in under 10 minutes, it's easy to make, too!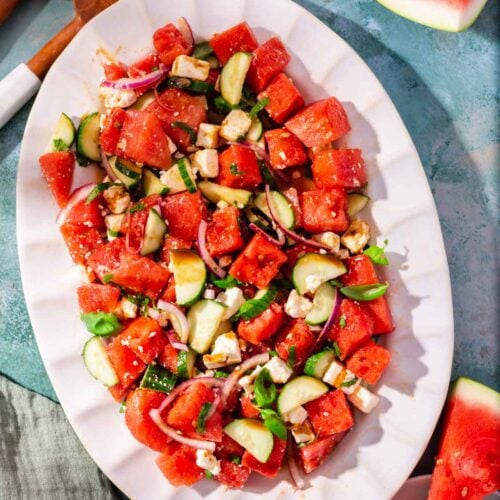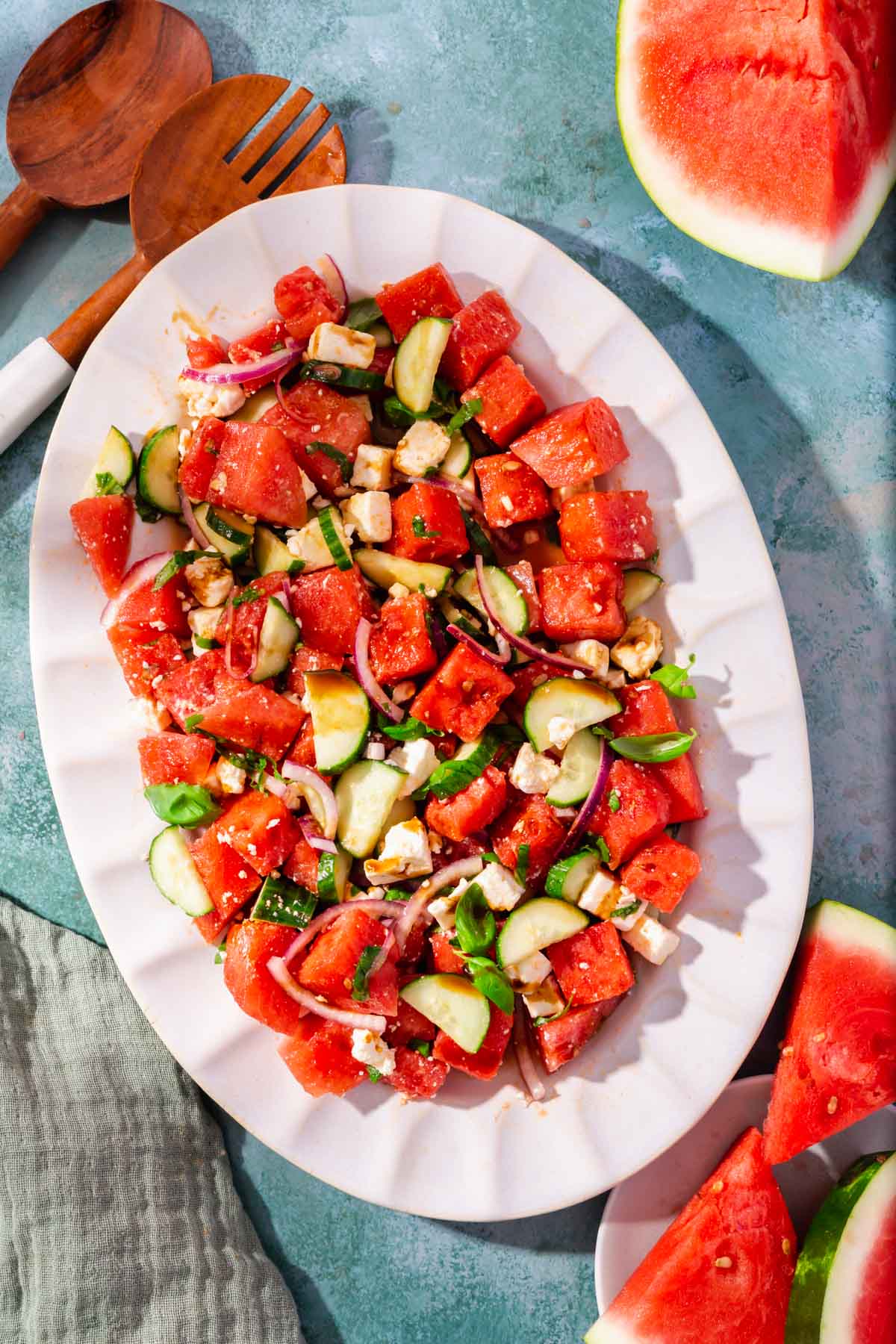 Why this recipe works
I'm always looking for easy summer side dishes that are great for entertaining guests at summer BBQs, potlucks, and parties. This watermelon salad with basil is absolutely one of my favorites.
Juicy watermelon is layered with sliced cucumber, chunks of salty feta cheese, and ribbons of fresh basil leaves. Then, it's tossed in a sweet balsamic glaze and olive for a light salad that is big on flavor.
Sweet watermelon is such a summer classic and goes well with so many main dishes, which is one of the many reasons I make this salad on repeat all summer long. It's the perfect summer side dish with chicken, salmon, burgers, brats, and so much more!
If you're looking for something that you can throw together very quickly, this is it. It's on the table in less than 10 minutes. You can also make great use of leftover watermelon with this recipe, which will cut down on the prep time considerably!
Ingredients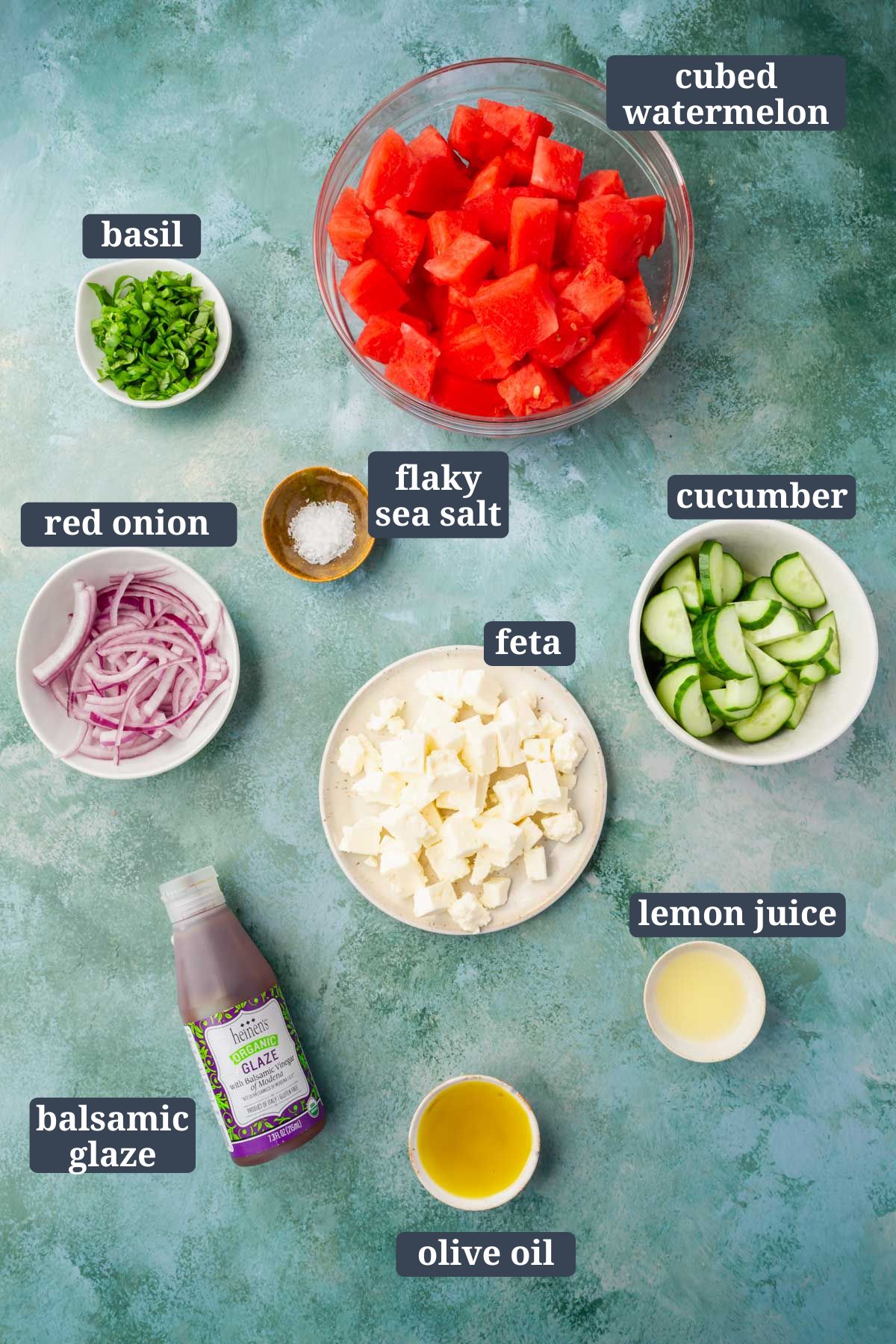 Ingredient Notes
seedless watermelon – I prefer seedless watermelon, so I don't have to remove the black seeds from the watermelon after slicing. I used about ¼ of a large watermelon for this recipe. The quarter of watermelon was 3 lbs before slicing off the rind and 2 lbs after slicing off the rind for reference.
feta – You can use a block of feta that you cut into cubes so you get bigger chunks or you can use pre-crumbled feta. I like the look of the feta cubes better, but the flavor will be the same.
English cucumber – I prefer to use English cucumbers, also known as seedless cucumbers, European cucumbers, or hothouse cucumbers. English cucumbers have thinner skin than regular cucumbers, so they don't need to be peeled. They also don't have as large as seeds in the inside, so you don't need to dessed them. Just slice and use.
red onion – If you aren't a fan of the bite from red onion, you can dull it by soaking the sliced red onions in water for 10 minutes before using.
balsamic glaze – Balsamic glaze is found at your local grocery store. It is thicker than balsamic vinegar and sweeter, too since it has added sugar in it. If you are gluten-free or have celiac disease like me, make sure you check to be sure it is gluten-free. You can use a homemade balsamic reduction instead as well.
flaky sea salt – I love to use Maldon salt for this recipe which has big, irregular salt crystals. You can also use sea salt or kosher salt if you prefer.
Step-by-Step instructions
Watermelon feta salad with basil is such an easy side dish to make with some simple steps. All you have to do is slice your ingredients as listed below, toss in the dressing, plate and drizzle with balsamic glaze. So simple!
Follow the steps below with matching photos to help you make this watermelon salad recipe perfectly every time. For ingredient amounts, detailed steps, additional notes, and the printable recipe, please scroll down to the recipe card.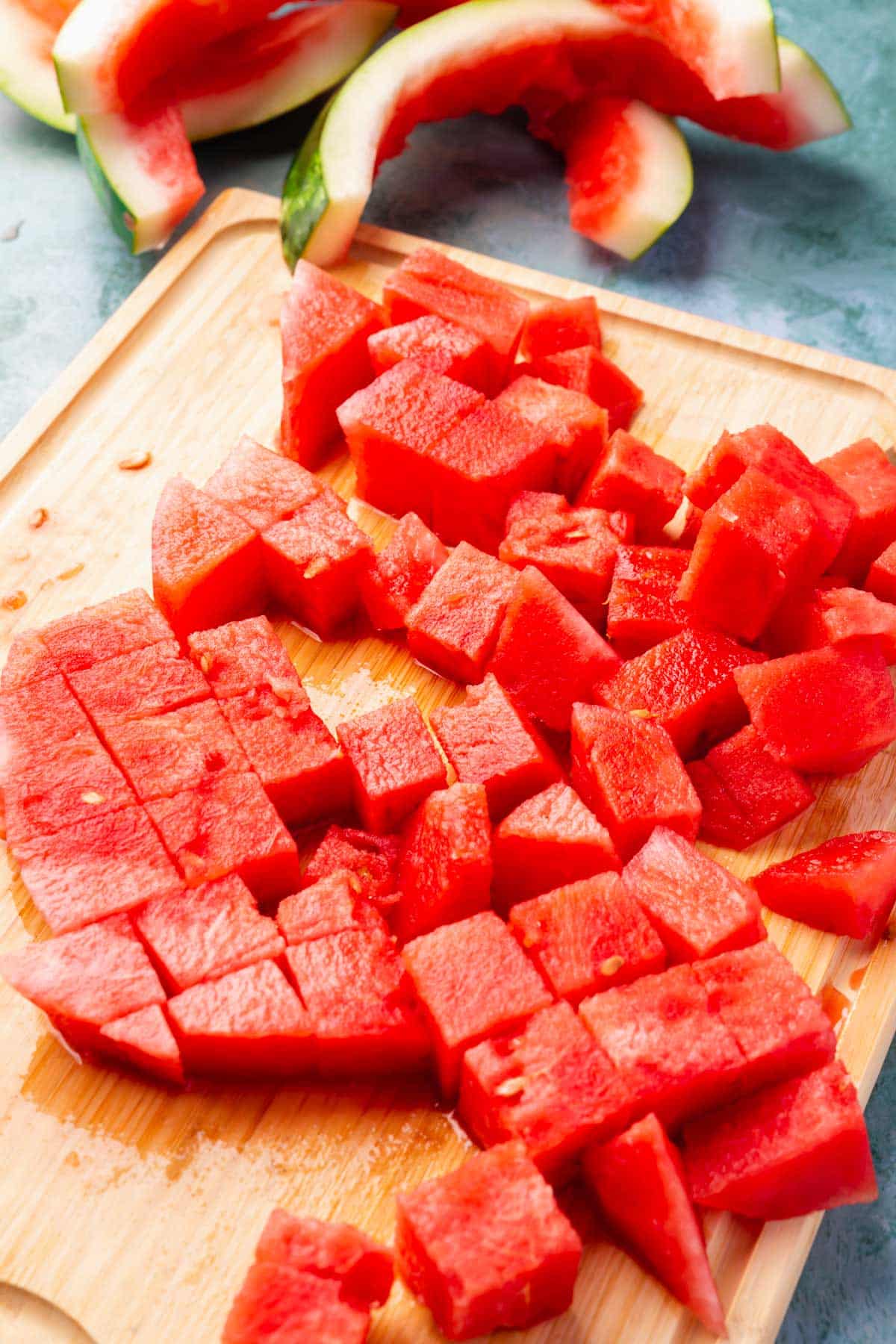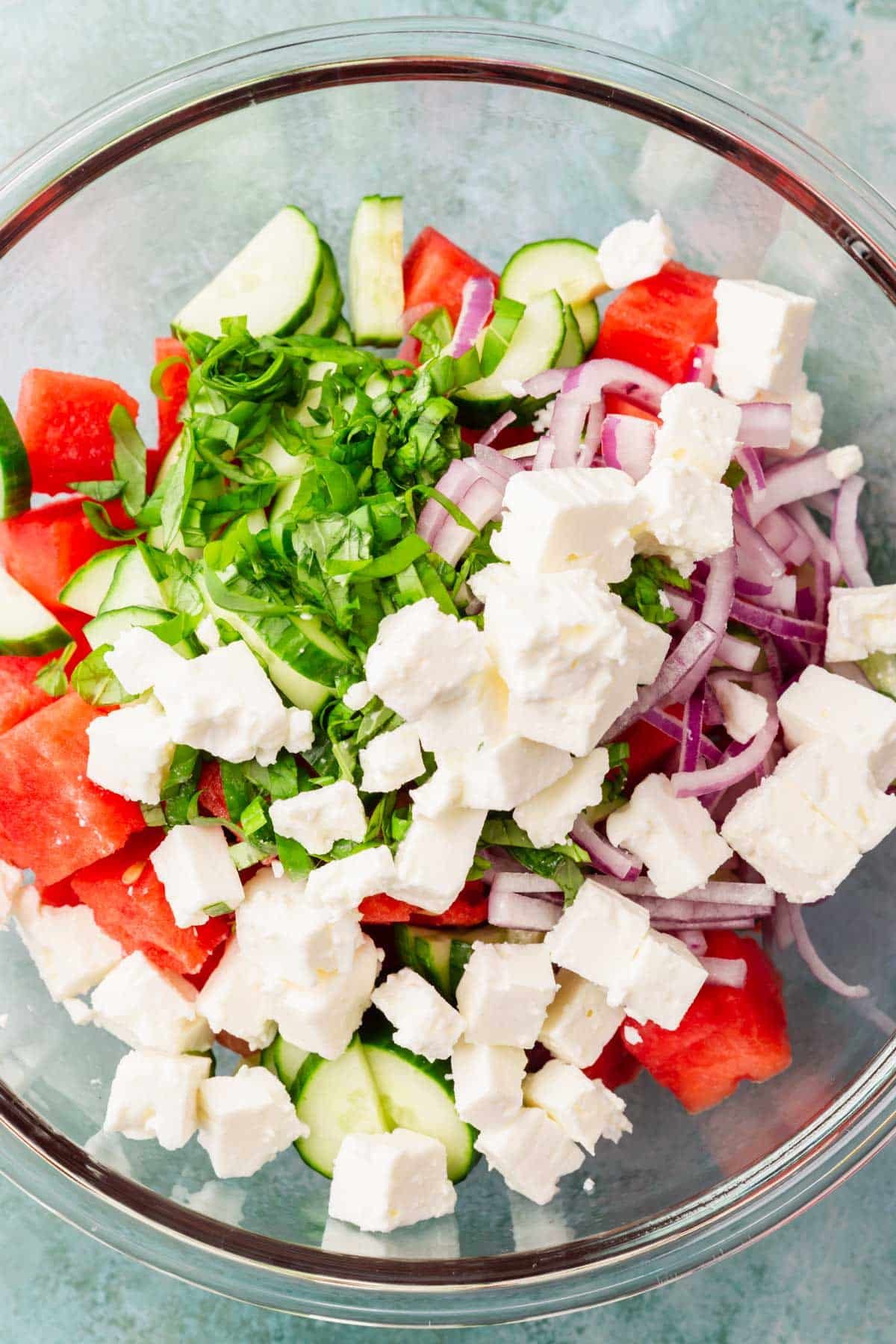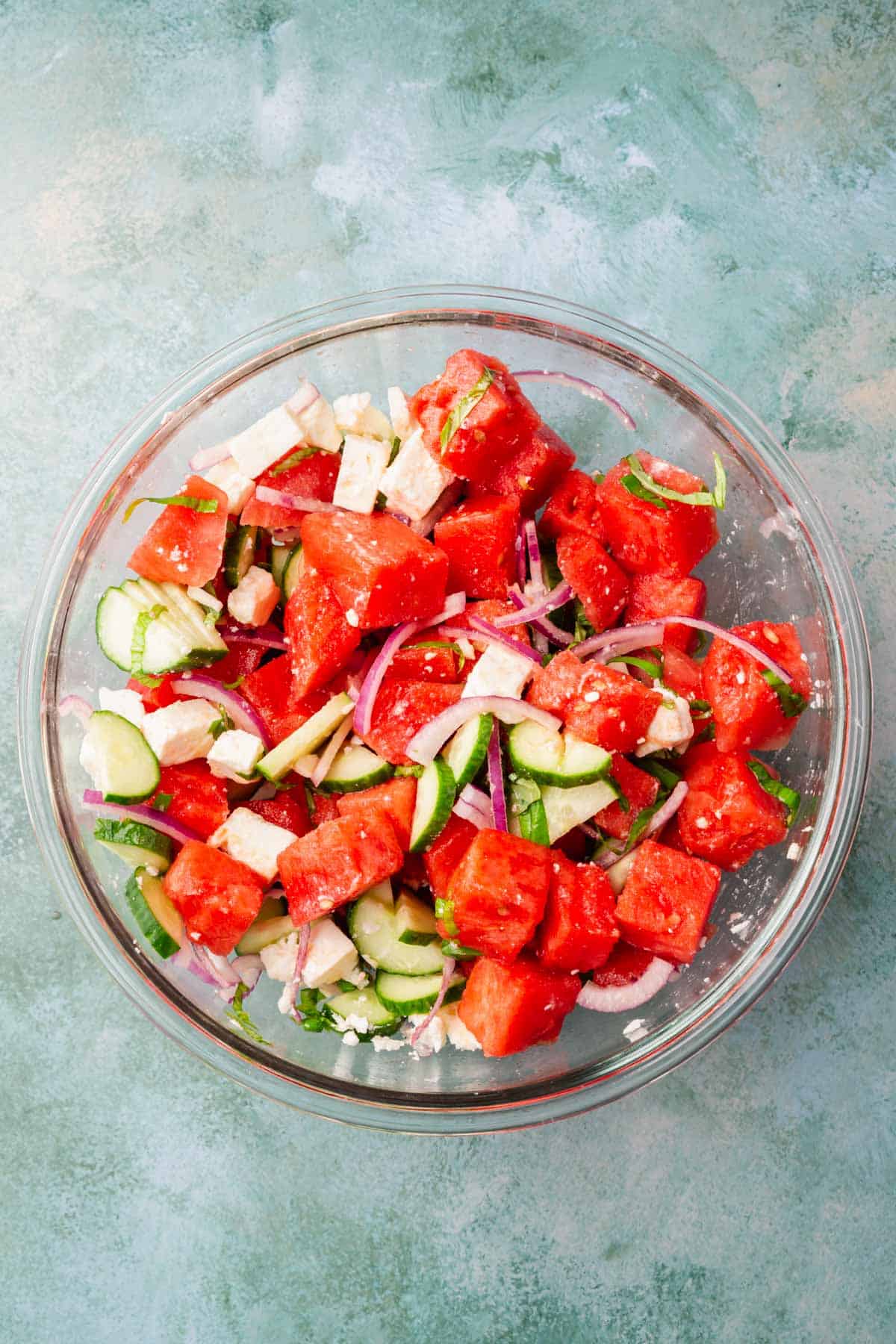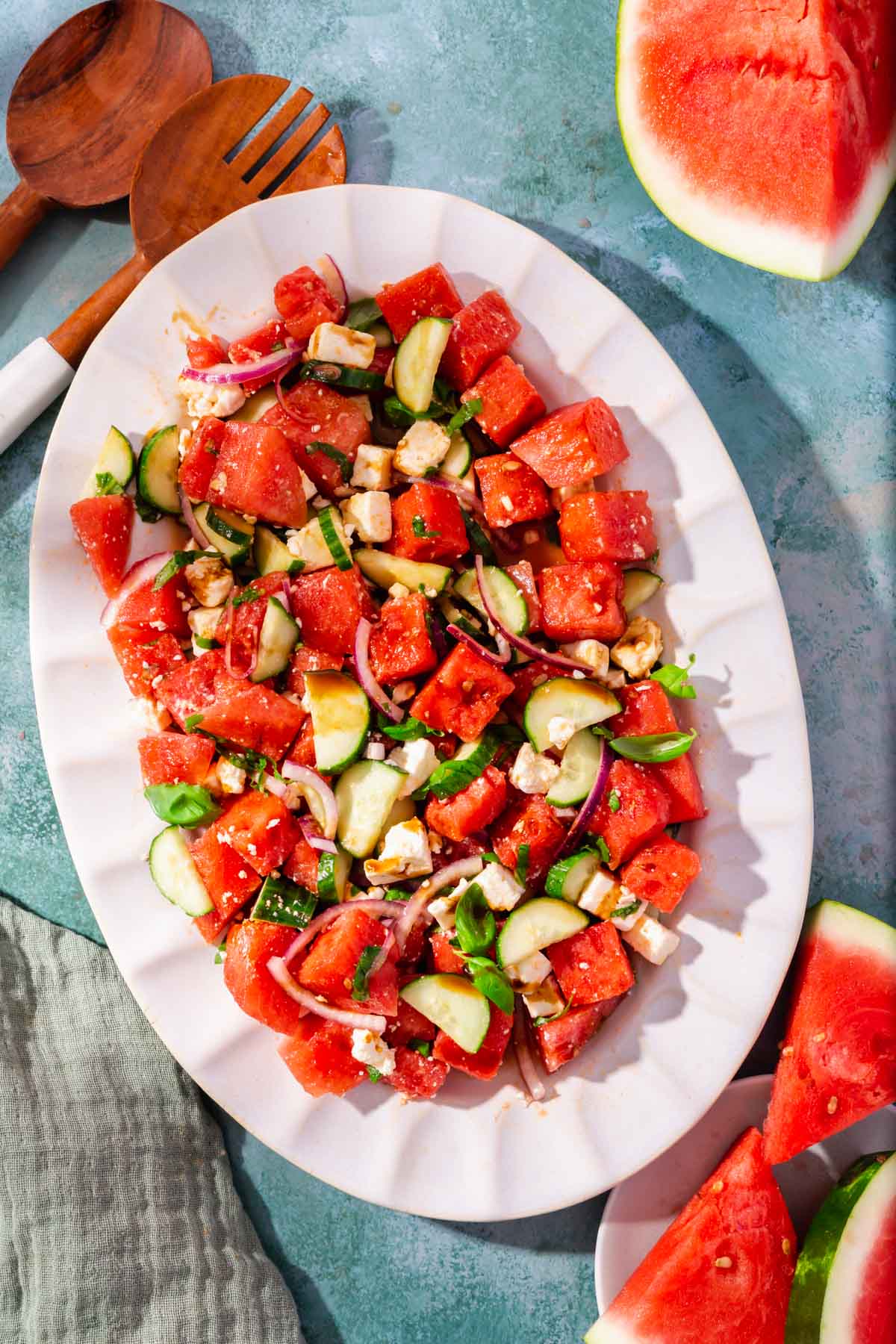 How to pick a good watermelon
While you can never really guarantee the sweetness of the watermelon, there are a few tips and tricks you can follow to help you pick out a sweet watermelon that is perfect for a hot day, whether you're slicing to eat it as a snack or for this easy salad recipe.
Look for a watermelon that is heavy for its size.
Look for a creamy yellow spot on the bottom of the watermelon. A white field spot has less flavor. The darker the field spot, the riper the watermelon.
Look for a watermelon that is symmetrical in shape. It can be round or an oval, but should be symmetrical. Any abnormalities or lumps are a sign it did not get enough even sun and will not be as sweet.
Look for a watermelon that is dull and dark green, rather than shiny. A shiny watermelon is not as ripe.
Don't be put off by dots or spots on the watermelon. Black dots in a line are typically pollination points, which are a good sign your watermelon will be sweet. Scars on the exterior of your watermelon is also okay, it won't affect the taste of the watermelon.
Expert Tips
No basil? No problem. Switch up the flavor of this watermelon feta salad by using fresh mint leaves, dill, parsley or a combination of fresh herbs to flavor this salad.
Use a good quality olive oil for this recipe for the best flavor. I love the nutty flavor of a strong extra virgin olive oil.
Looking for a fancier look? Use a melon baller to scoop the watermelon into small balls, instead of slicing it into cubes.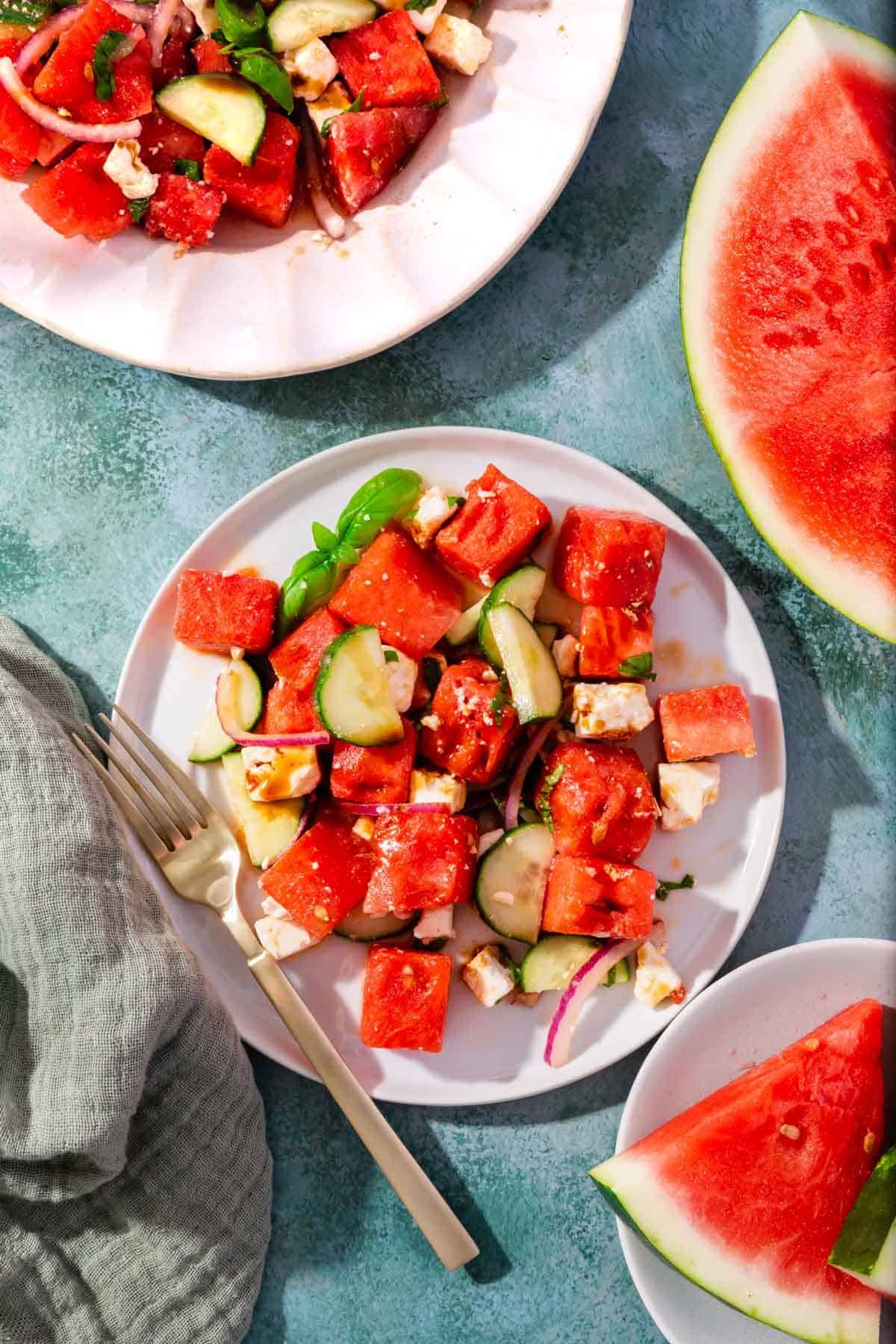 Recipe FAQs
How long will watermelon salad last in the fridge?
I prefer this salad to be served the day it's made, as I think the watermelon soaks in the glaze and olive oil and loses some of its crunch. However, if you do have leftovers you can store in an airtight container in the refrigerator for up to 2 days without losing too much crispness from the watermelon and cucumber.
Can I prepare this salad in advance?
To make ahead, you can toss the watermelon with the feta, cucumber and watermelon in advance. Toss with the basil, balsamic glaze and olive oil just before serving for best results.
How long can cut watermelon be refrigerated?
You can cut the watermelon and store it in an airtight container in the refrigerator for up to 3-4 days.
More watermelon recipes
Did you make this recipe?
I'd love to know! Please rate it and leave a comment below. You can also share your pictures and tag @adashofmegnut on Instagram.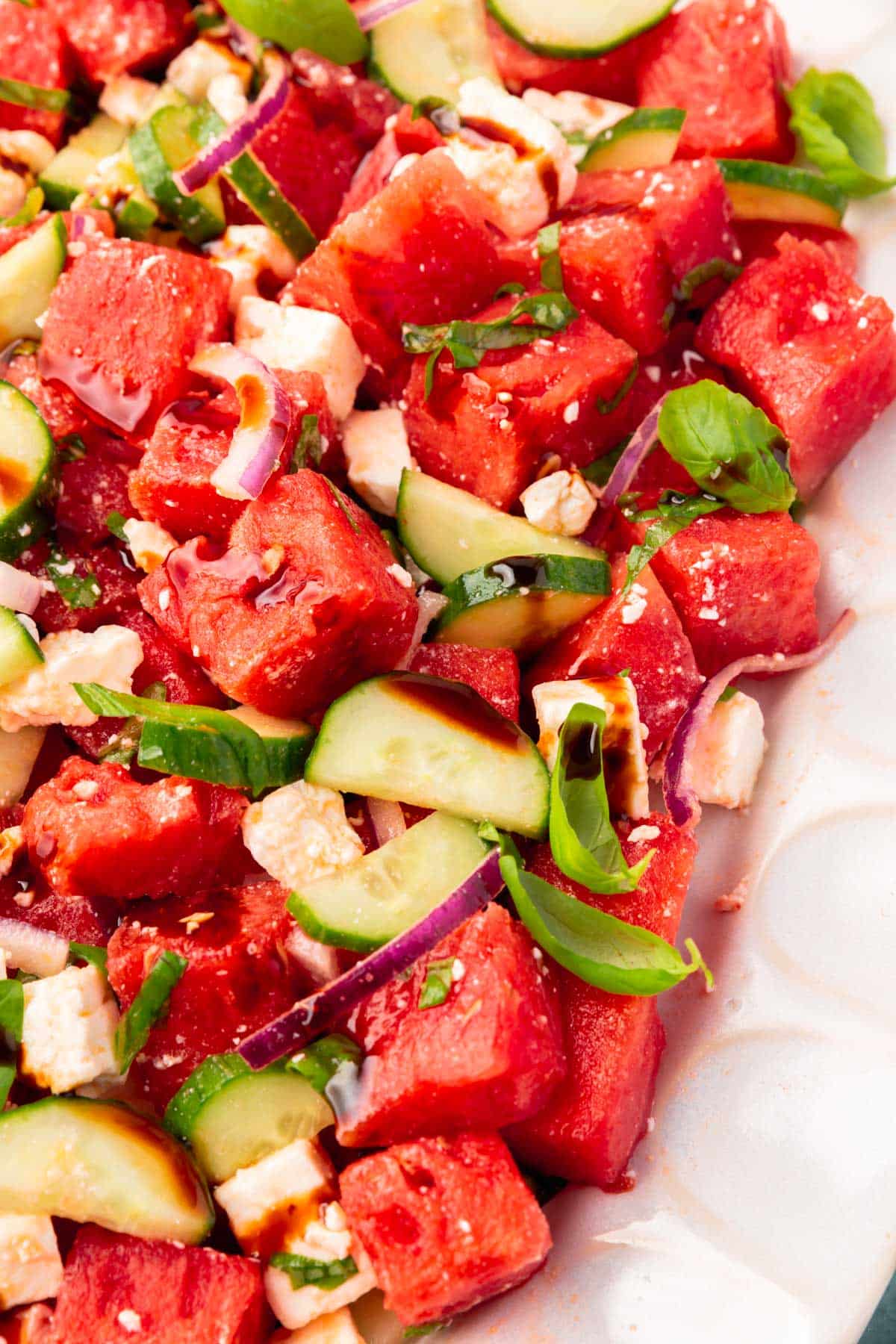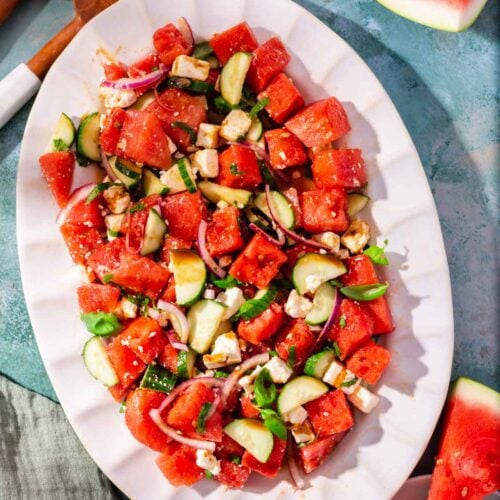 Watermelon Salad with Basil, Feta, and Cucumber
This watermelon salad with basil is so refreshing and the perfect gluten-free side dish for your next summer BBQ or potluck. On the table in under 10 minutes, it's easy to make, too!
Print
Pin
Rate
Ingredients
6

cups

diced watermelon

(900 g from about 1/4 of a large seedless watermelon)

1.5

cups

sliced English cucumber

(180 grams, from 1/2 english cucumber))

1/2

cup

sliced red onion

(thinly sliced (50g, from 1/4 red onion))

1/4

cup

basil leaves, thinly sliced into ribbons*

(8g)

6

ounces

cubed or crumbled feta

(170g, approximately 1.5 cups)

2

tablespoons

olive oil

(25g)

1

tablespoon

lemon juice

1/2

teaspoon

flaky sea salt

1

tablespoon

balsamic glaze
Instructions
Cube the watermelon into ½ inch pieces. Place in a large mixing bowl.

Top the watermelon with sliced cucumber, sliced red onion, basil ribbons, and feta.

Drizzle with olive oil, lemon juice, and flaky sea salt. Toss to combine.

Plate on a large platter or a shallow bowl. Drizzle with balsamic glaze and serve.
Notes
To chiffonade the basil (or cut it into thin strips), place the leaves of the basil on top of each other with the largest basil leaf on the bottom. Roll the basil tightly from the side so it makes a cylinder. Then, slice the leaves crosswise starting at the tip into thin slices. Separate the thin strips by tossing the leaves until they come apart from one another.
You can soak the red onion slices in water for 10 minutes before using if you want to cut some of the bite from the red onions.
I used Maldon salt for this recipe which is a flaky sea salt with large, irregular sugar crystals. You can use any finishing salt you prefer, or kosher salt or sea salt if you don't have a flaky salt on hand.
This watermelon salad is best served the day it is made. I recommend tossing the salad in the olive oil and lemon juice just before serving for best results.
If you do have leftovers, consume within 2 days as the watermelon will soak up the dressing and get soggy.
Nutrition
Calories:
132
kcal
|
Carbohydrates:
12
g
|
Protein:
4
g
|
Fat:
8
g
|
Saturated Fat:
3
g
|
Polyunsaturated Fat:
1
g
|
Monounsaturated Fat:
4
g
|
Cholesterol:
19
mg
|
Sodium:
390
mg
|
Potassium:
188
mg
|
Fiber:
1
g
|
Sugar:
8
g
|
Vitamin A:
799
IU
|
Vitamin C:
11
mg
|
Calcium:
120
mg
|
Iron:
1
mg
I'm Megan
A gluten-free food blogger from Chicago and lover of all things food, showing you gluten-free can be easy and delicious, too. Let's make gluten-free stress free together! Read more…