Spitalizers aren't just for zucchini! Try spiralizing sweet potato in this sweet potato noodles in a creamy cashew sauce topped with apples and spinach. Gluten-free, dairy-free and vegan.
This post was sponsored by iHerb. All opinions are mine alone.
Today we're talking about sweet potato noodles in a creamy cashew sauce. Did you know you can make sweet potato noodles just like you can make zucchini noodles? Well, you can! I was trying to think what these sweet potato noodles would be called… swoodles? spoodles?
None of the names I came up with seemed to work so well. So we'll just stick with sweet potato noodles. Sweet potato noodles are a great way to change up the pasta game this fall, especially when you add fresh apples, spinach and walnuts!
I purchased the ingredients for this recipe from iHerb, which carries over 5,000 grocery products that can be shipped to over 160 countries! Their Customer Service team also provides support in 10 languages.
It was super easy to get the ingredients I needed for this recipe shipped right to my door! I find purchasing nuts from iHerb, like the raw cashews and walnuts in this recipe, to be way more economical than purchasing from my local grocery store.
I also can always find my favorite nutritional yeast brand, Foods Alive, on their website instead of wandering the aisles trying to figure out where it is. If you haven't tried nutritional yeast yet, it's a great way to add a little cheesiness to your meal without any dairy. Here I'm using it in the sauce and it results in a cheesy, velvety, luscious, creamy, delicious cashew sauce.
Yes, I really did need all of those adverbs to describe it because it's THAT GOOD. I also purchased my walnut oil, garlic powder, salt and pepper from iHerb. I like using walnut oil because it has a rich, nutty flavor which is rather subtle but still very present in this dish.
I also have an olive intolerance so I stay away from olive oil, which has helped me experiment with other oils like walnut oil, avocado oil and grapeseed oil! If you would like to try iHerb, now is the time! New customers get $5 off their first iHerb order with a $20 minimum purchase.
With the products from iHerb and some fresh produce, this recipe is so easy to make! I love using fresh produce, especially in it's peak of season.
Sweet potatoes and apples tend to be my fall produce favorites, but I couldn't help but add some spinach for a punch of color and nutrients. For this recipe, I love using honeycrisp apples because they are sweet and crisp. They won't get all mushy when sauteed with the sweet potato noodles. Other varieties would work as well – so use your favorite! I think granny smith would be great here, too!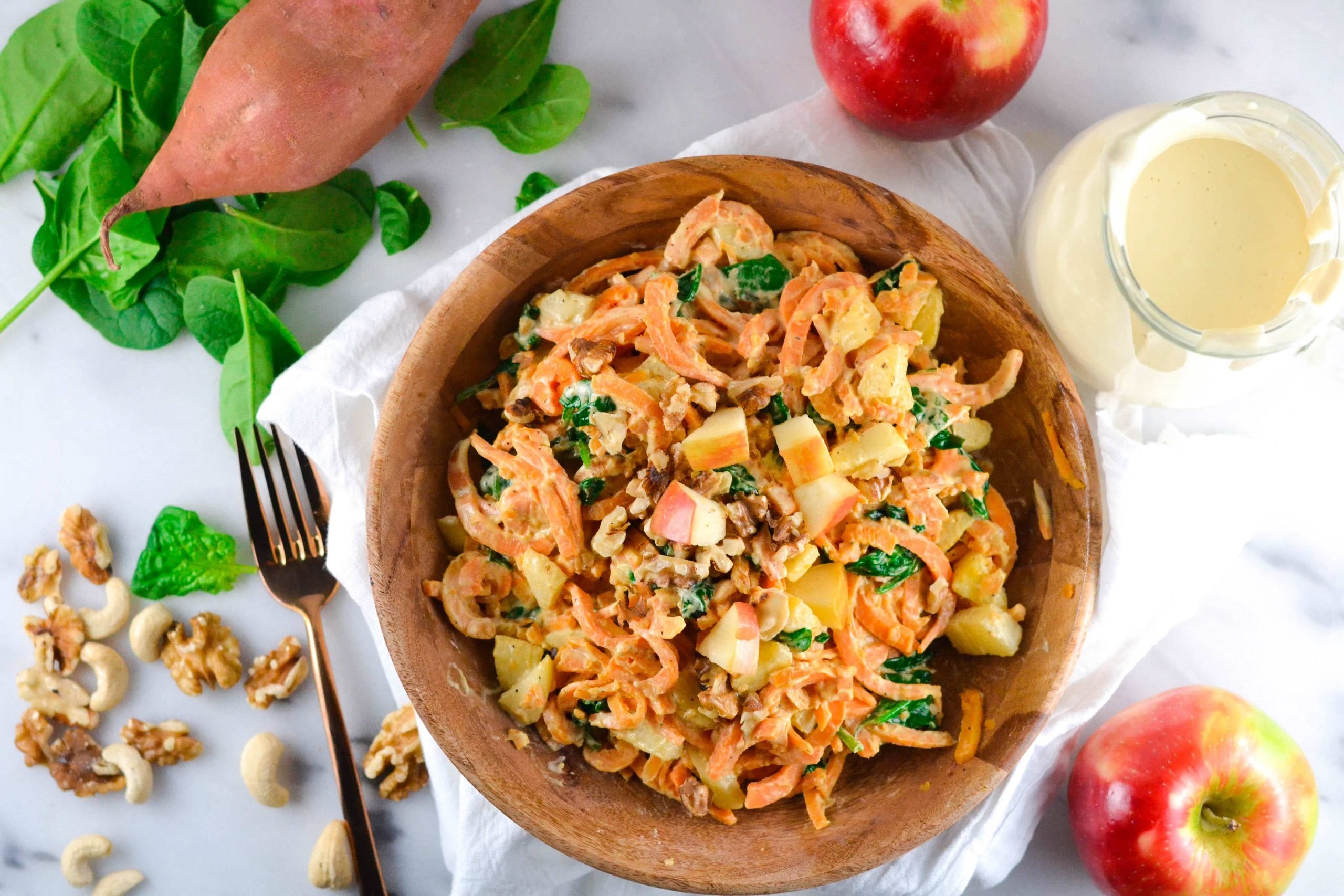 There are so many reasons to love this sweet potato noodles in a creamy cashew sauce recipe. It's both gluten-free and vegan (which we love around here) and full of vegetable goodness. Every part of this recipe kind of just works together. They're all good on their own. But together – they're amazing. The sweet bite from the apple, the fattiness from the walnuts, the freshness from the spinach. And let's just talk about this sauce a little more. I have a new obsession and it's this creamy cashew sauce. Seriously. I want to eat it by the spoon full. Or the bucket full. It gets all of it's creaminess and cheesiness from the cashews and nutritional yeast. No cream needed here. Which makes it great for people like me who are unable to tolerate dairy!
Have you shopped at iHerb yet? If you haven't, I think you'll love it's ease and variety of food products they have! Remember, new customers get $5 off their first order with a minimum $20 purchase!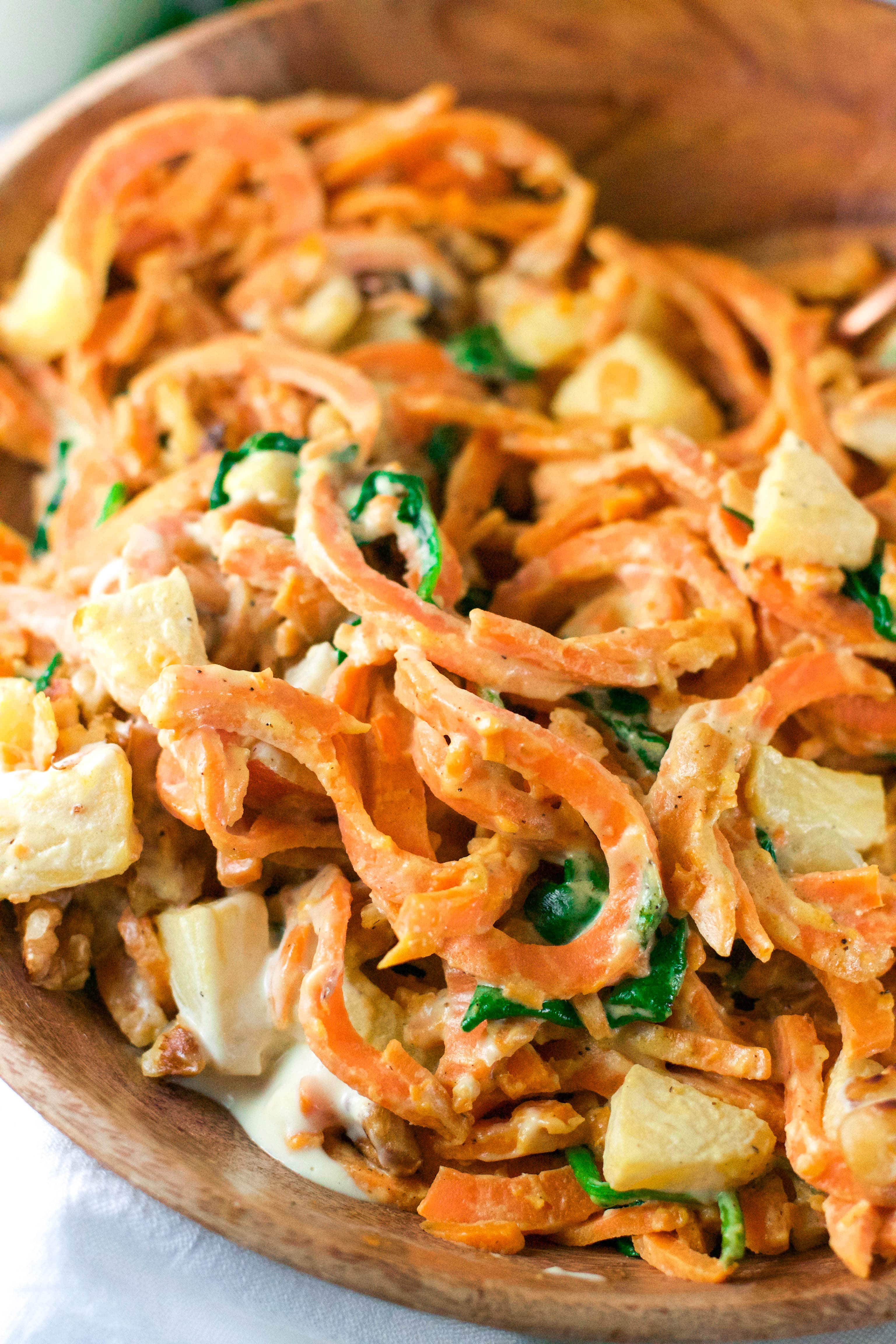 Sweet Potato Noodles in a Creamy Cashew Sauce
Spitalizers aren't just for zucchini! Try spiralizing sweet potato in this sweet potato noodles in a creamy cashew sauce topped with apples and spinach. Gluten-free, dairy-free and vegan.
Print
Pin
Rate
Ingredients
For the sweet potato noodles:
1

tbsp

walnut oil

3

large sweet potatoes

(peeled (about 2.5 lbs))

salt and pepper

(to taste)

2

small apples

(peeled and diced (about 2 cups))

3

cups

spinach

1

cup

walnuts
Instructions
In a small bowl, combine raw cashews with 1 cup of the water. Let soak for 3-4 hours or overnight. Once soaked, drain and rinse well.

Add the soaked cashews, 3/4 cup of water, garlic powder, nutritional yeast, walnut oil, lemon juice, salt and pepper to a high powered blender or food processor. Process until smooth. Set aside.

Using a vegetable spiralizer, spiralize your sweet potatoes.

Heat 1 tablespoon of walnut oil in a large skillet over medium heat. Add the sweet potato noodles. Sprinkle with a pinch of salt and pepper. Add the apples. Cook for 5-7 minutes, until the sweet potatoes are tender and the apples are soft. Add the spinach and stir until it wilts.

Drizzle in the creamy cashew sauce and stir to coat. Top with walnuts.
Nutrition
Calories:
488
kcal
|
Carbohydrates:
36
g
|
Protein:
11
g
|
Fat:
36
g
|
Saturated Fat:
4
g
|
Sodium:
250
mg
|
Potassium:
722
mg
|
Fiber:
6
g
|
Sugar:
11
g
|
Vitamin A:
10660
IU
|
Vitamin C:
10
mg
|
Calcium:
71
mg
|
Iron:
3.7
mg