I thought I would try something new on here. I constantly get asked by friends, family members, and coworkers what recipes I've made over the month and each time I struggle to think of what I posted in the beginning of the month. I strive for 12 to 14 new recipes for you each month and those first few always get lost in the shuffle and then never seen again until I'm looking for lunch or dessert ideas and have a big "OH YEAH" moment. So I thought it would be fun to try going over all the recipes at the end of the month as a refresher, talk about what we (that would be you and me… we're a "we" now) enjoyed the most, and what we're looking forward to for the next month! Let's see how this goes and take a look at September in a nutshell (ya see what I did there?)!
I honestly can't believe we're already in October. Like seriously, where did summer go? I feel like it went by so quickly! Not that I'm complaining, since October is my absolute favorite month, but I will definitely miss the summer produce! Let's take a look at all the fun recipes from September: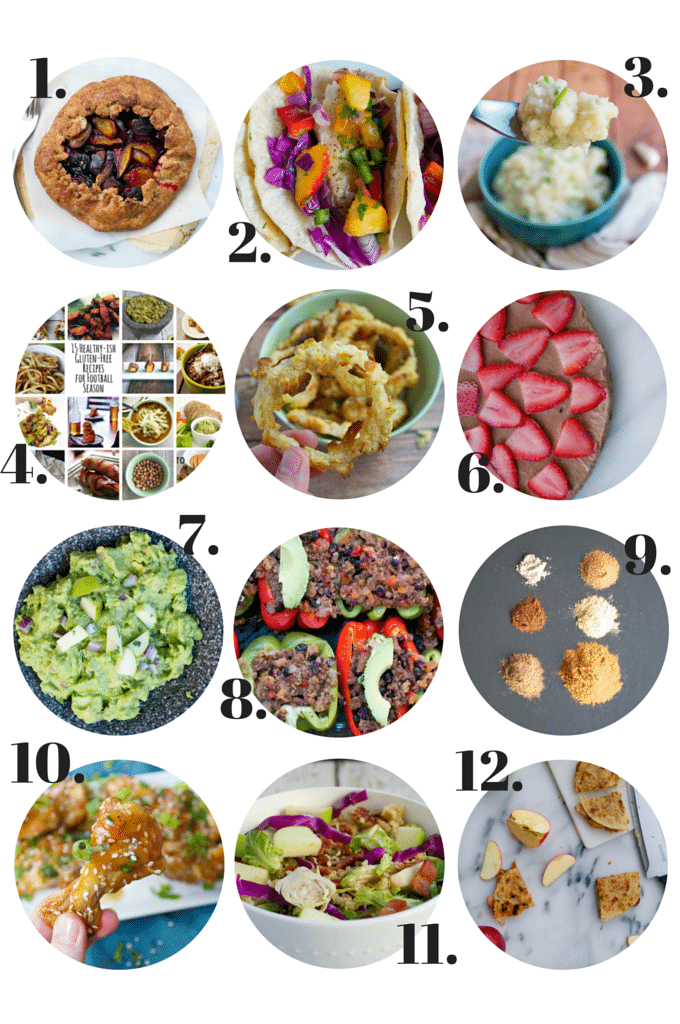 1. Rustic Italian Plum Galette … 2. Tilapia Fish Tacos with Peach Salsa … 3. Cauliflower Parsnip Mash … 4. 15 Healthy-ish Gluten-Free Recipes for Football Season … 5. Baked Onion Rings … 6. Vegan Chocolate Strawberry Cheesecake … 7. Apple Guacamole … 8. Beef and Quinoa Stuffed Bell Peppers … 9. Homemade Pumpkin Pie Spice … 10. Teriyaki Chicken Wings … 11. Fall Apple Brussels Sprouts Salad … 12. Pumpkin Apple Quesadillas
My favorites were the apple guacamole, which I will be eating all season long; teriyaki chicken wings (perfect for football watching); and the rustic italian plum galette that made me feel really fancy and who doesn't want to feel fancy? What were your favorites? I would love to hear in the comments!
My Favorite Moments of September
We started the month visiting Nashville over Labor Day weekend. (I'm glad we're doing this monthly recap because I totally almost forgot about Nashville until now) My favorite part was the picnic we had at Arrington Vineyards!
We teamed up with the Billion Dinners campaign to promote family dinners in the home! If you haven't joined us in eating 10 family dinners in 2 weeks you can still join us now!
Michael and I celebrated his brother's birthday in Michigan and even went apple picking on our way home! Get ready for apple recipes!
What I'm Looking Forward to in October
As I've already stated, October is my favorite month of the year! Give me fall boots, leggings, big sweaters, scarves, and a cup of chai tea and I'm a happy girl!
Fall flavors—all things pumpkin, apple, squash and chai. Swoon! So excited!
My birthday! October is home of my birthday. I'll be turning 27 this year, so send me lots of presents! Just kidding, please don't. Mom and Dad, I would like a pair of socks, please and thank you. Like normal socks because I'm low on them and also some fuzzy socks. K? Thanks 🙂
We'll be heading to one of my favorite states—Wisconsin—for the next 3 weekends for lots of fun with family and friends!
I'll be making my cousin's (gluten-free!) wedding cake in the middle of October. Stay tuned for pictures!
Thanks for a fun September, everyone! Can't wait to see what October brings!