This roasted chicken sausage, butternut squash and apples recipe is simple to make and has great flavor! You'll love the touch of sweetness from the apples and squash. If you're looking for an easy gluten-free sheet pan meal, look no further. 
I'm all about the roasted veggies lately. Okay.. just lately? More like always. 
My absolute favorite way to cook up vegetables is by tossing them with some avocado oil, salt and pepper and then roasting them on a baking sheet. Easy peasy and oh so delicious. 
So naturally one of my favorite quick and easy gluten-free meal prep recipes is to roast vegetables with some added protein. Think back to my original roasted vegetables and sausage recipe. Full of brussels sprouts, kale, purple sweet potatoes, onion, carrots, peppers and of course, italian sausage. You guys loved it. I loved it. My boyfriend loved it. It was a clear winner in my house… er… apartment.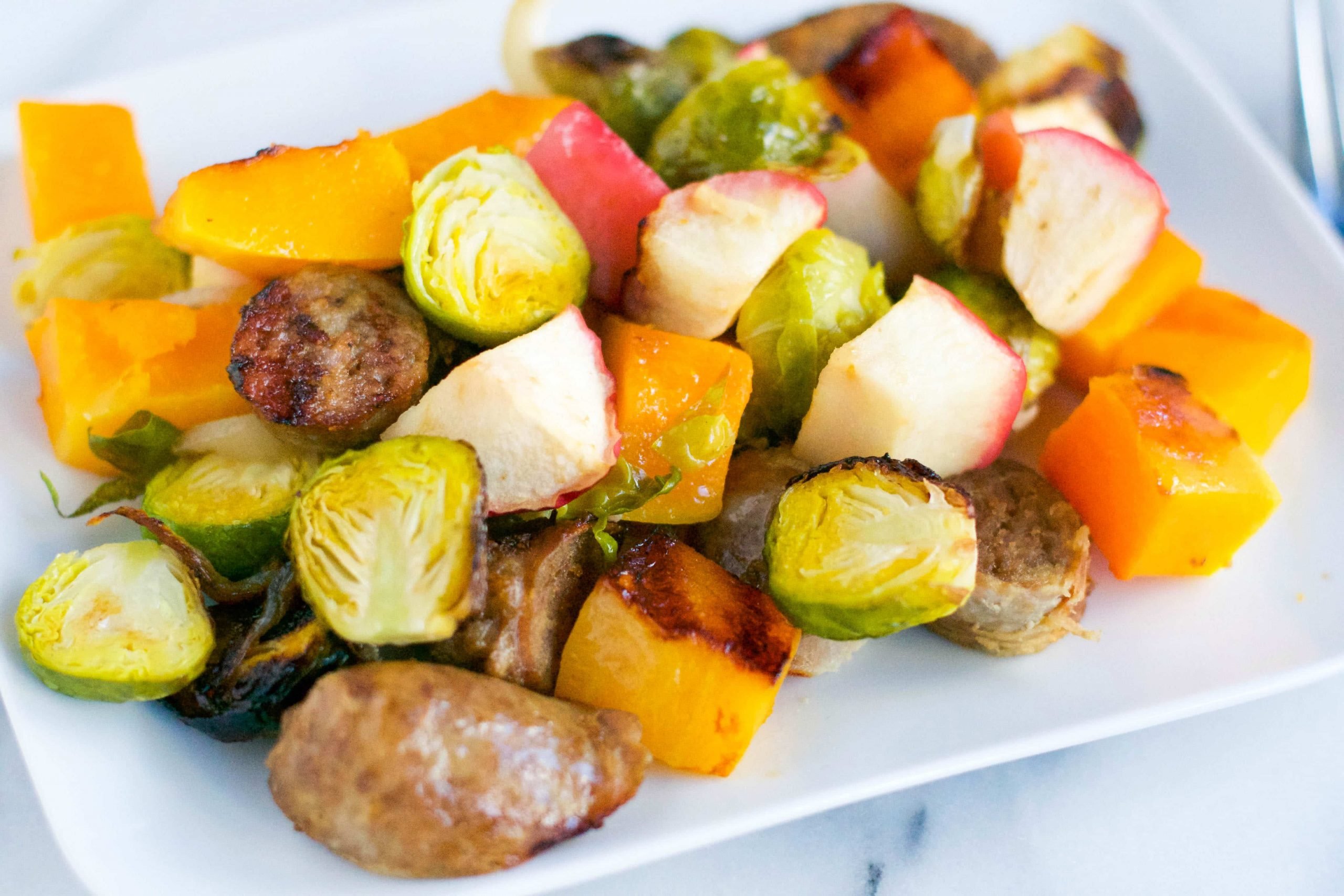 Since then, I've been creating all sort of different variations on this same meal because the flavor combinations are endless! It's all about the method baby. But once I created this latest flavor combo I just knew it was SO GOOD I had to share it with you all here. Because no one should be missing out on this! 
I found some chicken sausage on sale at the store and knew it would be a great way to incorporate a leaner meat in this recipe. Combine that with some tangy apples, sweet butternut squash, brussels sprouts, and onion and you've got yourself dinner. Or a week full of lunches if you're me. This flavor combination is so great because it has just the slightest touch of sweetness from the apples and butternut squash which pairs so well with the chicken and brussels sprouts. You can use any kind of apple here, but varieties that are a bit sturdier and won't get as mushy when baked, like granny smith or even a pink lady apple like I used here, work best. I used a leaner meat like chicken, but feel free to use turkey or pork as well. Really anything goes! But be sure to try this brussels spouts, butternut squash, apple combination because it's bonkers delicious!
Roasted Chicken Sausage, Butternut Squash and Apples
Prep time:
Cook time:
Total time:
Ingredients
1 lb brussels sprouts, cut in half
2 apples, cut into 1-inch pieces (use granny smith or pink lady)
2 lb butternut squash, cut in 1 inch pieces (4-5 cups)
2 yellow onions, sliced
2 lbs chicken sausage, pre-cooked and cut into 1 inch pieces
1 tsp salt
3 tbsp avocado oil or olive oil
Instructions
Preheat oven to 350F. Line two baking sheets with aluminum foil.
Drizzle brussels sprouts, apples, butternut squash, onions and chicken sausage with oil and sprinkle with salt.
Spread evenly to the two baking sheets in a single layer.
Bake at 350F for 30-35 minutes, switching pans half way through, until butternut squash is tender.
Serve