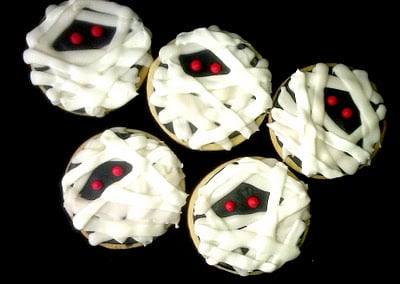 Pardon my language, but being sick sucks. There's no nicer way to say it. I got a cold last Thursday and still am not feeling well. I lost my voice on Sunday and STILL no one can really understand me. I have no motivation to cook because I feel so lousy. To make matters worse I have no food in my apartment either, which means I have to go out and get food. But no one can understand what I say when I order! I wanted to get a cup of tea and a muffin before class yesterday and I had to repeat myself 5 times before she knew what I was saying. I probably should just carry around a note pad and write what I want to say but can't. With the lack of food in the house and lack of motivation to cook, I haven't had much to post lately for you all. However, I did realize this morning that I made these really cute Halloween sugar cookies last year and completely forgot to post them. Since it's October, I figure it's officially time I can start posting my Halloween recipes! So here's the first of many Halloween recipes to come!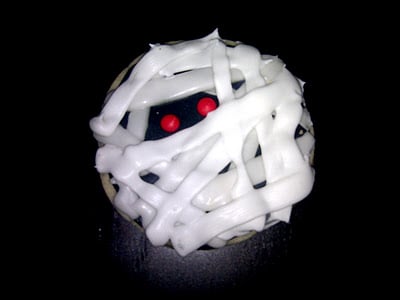 To Make, You Will Need:
Sugar Cookies
Royal Icing
Black Gel Food Coloring
Red Gel Food Coloring
Wilton #45 Tip (For the white bandages)
Wilton #3 Tip (For the red eyes)
Tips:
Fill the entire cookie with a black background first. Make sure the black icing dries completely otherwise it will run into the white icing. When creating the white bandages, make sure the icing is pretty thick (10 second icing). If the #3 tip isn't giving you the right shape of eyes, you can also use a squeeze bottle. Again you will want pretty thick icing for the red eyes.
Source:
Cookie design from Annie's Eats
I'm Megan
A gluten-free food blogger from Chicago and lover of all things food, showing you gluten-free can be easy and delicious, too. Let's make gluten-free stress free together! Read more…