Holiday Gift Guide: Gifts For the Hostess
It's that time of year! If you're looking for a little help to find that perfect gift for the hostess in your life, this holiday gift guide is perfect for you! From cake stands to gorgeous glassware, I'm sharing my favorite finds that will WOW at any party.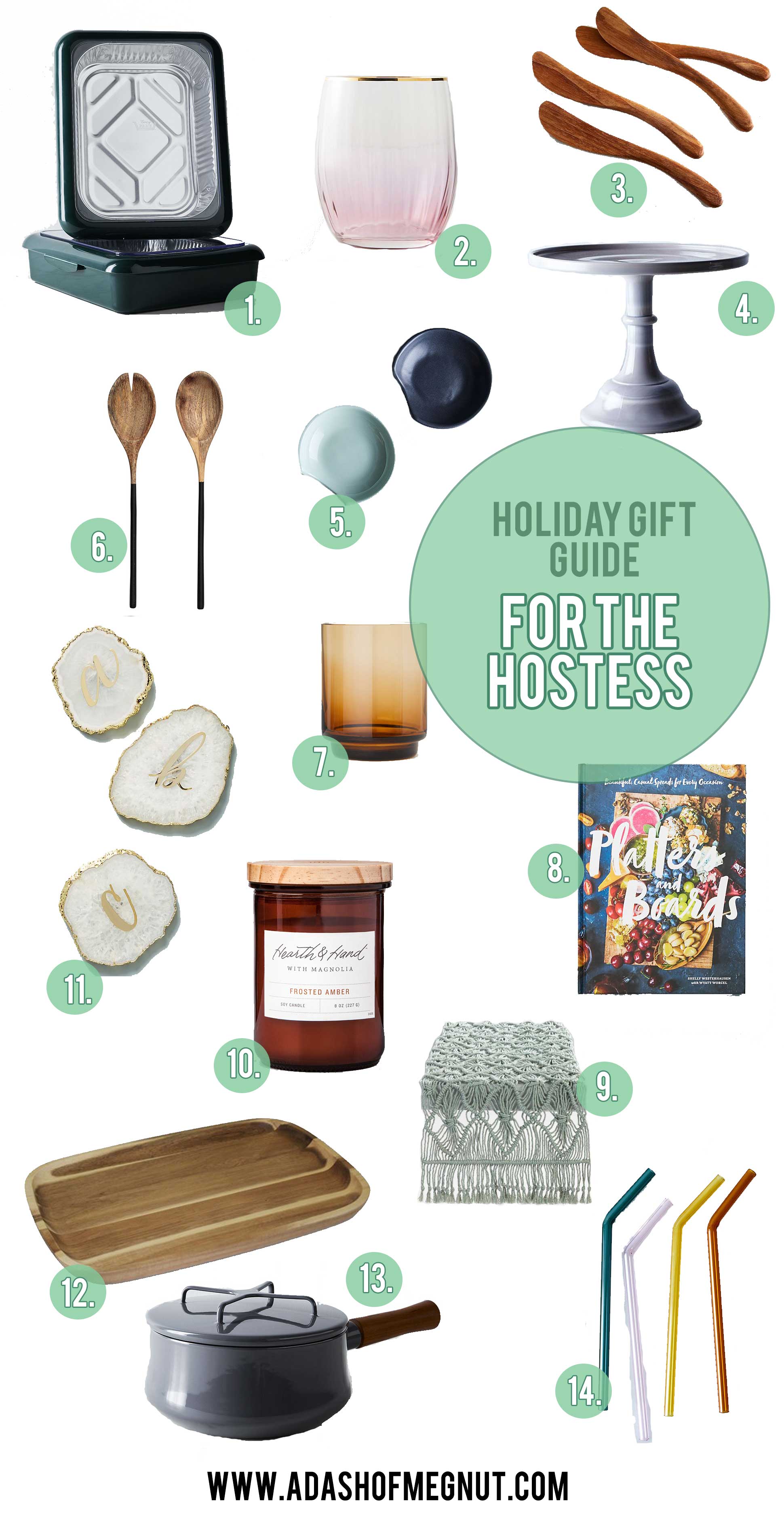 Click the links below to shop the post for gifts for the hostess! Note: This post contains affiliate links. This means I may earn a small commission, at no cost to you, if you purchase items using these links.
Hearth & Hand Frosted Amber Candle
West Elm Monogrammed Agate Coaster
If you haven't figured this out by now, I love a good dinner party. Especially when appetizers and desserts are involved. Well, of course a good cocktail, too.
I've gathered up my favorite finds that are so perfect for any soirée that they can make a hostess out of anyone! If you have a hostess with the mostest in your life, then you'll love any of these gifts this holiday season.
Holiday Gifts for the Hostess
To-Go Casserole Carrier
For the gal that always shows up with a casserole to every get together, get her this To-Go Casserole Carrier. Have you ever tried to bring a dish covered with aluminum foil to a party? It's not easy.
This to-go casserole carrier fixes that. It's meant to be used with cheapo throw away aluminum baking dishes. You place them in this carrier for easy transport and then serve straight from the carrier – just pop the window out. It dresses up an otherwise boring serving vessel, plus if you want to leave food you don't have to clean out a dish.
I can think of countless ways to use these casserole carriers. I'm using mine for bringing cookies and cupcakes to parties. I never have a good sturdy box to carry them in and they're always flip flopping around in whatever I try to transport them in. Problem solved!
Pair with some adorable cupcake liners to show the versatility of this gift!
Metallic Stemless Wine Glasses
I'm a fan of the stemless wine glass. They're easier to store and more versatile in my opinion. You can use them for wine, cocktails and even soda. These pink and gold stemless wine glasses are gorgeous. If isn't your color palate, they come in this purple and blue watercolor as well.
I tend to stick to basic glassware, but I always have something a little more stylish on my bar cart, too. Life wouldn't be as fun if we all just stuck with the basics, right?
Package up a set of 4 of these gorgeous glasses and pair with a bottle of wine for a thoughtful gift this season.
Wood Cheese Spreaders
I love a good cheese board. But if you don't have something to cut or spread the cheese with then you have a problem. This is where these wood cheese spreaders come in.
They're best for softer cheeses, but can also be used with any accoutrements like jam, honey or mustard.
Pair with a fancy jam or raw honey for a sweet gift.
Glass Cake Stand
What would a party be without cake? I have this Mosser Cake Stand in gray in two sizes – both the 10″ and 6″ depending on what I'm baking. I use the 10″ more since most of my cakes are 8″ in diameter, but I love using the 6″ for smaller get togethers where I'm not looking to serve a huge crowd.
These cake stands have been used for everything from my sister's wedding to a Sunday morning brunch. I've also been known to put some pillar candles on them as a centerpiece when they're not in use. Versatility is key!
Pair with some sprinkles to complete the gift!
Spoon Rest
I've discovered this recently – Not having somewhere to set down your spoon while you have people over is rough. You do this little dance where you're like "where should I put this spoon right now?" only to either grab a paper towel or just set it down straight on the kitchen counter. Yeah… no. Let's not do that.
Having a cute spoon rest to set down your spoon will make you look like Martha Stewart to guests as you effortlessly cook them dinner. The spoon rest may be one of the more underrated kitchen products of this century. Okay, maybe that was a little elaborate. Just get your friend a spoon rest. Especially one of these cute colorful ones from Food52.
To complete the gift, package with some new spoons!
Wooden Salad Servers
I have a soft spot for color blocked anything. It creates this modern geometric look that easily matches with any aesthetic. I love this wooden set from H&M because they're inexpensive and easily double as regular spoons for other occasions.
While salad tossers/servers are great, if they don't have a dual purpose, I won't buy them. Is that just me?
Pair with some gourmet salad toppings like candied nuts or some infused balsamic oil.
Casual Beverage Glasses
Another good one from H&M are these beverage glasses. They're modern, yet have that antique look, which helps create that perfect blend of old meets new for any party.
These glasses are casual enough for everyday use, but also great for a cocktail or dinner party.
Bundle up a few of these glasses with some ice cube molds and unique flavored bitters for a creative gift idea.
Platters and Boards Book
Every party needs a charcuterie or cheese board. Or a fruit board. Or a crudité platter. You get what I'm saying. Gift this book to the appetizer queen of your group to give her some beautiful inspiration.
Platters and Boards by Shelly Westerhausen is full of stunning pictures and delicious ideas. She helps you with wine and meats pairings, which boards to use, how to portion and more. Seriously, endless inspiration in here.
Pair with a serving board for a great gift.
Macrame Table Runner
I've really gotten into table runners lately, and this macrame runner from World Market is my current favorite. It elevates a brunch table like no other with it's breezy casualness that also feels just so put together. This is a must have for the girl who is always effortlessly cool.
Macrame doesn't have that formality that other fabrics may have so this is a great runner for casual dinners or Sunday brunches with the girls.
Pair with some placemats.
Scented Candles
Could you ever have enough candles? I didn't think so. Candles are the mood setters when it comes to entertaining. They make the room feel so much more inviting and cozy. This amber scented candle from Hearth & Hand at Target is essential for winter.
I can't be the only one who goes to Target and comes home with five candles every time right?
Candles are great inexpensive gifts for friends. They are also awesome for any generic grab bag gifts you may need to have. Everyone loves a good candle!
Pair with some cute matches.
Agate Coasters
I love to have some glam coasters for a get together with the girls. These agate monogrammed coasters are stunning and make a great gift.
I have similar ones but I couldn't resist sharing the monogrammed version here. Just get your friend's initial and you have a cute, personalized gift!
These coasters would be great paired with some cocktail napkins.
Wooden Serving Board
My FAVORITE wooden serving board for charcuterie boards of all time. Some would call it the G.O.A.T. of wooden boards. Okay, maybe just me.
It's huge, which means it fits all of my cheeses, meats, fruits, crackers, etc. Plus, it has a lip around the edge to keep it all on the board.
I've been using this board for so many charcuterie boards this season and I don't see that stopping anytime soon!
Wrap with some gourmet olives or candied nuts.
Dansk Kobenstyle Saucepan
I've been coveting the Dansk Kobenstyle saucepans for the longest time. With their modern ceramic and gorgeous wooden handles, how could you not?
Ever since I studied abroad in Denmark I've had a great affinity for Danish design and style. These saucepans are stunning but functional, too.
I love that the lid turns into a trivet! These pots go from stovetop to table with their functional design and are a must have for anyone who loves to cook or host dinner parties.
Gift with some cute oven mitts.
Glass Straws
Okay, so we all know plastic straws are not good for the environment and all of these great alternatives, like stainless steel and glass straws, are popping up. I'm obsessed with these colorful glass straws for parties.
The colors are so fun and they make great party favors. Pick a straw… take it home. And save the environment! Score!
Pair with some recycled tumblers.
What are your favorite gifts for the hostess on your list?
If you need more gift ideas, check out my other gift guides: